MLB Prospects Who Could Be the Next Justin Verlander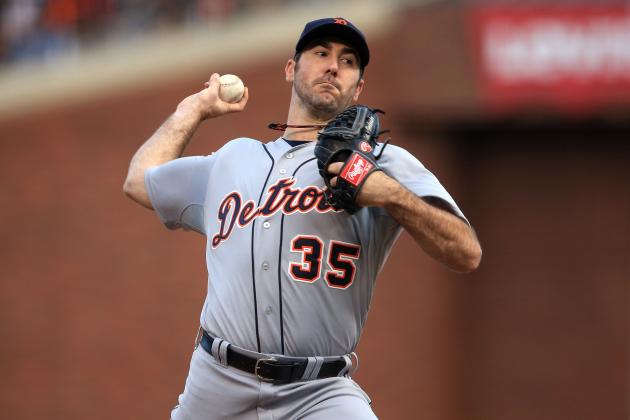 Doug Pensinger/Getty Images
Justin Verlander: The epitome of an ace.
Justin Verlander is the top pitcher in the game. At this point, that's a fact.
The second overall selection in the 2004 draft out of Old Dominion, Verlander reached the major leagues in less than a year after signing. However, it wasn't until the following year, his first full season in the major leagues, that he established himself as one of the top young arms in the game.
In 2006, Verlander registered a 3.63 ERA with 124/60 strikeout-to-walk ratio in 186 innings, and ultimately garnered rookie of the year honors in the American League.
The right-hander built upon his success the following season, as he registered a 3.66 ERA with 183/67 K/BB in 201.2 innings, and was selected to his first All-Star squad. However, Verlander's control issues became increasingly evident, as he led the league with 17 hit batters and 19 wild pitches.
The same issues were present the following season, which was, without a doubt, the worst of Verlander's career. Overall, the hard-throwing right-hander finished his 2008 campaign with a 4.84 ERA with a disappointing 163/87 K/BB in 201 innings.
Since then, however, Verlander has simply been a different pitcher—one who trusts his pure stuff and prides himself on working deep, very deep, into his starts.
The now 29-year-old turned in the best season of his young career in 2011 when he paced the league with a 2.40 ERA and 172 ERA+ (adjusted ERA), 251 innings pitched and 250 strikeouts. His utter dominance led to a slew of end-of-season accolades, including Cy Young and MVP honors in the American League.
Over the course of Verlander's eight-year career in the major leagues, the right-hander has posted a 3.40 ERA and 128 ERA+ with 1,454/470 K/BB in 1,553.2 innings. Thus far, he's been selected to five All-Star teams and placed in the American League Cy Young voting in six different seasons.
The biggest difference between pre-2008 Verlander and his current form is the development of his plus changeup. Despite his plus fastball-curveball combination, something that he'd showcased since college, the right-hander never quite missed as many bats as expected. However, since implementing a more advanced and consistent changeup, he's emerged as the game's most dominant starter—and given his ability to work deep into every start, one of the game's more dominant closers.
But as we look toward the minor leagues, is there a pitching prospect capable of becoming the next Justin Verlander? Although it's doubtful that any of them will come close to matching the enormity of his success, there are certainly some intriguing options.
Here's a look at seven pitching prospects who could be the next Justin Verlander.
*All stats courtesy of BaseballReference.com
*Pitcher scouting reports contain information that appeared in each player's profile in the recently published Top 100 prospects.
*Pitch grades refer to the 20-80 scouting scale where the first grade reflects the present, and the second grade based on future projection.
Begin Slideshow

»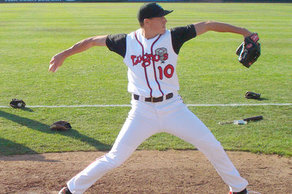 Courtesy of mlive.com
Scouting Report
Pure stuff is excellent and sets him apart from most pitching prospects; fastball registers at an easy 94-98 mph and explodes out of his hand; one of the best in the minors; plus curveball has tight spin and sharp downer break; showed an improved feel for it this past season; changeup has some nice fade and is a viable third pitch; both secondary pitches are raw; will need to refine command as he begins to move up the ladder.
Pitch Grades
Fastball: Present: 7/Future: 7
Curveball: 6/7
Changeup: 4/6
Overall Arsenal: 5/7
Projection: No. 2 starter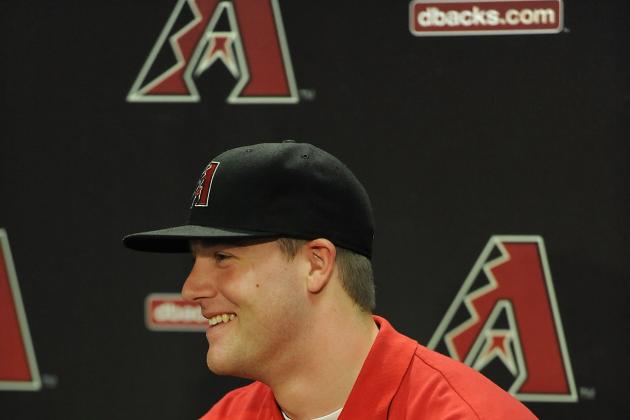 Norm Hall/Getty Images

Scouting Report
Right-hander's fastball sits in the low-to-mid-90s; heavy pitch that is thrown consistently on a downhill plane; holds velocity deep into starts; can scrape 95-96 mph when needed; curveball is a hammer with sharp, downward bite; plus offering that should be a legitimate out pitch in the big leagues; changeup flashes above-average potential with late fade; command of pitch varies, but he shows a solid feel for it relative to his experience; could move very quickly once control/command improve.
Pitch Grades
Fastball: 6/7
Curveball: 4/6
Changeup: 4/5
Overall Arsenal: 4/6
Projection: No. 2 starter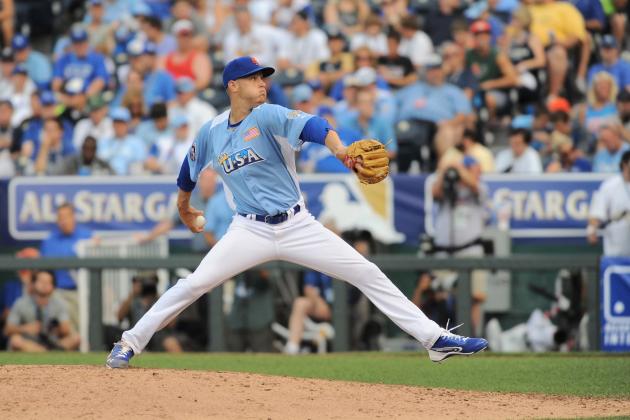 Denny Medley-USA TODAY Sports

Scouting Report
Plus fastball sits 93-96 mph with explosive arm-side run; effortless velocity overwhelms hitters; pitch is difficult to barrel; lots of helpless swings from right-handed hitters; curveball is a hammer and a second plus offering; mixes in a slider and changeup; potential four-pitch mix of above-average-to-plus offerings.
Pitch Grades
Fastball: 7/7
Curveball: 6/7
Slider: 5/6
Changeup: 4/5
Overall Arsenal: 6/7
Projection: No. 1 or 2 starter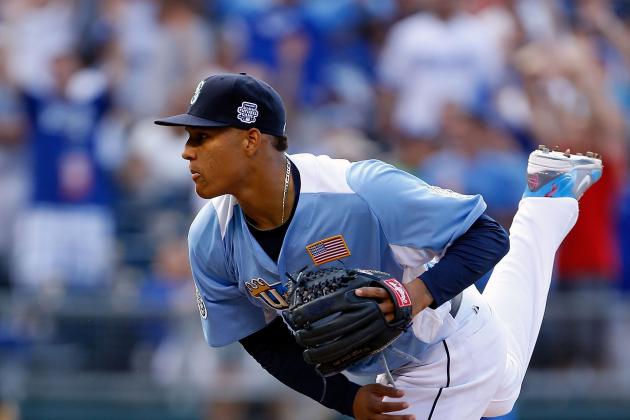 Jamie Squire/Getty Images

Scouting Report
Fastball consistently registers at 93-96 mph; jumps on opposing hitters; dials it up to 97-98 mph on occasion; sustains velocity well into his starts; plus curveball has great shape and a late, downward bite; will over-grip and spike it on occasion; changeup has come a long way over the last season and looks to be a third viable above-average offering; Mariners introduced a cutter into his arsenal last season; should offer a tough look; knows how to make in-game improvements.
Pitch Grades
Fastball: 6/7
Curveball: 5/6
Changeup: 4/5
Overall Arsenal: 5/7
Projection: No. 1 starter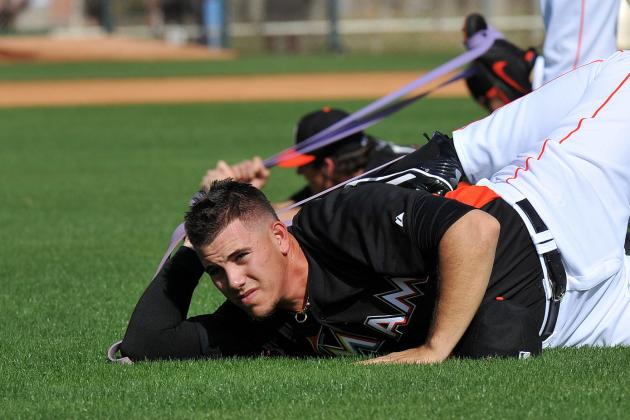 USA TODAY Sports

Scouting Report
Fastball is an easy plus pitch; ranges anywhere between 92-97 mph with weight; was touching 97-99 mph in 2012 XM Futures Game; pitch explodes out of his hand with late life to his arm side; curveball is a second plus pitch in the mid-80s with excellent depth and pace; throws a hard slider with sharp, two-plane break and projects to be at least a third above-average offering; possesses a feel for his changeup; a lot to love in his raw pitchability; relied more on pure stuff in full-season debut.
Pitch Grades
Fastball: 7/8
Curveball: 5/6
Slider: 5/7
Changeup: 5/6
Overall Arsenal: 6/7
Projection: No. 1 starter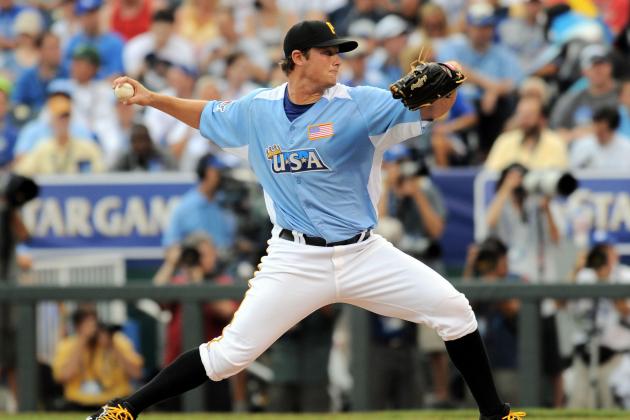 Denny Medley-USA TODAY Sports

Scouting Report
Power arsenal is highlighted by a plus-plus fastball that sits in the high 90s; routinely touches triple digits; fairly straight; relies on velocity; needs to establish early in games; complements heater with a plus slider thrown in the high 80s which features a devastating, wipeout break; completes elite arsenal with an above-average changeup; excellent speed differential; filthy when around the zone; shouldn't take him long to reach the major leagues.
Pitch Grades
Fastball: 8/8
Slider: 6/7
Changeup: 5/7
Overall Arsenal: 6/7
Projection: No. 1 starter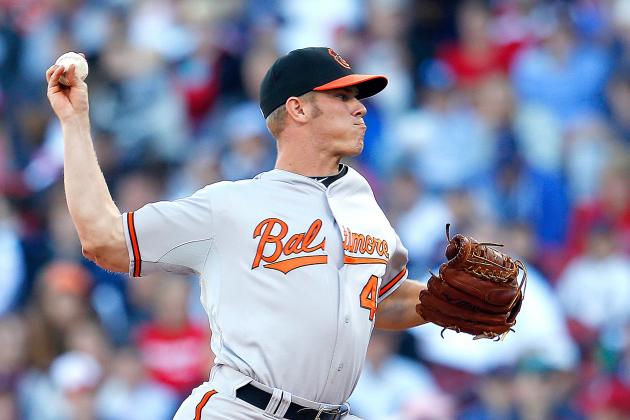 Jim Rogash/Getty Images

Scouting Report
Bundy boasts an advanced four-pitch mix highlighted by a mid-90s two-seam fastball with exceptional run; blows hitters away with a four-seamer that reaches the high 90s; breaking ball is a hammer and plus pitch; tight rotation; still developing command of the pitch; occasionally leaves it up in the zone; changeup is his most consistent secondary pitch; potential to be another above-average offering; also has a slider but primary breaking ball is the curve.
Pitch Grades
Fastball: 7/8
Curveball: 5/6
Slider: 5/6
Changeup: 6/7
Overall Arsenal: 6/7
Projection: No. 1 starter