Latest Miami Dolphins Salary Cap Breakdown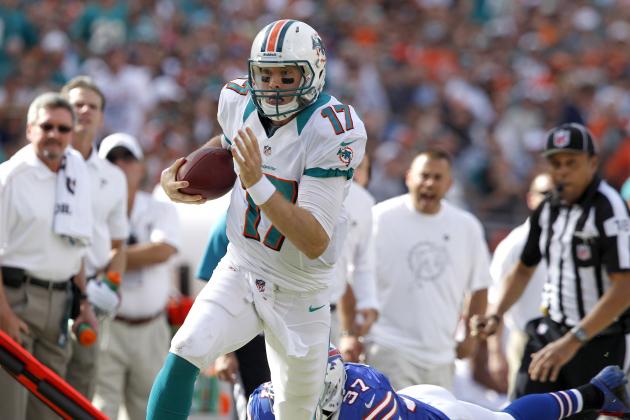 Joel Auerbach/Getty Images

The Miami Dolphins are in a position that just about any NFL team would love to be in when it comes to the salary cap and NFL Draft.
In addition to a team that finished 7-9 in 2012 thanks in part to a defense that ranked seventh in points allowed per game, as well as their quarterback of the future in Ryan Tannehill, the Dolphins are in a prime position to both improve their defense and surround Tannehill with weapons to help get an at times stagnant offense going.
Miami will have about $44.9 million in cap space for the 2013 off-season with 47 players already under contract (per Omar Kelly of The Sun-Sentinel). Only the Cleveland Browns (who boast $46.1 million in cap space) and the Cincinnati Bengals (who themselves have $51 million) have more money to spend this off-season than the Miami Dolphins.
This is a pretty big deal, especially when that's tied into the fact that the Dolphins also own five picks in the first three rounds of the draft, which should at the very least net Miami three starters for next season.
How did the Dolphins get to this position, other than by trading away a wide receiver and cornerback (two of the positions that free agency and the draft will have to fix this off-season)? Here's a look at a position-by-position breakdown for the Miami Dolphins.
Cap figures and salaries provided by Spotrac.com.
Begin Slideshow

»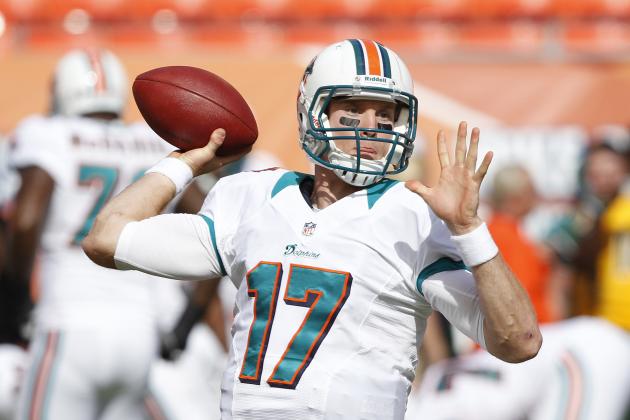 Joel Auerbach/Getty Images

The total amount of money the Miami Dolphins have committed to a quarterback right now is $2,878,341.
All of it is going to Ryan Tannehill, who will be entering his second season with the Dolphins.
Tannehill is obviously going to need a backup, and even though he's not under contract for 2013 yet, Pat Devlin will likely be back.
The Dolphins have another question confronting them though: Should they bring back Matt Moore for another season as Tannehill's back up?
Moore will likely want to go to a place where he could compete for the starting job, but he won't likely find such a place. It would behoove the Dolphins to re-sign Moore to a one-year deal as an insurance policy for Tannehill and so that he may continue mentoring the second-year player out of Texas A&M.
Moore only played in one game in 2012, and it was a victory over the New York Jets. As a starter with the Dolphins in 2011, Moore went 6-6 and ended with a quarterback rating of 87.1. If a team is desperate enough to sign Moore to compete for the starting job and pay him more than what he made in 2012 ($2.75 million), then the Dolphins would be best served letting him go.
However if Moore is able to sign at a lower price for another year with the Dolphins as Tannehill's backup and emergency quarterback, the Dolphins should (and likely will), bring him back for one Moore year.
Yes, I felt that needed a bad pun at the end.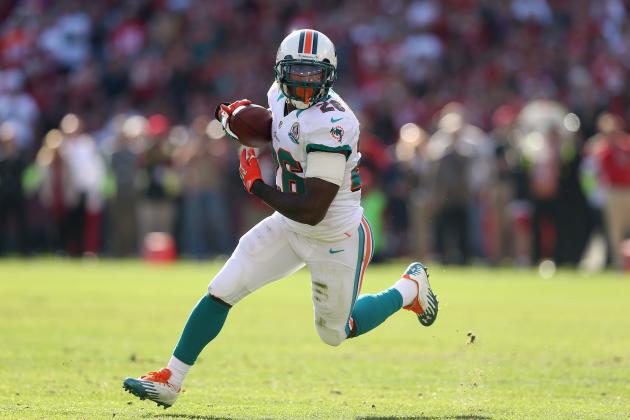 Ezra Shaw/Getty Images

Miami's five running backs under contract for 2013 combined are paid only slightly more than quarterback Ryan Tannehill, which is the way the NFL seems to be headed.
If the Dolphins re-sign Reggie Bush, which I'm advocating in case you haven't noticed, that price will likely double (a one-year, $3 million deal for Bush would be a bargain, and there's a good chance he would accept that deal).
But part of the reason why Miami's running backs only combine to form the cap hit of about one-fourth of Karlos Dansby's 2013 cap hit is because of the inexperience. In that group you have a third-year underachiever in Daniel Thomas ($882,717), a second-year potential breakout star in Lamar Miller ($601,500), return specialist Marcus Thigpen ($482,500), and potential acorn Jonas Gray ($480,000).
There's also a good chance that Thomas (who's paid the most of the four running backs) could find himself gone due to his underachieving play and issues with injuries in his first two seasons. This, along with the collective inexperience of the team, are some of the key reasons why I'm in favor of the Dolphins bringing Bush back.
Marc Serota/Getty Images

That paltry number (football-wise) dedicated to the Dolphins wide receiver corps is dedicated mostly to Davone Bess, who has a $3,433,000 cap hit for 2013.
The rest of the money is spread out among Rishard Matthews ($493,403), Armon Binns ($480,000), and Jeff Fuller and Brian Tyms ($405,000 each).
That cap number paid to Dolphins wide receivers will likely double when/if the Dolphins re-sign Brian Hartline, and of the Dolphins cap space, I'm willing to estimate that at least $14 million (outside of Hartline) of it will be spent on the position, while still looking for other wide receivers in the draft come April.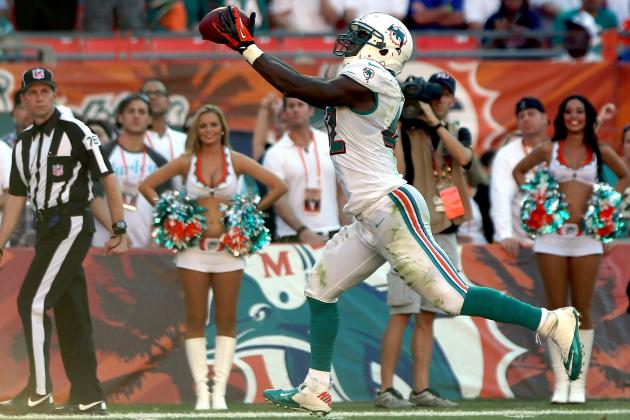 Marc Serota/Getty Images

Michael Egnew will be the highest paid tight end on the Dolphins roster next season if they don't go out and acquire a free agent like Jared Cook, Dustin Keller, or re-sign Anthony Fasano (Egnew will earn $652,239 in 2013 if the Dolphins retain him).
For comparison's sake, Charles Clay, who is already more polished and has produced for the Dolphins, will give the Dolphins a cap hit of $583,250.
The small number at the position (which also includes Kyle Miller), will increase in some form this offseason. Miami will likely look to the draft to find a tight end, either by trading down in the first round and picking up Notre Dame's Tyler Eifert or Stanford's Zach Ertz at that pick, or by waiting for either of them to fall to Miami.
There's also the possibility that Anthony Fasano is re-signed. Last year Fasano made $3.6 million on his base salary, and with his bonuses added to it cost the Dolphins $4.375 million.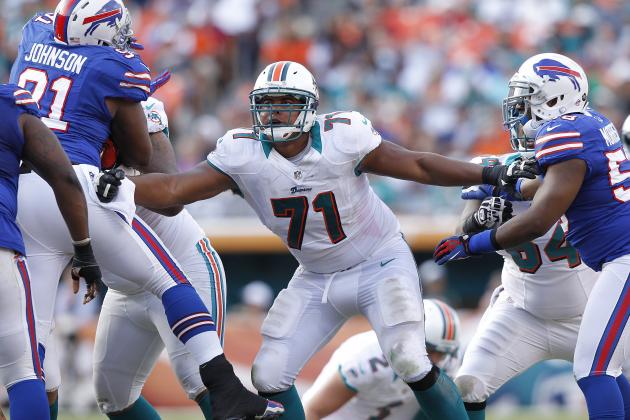 Joel Auerbach/Getty Images

If the Dolphins re-sign Jake Long to the money he wants, the number posted in the title of this slide will double.
For what Long has given the Dolphins in the last two seasons as well as his career trajectory, it's really not worth it. The Dolphins actually have quite a few options already on the roster which start with Jonathan Martin permanently moving over to the left side.
One option includes Will Yeatman, who's frame and athleticism works perfectly within the Dolphins' zone-blocking scheme (in a way that Jake Long doesn't). He will likely see some time in practices and the pre-season at right tackle. As would current right guard John Jerry, who is better suited for the tackle position.
Miami could also take care of this position in the draft, which it likely will by drafting a guard in either the second or third round. I wouldn't put it past the Dolphins to select Jonathan Cooper out of North Carolina in round one if such an option sufficed, although in order to do that without a public backlash, Miami would have to take care of the wide receiver, pass-rusher and cornerback positions through free agency, which it is looking like what the Dolphins will attempt to do this off-season.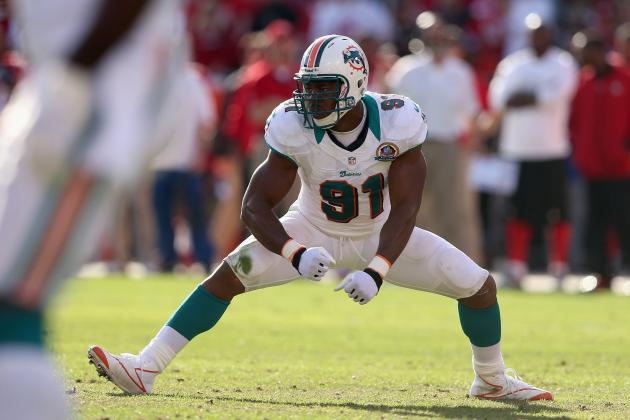 Ezra Shaw/Getty Images

The best way to describe the money spent on defensive ends for the Dolphins would be to look at it this way.
The Dolphins are spending only $5.015 million on one of the priciest positions in the NFL. That money is all tied up into one of the best pass-rushers in the NFL.
The rest of the cap figure for Dolphins defensive ends is spread out among special teams player Derrick Shelby ($481,667), as well as two defensive ends who likely won't be defensive ends in 2013 (Jared Odrick is owed $1,939,868, and Olivier Vernon's cap hit is at $669,520).
The Dolphins could look to free agency to fill in their other defensive lineman, with the main target being Cincinnati Bengal Michael Johnson. Johnson already has experience working with Dolphins defensive coordinator Kevin Coyle in Cincinnati, and will likely be available for about $5-6 million if he chooses to leave the Bengals.
The Dolphins might also decide to look to the draft for help at the position, especially if LSU's Barkevious Mingo falls to them at the No. 12 pick in round one. The second round however would more likely be the position they'd choose another defensive end if that's the route they choose to go to acquire one as opposed to free agency.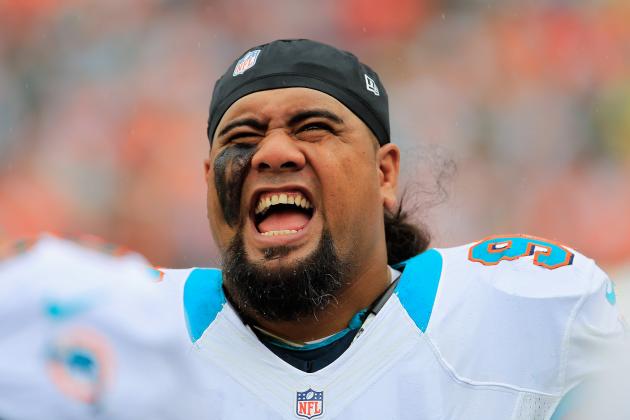 Chris Trotman/Getty Images

Paul Soliai is the Dolphins defensive tackle unit right now, and he's pulling down $7.875 million.
The other two defensive tackles taking up cap hits for the Dolphins are Kheeston Randall ($495,612) and practice squad player Chas Alcxih ($405,000).
Miami could re-sign Randy Starks, and in fact if it happened I wouldn't be too surprised. However, it's more likely that the Dolphins will re-sign Tony McDaniel to a small one-year deal and slide Jared Odrick (who's salary is discussed in the defensive ends slide) over to the defensive tackle spot with Randall getting some game-time reps during the season when needed.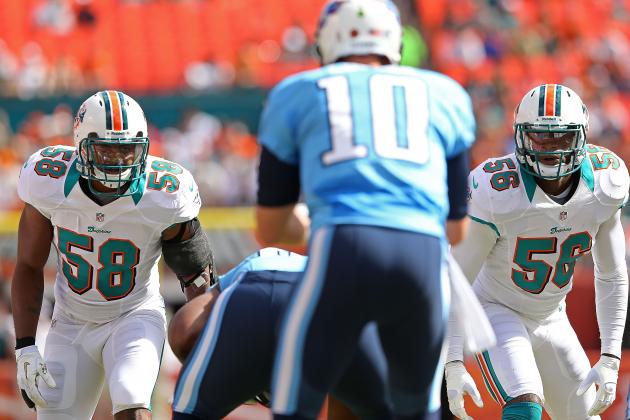 Mike Ehrmann/Getty Images

Linebacker is right now where the majority of the Dolphins cap money is going to, and I can't really see that changing—even if Karlos Dansby ($8.575 million) or Kevin Burnett ($5.7 million) restructure their contracts.
Both linebackers likely will be asked to do just that, despite the cap room the Dolphins already have available to them. If the Dolphins can find a way to clear another $2-3 million between the both of them, it will help them offer just a bit more to any free agents they are likely to woo.
There's also the possibility that one of them wind up getting released, however if they do meet that fate, Kevin Burnett would likely be the one due to Dansby's cap hit in the next two years.
Koa Misi ($1,186,905), likely won't see a pay cut or restructuring, while the other three linebackers under contract for the Dolphins are Jason Trusnik ($915,000), Jonathan Freeny ($480,000), and Josh Kaddu ($480,000).
The only linebacker I could see the Dolphins adding would be a player already on their roster in defensive end Olivier Vernon. Other than that, don't expect the Dolphins to add a linebacker anytime before the fifth round, or even sign one in free agency.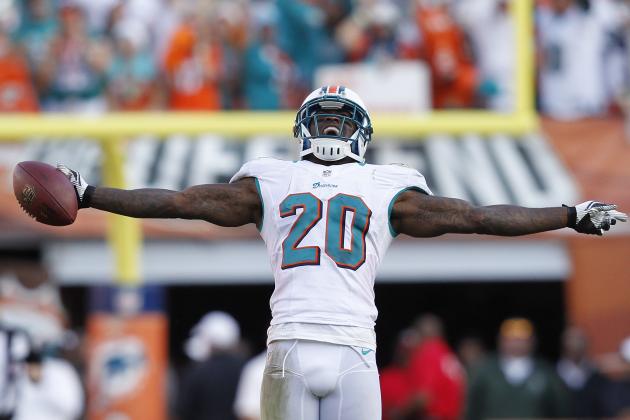 Joel Auerbach/Getty Images

Based off of the production of the players in 2012, I can justify the money spent on the linebackers.
But spending nearly $14 million on the secondary in 2013 (when they will have to re-sign Chris Clemons or draft a safety then draft a cornerback), is downright insane.
On top of that, the Dolphins would be wise to work out a long-term extension with Reshad Jones, who developed into one of the AFC's best safeties in 2012 and will only be 25 at the start of next season. Jones' current cap number is at $1,363,075, but that could increase with a new deal.
As for Miami's highest-paid defensive back in 2013, it is currently Richard Marshall, who's due $5,766,667 in 2013. That should be reduced by plenty obviously, but I'd still expect Marshall on the team next season.
Waiver-wire pickup Dimitri Patterson also has a fairly large cap hit in 2013 that the Dolphins will attempt to negotiate down, as he's owed $4.6 million next season. Patterson showed some potential for the Dolphins in the final two games of 2012, but the cap number is an eyesore for a soon to be 30-year-old corner.
Nolan Carroll ($677,937) and Jimmy Wilson ($566,475) are the other members of Miami's defensive backfield on the roster, along with cornerback De'Andre Presley ($480,000) and practice squad safety Kelcie McCray ($405,000).
Miami will have to add pieces to the secondary in 2013, but it's likely that an improved pass rush could do that on its own. Despite Marshall and Patterson's big contracts that should be re-worked, the rest of the secondary is paid pretty fairly. However, this doesn't take into account cornerback Sean Smith (who I wouldn't mind the Dolphins saying good-bye to) and safety Chris Clemons (whether he comes back or not should depend on the price).
Either way, Miami will be looking to the draft for a corner and/or safety, as well as looking for a free agent bargain.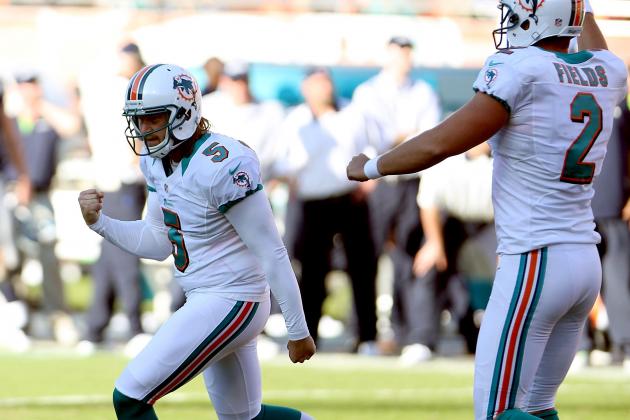 Marc Serota/Getty Images

We finish off with the Dolphins special teams, and here's why this is important.
First off, Brandon Fields' cap number ($1,720,000) isn't likely to change, nor is he likely to face any competition in camp. Just throwing out what he's making, as the real story of the special teams is Dan Carpenter.
Carpenter's cap hit with the Dolphins is currently $3,012,500. While that's not very important when it comes to signing free agents (Carpenter will come into camp as the Dolphins starting kicker), it will be in a situation that will likely play itself out.
The Dolphins will likely either draft a kicker in the seventh round or sign an undrafted free agent kicker prior to training camp. While Carpenter might come into camp as the kicker, he might leave camp no longer a member of the Miami Dolphins.
It's as simple as this: Carpenter has to greatly out-perform whomever Miami brings in to compete with Carpenter. Due to the salary Carpenter will be making, if the two of them are perceived to be tied, look for Carpenter to be the one leaving.
And if you're wondering about Marcus Thigpen's cap number, he's back with the running backs.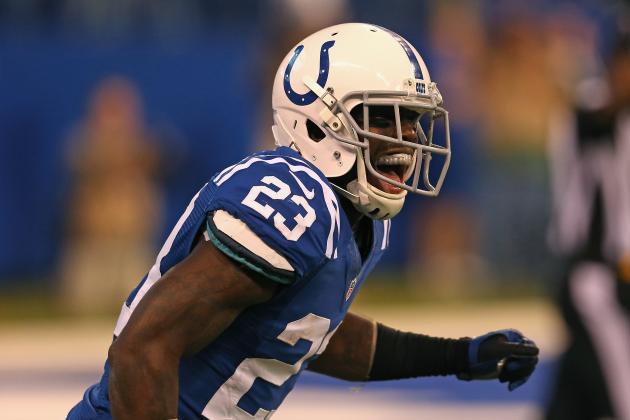 Jonathan Daniel/Getty Images

What is dead cap money?
NationalFootballPost.com explains:
Dead money is a salary cap charge for a player that is no longer on a team's roster. It is a by-product of the various salary components of an NFL contract being accounted for differently under the salary cap. Base salaries and most roster bonuses count against the cap in the year that they are earned while signing bonuses are prorated or spread out evenly over the life of a contract for a maximum of five years. Option bonuses and roster bonuses fully guaranteed at signing are the other most common salary components that are also treated like signing bonuses.
Why is this important? Because the dead cap money that counts against the Dolphins accounts for $3,198,196 that can't be spent as it's counted against the Dolphins salary cap.
This includes bonuses owed to former Dolphin Vontae Davis and possible soon-to-be-Dolphin Jake Long, as well as Clyde Gates.
However, the Dolphins will have an extra $5.3 million to spend as part of a rollover from their 2012 Salary Cap.
The Dolphins have many ways to improve their team in what is a make-or-break offseason for Jeff Ireland. Either way, this is a great off-season for the Dolphins. If Ireland succeeds, the Dolphins should be a 2013 playoff team.
If he fails, he's gone. At least that would be the hope among Dolfans everywhere.
Either way, buckle up for what should be a wild Dolphins off-season.