Latest Salary Cap Breakdown for Tennessee Titans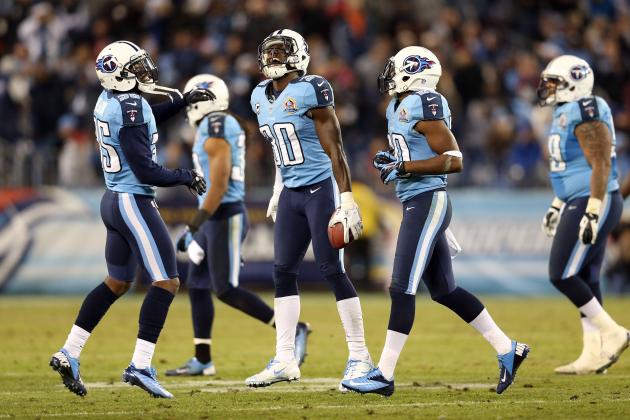 Andy Lyons/Getty Images

NFL free agency starts on March 13, giving teams less than a month to prepare a strategy. The Titans have $19.4 million in cap space as we head toward the big date, but how does that breakdown by position?
I'm going to delve into each position groups salary cap situation to see how it will affect the Titans strategy in free agency and the NFL draft.
*All salary cap information gathered from Spotrac.
Begin Slideshow

»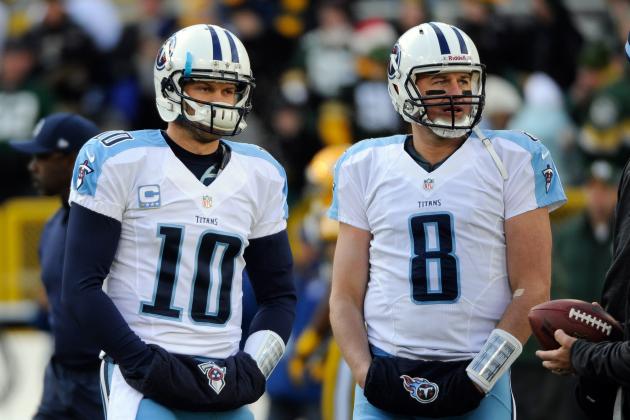 Benny Sieu-USA TODAY Sports

The Titans like their depth chart at QB, with a still promising young talent in Jake Locker as the team's starter and a quality mentor and leader in Matt Hasselbeck as the No. 2.
Rusty Smith fills the role of third-string quarterback and developmental prospect. He's been ineffective when given an opportunity to play and will likely never develop into a starting NFL quarterback.
Despite all that, the problem with this position lies with Matt Hasselbeck. He is set to pull down a $2 million signing bonus to go along with a $5.5 million base salary. That's a whopping $7.5 million dollar cap hit for a back-up QB.
Hasselbeck has stated that he'd be willing to renegotiate his hefty contract, according to the Tennessean:
"I would definitely be up for that, for sure. I'm not in those conversations, but I'm aware of them. That topic came up maybe in September, October, November, somewhere in there. I would be excited about the opportunity because it would be basically having the opportunity to stay. But again, there's so much that goes into those things. But from my perspective, yeah, absolutely."
As it stands now, a contract renegotiation is the only way this positional group stays the same in 2013.
Frederick Breedon/Getty Images

Chris Johnson proved that he still has the burst to rip off the huge TD runs that put him on the NFL map in 2009, by taking three to the house from 80-plus yards out in 2012. Johnson is set to return to the team at the cost of $12 million to the team's salary cap.
Javon Ringer is a free agent and the rest of the halfbacks and fullbacks on the roster have very cap-friendly contracts.
New running back coach Sylvester Croom has stated in an interview that the team is interested in bringing in another back that can "carry the load":
"I truly believe if you're serious about running the football, you've got to have two guys actually both able to carry the load during the season ... If you're going to really run, I'm talking 30-plus times a game, there aren't many that can do that for 16 games anymore, their bodies can't take it."
The Titans won't likely spend too much on a secondary running back, given CJ2K's huge contract, but the realization that the team could use more quality depth at the position is refreshing after watching the highly ineffective play of Ringer and Jaimie Harper.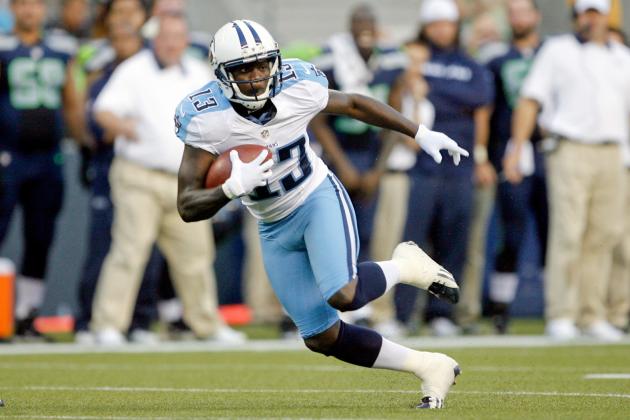 Joe Nicholson-USA TODAY Sports

There's a lot of promising talent at this position, but the group can never seem to put together productive seasons together. The team has been waiting for Kenny Britt to stop with all his off the field antics and play a complete season of the football to the level that he's capable of.
Nate Washington has shown that he's an above average second receiver, but struggles to be the team's top target. Kendall Wright racked up a ton of receptions in his first year, but it appears quite clear that he could dominate the slot.
Monetarily, there's not a ton of money being spent on the position. Nate Washington makes the most at $4.2 million and a $5.1 million cap hit. Britt costs just more than $2.3 million against the cap, and Wright is in the second year of his rookie contract.
However, for some strange reason Lavelle Hawkins is set to be cost more than $2.5 million and he almost never even steps on the field. Hawkins would stand as a possible cap casualty if the Titans were more strapped for cash.
With two of the team's top three receivers being selected in the first round and still playing under their rookie contracts, it's unlikely that any players of note will be brought in to the organization.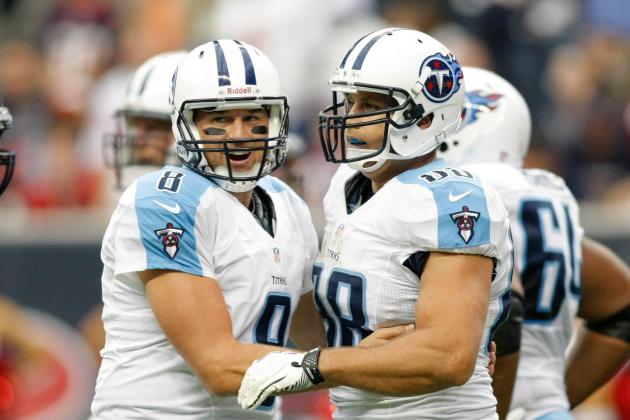 Brett Davis-USA TODAY Sports

Jared Cook is set to be a free agent when March 13 rolls around and has no reason to re-sign with the team. He has consistently been unhappy with his usage since being drafted and, unless new offensive coordinator Dowell Loggains has made some major promises to the contrary, nothing appears likely to change.
Cook's departure leaves Craig Stevens as the team's top talent at the position at $3.5 million against the cap. Behind him is Taylor Thompson at a paltry $529,500, but he's still a pretty raw talent after a year in the league.
Look for the Titans to try pretty hard to bring Cook back at a team-friendly rate or bring a talent like through free agency. I don't see the draft as an option if they want someone to top Stevens on the depth chart.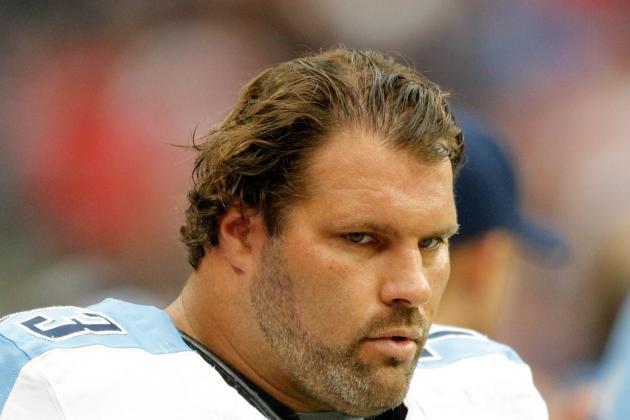 Brett Davis-USA TODAY Sports

The two staples of the Titans' offensive line—Michael Roos and David Stewart—are set to return at a clip of $7.5 and $7 million. Big free-agent acquisition Steve Hutchinson was a major bust in his first season and could be a cap casualty, according to John Glennon of the Tennessean.
Hutchinson's salary jumps from $2 million in 2012 to a cap hit of $6.75 million next season. The team would be putting an awful lot of faith in a 35-year-old guard who's clearly in the twilight years of his career.
At the other guard spot Leroy Harris is a free agent and has never showed himself to be even a quality backup at either guard or center. The Titans will definitely be looking to find a replacement for him either in free agency or in the upcoming draft.
Center Eugene Amano is unfortunately signed through 2014 and, even more unfortunately, at a rate of more than $6 million against the cap. The cost of cutting Amano would create $4.135 million in dead money. I find it hard to see the head honcho eating that much cash for less than $2 million saved in cap space.
Fernando Velasco was finally given an opportunity to start after four years in the league and proved himself to be a quality center. He enters the offseason as a restricted free agent and the Titans must make every attempt to bring him back into the fold rather than exacerbate their woeful interior line play.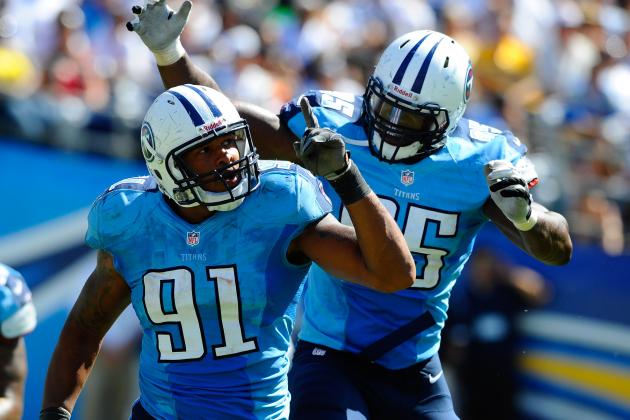 Christopher Hanewinckel-US PRESS

The Titans have done some quality drafting at defensive tackle recently by bringing in Karl Klug, Jurrell Casey and Mike Martin in the last two years. Derrick Morgan was finally healthy and was able to show why the team drafted him in the first round by putting together an excellent all-around season, according to Pro Football Focus (paid subscription only).
Kamerion Wimbley is the most expensive player in the unit at a cost of $5.8 million against the cap. Morgan is still playing at a fairly cheap $2.5 million cap hit. All other contracts are less than $800,000 in 2013.
The Titans have reportedly made an offer to recently released New York Giants defensive tackle Chris Canty. The signing would make sense, with Sen'Derrick Marks becoming a free agent this offseason. The Titans could use another run-stopping defensive tackle to help cure the team's poor third-down and run defense.
There's just about no depth at defensive end behind Morgan and Wimbley, so both a free agent signing and a draft pick at the position appear likely.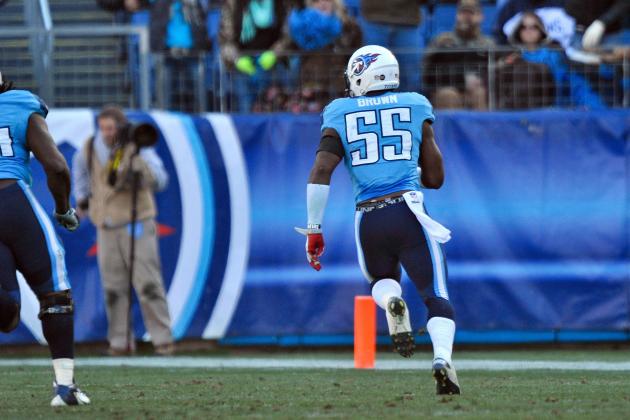 USA TODAY Sports

Like defensive tackle, the Titans have been spending a lot of draft picks on getting young at the position. Every starter in the linebacker corps will be entering their third year or less in the league. With none of the prospects being selected in the first round, it safe to say they are all on cheap contracts.
Akeem Ayers ranks No. 1 for most expensive contract at just more than $1.3 million, the next two are backups Tim Shaw and Patrick Bailey. The Titans have to decide if they are comfortable going forward with Colin McCarthy as the starting middle linebacker or if he's better served as a reserve.
Will Wtherspoon's contract is up after losing his starting job to rookie Zach Brown so the team could use a bit of depth. Bailey and Shaw are fantastic special teams players, but it would be unwise to go in to next season with them as the main backups.
Ayers became much more productive in his role as a defensive end on passing downs and nickle defenses, but he struggles in coverage. The Titans would do well to find another linebacker capable of excelling on coverage in the latter two scenarios.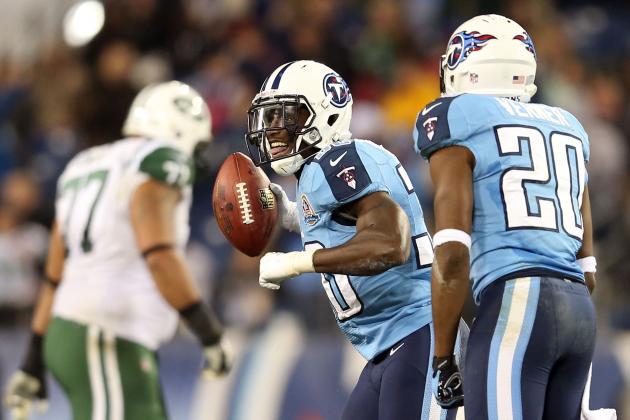 Andy Lyons/Getty Images

Jason McCourty are perhaps two of the most underrated corners in the league—McCourty especially—and that can mostly be blamed on the extremely poor play of the team's safeties. Over the last two seasons, McCourty has ranked in the top 10 of Pro Football Focus' cornerback rankings.
Verner is a quality corner, but he excels covering opposing defenses slot receivers. It shouldn't be considered a demotion per se if the Titans looked to bring someone in to usurp him with the amount of three-receiver sets being run in the NFL today.
McCourty is runs the team $6.8 million against the cap, while Verner comes in at a very affordable $1.45 million. There is still a lot of quality talent at corner at the team that may simply need more time to develop: Tommie Campbell ($566,474) and Coty Sensabaugh (588,023) are both set to compete for nickle duties next season.
At safety, Michael Griffin will cost the team $6.3 million in just the second year of a regrettable five-year contract. At the other safety spot there's no sure answer to who the starter is on the roster after three other players got playing time in 2012.
Jordan Babineaux is in he final year of his deal and will cost the team $1.8 million, but could be cut at a cost of just $200,000. After that, the contracts run the team less than $700,000. Management has already showed their desire to improve the position by scheduling a visit with the Buffalo Bills' George Wilson.
However, safety doesn't carry the heftiest franchise tag and is a hard position to fill. Many teams could tag the top talent set to hit free agency if the Titans whiff on signing Wilson. The team could also focus on finding a safety prospect early in the draft.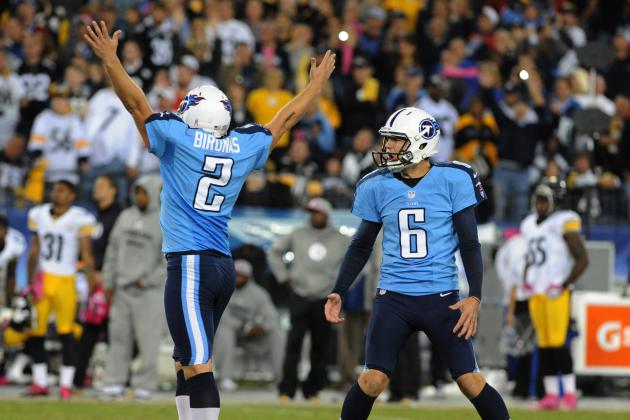 Al Messerschmidt/Getty Images

Rob Bironas had his worst season in five years, making just 80.6 percent of his field goal attempts. However, he is still one of the league's best kickers if he can return to form in 2013.
At punter the team is fine with Brett Kern costing a bit more than $1.3 million. The team will probably bring in another leg as a camp body like they usually do, but expect to see Kern and Bironas as the team's kicker and punter next season.