L.A. Clippers vs. L.A. Lakers: Live Score, Results and Game Highlights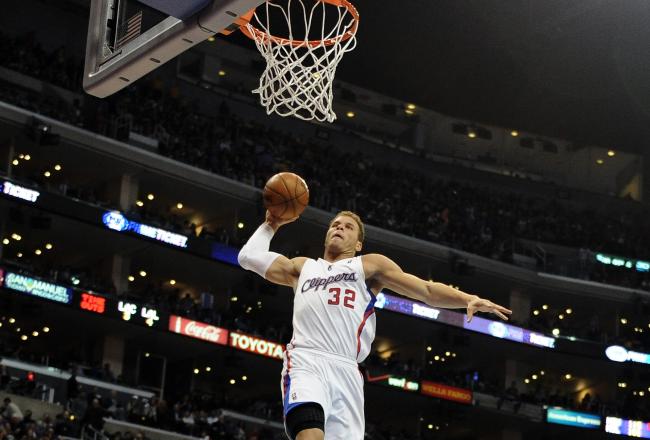 Why can't we get this guy in the Sprite Slam Dunk Contest again?
Harry How/Getty Images
Commentary from the L.A. Clippers 125-101 victory over the L.A. Lakers on Feb. 15, 2013.
The Clippers absolutely embarrassed Kobe Bryant's Laker squad tonight.
Keys to the Clippers win:
1) Chauncey on fire: Billups hit 7-of-10 from the floor and 5-of-7 from behind the arc for 21 points. The converted 2-guard has extended his career with his ability to spot up and allow Chris Paul to do his thing with the ball.
2) Out-rebounded Lakers 47-37
3) Hot start: Blake Griffin out-scored the Lakers by himself in the first quarter, 18-17, while his teammates put an addition 13 points on the board to give the Clips a 31-17 lead after the first period. They never looked back.
CLIPPERS 125, LAKERS 101 — FINAL
On a positive note, at least we're getting to see Robert Sacre. Sacre is a jump shot away from being an All-Star. Or something.
CLIPS 123, LAKERS 97 — Under 2 mins, 4th
I guess Chris Duhon must still be dealing with the back spasms that have kept him out of action. Don't be surprised if some Lakers fans don't file lawsuits demanding refunds like the Miami Heat fan who was upset Gregg Popovich rested his stars.
A game without Chris Duhon in garbage time just isn't worth the price of admission.
CLIPS 120, LAKERS 95 — 2:49 4th, Taunting Timeout by Vinny Del Negro
Kobe Bryant finally checks out of the game at about the four minute mark of the fourth quarter. He looks beyond disgusted with the way this one went down.
CLIPS 118, LAKERS 90 — 3:38 4th
When DeAndre Jordan is hitting quasi-trick shots, it's a pretty clear indication things just aren't going your way.
CLIPS 116, LAKERS 90 — 4 minutes, 4th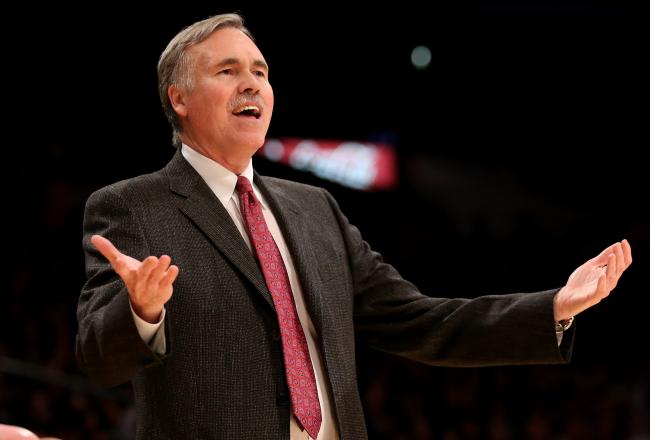 I'm still struggling to understand why Kobe Bryant is on the court with the Lakers down 23 and only five minutes remaining in the game. He's the second best player in NBA history, but even MJ himself couldn't resurrect the Lakers when they're matching baskets, at best.
CLIPS 113, LAKERS 90 — 5:09 4th, TV Timeout
Kobe's having himself another great game with 20 points and 11 assists, and the Lakers haven't looked all that bad offensively actually. They just can't get a stop to save their lives.
CLIPS 110, LAKERS 90 — 6:06 4th
The only Clipper starter still in the game is Caron Butler, while Mike D'Antoni still has Kobe Bryant out there pluggin' away.
CLIPS 104, LAKERS 85 — 8:36 4th, TV Timeout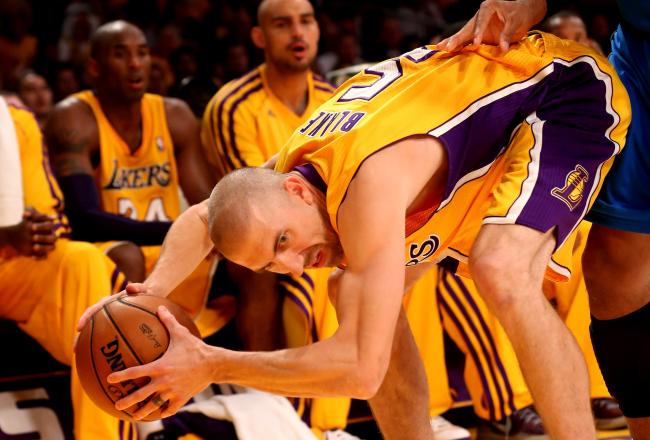 Steve Blake, a career 78 percent free throw shooter, missed all three free throws after being fouled on a triple.
When it rains, it pours.
CLIPS 102, LAKERS 83 — 9:36 4th
The Clips take a 21 point lead into the fourth quarter. They were favored by five points in Vegas. I guess oddsmakers didn't consider that the Lakers can't defend teams with the depth and weapons the Clips have.
CLIPS 101, LAKERS 80 — End of 3rd
No, really, let's see Duhon tear this game up.
We may hear some MVP chants if he gets going.
Steve Blake is still trying to pull the Lakers back in this one, but the Clips can't seem to miss a shot.
CLIPS 95, LAKERS 76 — Under 1 Min, 3rd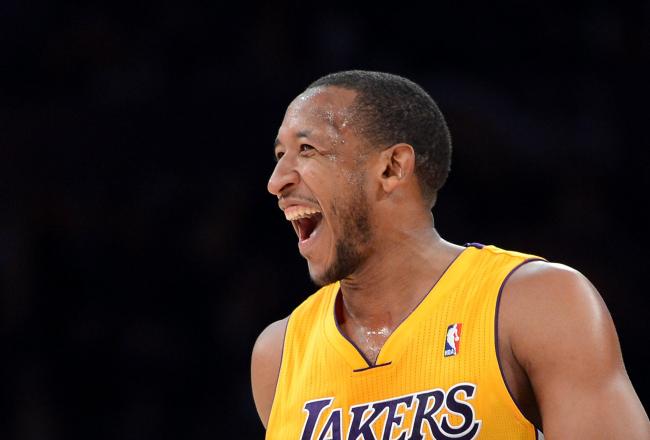 Well, that escalated quickly. 6-2 run by the Clips to extend the lead to 22 again.
Gear up to see Chris Duhon and Devin Ebanks soon. Duhon has solidified himself as the best fourth string point guard in Lakers history, while Ebanks shot selection makes Nick Young look like the league's best distributor.
I'm excited, are you?
CLIPS 90, LAKERS 68 — 2:54 3rd, Timeout In Play
With DeAndre Jordan stepping to the line, I think I'm more excited to see his free throw form than any dunk he's thrown down this season. That brick he shot in the first quarter still has me tasting the vomit in my mouth that followed seeing it.
CLIPS 87, LAKERS 68 — 3:34 3rd
The Clips are starting to get a little sloppy with the ball and have had two unforced turnovers in the last three possessions. I'm calling them unforced because defensive pressure didn't contribute to the errant passes.
CLIPS 84, LAKERS 68 — 4:45 3rd
The Lakers have really responded to the timeout. They've gone on a 2-2 run in the last two minutes of game time. Impressive.
CLIPS 80, LAKERS 60 — 6:39 3rd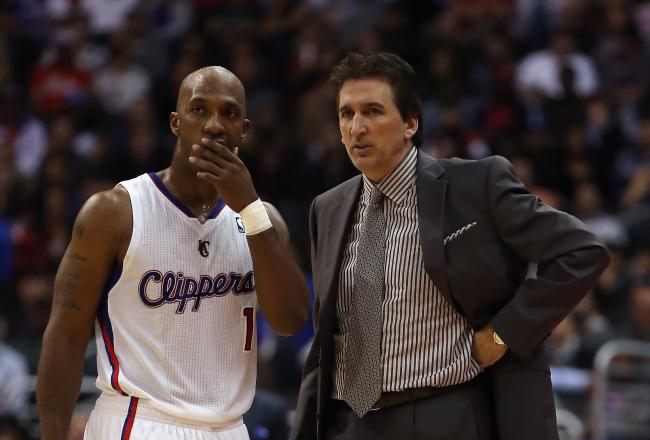 Chauncey Billups has a game high 21 points on 7-of-10 shooting, including 5-of-7 from three-point range. EN FUEGO.
Billups has come back in full form after missing so many games, and the Clips are fairly unstoppable with a 2-guard that can bang down open treys like this.
CLIPS 78, LAKERS 58 — 8:22 3rd, Lakers Timeout
Dwight Howard doesn't seem to be making any effort to keep his shoulder away from defenders when he finishes around the basket. He caught the ball and finished through contact as Blake Griffin put a nice grab on Howard's upper chest area. Often, when a player is injured they "baby" the affected area in an effort to prevent further injury.
CLIPS 75, LAKERS 58 — 8:45 3rd
The Clippers shot 71 percent from the floor in the second quarter and have picked up right where they left off, beginning the second half on a 6-2 run.
CLIPS 70, LAKERS 54 — 10:41 3rd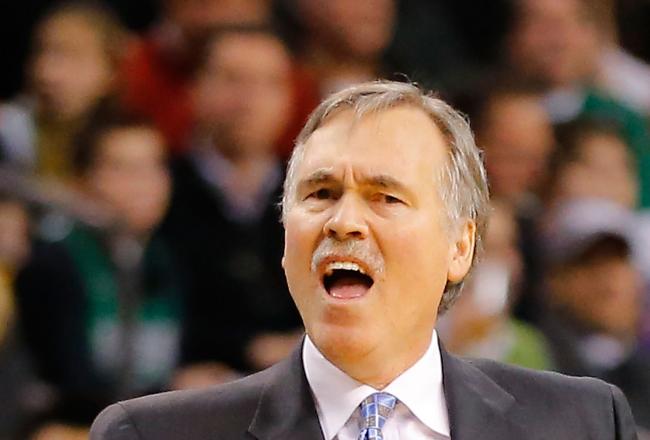 Matt Barnes closed the half with a triple from the top of the key as the Clippers punctuated the first half with a 14-5 run.
Mike D'Antoni's beyond clueless as to what to do with an offense as potent as the Clippers. That premature Mike Brown firing just looks worse with each passing game.
CLIPPERS 64, LAKERS 52 —Halftime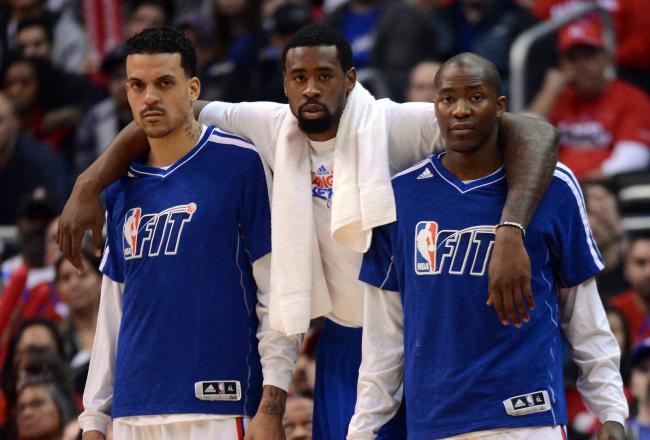 DeAndre Jordan picked up a technical foul as this first half comes to a close. That's the third technical foul in this game. Refs are enjoying themselves.
CLIPPERS 61, LAKERS 50 — 20.3 seconds in Half
Mike D'Antoni seems to think calling timeout twice in a minute in a half is going to stop the Clippers from assaulting his team offensively. I guess that's what coaches do when they have no clue how to handle defensive schemes.
CLIPPERS 61, LAKERS 48 — 47.9 seconds in Half
Chris Paul's deep three from the top of the key extended the Clippers' lead back to double digits again, 58-47.
The next play, Chauncey Billups said "I can do that, too" and knocked one down in transition. A 6-0 run in about 20 seconds.
CLIPPERS 61, LAKERS 47 — 56.1 seconds in Half, Another Lakers Timeout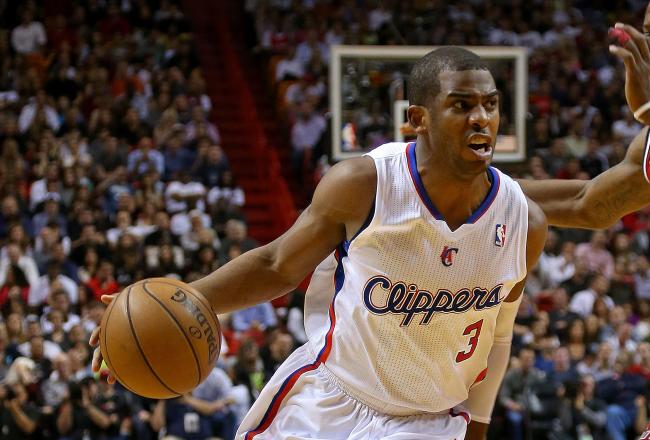 The way Chris Paul utilizes the spin dribble is quite impressive. It's not like he hasn't been doing this his entire career, but he never seems to come up disoriented, even after several spins in sequence. Whirling dervish.
Paul's balance and ball handling abilities are second to no NBA point guards in the league today.
CLIPPERS 52, LAKERS 47 — 2:10 in Half, Lakers Timeout
Both teams are in the bonus with three-plus minutes in the half.
CLIPPERS 49, LAKERS 44 — 3:00 2nd
This article is
What is the duplicate article?
Why is this article offensive?
Where is this article plagiarized from?
Why is this article poorly edited?