Tyreke Evans: Defining the Proper Fit for NBA's Most Polarizing Playmaker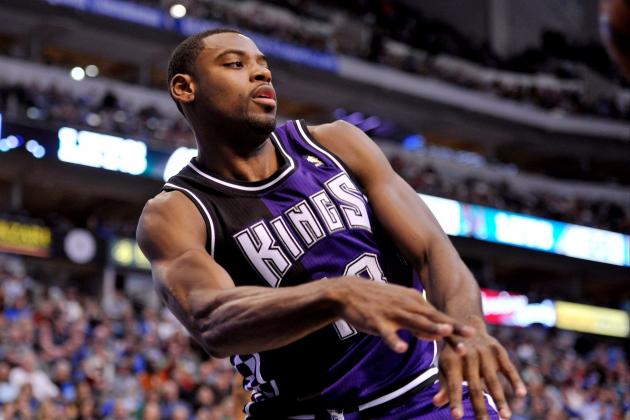 USA TODAY Sports

Tyreke Evans of the Sacramento Kings won the 2010 NBA Rookie of the Year award. Since then, it has been nothing more than inconsistency and uncertainty from both he and the Kings organization.
The question is, what would be the proper fit for the NBA's most polarizing playmaker?
Ailene Volsin of The Sacramento Bee reported in early January that the Kings were willing to listen to trade offers for Evans' services. It's not hard to see why teams might be intrigued, as Evans has an expiring contract and remains productive.
In other words, you can bring him on to contribute to the future of your organization or let him walk if it doesn't work out.
As for those who believe Evans has lost his edge, think again. He's currently averaging 15.3 points, 4.8 rebounds, 3.2 assists and 1.4 steals with a Player Efficiency Rating of 18.20.
Unfortunately, he's done all of this in an inconsistent rotation without a defined position—so what is the proper situation for Evans to thrive?
Begin Slideshow

»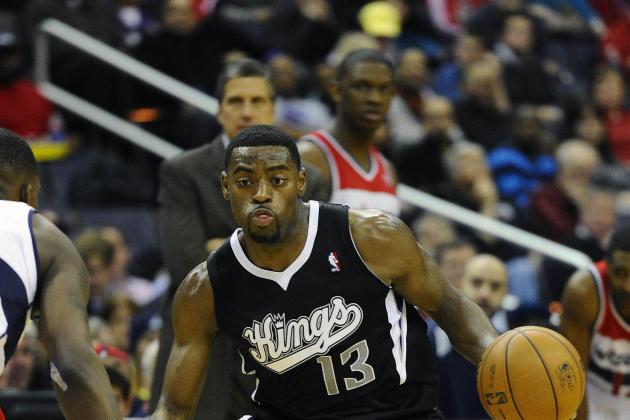 USA TODAY Sports

The most common misconception about Tyreke Evans is that he's a position-less player.
The truth of the matter is, Evans is meant to play point guard. It's simply a matter of finding the proper system for him to thrive in.
So what might that entail?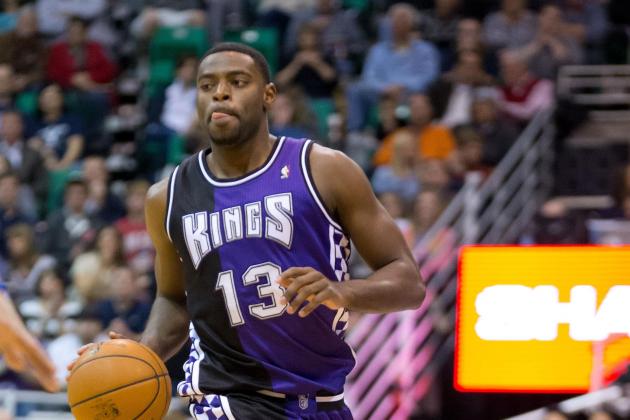 USA TODAY Sports

Tyreke Evans is one of the NBA's most skilled ball-handlers.
Coming off of the dribble, Evans is more than capable of taking on elite defenders and making them look senseless.
Unfortunately, Evans is not meant to be confined to the half-court—not on a full-time basis.
Evans can get by and produce at a reputable level in a slower-paced offense. With that being said, Evans is far more dangerous in the open court.
Unleash this young man in an up-tempo offense and he will go from quality to elite.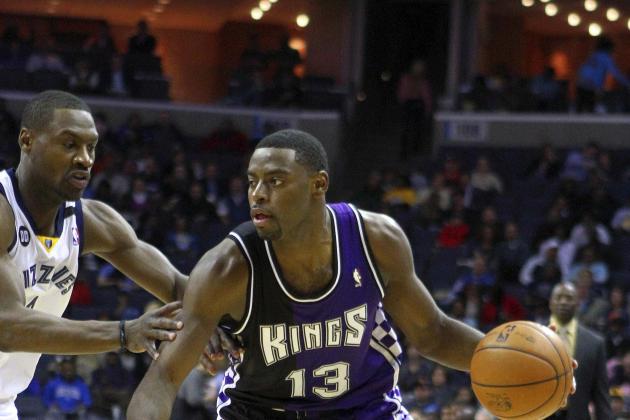 Spruce Derden-USA TODAY Sports

When Tyreke Evans is out in transition, he is one of the league's elite read-and-react playmakers.
Evans is a menace when close to the basket and a capable enough facilitator to keep the opposition on their toes.
As soon as he develops a more consistent jump shot, Evans will be all the more lethal.
By allowing Evans to get out in transition and react on the dime, a team would maximize his world-class playmaking abilities.
This would create a comfort zone that Evans has not experienced since his rookie season.
As a result, Evans could potentially run an offense in the same elite manner as Ty Lawson of the Denver Nuggets. The difference for Evans would be his overpowering size.
It's all about finding the right system—one that works directly with Evans on his jump shooting.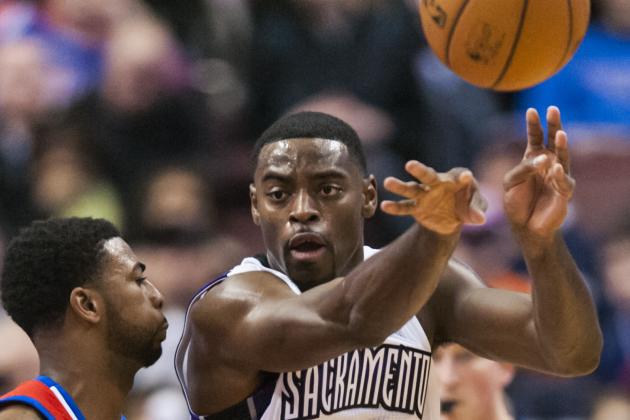 USA TODAY Sports

With Tyreke Evans running a read-and-react offense, he must be able to kick it out to the perimeter when not attempting to finish himself.
In other words, a team must give him what Sacramento never has: three-point shooters.
With the proper personnel surrounding him, Evans could return to the near six assists per game that he'd averaged through his first two seasons.
More importantly, he could finally develop into the star he's destined to be.
Without jump shooters beside him, however, Evans is limited to dishing to other slashers. This allows the opposing defense to collapse without an outside threat to keep them honest.
In other words, a lack of shooters neutralized Evans' strengths altogether.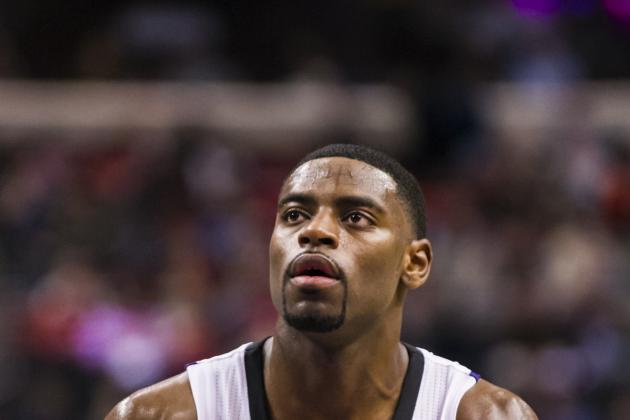 USA TODAY Sports

To be fair, Tyreke Evans is shooting a career-best 32.7 percent from beyond the arc. In other words, he's working hard at improving his weaknesses.
Unfortunately, Evans is also shooting 28.0 percent from mid-range.
What Evans needs is a team that will work with him to improve his weaknesses while game-planning to match his strengths.
This is how the San Antonio Spurs have transformed Kawhi Leonard from a below average shooter in college to a career 38.9 percent shooter from beyond the arc in the NBA.
Evans needs that type of guidance to truly find his niche within the pace of an NBA game.
From there, Evans can capitalize on his ball-handling, court vision and finishing abilities while understanding how to properly include his jump shot. This will enable Evans to raise his scoring efficiency.
As if 48.0 percent in 2012-13 wasn't good enough.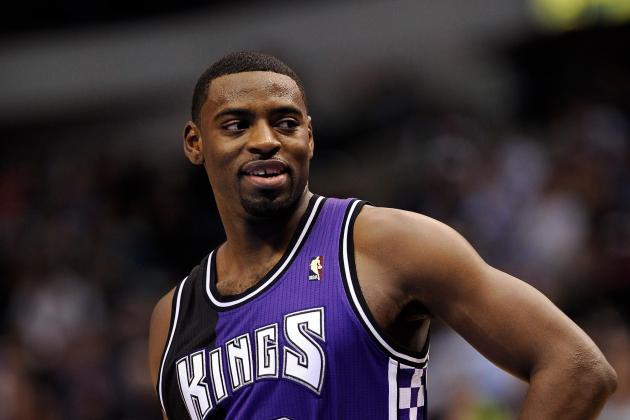 USA TODAY Sports

If Tyreke Evans were to be relocated, the most ideal fits for his specific abilities would be the Atlanta Hawks, Dallas Mavericks, San Antonio Spurs and Utah Jazz.
In the short-term, the Boston Celtics would be a solid location, as well.
The Hawks present the opportunity for Evans to push the pace with athletes and sharpshooters all around.
The presence of Kyle Korver and Anthony Morrow, alone, makes Atlanta the perfect fit for Evans' playmaking ability.
In Dallas, it would be more of the same as O.J. Mayo, Vince Carter, Dirk Nowitzki and Shawn Marion are all capable of working off of the ball. More importantly, they're all in need of a point guard that can facilitate their three-point shooting.
Evans should be at the top of Mark Cuban's list.
The San Antonio Spurs would be the most intriguing fit, as they have a long history of working with poor shooters and bringing their percentages up. Kawhi Leonard and Tony Parker both saw below average three-point field goal percentages improve.
More importantly, the Spurs run a team in which every ball-handler gets their fair share of touches.
The Utah Jazz would offer Evans a fair balance of bigs to run the pick-and-roll with and shooters to kick it out to.
That includes Derrick Favors, Al Jefferson and Paul Millsap on the interior, as well as Randy Foye and Gordon Hayward along the perimeter.
In Boston, Evans could be a temporary replacement to the injured Rajon Rondo. His drive-and-dish abilities would work perfectly with spot-up shooters such as Kevin Garnett, Paul Pierce, Jason Terry and Courtney Lee.
Unfortunately, this is just speculation.
Until he receives a change of scenery, Evans will continue to fall short of his potential. Should the Kings make a move to improve his surroundings, however, we could see what we've all been waiting for—Evans reaching his highest point.