Breaking Down the Skills of 5-Star Recruits in the 2014 Class
247Sports
Being a labeled a 5-star recruit is the hire honor a recruit can receive as far as evaluation ratings go in recruiting. The star system is always the subject of great debate by players, coaches, analysts and fans alike.
Each year only a handful of recruits are deemed worthy of 5-star honors and those that do see the pressure around them increase to new heights. It's early for the 2014 class, but I've identified 12 prospects that have the skills and talent make up of a 5-star recruits.
The following piece will just be a quick rundown of each of these 5-star talents' skill set as football players. Talking about trips, offers and favorite schools is one thing, talking about what these recruits bring to the table as pure football players is another.
Begin Slideshow

»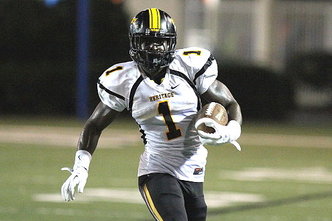 247Sports
Michel is a 5 feet, 11 inch, 205-pound running back from Florida with solid run strength, instincts and great vision. He reads blocks well and can be pretty decisive with the ball.
He flashes quick-cut and jump-cut abilities along with some power and quickness. He has the ability to make an early impact and one day become a bell-cow runner for a college.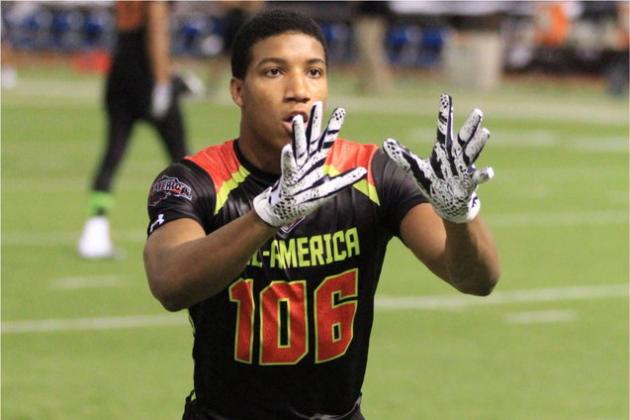 247Sports
Humphrey is a big 6 foot corner that has excellent awareness, feel and route recognition skills.
He's at his best when he sits off a wide receiver in loose/off-man coverage and lets his information processing quickness direct his physical movements.
He's got great short-area quickness to close on the ball, will jump a passing lane if he has the angle and position along with supporting the run.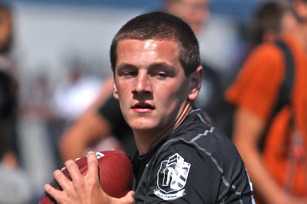 247Sports
Chryst's father is the quarterback coach of the 49ers and he has made sure his son knows how to play the position. Chyrst has a 6 foot 3 inch, 215-pound frame, strong arm, pitcher's control and good field vision.
He can read coverages solidly, drop back and adjust in the post-snap phase. He'll deliver strikes to receivers and make good decisions.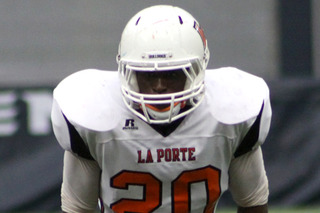 247Sports
Scott is a 6 foot 2 inch, 220-pound outside linebacker who can fly all around the field. He plays fast, sees things quickly and can react without any pause.
His athleticism, ability to play in space and pursuit speed are great. He also has the potential to become a good blitzer/pass rusher while also being solid in coverage.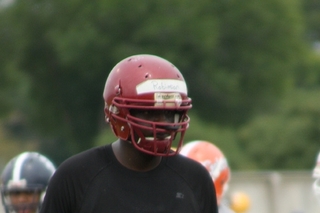 247Sports
Robinson is a 6 foot 6 inch, 320-pound outside tackle prospect who has excellent snap quickness. He jumps on top of his targets, has a heavy punch and is strong to steer at the point of attack.
He is a jumbo athlete that can be light on his feet, has the potential to be a good pass protector in space and flashes adjust ability. Robinson appears to be the top OL prospect for 2014.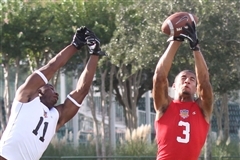 247Sports
Blanding is probably the 2014 version of Max Redfield, but plays a bit more physical and is probably a more dependable solo tackler.
He is 6 foot 2 inches, 200 pounds and has great athleticism, smooth movement skills and range. He fits best on the back end as a center fielder who can roam deep thirds and halves.
He shows good transition quickness, ball skills and tackles well.
247Sports
Peppers may be the most versatile and electric player from New Jersey since Will "The Thrill" Hill in the mid-late 2000s.
He plays with the instincts, size and athleticism of Su'a Cravens. Peppers has the speed to stay at corner back, but he could be on track to becoming a safety.
Then again, Peppers has the skills to play wide receiver or running back in college too. He is just an instinctive and athletic player who can excel at all of the skill positions on both sides of the ball.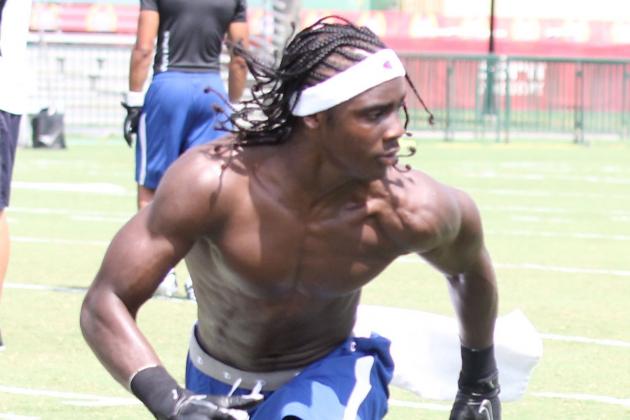 247Sports
Brown is a 6 foot corner back who excels at press coverage. He can bully wide receivers at the line, has good mirror ability to copy and has quick feet.
His hips are pretty loose and allow him to turn and run with ease. He has good instincts, vision and let's just say that Brown is aware that he is a good player.
He will squeeze the line of scrimmage off the perimeter vs. the run and could grow into a safety.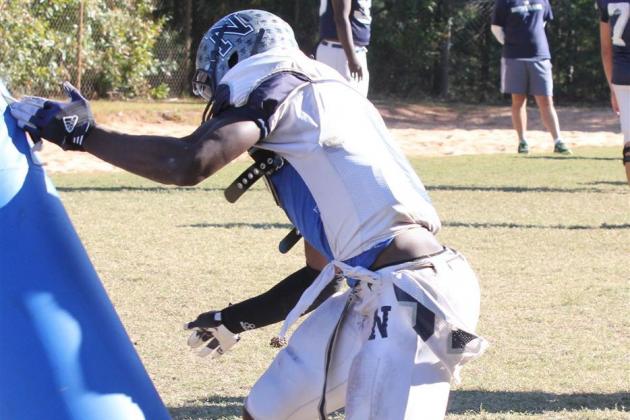 247Sports
Carter brings elite athleticism to the defensive end position. I think he may want to play outside linebacker in a 3-4 scheme, as he seems to prefer rushing from a two-point stance.
He is 6 feet 6 inches, 232 pounds and has great snap quickness, strength, quick hands and bends well. As his pass rush plan expands, he's going to be a handful for outside tackles in college.
Carter also can play the run with toughness too.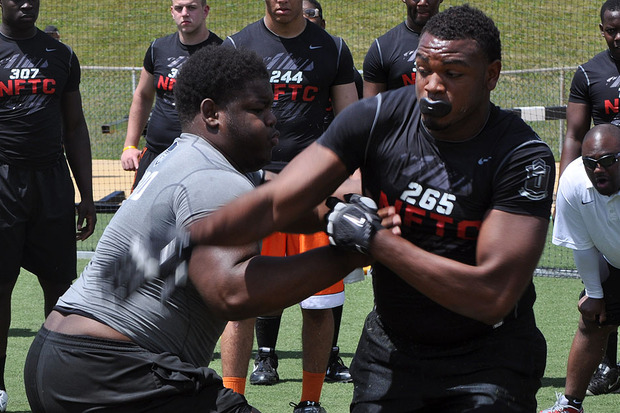 247Sports
If you want a 2013 player to compare Brown to, Demarcus Walker probably is a good one to start with. Brown can play defensive end or defensive tackle in a 4-3 or DE in a 3-4 scheme.
He is very powerful and stout at the point of attack and is advanced at this stage in the hand usage department. Brown can be a violent force with his weapons and can toss blockers around easily.
He is 6 feet 4 inches, 295 pounds and has gap-penetration quickness and pass rushing ability too.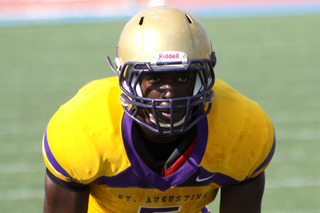 247Sports
Fournette has good size at 6 feet and change and 220 pounds. He has a smooth burst to his running style and the speed to out run defenses to pay dirt.
Not just a speed back, Fournette can bang inside with strength and power, showing toughness and tackle-breaking ability. He's got very good vision and instincts, can be creative with the ball and has great hands.
He's the most complete back in the country and would have been in serious consideration for No. 1 running back honors even in the loaded 2013 RB class.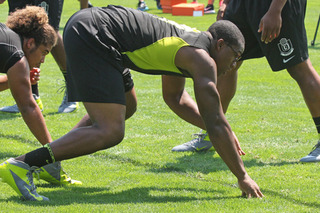 247Sports
Hand is the top player in the 2014 class and plays at 6 feet 5 inches and almost 250 pounds. He has got a great first step, is an athletic defensive lineman who can pressure with quickness and can convert speed to power.
Hand also has good strength and has played some defensive tackle for his high school team in Virginia over the years. He can play strong at the point of attack, set the edge and shed vs. the run.
He is a quarterback menace as a pass rusher due to the ability to get upfield in a hurry, bend around the pocket and is explosive to finish.
Edwin Weathersby is the College Football Recruiting Analyst for Bleacher Report. He has worked in scouting/player personnel departments for three professional football teams, including the New York Giants, Cleveland Browns and the Las Vegas Gladiators of the Arena League. He spent a year evaluating prep prospects and writing specific recruiting and scouting content articles for Student Sports Football (formerly ESPN Rise-HS). A syndicated scout and writer, he's also contributed to WeAreSC.com, GatorBait.net and Diamonds in the Rough Inc., a College Football and NFL Draft magazine.