Miami Heat Sweep Season Series vs. Oklahoma City Thunder with 110-100 Win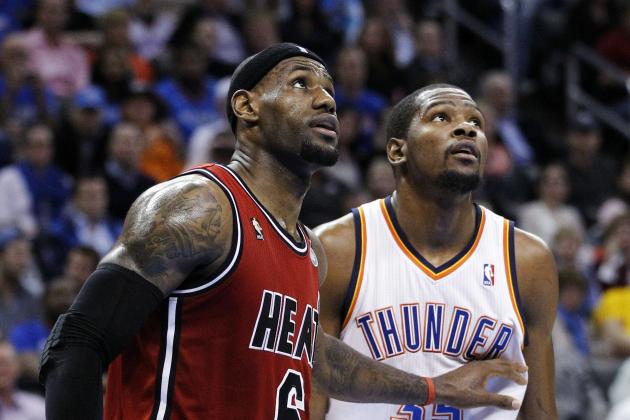 USA TODAY Sports

In the second matchup between the NBA's two best teams since last year's NBA Finals, the Miami Heat defeated the Oklahoma City Thunder 110-100 Thursday night. The margin is slimmer than it was throughout the contest, as the Heat completely dominated the first half, leading 63-46 at the break.
LeBron James continued his MVP pace with a massive double-double of 39 points and 12 boards. At all moments when it looked like the Thunder would creep back, James shot them down with a strong dunk or ridiculous off-balance three-pointer.
Kevin Durant ended up with 40 points, but was nowhere to be seen in the first half as the Heat were mounting their lead. It came back to bite him.
Begin Slideshow

»
Mario Chalmers
Chalmers picked up two quick fouls in the game's first five minutes, sending him to the bench for Ray Allen. He was mostly a non-factor, playing a complementary role to LeBron James' brilliance, but not doing all that great a job. He finished with six points on seven shots, to go along with one assist and two rebounds in 28 minutes.
Grade: D
Russell Westbrook
Westbrook was aggressive in transition early on, mixing his attack with drives to the basket and pull-up jumpers at the elbow. In an attempt to try and get the Thunder back in the ball game, he took a few questionable pull-up three-pointers in the second half, which ended up hurting his team.
He finished the game with 26 points (including 12-13 from the free-throw line), 10 assists and six turnovers in 44 gutsy minutes.
Grade: B+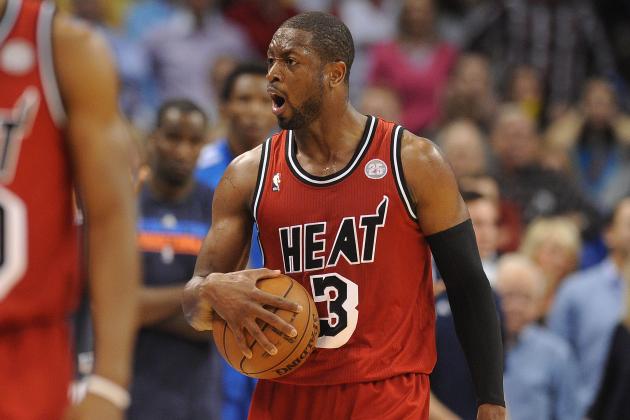 Wade fouled out with 3:23 to go in the game, finishing with 13 points, five rebounds, four turnovers and eight assists in 31 minutes of play. He played hard on both ends but disappeared offensively for stretches, ceding possessions to LeBron James and Chris Bosh and taking only 13 shots.
He broke down the defense with penetration in the second half and had a couple steals that ended in transition opportunities, but this was an unspectacular game from a player who's supposed to be spectacular.
Though it wasn't Wade's best game, he deserves some credit for sharing the ball and acknowledging that James and Bosh were on a roll.
Grade: C+
Thabo Sefolosha
Sefolosha had the unfortunate task of guarding LeBron James for the second half, and it wasn't pretty. But that shouldn't be seen as anything bad on his part. Nobody can guard LeBron. On the other end he struggled badly, missing both his three-point attempts.
Sefolosha finished the game with four points on four shots, four rebounds and two assists.
Grade: C-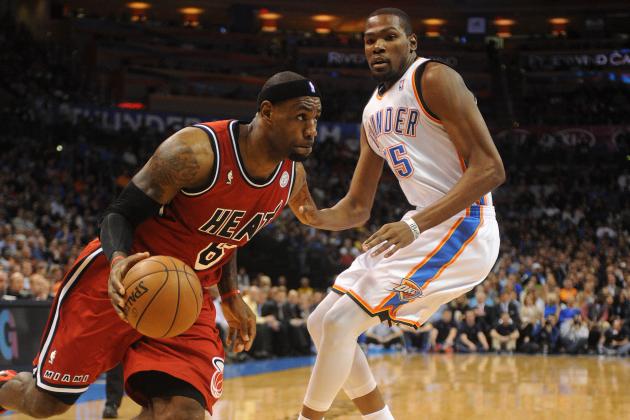 LeBron James
LeBron picked up Kevin Durant in the first quarter and held him to two points (both on free throws). Offensively, in that first frame, he was stupendous, whipping darts across the court to find shooters in the corner and in transition. He wasn't quite there scoring the ball, though—until the final moments of the first half, when he unloaded ridiculous shots one on top of the other.
James finished the game with 39 points, 12 rebounds and seven assists. His "steak" of consecutive games scoring 30 points and shooting over 60 percent from the floor ended, as he "only" went 14-24 from the floor.
Grade: A
Kevin Durant
Durant assumed responsibilities for defending LeBron in the first quarter, which was interesting, and he relinquished the responsibility soon after. He didn't score his first points until his 11th minute, on two free throws moments after crashing down hard to the court trying to grab a rebound. His first basket came with 4:22 remaining in the second quarter.
Why is he the best scorer in the sport? Well, because he ended the game with 40 points on 24 shots. There's no stopping this guy, even when he's invisible for a quarter.
Grade: A-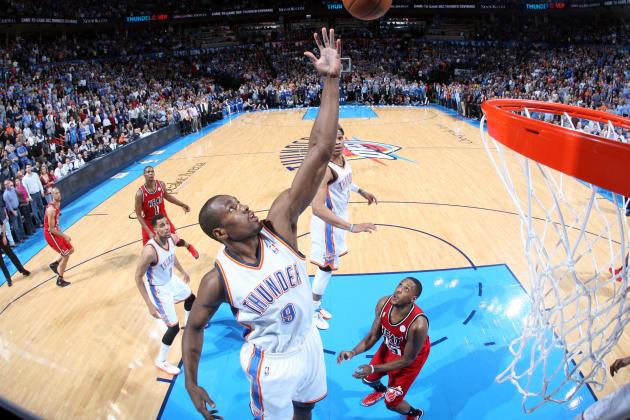 Shane Battier
In his first six minutes of action, Battier missed two three-pointers from the corner and picked up two fouls, sending him to the bench. He managed just a pair of threes on six shots.
As is so often the case with Battier, though, his value rarely shows up in his stat line alone. Thursday night was no different. One of his two threes came at a crucial juncture late in the fourth quarter, silencing the crowd amidst a dangerous run from the Thunder. He also put in his usual effort on the defensive end, starting in place of Udonis Haslem and making life difficult for Serge Ibaka & Co.
Grade: C
Serge Ibaka
Serge Ibaka was a disappointment tonight, getting outplayed badly by Chris Bosh on both ends of the court, and finishing with just six points and six rebounds in 35 minutes of play. Ibaka's plus/minus was a team worst minus-18.
Grade: D-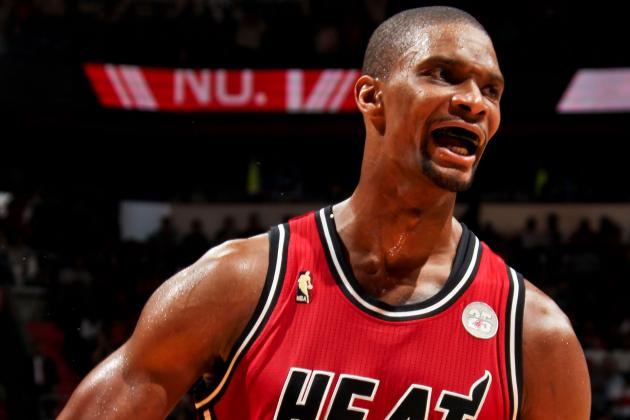 Chris Bosh
Early on Bosh looked good on the glass, establishing position down low while on the other end making his first jumper. But throughout the game he was fantastic, playing one of his best games of the year. He finished with 20 points (10-14) and 12 rebounds (five offensive), punishing the Thunder with an automatic elbow jumper.
Grade: A+
Kendrick Perkins
Perkins scored the Thunder's first four points of the game, first backing down Shane Battier low in the post before hitting a quick baby hook, then stepping out to the free-throw line and hitting a wide open jumper. Unfortunately, his role in this specific matchup is moot, as the Thunder play much better with him on the bench and either Serge Ibaka or Nick Collison at center and Durant at power forward.
In 23 minutes he had eight points and five rebounds with a +/- of -14..
Grade: C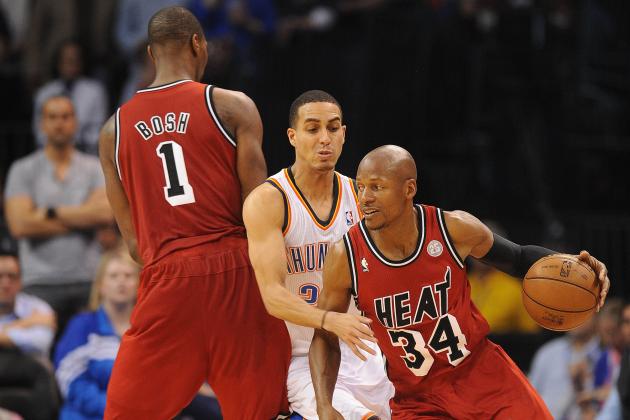 Ray Allen
Allen knocked down a pretty baseline fadeaway jumper with Martin guarding him in the second quarter, but was mostly quiet elsewhere, missing several wide open three-pointers he normally knocks down. He finished 1-of-5 from behind the three-point line in 30 minutes of action, scoring 13 total points.
Grade: C+
Kevin Martin
Martin wasn't a consistent scoring threat in this one, which badly hurt the Thunder as they tried to keep up with Miami's relentless attack. He finished with nine points on just five shots and zero assists in 27 minutes.
Grade: D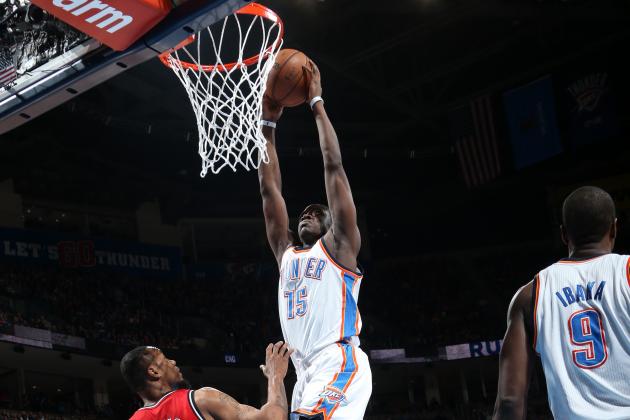 Heat
With Udonis Haslem out, the Heat were forced to use Rashard Lewis, Chris Anderson and Joel Anthony earlier than normal when Shane Battier picked up two quick fouls. Lewis managed just three points on 1-of-5 shooting.
Norris Cole made a solid contribution with nine points on 4-of-7 shooting in 17 minutes.
Grade: C
Thunder
Reggie Jackson began to show aggressiveness late in the third quarter, knocking a three-pointer and blowing by LeBron James for a baseline dunk that missed but drew a foul. He finished with seven points in 22 minutes.
Elsewhere, Nick Collison had one of his worst games of the year, failing to score and picking up a technical foul in 15 minutes.
Grade: C