It was a back-and-forth bout, but Tottenham landed the final knockout blow in the second minute of extra time to put Lyon away with a 2-1 victory on Thursday.
Tottenham midfielder Gareth Bale did all the damage for the Spurs, as has been the case a lot recently.
Bale missed the best chance he'll see all year at an easy goal in the 37th minute, but made up for it with brilliant free kick that found the inside of the left post just before halftime to give the Spurs a 1-0 advantage and a good deal of momentum.
It was the kind of beautiful strike one has come to expect from the midfielder. He has been a one-man offense for the Spurs recently, as Socanalysis pointed out with this tweet shortly before halftime:
Bale has now scored Tottenham's last 5 goals

— Socanalysis (@SocanalysisUK) February 14, 2013
Bale needed that goal to redeem himself. His 37th-minute miss was one he wanted back from the minute it left his foot:
As bad a missed opportunity as that was, few footballers can strike it quite like Bale did on his 40-yarder that found the inside of the left post. It was his 10th goal in his last 11 matches with the Spurs:
Tottenham played well in the first half, but the Spurs took their foot off the gas just 10 minutes into the second half. With an athletic strike that surpassed the beauty of Bale's, Lyon defender Samuel Umtiti unleashed a left-footed laser from the left side that found the inside of the right post.
It looked as if Lyon would have the momentum to perhaps overtake the Spurs in the second half of action. Tottenham had dominated the first half of play, but Umtiti's goal swayed the momentum—at least for a while.
With one minute of additional time remaining, Bale was once again fouled, this time from 22 yards out. In dramatic fashion, just as he had done before halftime, Bale lined up and booted another brilliant free kick that found the net.
If not for the midfielder's impressive performance, Lyon may have had enough momentum to come out on top in this match. Fouls, shots and possession were all fairly even throughout the contest and Lyon even looked to have a bit of an extra spark after Umtiti's 55th-minute screamer.
Ultimately, Tottenham closed out the match in stunning fashion and shut the door on Lyon's hopes of stealing one from the Spurs. It was a deflating loss for Lyon, but they played well in spite of the 2-1 defeat.
Grades
Gareth Bale: Man of the Match (A)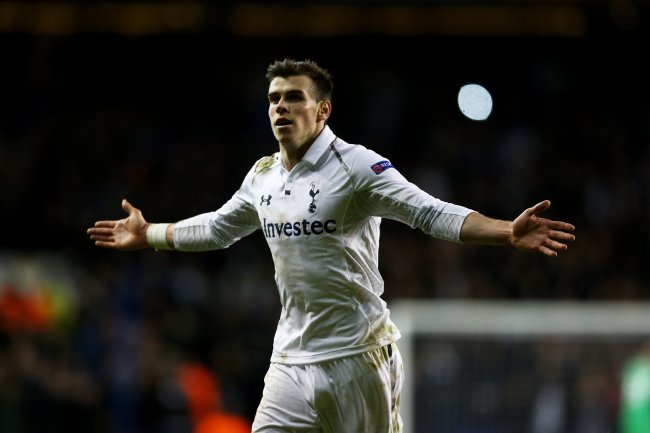 Paul Gilham/Getty Images
There is plenty of talk regarding Bale potentially leaving Tottenham in the summer, and days like Thursday are the reason why. Bale was superb with his free-kick attempts, making up for faltering early on with a near-empty net.
Umtiti's goal was more impressive, but Bale ultimately had a bigger impact on the match. He carried the Spurs from the 45th minute on and provided a couple of highlight-reel strikes in the process.
Phil McNulty of BBC Sport summed up Bale's performance perfectly with this tweet:
Gareth Bale 2 Lyon 1. This now officially qualifies as a rich vein of form for a magnificent player. Magical match winner.

— Phil McNulty (@philmcnulty) February 14, 2013
Samuel Umtiti: A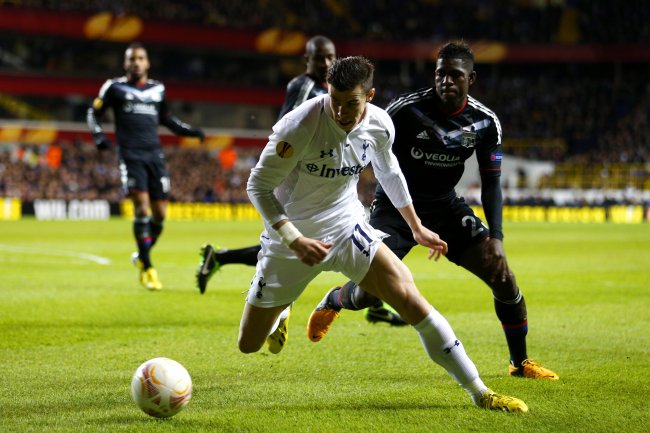 Paul Gilham/Getty Images
It's hard to not want to reward Umtiti for such an incredible goal. He was Lyon's only form of offense for the match and his left-footed smash in the 55th minute looked like it would be the turning point.
His equalizer proved how talented the young defender is, as Manchester City's Reece Wabara (currently on loan at Blackpool FC) marveled at with this tweet:
Umtiti Strike and he's 19 ....jheeze

— Reece Wabara (@ReeceWabara) February 14, 2013
Lyon would love to see more of that from Umtiti, who provided perhaps the best highlight of the day from any match.
Remi Vercoutre: D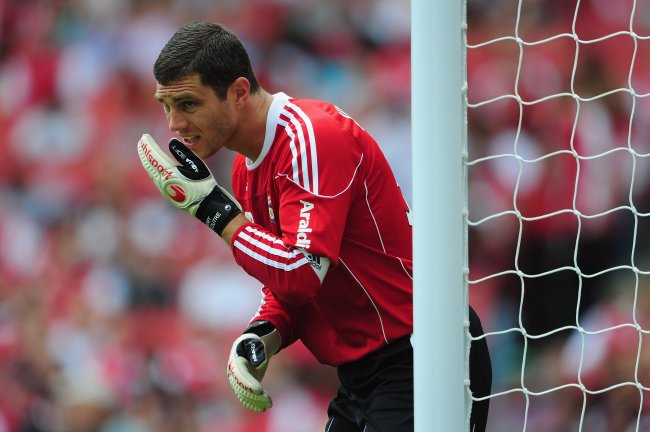 Mike Hewitt/Getty Images
There's little good to be said for Lyon's keeper today. He can't be faulted for Bale's first free-kick goal, but his second was much less challenging. Tommy of FreshFootball had this to say on Twitter about Vercoutre and his performance:
Now you know why Vercoutre was number 2 during his whole career at Lyon. Not only because Coupet and Lloris were excellent.

— Tommy (@LeFrenchGooner) February 14, 2013
Lyon had a chance to make a push in the second half of the contest. They failed to get much going on the offensive end, but Vercoutre's inability to stop Bale's second free kick was what ultimately sunk Lyon in the final minute of play.