7 NHL Players Whose Legacies Are on the Line During the 2013 Season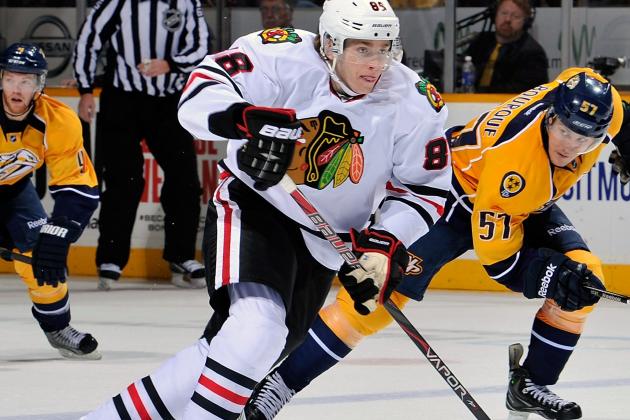 Frederick Breedon/Getty Images
Patrick Kane is rebuilding his legacy at the start of the 2013 season.
Any time a player takes the ice, he is putting his reputation on the line. One great effort can open eyes around the NHL, while a player who mails in his game can ruin his reputation with one bad effort.
So, in some ways, a player's legacy is always on the line.
However, there are certain players that appear to be in a more critical position than others in 2013.
Roberto Luongo is one of those players. He has been on the trading block since the end of the 2012 playoffs, but Vancouver general manager Mike Gillis has not yet moved him.
Instead of falling apart with the knowledge that he has been demoted, Luongo has been stellar this season. He's rebuilding his legacy and his reputation.
Here are six other players who are having impactful and legacy-changing seasons this year.
Begin Slideshow

»
Patrick Kane needs to step it up in the 2013 season. So far, things have gone quite well for him this year.
Kane is one of the most talented players in the NHL. He was the top pick in the 2007 NHL draft and he has been a solid scorer throughout his career.
Kane has scored 21 or more goals in each of his previous five seasons, but he has not quite fulfilled the role of the top pick in the draft.
Additionally, Kane has been involved in a number of embarrassing off-the-ice incidents. While none were criminal, the feeling around the Blackhawks was that it was time for Kane to grow up (source: ChicagoTribune.com), put his off-the-ice issues behind him and fulfill his potential.
Through the early part of the 2013 season, Kane has scored 20 points, putting him in a tie with Sidney Crosby as the second-leading scorer in the league.
Kane understands that his legacy is on the line this year and he is doing something positive about it.
John Tavares has been the New York Islanders' brightest light since they made him the top pick in the 2009 draft.
Tavares has been a solid and productive NHL player, scoring 54, 67 and 81 points in his first three seasons.
The best word to describe Tavares so far has been dependable. He has been a good but not great player.
It's time for that to change in his fourth year in the league.
That's what may be happening. Tavares has scored 15 points (seven goals and eight assists) in his first 13 games. Tavares appears to be stepping up and graduating to the exceptional level.
This is his fourth season in the league. If it doesn't happen for him this year, when will it happen?
James van Riemsdyk is one of the most talented players in the NHL. That's why the Philadelphia Flyers drafted him with the second pick in the 2007 draft.
Van Riemsdyk has flashed his ability from time to time. He scored 21 goals in 2010-11 and he also scored seven goals (in 11 games) during the postseason that year.
However, van Riemsdyk has not played consistently. The Flyers traded him to the Toronto Maple Leafs in the offseason for defenseman Luke Schenn.
The trade seemed to be one that could help both teams, since the Flyers needed defensive help while the Leafs needed size and ability at the forward position.
So far it looks like the Leafs are getting the best of the deal. Van Riemsdyk has scored eight goals in his first 13 games with Toronto and he looks like a legitimate goal scorer.
Alex Semin has one of the most dangerous shots in the NHL. He has scored 20 or more goals six years in a row and he has scored as many as 40 goals in a season.
However, Semin has also developed a reputation for playing hard when he wants to and shying away from physical play at other times (source: nationalpost.com).
That played out during free agency at the end of last season. Even though Semin is a proven scorer, the only decent offer he received was from the Hurricanes. They offered him a one-year, $7 million deal (source: capgeek.com).
Normally, big-time goal scorers will get contract offers of three years or more.
Semin must show he will play consistently. So far, he has scored three goals and seven assists and has played hard. He must keep it up for 48 games if he wants a better contract offer at the end of this season.
The Rangers acquired Rick Nash because they didn't have enough talented goal scorers to get through the Eastern Conference playoffs last year.
Nash has scored 30 goals or more in the last five seasons for the Columbus Blue Jackets.
It's one thing to star for a struggling expansion team from the Western Conference, but it's quite another to do the same thing on Broadway.
Nash has demonstrated his talent and skating ability since coming to the Rangers, but he has only found the back of the net three times in his first 13 games.
Nash can establish himself as one of the most valuable players in the game if he can dominate while playing for a Stanley Cup contender.
He has shown signs that he will do that, but he's not quite there yet.
Victor Hedman is a 6'6", 229-pound defenseman who has a chance to be a dominant, shutdown player.
Hedman has excellent skating ability and a big shot. He has been a positive player for the Lightning in his first three seasons, but now that he understands what life is all about in the NHL, he has a chance to take it up a notch.
There is no reason Hedman can't be compared with the best defensemen in the game and have a chance to contend for the Norris Trophy.
Through the first 13 games of the season, Hedman has four goals, four assists and is plus-11 on the season. That puts him a four-way tie for second behind Anaheim's Saku Koivu in that category.
Hedman is a solid player who has a chance to become an elite defenseman this season.