Full WWE Elimination Chamber Preview & Predications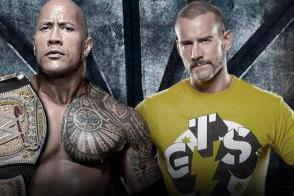 Photo courtesy of WWE.com
We are but 52 days away from WrestleMania XXIX at MetLife Stadium, making Sunday's Elimination Chamber PPV extremely important for setting up feuds heading into the "Show of Shows."
Here is a full preview of all the matches and feuds that should come to a head on Sunday and predications on how they'll play out.
Begin Slideshow

»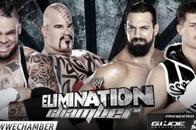 Photo courtesy of WWE.com
Team Shuck and Jive, as I have become accustomed to calling them, take on the Rhode Scholars and Cody's mustache.
As the preshow match, I am not expecting a five-star Shawn Michaels WrestleMania match out of these two squads. I think the newly formed duo of Tensai and Brodus Clay will come out on top and then dance awkwardly for the crowd.
Winner: Team Shuck and Jive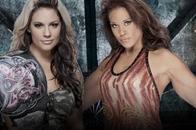 Photo courtesy of WWE.com.
This match was originally scheduled to take place at last month's Royal Rumble but was pushed back for time.
In the (very) limited amount of air time that has been given to the divas lately, Tamina has really impressed me.
However, Kaitlyn has only defended her belt once, and I believe that this rivalry is just getting started.
Mark down Kaitlyn to retain her belt, but not in convincing fashion in this better than average divas match-up.
Winner: Kaitlyn
Antonio Cesaro has been on a role lately, and his rivalry with Miz has been a lot of fun to watch.
They played it up well at the Royal Rumble, with Miz attacking Cesaro on the ramp to the ring, and it has only escalated from there.
Cesaro is one of the most unique and powerful wrestlers on the roster. For anyone who hasn't seen Cesaro rag-doll Miz, I highly suggest checking out the video (it's awesome!).
Again, I expect the champion Cesaro to retain his belt in a match that should be a very good under-card dual.
Winner: Cesaro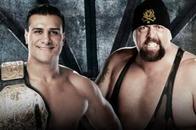 Photo courtesy of WWE.com.
The Del Rio and Big Show feud has been buzzing for a few months now, and a newly face-turned Del Rio has been gaining a lot of steam with the fans.
The Big Show has been booked as an unstoppable monster of late (as he should be), so I am highly interested in how this one plays out.
I don't see why they would want to put the strap on Big Show heading into WrestleMania, so I am picking Del Rio to retain, but then we'll hear Ziggler's music hit, as he'll finally cashes in his battered Money-in-the- Bank briefcase to pin Del Rio, becoming the new World Heavyweight Champion.
Winner: Del Rio w/ Ziggler cash-in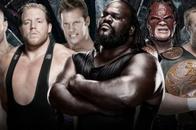 Photo courtesy of WWE.com.
Following the Del Rio vs. Big Show match, we will find out who will be in the WrestleMania main event, the battle for the World Heavyweight Championship in our only Elimination Chamber match of the night.
Kane and Daniel Bryan, to me, don't have much of a chance of walking out of the chamber as victors.
I feel they are in the match to extend their feud, which should lead to a split-up of Team Hell No and an eventual feud between the two.
Swagger and Mark Henry have both recently returned to action and are interesting additions to this match, but I don't see either of them pulling off the win here either.
This leaves us with the two favorites, Randy Orton and Chris Jericho. I fully expect Y2J to win this match and eventually take on Dolph Ziggler (following Ziggler's cash-in) at WrestleMania for the belt.
It just makes too much sense not to book it like that.
Winner: Jericho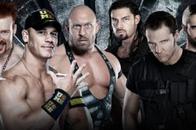 Photo courtesy of WWE.com.
I was really hoping this match would take place in the Elimination Chamber, but WWE had other ideas for the match, opting for a traditional three-man tag match.
The Shield has been hot since their debut but have lost a little steam lately. They went over well at the TLC PPV in their in-ring debut, but the task on Sunday will prove to be too difficult.
This is one of the easiest matches to predict unfortunately.
The WWE needs to book Cena strongly, as they are preparing him for a rematch with WWE Champion The Rock at WrestleMania. Cena will get the pin on one of The Shield's trio of young stars.
I just hope that The Shield somehow looks strong even in defeat.
Winner: Cena/Ryback/Sheamus, with Cena getting the pin
Photo courtesy of WWE.com.
This is a rematch of last month's Royal Rumble Main Event.
A lot of the outcome of this match actually falls on the back (and shoulder and hip) of the Undertaker.
The Undertaker was long rumored to be returning soon to challenge CM Punk in a WrestleMania match. However, Undertaker's health has been called into question lately, and reports have him questionable for this year's Mania.
Should Undertaker not be able to go, CM Punk could easily slip right into a triple-threat match between Cena, Rock and himself.
Paul Heyman brokered with Vince McMahon to add a stipulation that should The Rock either be disqualified or counted out, CM Punk would be the new WWE Champion.
This leads me to believe we will have another screwy finish that leads to the triple-threat match at Mania, and we will not get an Undertaker match in 52 days (unfortunately).
My pick to win, though not entirely confident, is The Rock.
Winner: The Rock, in less than convincing fashion
Looking like a good card that should give us a much clearer idea of what we will be seeing on April 7 at WrestleMania.
For all your WWE news and analysis please follow the Podcast of the Immortals on Twitter and checkout our weekly podcast with reviews, previews and analysis posted every Tuesday afternoon.