Napoli's Keys to Victory vs. Sampdoria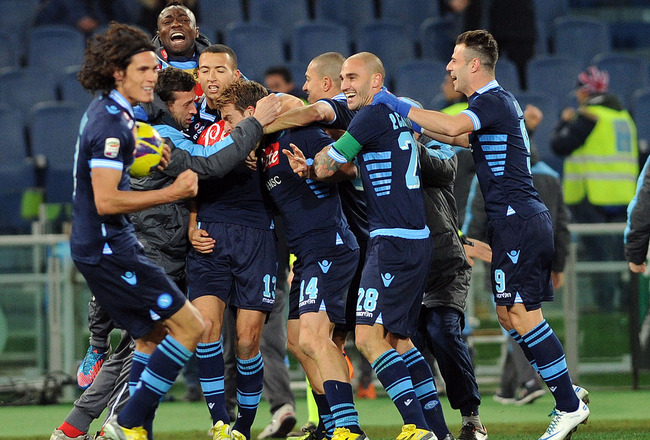 Giuseppe Bellini/Getty Images
Napoli suffered a stunning defeat against Viktoria Plzen on Thursday. 3-0 was the final score. Napoli have made it clear they aren't interested in putting any effort into the Europa League competition.
The Scudetto race is all that is left for the Partenopei. Hopefully, they take Sampdoria a little more seriously than they did Viktoria Plzen.
Here is a list of things Napoli must do to get back to winning against Sampdoria.
Don't Start Goran Pandev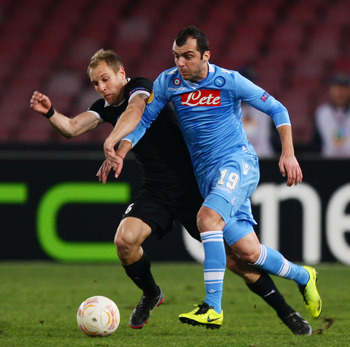 Paolo Bruno/Getty Images
Goran Pandev is a good player, don't misunderstand. He just hasn't been playing well recently, and it is abundantly clear that Lorenzo Insigne is the best option for this club alongside Edinson Cavani.
Insigne is fast and remarkably creative for such a young player.
He missed the Europa League match Thursday due to flu-like symptoms, but will hopefully be available Sunday to give Napoli the creativity at the front they were so desperately lacking on Thursday.
His presence on the pitch would go a long way to getting Napoli back to their winning ways.
Keep an Eye on Pedro Obiang and Mauro Icardi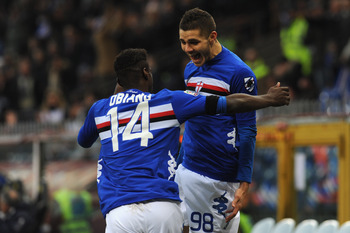 Valerio Pennicino/Getty Images
The good players require extra attention, that's just the way it is. Pedro Obiang and Mauro Icardi deserve that level of respect from the Walter Mazzarri's side on Sunday.
Obiang is their best player, and Icardi is their top goal scorer. Icardi has eight goals and one assist in Serie A competition this season.
Sampdoria are one of the stingier sides when it comes to allowing goals. Allowing Icardi to tally one early could spell disaster for Napoli.
Campagnaro-Cannavaro-Rolando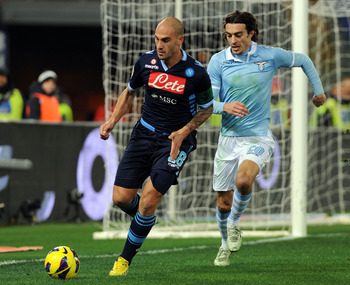 Giuseppe Bellini/Getty Images
It's simple. Napoli have been shaky at the back all season. It's high time for this club to put their three best defenders on the pitch at the same time and see what happens.
Hugo Campagnaro, Paolo Cannavaro and Rolando need to be given a look together. Yes, it hasn't been done before.
No better time to give it a go than now.
Campagnaro and Cannavaro have been consistently strong all season, and Rolando was brought in to be another solid defensive presence at the back.
Time to put all those resources to good use.
Don't Take Sampdoria for Granted
Valerio Pennicino/Getty Images
Just ask Juventus what happens when you don't take Sampdoria seriously. If you don't have any Juventus supporters as friends, here's what happened.
Down 1-0 at Juventus Stadium, Sampdoria's Gaetano Berardi was issued his second yellow in the 31st minute leading to a red card. Down to ten men, Sampdoria stormed back and won the game 2-1.
It was shocking to say the least.
In the last seven days, Napoli drew against Lazio and then lost to Viktoria Plzen. The reason was because they didn't take their competition seriously. Lazio and Plzen both played well and earned their results, but Napoli could have done much more to gain a favorable result than they did.
Plain and simple, things have to change. A strong result against Sampdoria would give the club, and it's fans, a huge boost of confidence as the season moves forward.
Keep Reading