UFC on Fuel 7 Results: Questions Heading into UFC 157: Rousey vs. Carmouche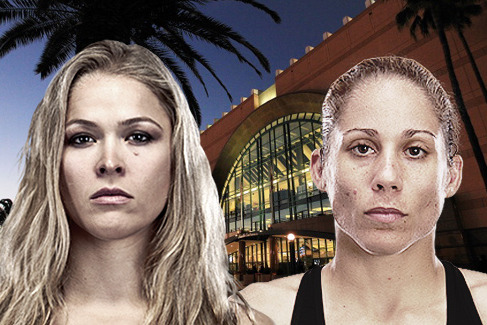 UFC on Fuel 7 is in the books, and below are the full results from the UK event:
Renan Barao defeats Michael McDonald via submission at 3:57 of Round 4
Cub Swanson defeats Dustin Poirier via unanimous decision (29-28, 30-27, 30-27)
Jimi Manuwa defeats Cyrille Diabate at 5:00 of Round 1. Diabate could not continue
Gunnar Nelson defeats Jorge Santiago via unanimous decision (29-28, 29-28, 30-27)
James Te Huna defeats Ryan Jimmo via unanimous decision (29-27, 29-28, 29-28)
Matthew Riddle defeats Che Mills via split decision (29-28, 28-29, 30-27)
Renee Forte defeats Terry Etim via unanimous decision (29-28, 29-28, 30-27)
Danny Castillo defeats Paul Sass via unanimous decision (30-27, 30-27, 29-28)
Andy Ogle defeats Josh Grispi via unanimous decision (29-28, 29-28, 30-27)
Tom Watson defeats Stanislav Nedkov via TKO at 4:42 of Round 2
Vaughan Lee defeats Motonobu Tezuka via unanimous decision (30-27 x3)
Phil Harris defeats Ulysses Gomez via unanimous decision (30-27, 30-27, 29-28)
The UFC will head back to the U.S. for UFC 157, which will take place at the Honda Center in Anaheim, Calif. on February 23.
The pay-per-view card will break new ground for the promotion, as the evening's main event will feature the first women's MMA fight in UFC history. In that bout, UFC champion Ronda Rousey will put her title as well as her unbeaten streak in six professional bouts on the line against Liz Carmouche.
The co-main event will see Dan Henderson square off against Lyoto Machida in a light heavyweight battle.
Here are some questions heading into UFC 157.
Begin Slideshow

»
Josh Hedges/Zuffa LLC UFC via Getty Images
Michael Chiesa, winner of the 15th season of The Ultimate Fighter, hasn't fought since he defeated Al Iaquinta on June 1 of last year.

Chiesa's victory was one of the most emotional moments from the history of the UFC's reality program. Shortly after winning his elimination bout and gaining entrance into the TUF house, Chiesa's terminally ill father lost his battle with leukemia.
Chiesa would have been forgiven by all had he packed it in at that moment, but he soldiered on, briefly returning home to pay his respects before racking up three stoppages and one decision victory on his way to claiming a UFC contract.

After defeating Iaquinta, Chiesa was booked to face Rafaello Oliveira at UFC on Fox 5, but that fight never came to be. First, Oliveira dropped off the card with a broken hand, and then Chiesa dropped out due to illness.

Chiesa will face Anton Kuivanen at UFC 157. Like Chiesa, Kuivanen will also end a long layoff at UFC 157. He last fought in July 2012, defeating Mitch Clarke via split decision.

Chiesa enters the fight with an undefeated record but also has the hit-or-miss history of past TUF winners hanging over his head. Will he be able to buck that trend and continue his unbeaten streak and fairy tale story at UFC 157?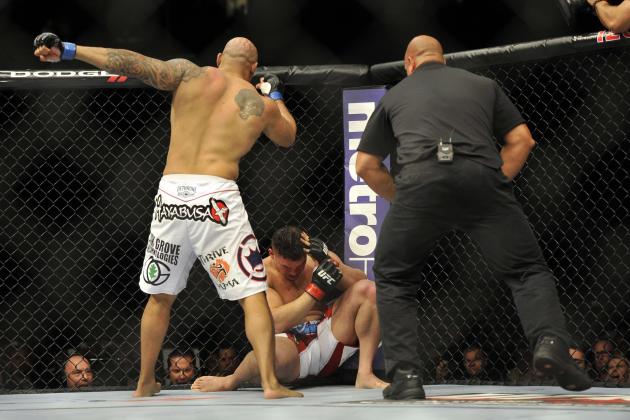 Joe Camporeale-USA TODAY Sports

You want a sure bet going into UFC 157? Look no further than the heavyweight bout between Brendan Schaub and Lavar Johnson. Bet the house that this one is going to end in a knockout.
In their combined 34 professional bouts, Schaub and Johnson have a total of one fight that went the distance: a unanimous-decision win for Schaub over Gabriel Gonzaga in October 2010.

You can also probably put some money down on the over/under in this one. Schaub and Johnson have gone to the third round three times between them. The majority of their fights have ended in the first round.

Both fighters will be under some pressure in this one. Johnson has gone 2-3 in his last five, and Schaub is riding a two-fight losing streak.

Plan your snack and bathroom breaks accordingly—all signs point to a quick knockout in this one.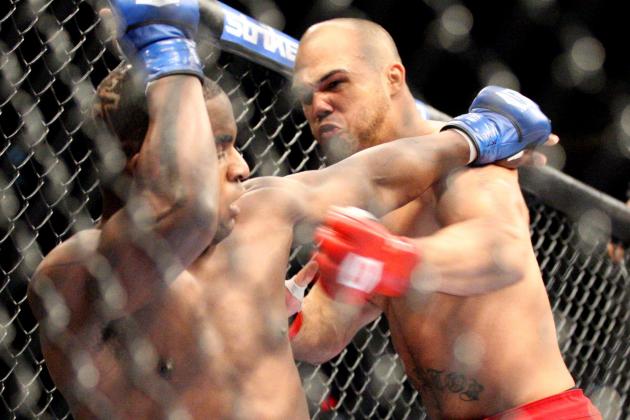 Scott Olmos-USA TODAY Sports

The last time Robbie Lawler fought in the UFC was October 2004, when he fell to the late Evan Tanner. Since then, he has fought for various promotions, most recently competing under the Strikeforce banner, where he went 3-5.

That record may make some wonder why Lawler is returning to the UFC and facing the highly ranked Josh Koscheck at UFC 157. A closer look at Lawler's defeats show that they came to some tough opponents: Lorenz Larkin, Tim Kennedy, "Jacare" Souza, "Babalu" Sobral and Jake Shields.

The question here isn't whether Lawler deserves to be in the UFC, but rather can he use the fight against Koscheck as a stepping stone back to the top of the welterweight division?
Lawler is an accomplished striker, with 16 of his 19 wins coming via knockout, but he has shown some weakness on the ground. Five of his nine losses came via submission.

Koscheck is a game fighter, and I wouldn't be surprised to see him stand and throw with Lawler early on; however, I wouldn't expect that to last long, as the odds of Koscheck being the second fighter to knock out Lawler are slim. (The first was Nick Diaz back at UFC 47.)

Will Lawler be able to make the most of his opportunity at UFC 157?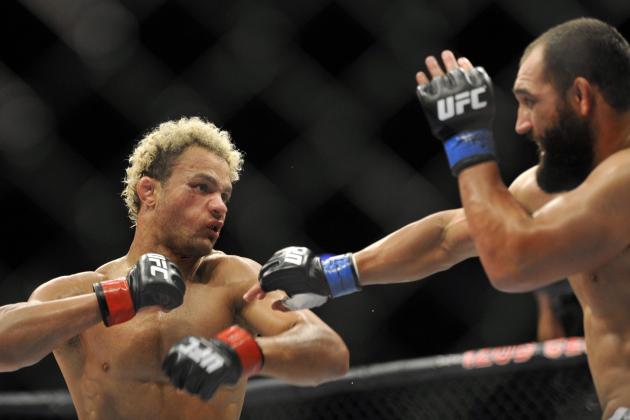 Joe Camporeale-USA TODAY Sports

Josh Koscheck is one of those fighters whom the UFC may not know exactly what to do with.
At this point in time, Koscheck resides in a gray area with the promotion. He's too good to be considered a gatekeeper but not quite good enough to get in the mix for a shot at the division's title.

That said, Koscheck finds himself in a thankless position heading into UFC 157. If he beats Robbie Lawler, he will do what he is supposed to do. If he loses to Lawler, he will be labeled an "overrated bum" by the what-have-you-done-lately fans of the sport.

No fighter on the card is in a more unenviable position than Koscheck. Let's see what the acerbic Koscheck can do with the spot the UFC has put him in.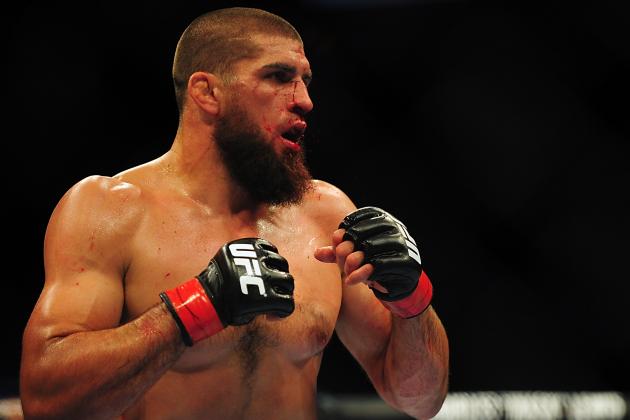 Anne-Marie Sorvin-USA TODAY Sports

Court McGee had a nice little win streak going between 2008 and 2011, running up a record of 8-0 during that time. The streak came to an end when the UFC decided to test McGee against some stiffer competition. After dropping decisions to Costa Philippou and Nick Ring, McGee made the call to drop to welterweight.

He'll make his debut in the new weight division at UFC 157 against another fighter with two consecutive losses, Josh Neer.

The problem for McGee is that he's dropping to a division that is more stacked than the one he left. It's a puzzling move, and McGee will be making it with his back against the wall.
It will be interesting to see how the move works out for the former TUF winner and where it places him in the UFC.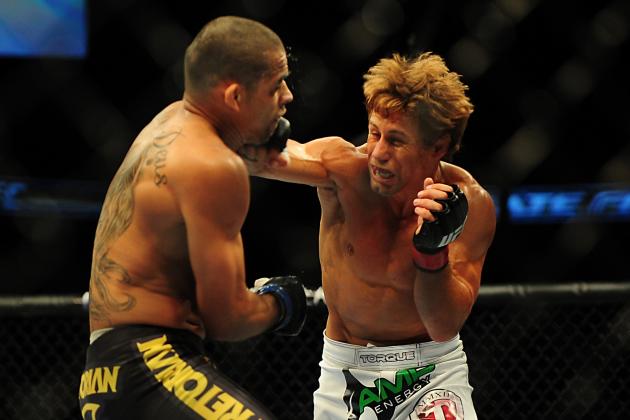 Anne-Marie Sorvin-USA TODAY Sports

Going into his bout against Mike Brown, WEC featherweight champion Urijah Faber had a record of 21-1. Four years removed from that fight, Faber is competing at bantamweight in the UFC and sporting a record of 26-6. With that, one has to wonder if time is catching up with the 33-year-old "California Kid."

That's a tough question to answer when you look at Faber's losses. He dropped two to Brown, one to Jose Aldo, one to Dominick Cruz and one to Renan Barao—all title fights.

Faber will square off against Ivan Menjivar at UFC 157, and this fight may be able to provide an answer. If Faber loses, we can probably start to call for him to hang up the gloves. On the other hand, a victory may just leave us with more unanswered questions about the former champ.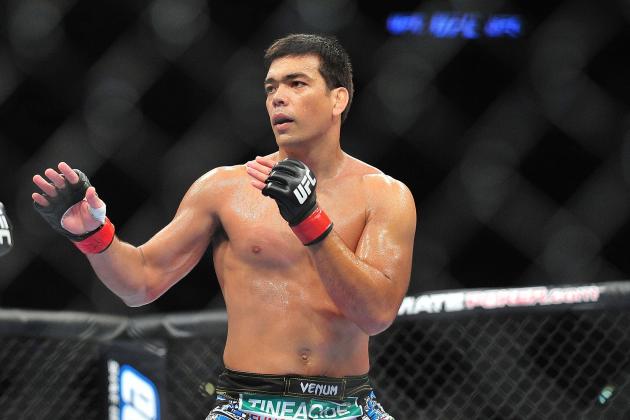 Gary A. Vasquez-USA TODAY Sports

Dan Henderson and Lyoto Machida are in a strange spot heading into the co-main event of UFC 157.
Machida has said that he feels that the winner of the bout should be in line for a title shot.
UFC president Dana White told the media in Chicago prior to UFC on Fox 6 that if Henderson won he would be next in line for that shot.

Fast forward to the days leading up to UFC on Fuel 7, and, well, White said that Alexander Gustafsson will be in line for a shot at the title with a win over Gegard Mousasi at UFC on Fox 7 in April.

So, what gives? What's really at stake in Anaheim for Henderson and Machida?

It's hard to tell, and frankly White and UFC matchmaker Joe Silva can't be sure either. A lot will depend on the manner in which this fight is contested and won.
To borrow a refrain from White, Henderson and Machida need to take this one out of the hands of the judges—both those who score the fight and those who decide who will next fight for the UFC light heavyweight title.
A spectacular finish is needed here, and both fighters have to know that.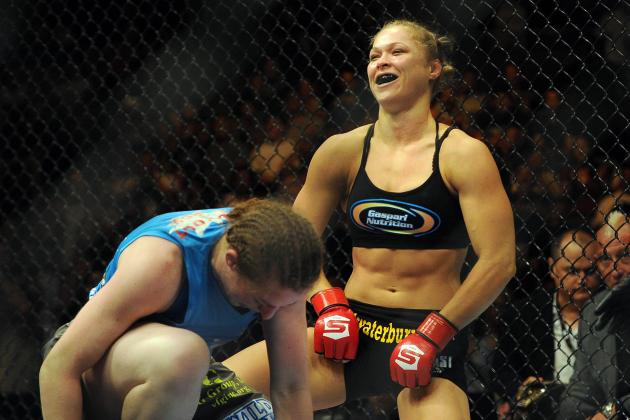 Jayne Kamin-Oncea-USA TODAY Sports

The UFC is taking a huge chance in running the first WMMA bout in the organization's history as the main event on a pay-per-view card.

Dana White will tell you that UFC champion Ronda Rousey is already a huge star and that she's going to take the sport to places that are unheard of, but how much of that is true and how much of that is bluster?

At this point, it's hard to tell. Rousey hasn't really taken the world by storm as of yet.
Sure, she's appeared in some places that don't normally cover MMA on the regular, but the coverage is still almost exclusively being done by sports outlets or talk shows that are always looking to trot out the latest curiosity.
That's not exactly breaking new ground for the sport.

There's a good chance that Rousey mania will take off after the fight, especially if she wins in spectacular manner.
By the same token, this is a sport where the name of the game is to separate her opponent from her senses or to cause her enough pain that she submits, and that, believe it or not, turns some people off. When two women are involved in that type of competition, the distaste meter may go even higher for those who are not already sold on WMMA.

From inside the MMA bubble, the selling of Rousey seems like a slam dunk. Taking a step back and looking at it outside that bubble, one has to wonder if the expectations are a bit too high.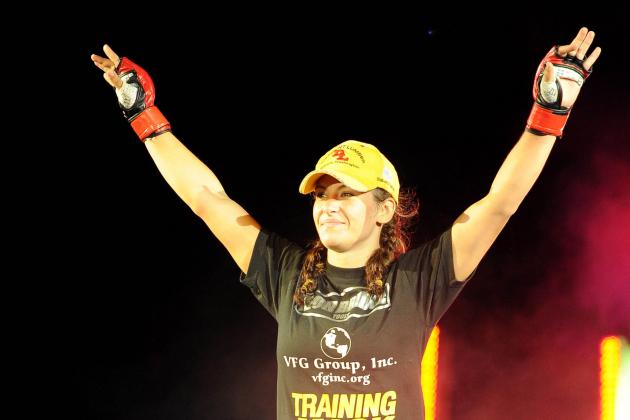 Jayne Kamin-Oncea-USA TODAY Sports

On paper, the UFC may seem to be diving into the WMMA business. The promotion has even signed four other fighters for the division including former Strikeforce champion Miesha Tate. That has to mean the UFC is fully invested in growing WMMA, right?

Not so fast.

Dana White has made it clear that the reason the UFC is involved in WMMA is that the promotion wanted to be in the Ronda Rousey business. If the unthinkable happens and Rousey loses to Liz Carmouche, don't be surprised if the promotion begins to rethink its position on WMMA.
Sure, Rousey will get an automatic rematch, but other than that I wouldn't expect a run on signings or fight bookings.

More than anything, WMMA needs Rousey to win and win in a memorable manner at UFC 157 for the women's bantamweight division to have any kind of future in the UFC.