Why the Baltimore Orioles Should Wait to Give Matt Wieters Huge Extension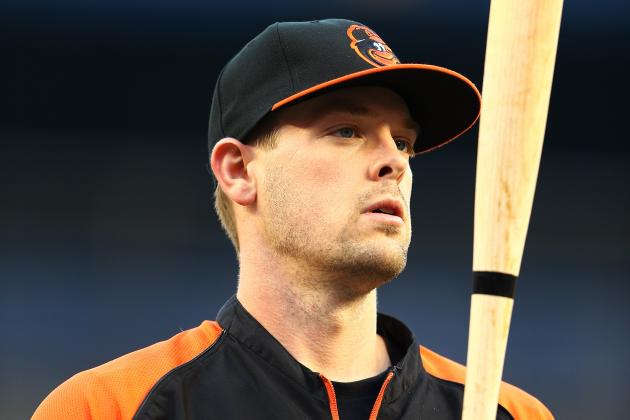 Al Bello/Getty Images

There's not much you can say about Matt Wieters other than he is one of the best defensive catchers in all of baseball, and he has the 2012 AL Gold Glove award for backstops to prove it.
Not to mention, although he has not posted the most impressive numbers offensively, he is still learning and growing at the major league level; he has only been in the league for four years now and is still just 26-years-old.
Each season, his power numbers continue to increase steadily as he becomes better and better at the dish. There's no doubt he will be one of the best all-around catchers over the next couple of seasons.
However, in the meantime, I think it would be smart of the Orioles if they hold back on offering a huge extension to their Gold Glove backstop.
Yes, he has proven he can do wonders behind the plate and has a great throwing arm, but I think they can offer him a two or three-year deal worth $20 million or so. Last season, Wieters was making only $500,000, and his contract expired at the end of the year. Although he was hoping for a longer extension, there were no hard feelings after he accepted the deal.
As of mid-January, the switch-hitting backstop agreed to a one-year, $5.5 million dollar deal that has him signed through the end of this season. He is still under the Orioles control for the next three seasons, and we will see what type of deal they offer him at the conclusion of this year.
While the Birds are continuing to expand their roster and solidify their young talent, I think they can get away with enticing the South Carolina native to a couple of more years, but not offer more than $10 million a year.
Check out the four reasons why I think the Baltimore Orioles would be smart not to offer a huge contract extension to Matt Wieters yet.
Begin Slideshow

»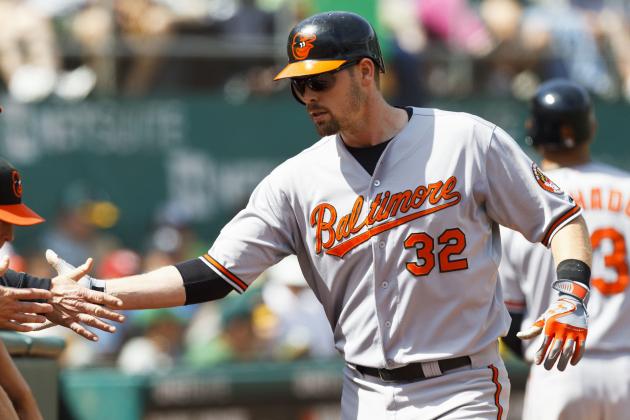 Jason O. Watson/Getty Images

Although the former Georgia Tech catcher has not lived up to his expectations at the dish yet since his debut in 2009, he still is young and needs time to grow and adapt at the major league level.
Last season, he finished the year with a .249 average, a career-high in home runs with 23 and RBI with 83. Not to mention, he set a career-best with 144 games played, 60 walks and 112 strikeouts; he tied his career-best in hits with 131, set last year when he played in five fewer games.
In 2011, he delivered 22 long shots and 68 RBI, but he was able to bat at a .262 clip, which is much more respectable than just a .249 average, even though the averages seem close. When someone is hitting less than .250, there is always a red flag being thrown up at the situation.
In his first full season with the Birds in '10, he finished with a .249 batting average as well with just 11 home runs and 55 RIB in 130 contests. Obviously, his numbers continue to get better with each season, and one day he will be a guy who hits at least 25 home runs and drives in 100 RBI, hopefully batting near the .300 mark.
Until he can bring his average up to at least the .275 mark for an entire season and maintain 25 home runs and between 80 and 100 RBI, I do not see the Birds extending a huge contract extension his way.
The Birds have control of him for the next three seasons (he is not free-agent eligible until the end of the 2015 season), and literally, his fate is in their hands. It's really up to him whether or not he wants a long contract extension, and I think the only thing missing in his repertoire is more consistent batting at the dish.
The Black and Orange need a consistent catcher at the dish. They already have seen the type of player he is defensively, and they would not trade that in for anything.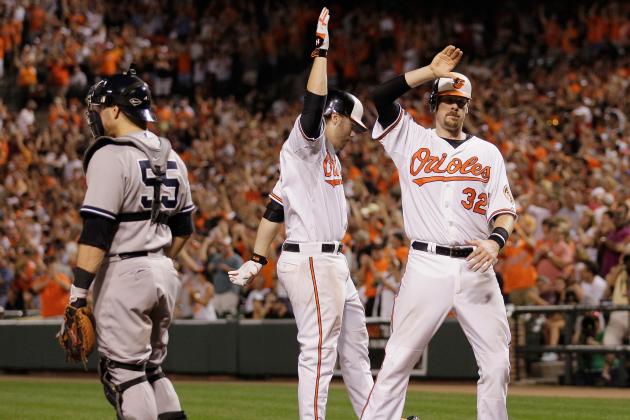 Rob Carr/Getty Images

At Georgia Tech College, Wieters was one of the most feared hitters on his team; he posted impressive career numbers and that's what the Birds expected out of their first-round, fifth overall pick in the 2007 MLB draft.
Ever since his college days, he has drawn comparisons to Jorge Posada, one of the more influential switch-hitting catchers with the Yankees, and Jason Varitek, the former captain of the Red Sox, and another very strong, powerful switch-hitting catcher in his heyday.
In Wieters' three seasons with Georgia Tech (from 2005 to 2007), he posted a .359 batting average, 35 home runs and 198 RBI over 185 games (704 at-bats). In his first year with the club, he launched 10 home runs and drove in 68 RBI while batting .366, his highest average in his time at school.
His second season, however, proved to be the most special and he posted his most impressive numbers. He smashed 15 home runs, drove in 71 RBI, raked 20 doubles, hit .355 and collected almost 100 hits (92) in just 68 games.
In his final season before graduating, he continued to demolish college pitching. In 57 games, the switch-hitting phenom jolted 10 home runs, drove in 59 RBI and batted .358. His final slugging percentage while at Tech was .594, and there's no doubt the Birds were expecting this type of production out of their catcher.
Of course, it's unreasonable and unrealistic to believe that he would be able to reproduce these numbers at the major league level, but their front office thought he would be a better average-hitter. His power numbers have come alive and there is nothing wrong with 23 home runs and 83 RBI out of their backstop.
I think the Orioles are dragging their feet with an extension because they expect more, and know he can give more. It's just a matter of time. I think this will be his break out season. Last year, everyone thought he put together a great season, and he did.
However, 2013 will be his year. I think he is going to hit at a better clip and become a better overall, consistent batter. He jumps at the ball sometimes and gets himself out more times than not.
Check out all of his college statistics here!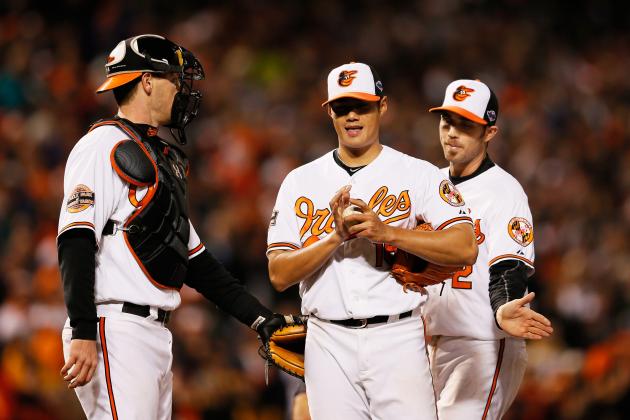 Rob Carr/Getty Images

Before they offer Wieters a huge contract, I think the Orioles need to address their starting rotation concerns and go out and sign a top, experienced starting pitcher.
Last season, the Birds used 12 different starting pitchers and ranked 21st the majors in ERA out of their rotation. In the AL, they ranked ninth out of the 14 teams. That's not how you build a winning ball club.
Collectively, the Orioles' hurlers posted a 61-58 record with a 4.42 ERA. In 937.2 innings of work, they surrendered 460 earned runs on 946 base hits, including 136 home runs allowed, and a .261 opponent batting average.
They need to go out and get an experienced starting pitcher who can lead the young talent and teach them how to pitch in tough situations. Of course, as everyone is aware, they missed the opportunity to lure Zach Greinke to Baltimore as he signed with the Dodgers.
They did not put up much of a fight, but I'm sure his sights were not set on the Black and Orange when he could land a much bigger contract with LA.
Currently, RHP Kyle Lohse is a free agent and reportedly denied an offer from the Cardinals to return next season. Although he still can sign with St. Louis if they come to terms on an agreement, he is free to explore his options. I think he could be a possibility to help improve the starting rotation. They should at least entertain the idea of pursuing the 34-year-old who posted a 16-3 record last season.
As of an hour ago, it was reported that Lohse says he is going to sign with a team any day now, but the Cardinals do not seem to be players in that transaction.
As of the end of December, both the Orioles and Mariners are in the hunt for Tigers' Rick Porcello. In three seasons, the 24-year-old sports a 48-42 record with a 4.55 ERA. Last season, he posted a 10-12 record with a 4.59 ERA and struggled to stay in the starting rotation due to injury.
He should be healthy come next year, and I think he would be a great addition towards the top of the rotation. The RHP is young and has experience pitching on a winning team. Not to mention, he follows one of the best, if not the best, starting pitchers in all of baseball, Justin Verlander.
These are just three of the top offseason starting pitchers who have been on the trading block. Anibal Sanchez, who re-signed with the Tigers, almost accepted a deal with the Cubs earlier this offseason.
It seems as if the Orioles' front office did not really place top priority in finding an experienced starting pitcher this offseason. I've read that they are in search of another reliever to bolster their already very strong bullpen. I don't understand that because they have one of the best bullpens in the league.
I think it would be in the best interest of the team if they go out and find a starting pitcher who can lead the rotation before they re-sign their backstop. They have him for another three years, why not go out and find a veteran hurler to rejuvenate the rotation first?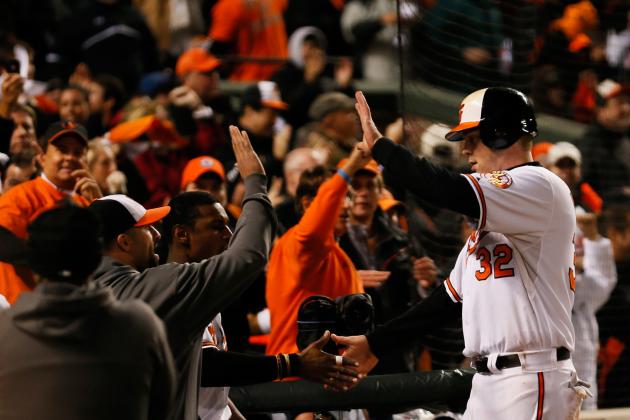 Rob Carr/Getty Images

There is no doubt that the Orioles have made it clear that Wieters is their catcher for the future. Instead of prolonging the contract extension over the course of the season, both sides came to an agreement in mid-January on the one-year deal.
If they had not made that deal, that decision would be weighing on him for the entire season and I'm sure he would have struggled as he tried to play and forget about what type of deal they will be offering him at the end of the year.
Now, he can go out there, play his hardest and think about his contract after the season. The Orioles chose him first in the '07 draft, and he has been the Orioles' rock behind the dish over the last three seasons.
Over the last two years, he has thrown out more than one-third of potential base stealers, which is a very high percentage (.370 in '11 and .386 in '12); he finished with a .991 fielding percentage as well. Not to mention, he has made the All-Star team the last two seasons.
Wieters is a huge fan favorite on the team, and he has found a home with the Birds. I do not see him leaving anytime soon, even if he does not get the contract extension at the end of the year.
I think the Orioles have waited and will continue to wait to offer him a huge contract extension until he proves that he can be consistent at the dish and be a better overall hitter.
I looked up the 2012 salaries for all of the major league catchers, and it's quite interesting. Check it out when you get a chance here! Of course, Joe Mauer tops the list with a $23 million dollar salary last season, while Brian McCann comes in second with an $11.5 million dollar year.
I do not think the Birds are going to offer him $20 million a year, unless he turns into Mauer and can post a .330 average with great power numbers. But, I think $11 or $12 million a year is suitable for Wieters in the future.
I think this season will be his most important year and what type of contract they offer at the end of the year will depend heavily on how he does this season.
He needs to make this his best season ever.
Follow me on twitter: @Alex_VanRees