The Arizona State basketball team was riding high after their Jan. 31 victory over the Washington State Huskies in Pullman. They were 7-2 in conference and within striking distance of the regular season crown.
Then came February.
The Sun Devils have now lost three of their last four and have to travel to Boulder to take on the reigning tournament champion Colorado Buffaloes.
Many labeled Wednesday night's game at Utah a "must-win" for the Devils if they wanted to keep their tournament hopes alive. Utah was a miserable 10-13, and only 2-9 in conference play. Beating this team would do nothing to build their resume, but losing would all but destroy it.
In Seattle on Feb. 2, the Devils were outrebounded by the Washington Huskies 36-20 and gave up 50 points in the paint. At one point the Devils trailed by 15, but thanks to great shooting by Jahii Carson and some key three-point shots by Jonathan Gilling, the Devils were able to tie the game with a minute remaining. Arizona State then crumbled inside and eventually fell to Washington 96-92.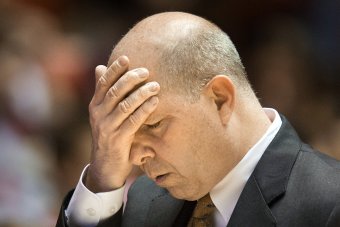 Douglas C. Pizac-USA Today Sports
After beating the Cal Golden Bears, the Sun Devils welcomed the Stanford Cardinal on Feb. 9, who were 5-5 in the Pac-12. Once again the Devils fell behind by as many as 16 points, but this time poor shooting was to blame. The team shot a paltry 34 percent from the field, 30 percent from beyond the arc and an alarmingly-low 50 percent from the charity stripe.
Looking to rebound against a struggling Utah team and avoid its second 2-game losing streak of the season, the Devils went to Salt Lake City on Wednesday night with confidence—too much confidence.
They trailed by as many as 10 in the first half and finished with only 22 points on another poor 34-percent shooting effort. They only trailed by seven at the half and would pull out to an eight-point lead with just under seven minutes remaining. However, the Devils only scored two points in the final three minutes of the game, missing on six of their seven attempts.
The Devils are now 3-3 on the road and visit Colorado, who is 9-1 at home—their only loss being to UCLA. Arizona State handily beat the Buffaloes in Tempe on Jan. 6, even after the Buffs pulled out to an early 20-7 lead.
How Do You Feel About This Season?
The Sun Devils definitely took a hit in Wednesday night's loss to Utah, but ESPN's Joe Lunardi had already removed Arizona State from his bracketology before the loss. It now seems that the Devils will have to fight for a No. 1 seed in the NIT.
Everything considered, regardless of how the Devils finish their remaining six games, this season is a drastic improvement over the past two seasons and should leave Sun Devil Nation somewhat pleased.
The three toughest games remaining on the schedule are all on the road. If they were to pull out wins at Colorado on Saturday, at UCLA on Feb. 27 and at No. 9 Arizona on Mar. 9, the NCAA Tournament Committee might have to rethink the Sun Devils resume.
I'm not holding my breath.
David is a Featured Columnist of Arizona State Athletics for B/R. Follow him on Twitter at @asudave.