Tottenham Hotspur vs. Lyon: 6 Things We Learned in Their Europa League Meeting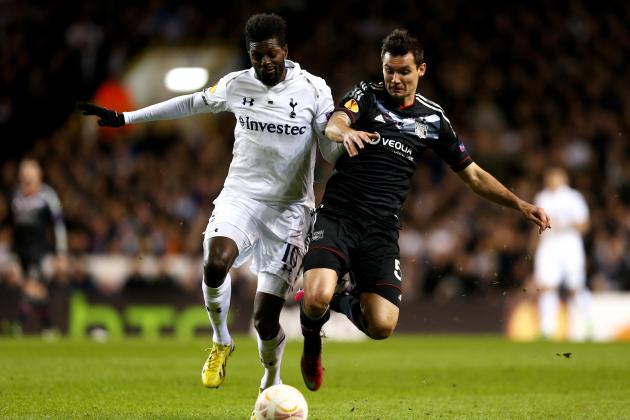 Paul Gilham/Getty Images
Tottenham Hotspur and Lyon's Europa League meeting was a closely fought tie from start to finish.
Tottenham Hotspur head to Lyon for next week's round of 32 second-leg with a narrow aggregate advantage after they beat the French outfit 2–1 at White Hart Lane.
A tight contest between the two was brought to life by three spectacular goals—two superb free-kicks from Gareth Bale coming either side of a marvellous half-volley from Samuel Umtiti.
Bale was the star of the show once again for the Spurs in a match they found hard to get into against a disciplined and dangerous Lyon side. The return leg has the makings of a terrific match, but here are some things learned from their first meeting.
Begin Slideshow

»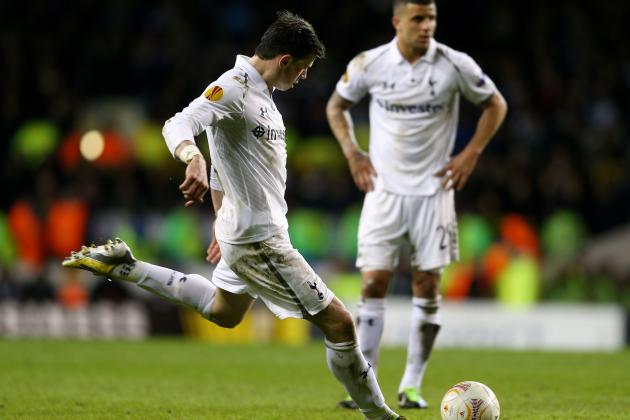 Paul Gilham/Getty Images
Gareth Bale scores his second free-kick of the night.
Shortly after Gareth Bale joined Tottenham, he scored a free-kick in a 3–1 loss at home to Arsenal. It was a great set-piece and Spurs fans might have been forgiven for thinking their young new signing might start scoring plenty more of them.
In fairness to Bale, he was injured for a while after that point. But, when he did come back, his free-kicks seemed in keeping with the general underwhelming standard practised by his teammates too. There would be the odd goal from dead ball situations, but they were rare.
Something had to change in this department for Tottenham, and it seems the Welshman has taken it upon himself to instigate this.
Bale told ITV's Ned Boulting in his post-match interview, he has been working on his free-kicks. Based on the two he scored against Lyon, the evidence would suggest Bale has improved his technique to such a degree he could soon be regarded as a specialist in such situations.
This double of course was on the back of another great free-kick against Newcastle United last Saturday, while Bale also scored one against Liverpool earlier this season.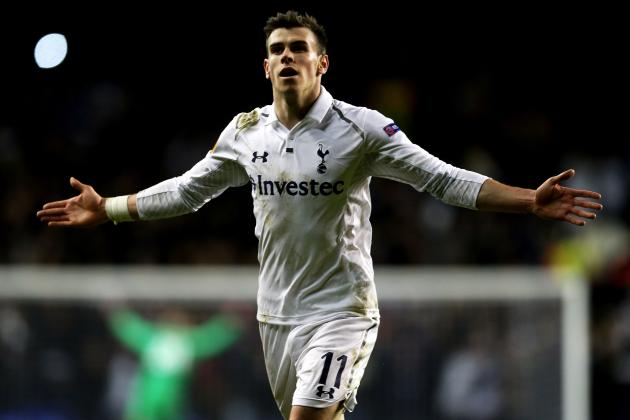 Paul Gilham/Getty Images
Bale basks in the adulation of the White Hart Lane crowd.
Speaking of Bale, it is hardly new news, but the Tottenham winger is in some scintillating form right now.
Compared to his last few appearances in the Premier League, Bale was comparatively quiet versus Lyon. There were some threatening runs down the left flank and a couple of good shooting opportunities (one was a missed open-goal he could not quite angle his foot sufficiently to aim at the net).
Bale still managed to summon a couple moments of breathtaking quality to win this first leg for the Spurs. Even in a tight contest that he was able to step up and make the difference bodes well for several big games the North Londoners still have to come.
First up, the second leg of the Europa League Round of 32 out in Eastern France next week.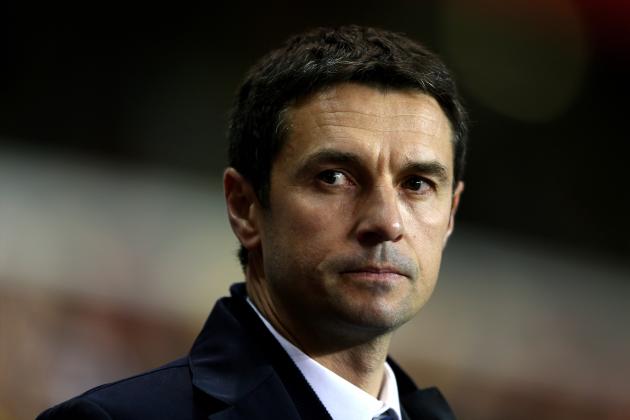 Paul Gilham/Getty Images
Lyon boss Remi Garde has some fine talents to select from.
Lyon's best performers of Thursday night were probably its centrally positioned defenders and midfielders, who, between them, combined to deny Tottenham any real space. Maxime Gonalons was particularly destructive while Steed Malbranque put in a hard-working shift too.
The Spurs will be attempting to figure out a way they can best open up their French opposition next week, but they would also do well to prepare for some of Lyon's bright, young attacking contributors.
Bafetimbi Gomis and Lisandro Lopez were lively in attack and the former certainly will see a lot of their team's possession come his way again. However, it was a few of their less-experienced teammates that especially caught the eye in the final third.
Umtiti got forward from left-back to strike a stunning goal, while not long after Alexandre' Lacazette skipped through the Spurs' defense and midfield, and was only denied by a Brad Friedel save. Rachid Ghezzal, who has recently started frequently, came on late and gave an example of his fine crossing ability from the left wing.
In the home environment of the Stade de Gerland these young guns will be comfortable and keen to make an impact for their team. Remi Garde might not have the squad size his predecessors had, but he certainly has some fine talents to call upon.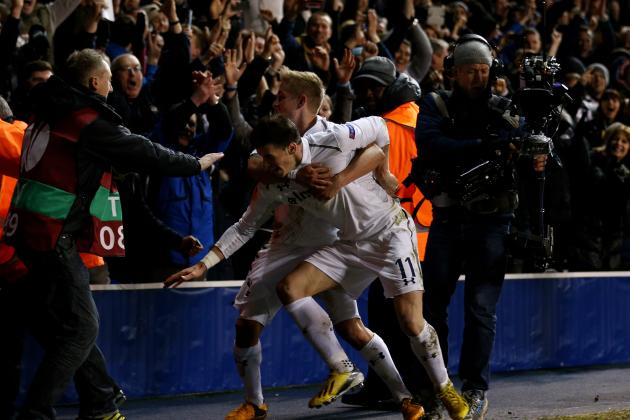 Paul Gilham/Getty Images
A delighted Lewis Holtby is the first to congratulate Bale on his winner.
Tottenham struggled to establish any momentum in the second half, let alone create chances. Samuel Umtiti's equalizer put a spring in the collective footsteps of the Lyon team going forward for a while there, but mostly they were content to stifle the Spurs as effectively as they had for most of the game.
The Spurs had more joy engineering forward advances when Lewis Holtby replaced Clint Dempsey on the 67 minute mark. The German's appearance did not result in too many more chances, but there was a welcome extra vitality about his team's play thereafter.
For the Lyon midfield, it was a lot harder for them to deal with a player less enthral to positional constraints. Holtby was a menace, buzzing about and trying to find a way to open up the match.
Whether or not Villas-Boas intends to go in search of an early goal out in Lyon or have his team play it safe and bide its time will not be clear until closer to kick-off. Either way, Holtby's off-ball movement and willingness to close down could be the vital part needed for Spurs to get into gear before Lyon can even get going next time they meet.
Paul Gilham/Getty Images
Emmanuel Adebayor jumps with Milan Bisevac.
It was another quiet night's work for Emmanuel Adebayor. Though the Tottenham striker was not provided with a ton of service, he did little to play his way into the game either.
Might the way to get more out of Adebayor be to get the ball to him more directly?
Tottenham got some joy out of this approach in the Champions League two seasons ago when long balls and crosses were floated in Peter Crouch's direction. Ultimately a route they travelled through far too often in the Premier League with English defenses well-versed in such tactics. On the continent however, teams were less prepared.
Adebayor is not as tall as Crouch, but he has shown he can offer some threat in the air. For a player low on confidence and form, it might be a simpler way of getting him involved and making him useful. Lyon gave him so little time with the ball at his feet, perhaps he could be of better use trying to nod the ball down for the runs of the attacking midfielders who operate off him.
Villas-Boas will certainly not want to make this a fixture of his team stylistically, but the variation might do them some good in the Europa League against teams who work so much to shut them down elsewhere.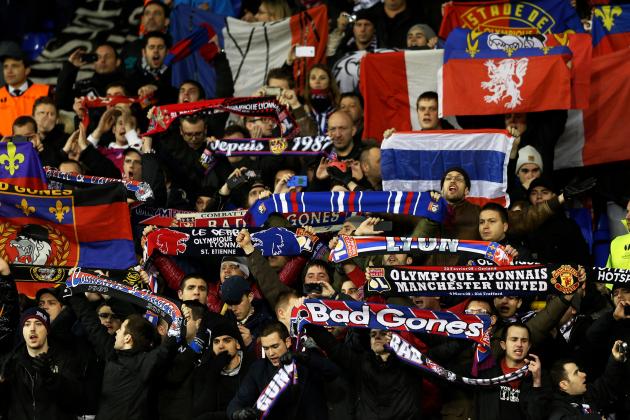 Paul Gilham/Getty Images
The Lyon traveling contingent were loud and proud.
The combined number of shots both teams took in this match (just 15) might suggest neither were going for the win with real conviction. After all, these are two clubs whose priority this season is qualifying for the 2013-14 Champions League.
That statistic was actually a result of two very good defensive displays in which resolute defensive work combined with stifling midfield play to restrict genuine chances to a minimum. The effort on the pitch was enough to suggest Tottenham and Lyon are keen to progress in this competition.
Just as telling was the joy of both sets of players and fans in celebrating their respective goals. Their reactions were those of people for whom the stakes of this match meant something. Lyon's fans especially were loud throughout and there should be an electric atmosphere at the Stade de Gerland next Thursday.