Ranking the Top 5 Players on the Vikings Draft Board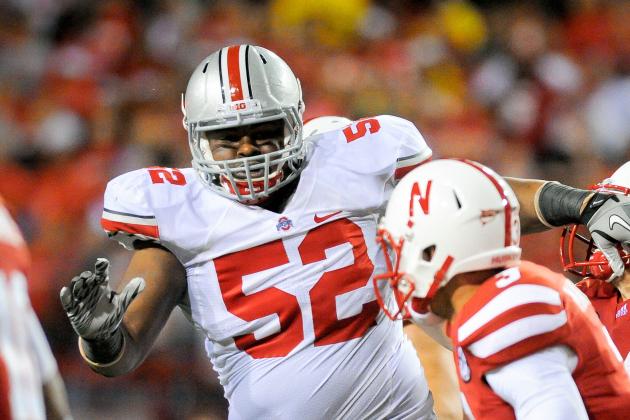 Eric Francis/Getty Images

Like any other team, the Minnesota Vikings have their own Big Board and positional rankings that they'll draw from in the 2013 NFL draft. While their list has some quirks—it may include the largest set of red flag warnings in the league—it ultimately relies on a set of needs and value. For that, they'll rank players on their own personal board regardless of how well players are at irrelevant positions, like left tackle or defensive end.
Let's take a look at what might be a potential preview of such a list. As the Vikings head into Radio City Music Hall, the most important players will be in the top five of their draft board.
First-round picks consistently outperform and outproduce other picks, which makes them naturally that much more valuable—and all the more dangerous to screw up.
Depending on how the Vikings rank players in their top five, they can either set the franchise back several years or set themselves up for consistent success.
Ignoring obvious players who have a small chance to fall to the Vikings, like Star Lotulelei or Sheldon Richardson, let's take a look at the players who might round out the top five of the Vikings' Big Board.
Begin Slideshow

»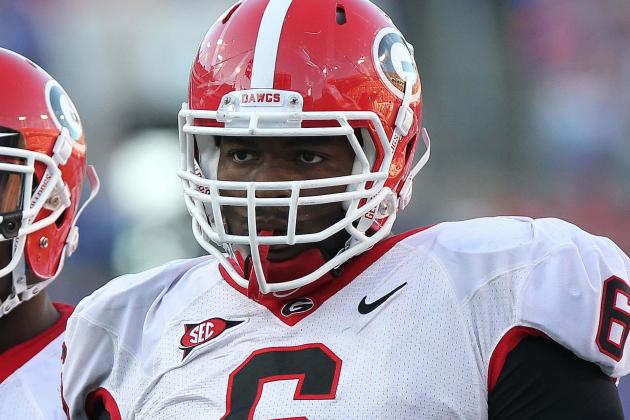 Kim Klement-USA TODAY Sports

The Minnesota Vikings have three primary needs, and may only have the opportunity to address two of them in a real way come April 25. Nose tackle is among those needs and is perhaps the most important defensive position.
Minnesota needs a player who can stand stout against the run, generate consistent pressure, and change blocking schemes with his presence. Penetration into the backfield on passing downs is important, but he doesn't need to grab sacks; he just needs to cause trouble.
Jonathan Jenkins fits that profile. He can consistently get into the backfield and has shocking agility for his size—he moves laterally and upfield with the quickness of a 250-pound linebacker, a comparison that Tony Pauline uses when he evaluated Jenkins during Senior Bowl practices.
He's not wrong. On tape and in practices, Jenkins has consistently used light feet, quick hips and agile arms to move around laterally or into the pocket in order to make a difference in both the passing game and running game. The heaviest player to weigh in at the Senior Bowl, the Georgia Bulldog got himself noticed.
Jenkins provides value not just in being able to eat up blockers, but also in redirecting runners and chasing down screens and outside pitches. He can put pressure on the passer and free up other pass rushers to make plays.
The issue for Jenkins is his limited experience playing in a one gap defense. He did fine at the Senior Bowl, but was up against players who also found themselves in a new environment. The majority of his snaps at Georgia were over center, and he can do much better if he can take on a player instead of a gap. Concerns about gap integrity are a priority, especially given the prevalence of zone-blocking and one-cut running in the NFL.
Without practice or film staying at home in a gap and restraining himself from free reign, Jenkins might take time to adjust to the Vikings defense.
His stamina issues are a concern as well. While potentially overblown, there's no question that they exist. If he drops weight, he'll probably resolve these concerns, but that is something he has to prove he can do.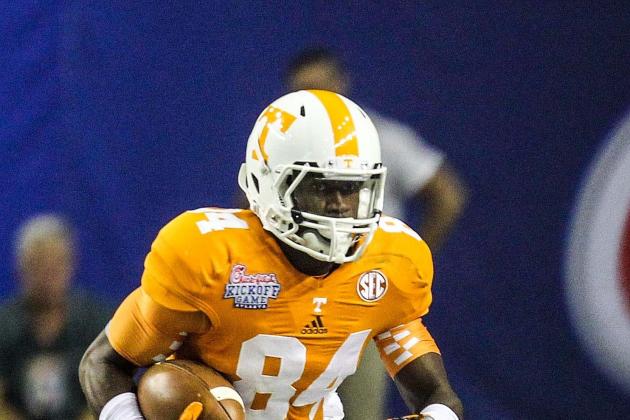 Daniel Shirey-USA TODAY Sports

Cordarrelle Patterson might be characterized as a "late riser" by NFL draftniks, climbing up boards after the season was over. That's not necessarily bad. Shea McClellin and Bobby Wagner were late risers as well and certainly paid off their dividends.
But the history of late risers is inconsistent at best. People like A.J. Jenkins, Amini Silatolu and Brandon Hardin either have yet to live up to their draft status or turned out not to rise in the eyes of NFL evaluators at all.
Patterson's rise is not entirely due to workout performances, as is generally the worry with "workout warriors" like Dontari Poe. Additional tape review revealed that Patterson has talent that exceeds his box score and is more than just an athletic prospect.
The top draft analysts, as determined by The Huddle Report's historical analysis of the past five drafts, have consistently ranked Patterson as either the best or second-best receiving prospect in the draft. This includes well known luminaries, like Todd McShay and Mel Kiper, Jr. of ESPN, and accurate but less well-known former NFL scouts, like those working at Draft Countdown.
Analytic engines like DraftTek agree with very subjective but respected groups like the consistently well-ranked gurus at CBS Sports.
Patterson seems to be a hot name, and it's because he both provides speed and versatility to whichever team drafts him. He might run a 4.3 40-yard dash and produce over 1000 yards from scrimmage against the most talented defensive players in college.
He is still very raw and may not be a day one starter. He has inconsistent ball skills and might be accused of not fighting for the ball in the air. More than that, he has displayed very rough route-running in his time at Tennessee.
Cordarrelle might end up being the best receiver of the draft—he has the physical tools. But he finds himself below the other receiver trading spots in prospect rankings because the Minnesota Vikings run a timing-oriented offense that relies on receivers being more consistent than explosive.
Giving away which routes he runs will allow defensive backs to close in on his pattern, and rounding out those routes will tighten windows. The Vikings might want to pass up his playmaking ability in order to grab someone who can help their struggling quarterback a bit more.
Still, Patterson has elite ability. If he can combine potential with development, he'll be one of the top receivers in the league.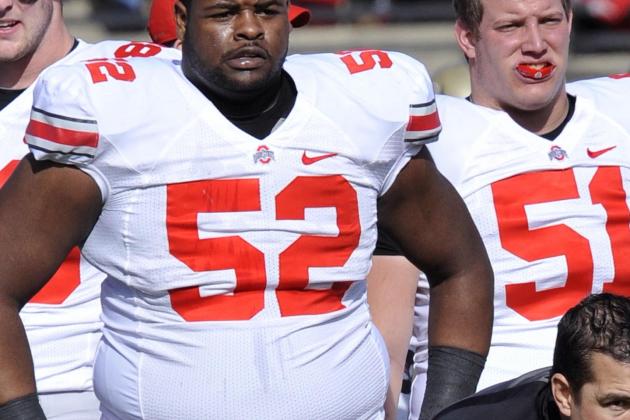 Sandra Dukes-USA TODAY Sports

Between Johnathan Hankins and Jonathan Jenkins, the Georgia player pops out as more powerful and athletic. But Hankins provides more than just simple physical capability that makes him a better fit for the Minnesota Vikings at the 23rd pick.
That's not to say that Hankins is athletically deficient or weak for his position. He's a very widely built player who can move with agility as well. His first step rivals Sylvester Williams (perhaps the best burst in the class), but carries very few of his deficiencies. With great footwork and an ability to drive through blockers, he can do much more than beat people off the line.
The Ohio State Buckeyes moved their linemen around in 3-4 and 4-3 sets, and Hankins found himself playing at nearly every position on the interior line. At defensive end and defensive tackle, he lined up over players and gaps, but was best when attacking an opening instead of a man.
He reads plays well and keeps his eyes in the pocket, but also has the consistency and concentration to keep his hands moving. With an ability to control the point of attack in the run game and demand double teams when attacking passers, he can play on every down if need be.
Every point of his body is under control and he uses it to manhandle those in his way. He has had some minor injury issues, but his biggest concern is drive, work ethic and stamina.
Stamina issues are mischaracterized, however. He played nearly every down for Ohio State, an unusual responsibility at the college and NFL level. Pat Williams played at most 60 percent of the Vikings' snaps, while Remi Ayodele and Letroy Guion played significantly less in their time as starters with the Vikings.
He will also need to change his leverage and initial attack when gearing up against blockers to align lower on a more consistent level. But make no mistake, he's a dominating force and an impact player. He can create pressure, shift the direction of the run and force offense to plan around him instead of through him. The Vikings can't ask for much more than that.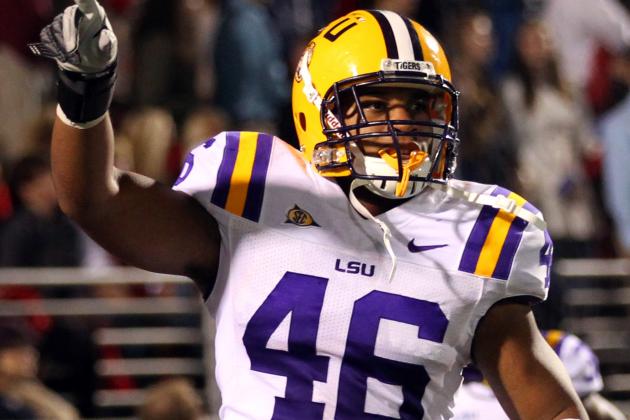 Joe Murphy/Getty Images

The Minnesota Vikings need an inside linebacker in a bad way. The trouble is that they need more middle linebackers than nearly any other team in the league. The system demands that linebackers cover like safeties, plug the run like nose tackles and tackle like Antoine Winfield.
It's a rare set of skills to find in one player, but in a very strong linebacker class, there are a few bright spots. Both Kevin Minter and Arthur Brown can drop deep into zones and react well to a thrown ball. Bursting out of landmarks, Minter can close on a route as soon as he knows where the receiver is going.
Minter's ball skills are wanting, but that's not as important as deterring a deep pass with his presence. The Vikings need someone who can find their landmark quickly, cover a deep zone and limit the tight end—an emerging force in today's NFL.
More than that, they need someone who can manage the strong-side "A" gap; they need to be responsible for the gap between the shoulders of the center and the guard playing on the same side as an in-line tight end or slot receiver.
This is important, because this is the gap uncovered by a defensive tackle in the Vikings' primary scheme, which dictates that they play their under-tackle (Kevin Williams) in the strong-side "B" gap (the space between the guard and the tackle lined up on the same side as the in-line tight end or slot receiver) and the nose tackle in the weak-side "A" gap (between the center and guard playing on the opposite side of the tight end or slot receiver).
Offenses that run up the middle attack this gap often, usually for a solid gain of four yards—a consistent success, generally speaking. Middle linebackers need to read the play well and close in on this gap as soon as they detect a run.
Minter has that skill. He reads plays and gets to the runner, and is less susceptible to fakes than the other linebackers in this very strong class.
He doesn't flow from sideline to sideline, but has good short-area burst to move laterally. He doesn't take blockers on as well as most other linebackers (including the undersized Arthur Brown), but still has a penchant for finding the ballcarrier. If he can learn to wrap up more, he'll be a force in this league, ideally for a Tampa-2 system.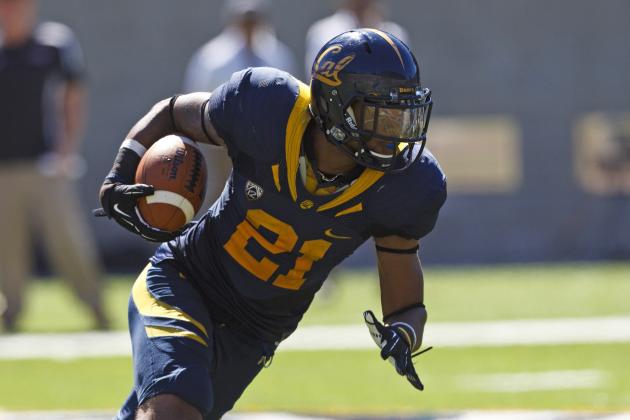 Jason O. Watson/Getty Images

Keenan Allen doesn't have the highest ceiling in the draft, nor is he likely the wide out with the best career in the NFL. The problem, of course, is that it is impossible to predict which receivers flame out and which will make an impact. There's a reason he keeps dancing with Cordarrelle Patterson in the prospect rankings for the honor of "best receiver."
Allen's value is simple. Having a low likelihood of entering Canton doesn't conversely mean a high likelihood of being a wasted pick. A higher floor than most receivers, Allen also is more likely to help out the Minnesota Vikings win games than other receivers.
His specific talents can be employed by the Vikings to maximum effect, while other offenses would do better with other receivers.
If the Vikings had a free-flowing, bombs away Don Coryell-style offense or an adaptive pass-to-set-up-the-run system like those employed by the Erhardt-Perkins offense, they would find more value in deep threats like Patterson and Hunter. Instead an offense that takes more advantage of horizontal space than vertical space requires sure-handed receivers who can gain yards after the catch.
That, and Cordarrelle Patterson's deep play capability might be overrated—only four percent of his yards came from deep passing plays, the second-lowest in the class (behind Keenan Allen, interestingly). If Patterson's range as a deep threat is really as bad as this warning sign might indicate, getting the better of the two intermediate options might be optimal.
Allen runs the routes the Vikings need to get past the down marker and manage the offense. He can command respect enough to lighten the load in the box and has an excellent sense of timing. Along with Tavon Austin, he has the lowest drop rate of the top-tier receivers entering the draft—by a large degree. That kind of reliability can't be understated.
His skills complement Christian Ponder's by helping out quarterbacks and creating windows, and match the offense by excelling in the plays the Vikings run (and need) most.
In a control-the-ball offense for their position of greatest need, the Vikings should be putting Keenan Allen at the top of their board.