Marquette Basketball: 5 Questions Golden Eagles Face in Big East Stretch Run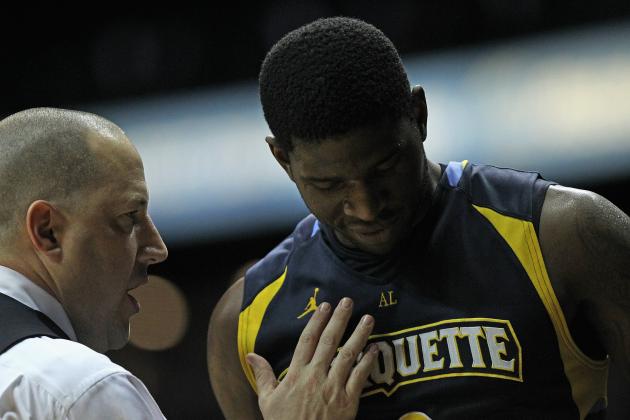 Jonathan Daniel/Getty Images

The Marquette Golden Eagles boast a 17-6 overall and 8-3 conference record midway through February, making them all but a lock for another NCAA Tournament appearance.
However, there's still plenty of room for Marquette to improve during the final seven conference games to be successful this postseason.
Currently standing in a three-way tie atop the Big East standings with both Syracuse and Georgetown, Buzz Williams and the Marquette faithful should be very pleased with where this team is headed.
Each of the Golden Eagles' remaining three home games come against ranked opponents, while all four road games come against unranked squads.
Essentially, every one of those contests is winnable, but none are cakewalks.
After losing Jae Crowder and Darius Johnson-Odom to graduation last season, both of whom were second round draft picks, Buzz Williams could be up for Big East Coach of the Year honors for this squad, surprising everyone except apparently me.
Begin Slideshow

»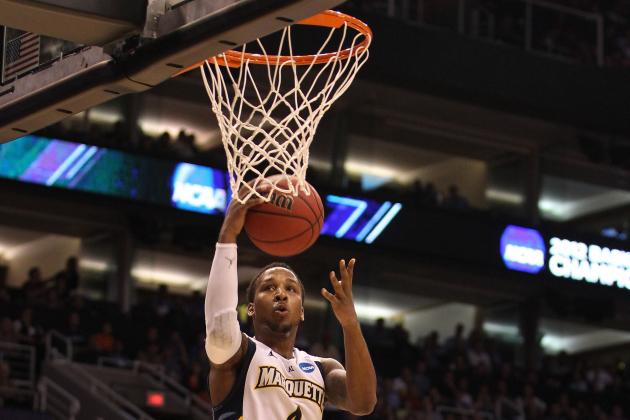 Christian Petersen/Getty Images

Few teams in Division I see as many players take the court on any given night as Marquette. Buzz Williams has utilized a 10-man rotation from day one and stuck with it, though recently substituting Todd Mayo for Jake Thomas following Mayo's fall semester suspension.
Only Vander Blue averages more than 27 minutes per contest. Williams loves playing the hot hand, but sticks to his guns by playing a deep bench to help rest his team in their fast-paced playing style.
Davante Gardner, the team's backup center, is second on the team in scoring, while reserve forward Jamil Wilson sits in fourth in that same category.
Gardner also leads the team in rebounding, while Wilson is third behind Trent Lockett. With no true superstar aside from Blue on given nights, playing a deep bench is a perfect way to throw opponents off.
Someone will step up unexpectedly every game, so if it ain't broke, don't fix it.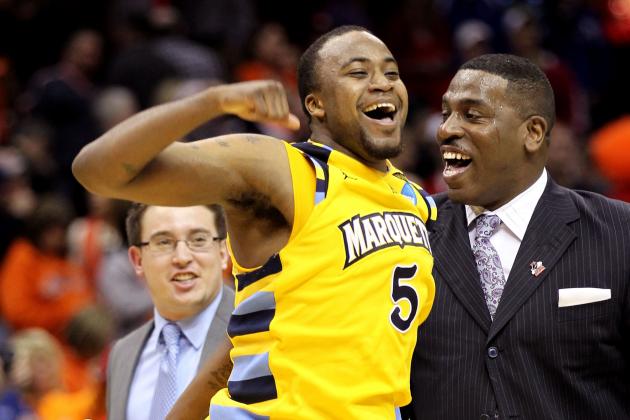 Andy Lyons/Getty Images

As a team, Marquette shoots a miserable 29.5 percent from three-point range.
Only Jamil Wilson's three-point percentage is above average. Wilson is connecting on a 41.7 percent clip as a junior.
Jake Thomas, who transferred to Marquette with the reputation of being a sharpshooter, only hit on 27 percent of his three-pointers. As his accuracy has declined, so has his playing time. Thomas rarely sees the court anymore.
Vander Blue and Trent Lockett are capable of hitting the open three, though not consistently. Todd Mayo, younger brother of NBA star OJ Mayo, is a volume shooter off the bench who still hasn't found his stroke since returning to the team in late December.
The one positive to take out of this?
Marquette is aware of its strengths and weaknesses, so it is more than happy driving and scoring in the paint rather than settling for threes.
That is, unless Junior Cadougan desperation threes are needed in games' closing moments.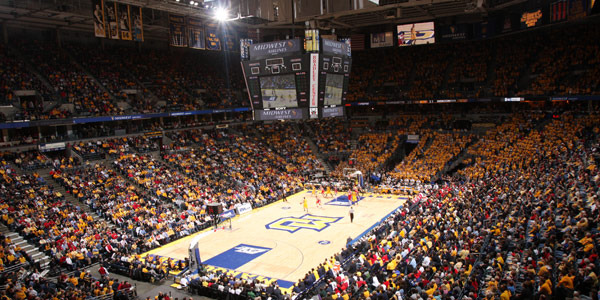 A season ago, Marquette finished 14-4 in the Big East, including a perfect 9-0 in league home games. Marquette's only home loss in recent memory came in December 2011 against a senior-heavy Vanderbilt squad.
This season, Marquette has yet to falter at home in both its non-conference and conference campaigns. Close calls over UCONN and Georgetown have put its home winning streak in jeopardy, but it has still come out victorious.
If Marquette can defeat Pitt at home this Saturday, and follow that up with home wins against Notre Dame and Syracuse, they will have achieved another perfect season at the Bradley Center in Milwaukee, home of the Bucks (but better known for selling beer inside the stadium).
Not only are those three games mentioned above important to protect home court, but Marquette has the chance to sweep Pitt, as well as win their only match-ups with Syracuse and Notre Dame due to the unbalanced Big East schedule.
This could be huge for Big East Tournament seeding, regarding tiebreaker procedures and adding quality wins to their resume.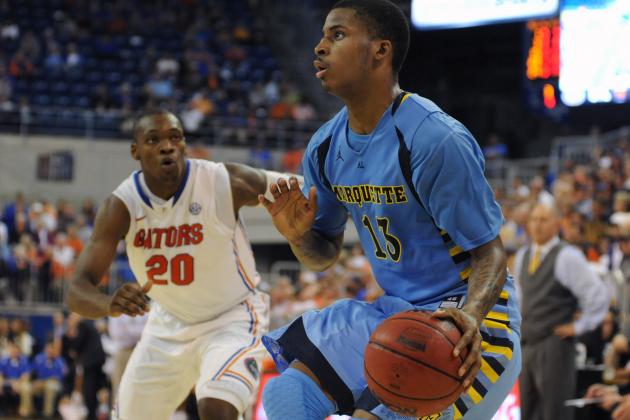 Al Messerschmidt/Getty Images

As previously mentioned, Marquette has the ability to win each of the final seven games on their slate.
Will they win all seven of those?
Probably not. Let's say they go 5-2 in the remaining games, as a conservative—but very plausible—estimate.
That would land Marquette at 13-5 in the final Big East standings. The Big East's top nine teams are all within a game and a half of each other currently, so an exact place to predict any team to finish is a shot in the dark at this point.
Amazingly, Marquette is still in the running for a Big East regular season title.
No matter. I foresee the Golden Eagles finishing in the top four of the standings and receiving the all important double-bye at the Big East Tournament at Madison Square Garden.
From there, the Eagles could find themselves anywhere between a four and six seed in the NCAA Tournament pending their Big East Tournament performance.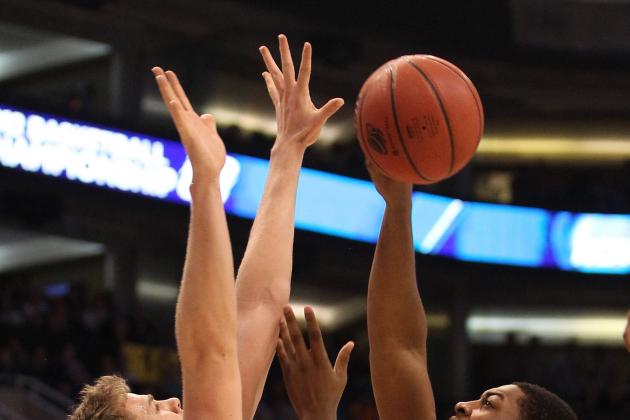 Christian Petersen/Getty Images

Last March, Crowder and DJO shouldered Marquette's Sweet Sixteen effort that included wins over Brigham Young and Murray State, before falling short against the Florida Gators.
MU received help from Vander Blue, Junior Cadougan and Jamil Wilson as the team's other three starters, as well as Davante Gardner and Todd Mayo off the bench.
Blue has turned into the team's go-to-guy, but can't carry this team by himself. Though experienced as a senior, Trent Lockett is on the best team in his career and doesnt contribute with postseason experience.
The two x-factors for Marquette that I see playing well in March are bigs Davante Gardner and Jamil Wilson. While both have struggled recently, they're bound to get out of slumps.
The fact that both players come off the bench makes them even more important. Wilson came up huge last March filling in at center, as a natural forward who often hangs along the perimeter.
Gardner's best abilities are his low post scoring and his knack for getting to the charity stripe and successfully converting on a majority of those attempt. Marquette students now chant "Automatic" when he steps to the line.
Marquette's defense is certainly above average, but at times they struggle to score. A lineup consisting of the starting backcourt: Cadougan, Blue and Lockett with these backup big men Gardner and Wilson, could be the team's best option against the stuff competition they'll be facing a month from now.