Roger Federer's 5 Keys to Avoid a Disappointing 2013
Julian Finney/Getty Images
Roger Federer has certainly been playing well so far in 2013, especially given the fact that he has only been involved in two tournaments.
His Australian Open run was perhaps one of the toughest of his entire career. The Swiss man was stretched to the five-set limit in back-to-back matches for the first time, ultimately succumbing in the second encounter to Andy Murray.
But reaching the semifinals (and nearly the final) of a Major by grinding and fighting against his high-level opponents proves that he showed up even without playing tune-up tournaments.
So far he has been cruising in his title defense at the ABN AMRO World Tennis Tournament, winning his opening matches in straight sets.
Let's see the five keys for him to avoid a disappointing remainder of the season.
The Serve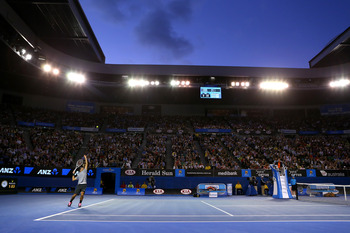 Julian Finney/Getty Images
The serve let Federer down significantly in Melbourne. Though it did not always affect him or cause him to lose the point, it did force him to play much longer service games and rallies—especially against Andy Murray in the Final Four.
This could affect his body by being more of a taxing issue.
Mental and physical aspects are directly impacted when the serve does not go in as much or does not do enough damage.
He must seek to improve his percentage, spot-serving and speed on the serve in order to gain more pop and stay in matches more consistently.
Overall Consistency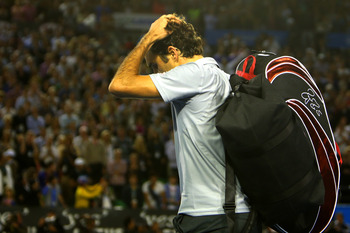 Robert Prezioso/Getty Images
He has been the most consistent figure in tennis for around a decade.
If he continues to make semifinals or better and challenge the top guys in every meeting, then his high level of success for 2013 should be a no-brainer.
He usually dusts off the lower-ranked players, but he must continue to do so in order to keep both his ranking and confidence high.
Keep Beating the Athletes Outside the Top 20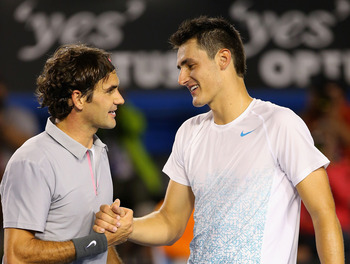 Chris Hyde/Getty Images
There are two groups of performers that he must continue to beat—people outside the Top 20 as well as the upcoming young guns.
The more those people continue to win, the more confident they may feel when it comes time to face Federer in a big match.
Though the Maestro rarely loses to people outside the Top 10, it is important for him to keep up his dominance—otherwise, other athletes may be more sure of themselves and their game plans when they face the Swiss.
Keep Working the Slice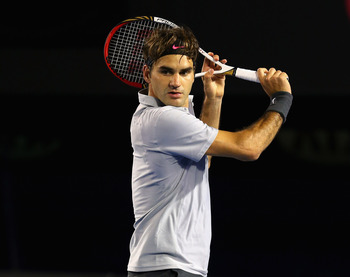 Julian Finney/Getty Images
In this day and age, tennis is becoming more and more of a power sport.
The hard-hitters (who are frankly some of the tallest athletes on the tour) know only one game, and that is to crank out higher speeds against the heavy favorites that they face.
Federer's backhand slice is one of both defense and offense and his variety with it can continue to surprise opponents who enjoy getting in a rhythm on the baseline.
The slice can also continue to block back massive serves and get him into service games against big servers like John Isner and Milos Raonic.
Win the Small Tournaments
Mark Kolbe/Getty Images
This is a very underrated factor on the men's tour—how many tournaments a person wins, including the ATP250s, 500s and 1000s.
Federer has won many of these smaller tournaments throughout his career, and continuing that in 2013 could translate to better success in the Majors.
Though he will no longer participate in as many small tournaments as he used to, he will be fresher when he does compete.
The first step is right now, and maybe he could win the ABN AMRO tournament this week to prove that his level after losing in the Australian Open semifinals has not dropped and is perhaps only getting better.
Follow B/R Tennis Community Leader and Featured Columnist, Jeff Cohn, on Twitter.
Keep Reading