All-Star Break Grades for Each Houston Rockets Player
Kyle Terada-USA TODAY Sports

The Houston Rockets have been one of the first half's biggest surprises, and the solid play of a vast majority of the players on the roster have turned the youngest team in the NBA to a legitimate playoff contender.
It's the play of the team as a whole that's gotten them where they are today, though. James Harden's dynamic scoring coupled with Jeremy Lin's spirited play and Chandler Parsons' do-it-all skill set have all blended together nicely in the trio's first season together.
There's still more basketball to play, as the All-Star break is just the beginning of the stretch run that will lead to the NBA playoffs.
The Rockets are in the playoffs for now. They'll need to continue their solid play (or improve, of course) to secure a spot in the postseason.
As a team, I'd give them a B+ grade for the first half.
It's the individual players we're here to grade, however, and it's about time to get into doing just that.
Begin Slideshow

»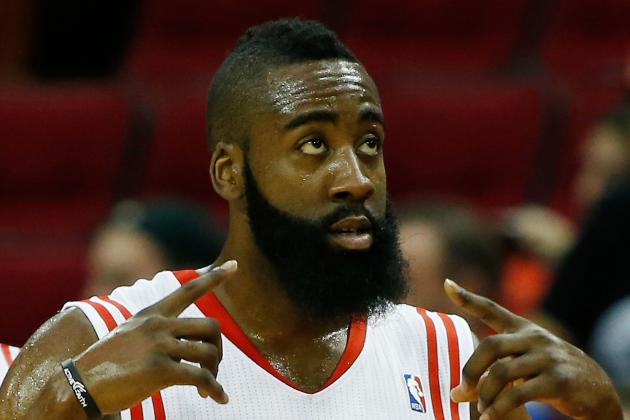 Scott Halleran/Getty Images

38.2 MPG, 44.8 FG%, 4.8 RPG, 5.7 APG, 1.87 SPG, 26.1 PPG
Without James Harden, the Rockets would not be where they are today—period.
Prior to his acquisition, the Rockets were without a legitimate superstar player and would not have been able to outscore opponents like they have up to this point.
Harden has proven that he's more than a sixth man like he was in Oklahoma City.
No longer second fiddle to Kevin Durant or Russell Westbrook, he's scoring 26.1 points per game in just over 38 minutes per game.
Whether or not he's playing too many minutes is another story for another time, but he's certainly taking advantage of his time on the floor.
His value to the team, coupled with his strong stat line, make him well worthy of a high grade at the All-Star break.
Grade: A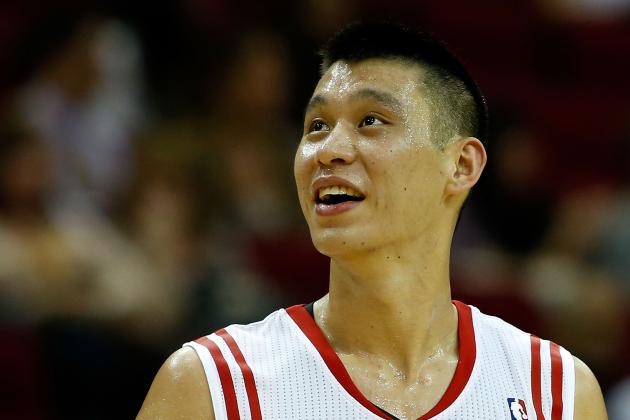 Scott Halleran/Getty Images

32.6 MPG, 43.6 FG%, 3.4 RPG, 6.1 APG, 1.91 SPG, 12.6 PPG
Jeremy Lin has brought a spark to the Rockets this season, but he really hasn't been all that great. Don't get me wrong, he's been good—just not as good as the Rockets would have hoped for.
His 12.6 points per contest is a solid enough mark for a point guard that doesn't have the most consistent of jump shots, but it's his assists per game mark that bothers me.
On a team with James Harden, Chandler Parsons and even Omer Asik, Lin should be capable of tallying at least eight or nine per contest.
Yes, I know Harden handles the ball a lot more than some would like—but still, Lin needs to make the most of all his touches.
For the Rockets to take the next step, Lin will have to be more assertive on the offensive end and become somewhat of a leader on the court.
Grade: C+/B-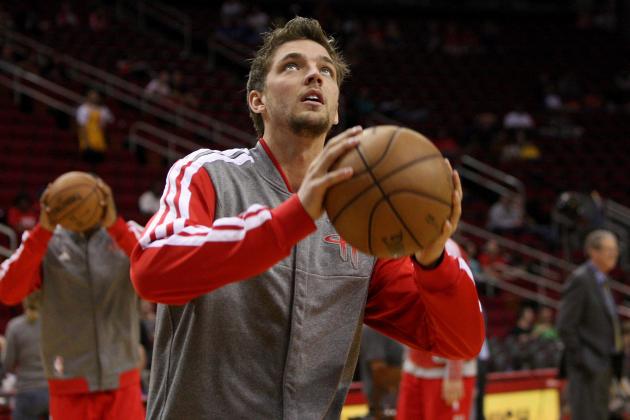 USA TODAY Sports

36.0 MPG, 47.2 FG%, 5.6 RPG, 3.8 APG, 1.13 SPG, 14.4 PPG
Chandler Parsons has turned into one of the most well-rounded players in the game after a rookie season that saw him outperform his No. 38 draft position.
He's even further outperformed that position this year, playing better than many others drafted ahead of him.
Parsons, the team's second-highest scorer, is a perfect complementary player to Lin and Harden.
While defenses are trying to prevent Lin from driving to the rim and Harden from creating his own shot, Parsons goes relatively unnoticed. He's capitalized on that, shooting over 47 percent from the floor and over 36 percent from deep.
Parsons is another player that the Rockets would be nowhere without. The best part about him? He still has plenty of room to improve.
For exceeding expectations and being the glue that keeps the Rockets offense together, Parsons gets a nice grade for the first half.
Grade: B+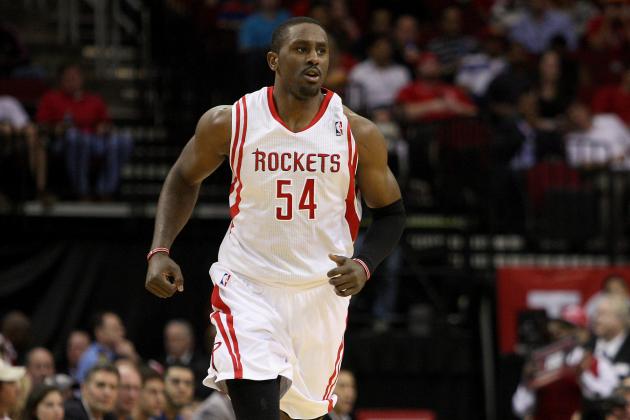 USA TODAY Sports

26.0 MPG, 51.8 FG%, 4.7 RPG, 11.6 PPG
Patrick Patterson, the No. 14 pick in the 2010 NBA Draft, has played well in a starting role during the first half.
Playing next to Omer Asik under the basket, he has taken advantage of open looks and converted over 50 percent of his field goals. With the number of jump shots that Harden and Lin take in a game, it's extremely important to have a consistent scorer in the paint.
He's even been able to hit consistently from behind the arc, converting over 36 percent of his three-point field goals.
While he's not the big name guy that Harden, Lin or Asik is, Patterson has quietly had a very nice first half. As he continues to grow into an NBA regular, he'll continue to grow into an even more polished player.
Grade: B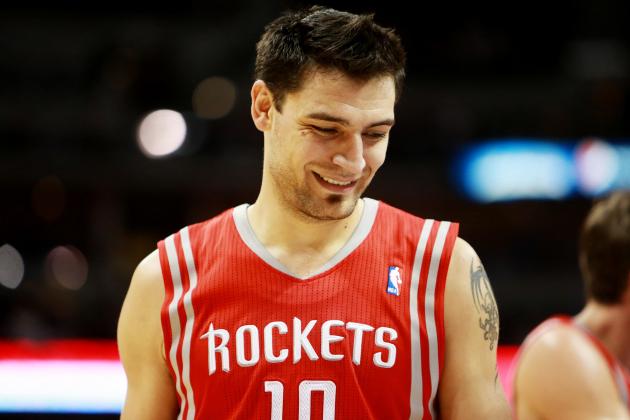 USA TODAY Sports

25.1 MPG, 41.8 FG%, 39.4 3P%, 3.1 RPG, 10.5 PPG
Coming off the bench, Carlos Delfino has been extremely valuable.
He's playing borderline starter's minutes, but there's no doubt that his role on the team is as one of the first guys off the bench.
Not only has he served as the team's best bench player, he's been the team's best three-point shooter in the first half. At nearly 40 percent, he's been as consistent as they come from distance.
Delfino isn't necessarily the best defender or rebounder, but he holds his own and doesn't hurt the team on that end.
The only thing that worries me is that his field goal percentage is very similar to his three-point percentage. That'd be fine if he was shooting 45 percent from deep, but because he's not, that concerns me just a little bit.
Grade: B-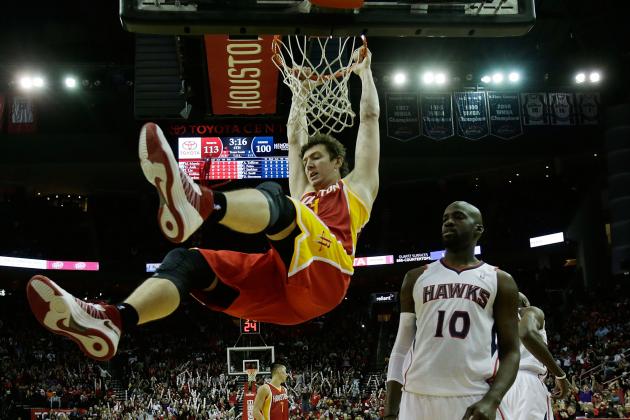 Scott Halleran/Getty Images

30.1 MPG, 54.4 FG%, 11.6 RPG, 1.15 BPG, 10.5 PPG
Omer Asik has been everything the Rockets thought he'd be—and much, much more.
After coming over from the Chicago Bulls last season, Asik has established himself as one of the most well-rounded big men in the NBA.
He's averaging a double-double, converting on well over 50 percent of his shots from the floor and has given Lin and Harden an option in the paint to look to on offense.
He's grabbing an astounding 3.30 offensive boards per game. On a team that likes to shoot, offensive rebounds are especially valuable. Asik has been able to keep possessions alive and give his teammates (or himself) second shot opportunities.
If I have one nit-picky thing to say about Asik, it's that his free throw percentage is low—dangerously low. He's shooting just 55 percent from the charity stripe.
I'm sure the Rockets can live with such a low total, but there's no doubt that they could benefit from him getting that number up near 65 percent.
Grade: A-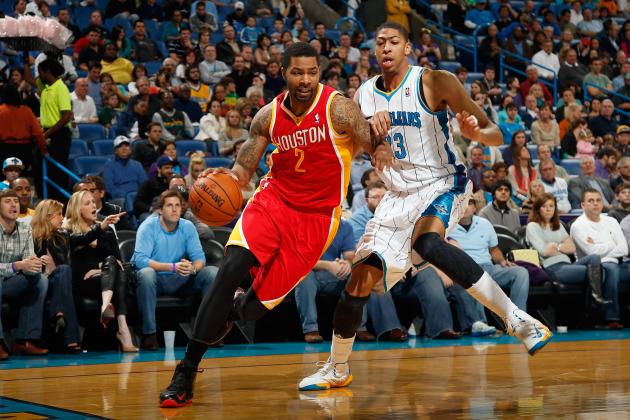 Chris Graythen/Getty Images

21.2 MPG, 42.9 FG%, 4.0 RPG, 8.6 PPG
Marcus Morris has started the 17 games at power forward that Patrick Patterson has not. He's played pretty well though, and the Rockets should be happy that they have a competent duo to play the four.
What's really made him valuable is his ability to come off the bench and convert from beyond the arc. He's shot nearly 39 percent from three and has made it easy for the Rockets to stretch the floor and give Asik more open space under the basket.
Morris is another guy with problems from the charity stripe, however. He's converted just 48 of 74 attempts (just under 65 percent) and needs to find his touch from the line to improve his worth off the bench.
He's greatly improved from his rookie season in 2010-11 and the Rockets should expect even more growth as he gains experience.
Grade: B-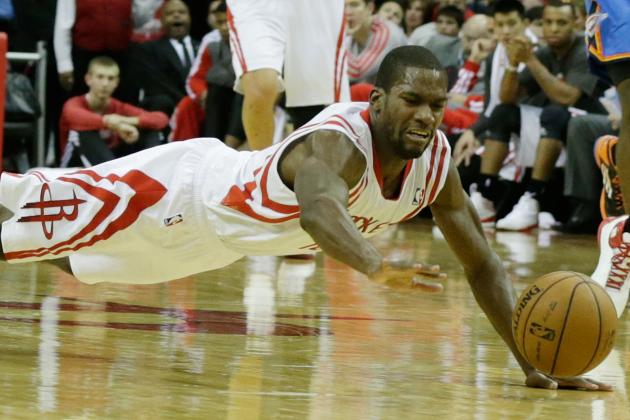 Scott Halleran/Getty Images

18.6 MPG, 39.5 FG%, 1.9 APG, 8.1 PPG
Toney Douglas has been disappointing in his first season with the Rockets.
Never really known for shooting a high percentage from the floor, Douglas has even shot worse than his career-average (40.6 percent) through the 49 games he's played in this season.
That has led to just 8.1 points per game, the second-worst mark of his career.
If nothing else, Douglas has provided the team with strong three-point shooting (37.7 percent) and high energy coming off the bench.
He's your typical middle-of-the-road reserve guard, but the Rockets would most definitely like to see him improve on converting his shots in the second half.
Grade: D
Scott Halleran/Getty Images

13.9 MPG, 63 FG%, 4.00 RPG, 5.5 PPG
Greg Smith, a second-year center out of California State University, is shooting 63 percent from the floor—yes, 63 percent.
He's made 97 of the 155 shots he's attempted (only one of those shots was beyond the arc; he missed) and has been a solid option off the bench.
With just 0.5 blocks per game, he hasn't made much of a difference on defense. Even projected over 36 minutes, he'd only be blocking 1.4 shots per game—average for a center in the NBA.
His projected rebounding total over 36 minutes is 10.4, however, showing just how valuable he is to the Rockets on the glass.
He may not play many minutes per game, but he's a very important bench piece for this team.
Grade: B+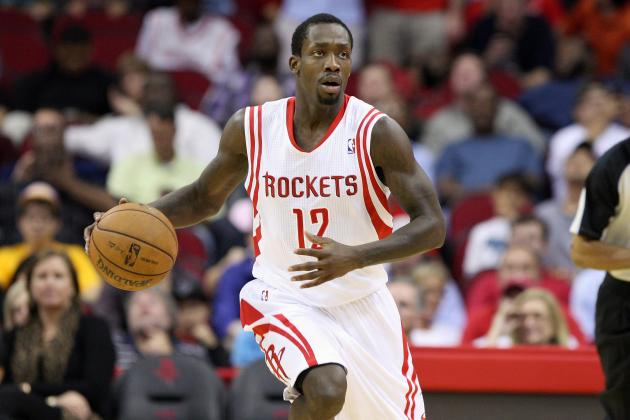 USA TODAY Sports

12.6 MPG, 41.3 FG%, 2.8 APG, 4.8 PPG
Patrick Beverley has played in just 13 games this season, but he's shown the ability to pass and make the most of his time on the court.
It's seems as if he's supplanted Toney Douglas on the depth chart behind Jeremy Lin—a role that he's earned with his recent stretch of hot play.
Over his last five games, he's averaged 6.5 points, 3.0 rebounds and 5.0 assists per game (via basketball.realgm.com).
Beverley gives the team a strong passer off the bench, and he'll prove valuable if he continue this hot play. There hasn't been much of a sample size from his first half, but I like what I've seen.
Grade: B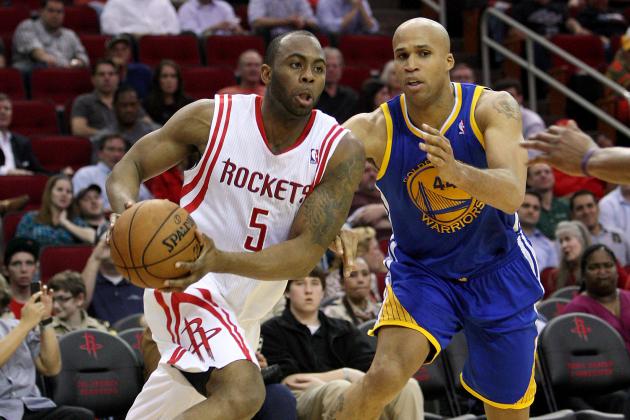 USA TODAY Sports

*With Houston: 6.5 MPG, 40 FG%, 1.3 RPG, 2.3 PPG
James Anderson has played just 12 games with the Rockets after starting the season buried in San Antonio's depth chart.
He's the lone true shooting guard on the bench in Houston, though, and he's been playing in the few minutes per game that Harden doesn't.
While his 12-game numbers aren't all that attractive, the numbers he's put up over the past five games are far more pleasing (via basketball.realgm.com).
He's averaged 4.7 points, 3.7 rebounds and even 2.7 assists per game, possibly giving head coach Kevin McHale a little more confidence in allowing Harden to see the bench for a few extra minutes per contest.
Judging on the entire sample size, though, he hasn't been the best option off the bench. If he keeps this strong play up, his grade for the season will likely increase.
Grade: C+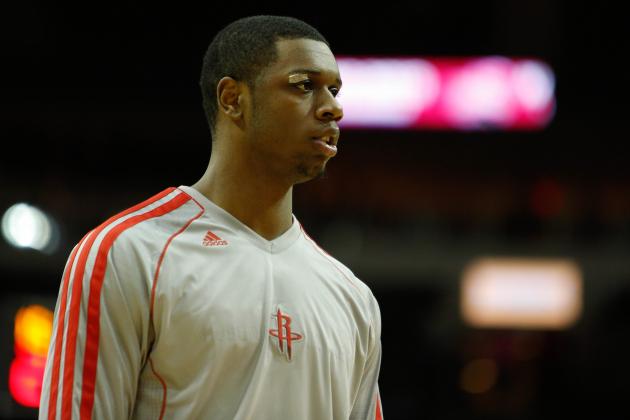 Thomas Campbell-USA TODAY Sports

8.3 MPG, 38.2 FG%, 1.6 RPG, 3.1 PPG
After being drafted No. 18 overall in the 2012 NBA Draft, Terrence Jones was expected to produce at least decent numbers from day one. To put it simply, he hasn't.
He hasn't played since December 19 against the Philadelphia 76ers, as he's been honing his skills and receiving starters minutes with the Rockets' Developmental League affiliate.
When drafting a player that high, a team expects the player to be at least close to NBA-ready.
Jones wasn't, and may not have an impact on the team at all this season. His grade may be harsh, but it's true.
Grade: F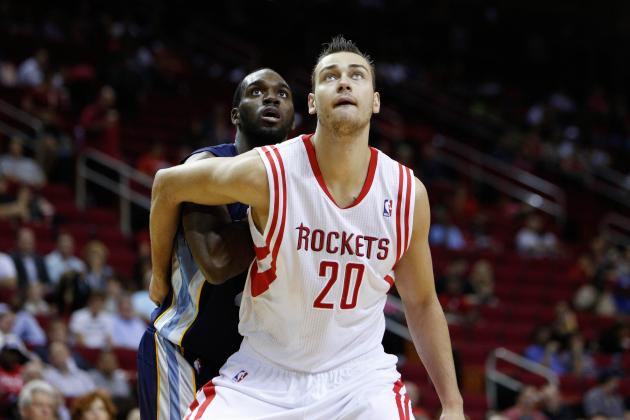 Thomas Campbell-USA TODAY Sports

3.5 MPG, 48.1 FG%, 0.4 RPG, 1.9 PPG
Donatas Motiejunas, a rookie big man from Lithuania, has been on the outside looking in of both the power forward and center rotations this season.
He's displayed decent fundamentals and the potential to be a solid NBA player, but he's currently buried on the Rockets depth chart.
He does need to improve on his rebounding, but his scoring has been superb relative to the amount of time he spends on the court.
Projected over 36 minutes, he'd be averaging 19.8 points per game.
Due to a lack of sample size, his grading is somewhat incomplete. If I had to give him a grade, it would be neither good nor bad—somewhere right in the middle.
Grade: C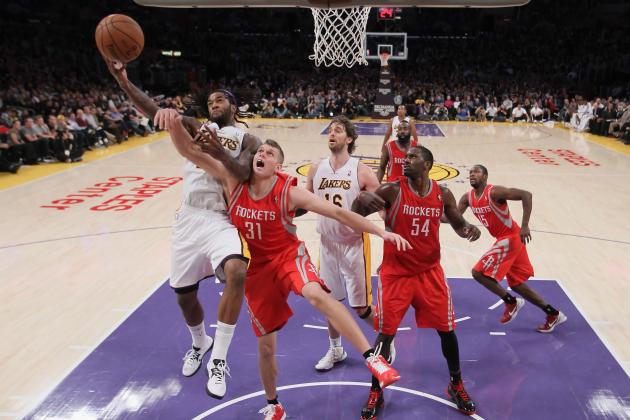 Jeff Gross/Getty Images

7.3 MPG, 53.5 FG%, 2.0 RPG, 1.7 PPG
Cole Aldrich has played pretty well in limited action and spelling Omer Asik for a few minutes per contest.
He's been on the rise over his past five games, dropping 1.7 points and grabbing 2.8 boards per game (via basketball.realgm.com).
The Rockets don't need much from Aldrich when he's on the court—just an able-bodied player that can hold is own while Asik gets a breather.
For seven minutes a game, the Rockets could do much worse than Aldrich.
Grade: B