Bruno Sammartino: 5 Reasons Why He's Truly WWE's Living Legend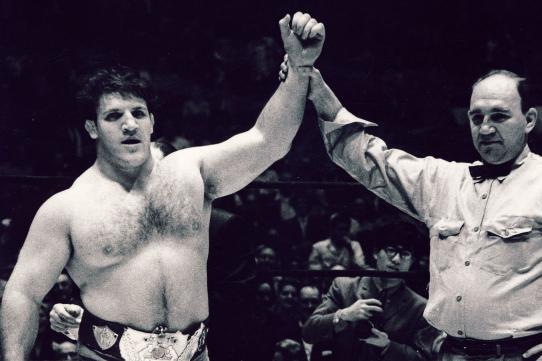 Photo credit: WWE
Bruno Sammartino is one of WWE's greatest champions and one of pro wrestling's biggest names, even today.
The night before WrestleMania 29, WWE will finally induct Sammartino into its Hall of Fame. His troubled relationship with WWE and Vince McMahon has eased enough that pro wrestling's Babe Ruth will now finally get his due.
The term legend gets tossed around, sometimes used to label non-deserving men. It's absolutely a fitting term for Sammartino.
Because of his ability to be a main-event draw, his longevity and his uncanny power, Sammartino deserves to be called a legend several times over.
Begin Slideshow

»
Much was made of CM Punk's recent 434-day WWE title reign. As impressive as that was, Punk would have had to hold on to the championship for more than six additional years to approach Bruno Sammartino's record.
After defeating Buddy Rogers in New York in 1963, The Italian Superman was not dethroned until 1971.
Sammartino's unfathomable championship reign speaks to his durability and to his staying power. WWE chose him above all their stars to represent the company.
When other promotions sent their biggest star, WWE had him face Sammartino. When WWE went to Japan for a set of matches in 1967, Sammartino was their top guy, the gold firmly around his waist.
His record for longest single reign and longest accumulated days as champ (4,040) are WWE's most untouchable records.
WWE has a long history of stars, but only a handful of men have been true icons. John Cena is approaching that status. Steve Austin and Hulk Hogan were both WWE's most famous faces for years.
Bruno Sammartino played that role when WWE was still WWWF, when it was Vince J. McMahon's company, when Madison Square Garden was the company's homebase.
Had WWE not found such a popular and successful wrestler to build its brand around in the '60s and '70s, perhaps it would have eventually gone the way of the defunct WCCW, AWA and UWF.
There are certainly wrestlers one could imagine WWE surviving without. A WWE without Sammartino though is like yanking Wilt Chamberlain out of the NBA history books, removing Elvis Presley from the timeline of rock music.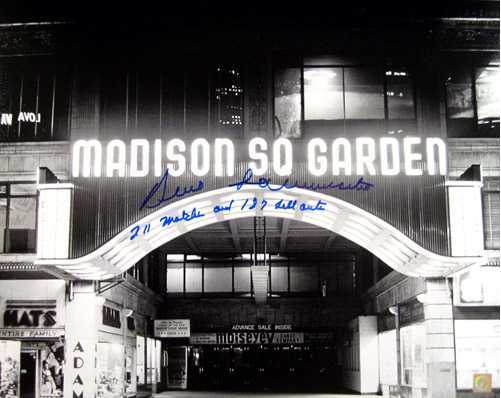 Bruno Sammartino-Signed Photo of Madison Square Garden (WrestlingSuperstore.com)
How does one quantify Bruno Sammartino's star status? Other than marveling at his championship reigns, one can simply look at the size of the crowds that came to see him.
As WWE.com notes, Sammartino sold out Madison Square Garden 187 times.
This was in an age before WrestleMania, before pay-per-view, before WWE was the international sensation that it is today.
Sammartino brought fans to the sport like no one before him.
Fans filled arenas to watch him face Luke Graham, Gene Kiniski, Killer Kowalski, Gorilla Monsoon and any other heels who'd dare challenge him. It almost didn't matter who was in the ring opposite him though.
Fans came to see the hero, the champion—and they came in record numbers.
WWE.com writes that "grown men were seen weeping" when Bruno Sammartino lost the world title in 1971.
To be able to draw that kind of emotion requires an immense amount of popularity.
Joey Styles said of Sammartino, "As an Italian-American whose family is also from the Abruzzi region of Italy, Bruno Sammartino was and is an inspiration." It's a sentiment held by many other Italian-Americans, as evidenced by his induction into the National Italian American Sports Hall of Fame in 1989.
To stay atop the WWE as long as Sammartino did requires long-lasting adoration from the fans.
Many other WWE stars have had short bursts of intense popularity, but Sammartino caused audiences to lose their voices for the better part of two decades.
Bruno Sammartino didn't need a gimmick, a character, robes, masks or props. He was just himself; a brawny, resilient athlete.
His prime was a different time for the business. WWE didn't acknowledge its scripted nature back then. Feuds were far less soap opera-like. There was violence and spectacle and showmanship, but it was more focused on the sport aspect.
Sammartino maintained his popularity mainly on the basis of his in-ring performance.
There have been more spectacular performers, but few men have entranced audiences with realism and power the way Sammartino did.
He was able to bodyslam 630 pounds worth of man in Haystacks Calhoun. He was able to stay atop WWE with just his mat skills, building his legacy one bearhug at a time.