Boston Celtics On Favorable End of Nets NBA Betting Bounce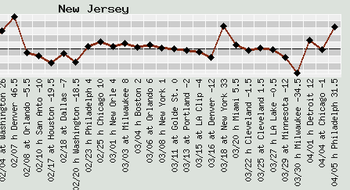 Advanced NBA handicappers like to use tools that are ahead of the curve to help them make their betting selections. Winningpoints.com provides a tool called the GoGraph, which plots each team's game performance vs. the point spread in progression, over the last 40 games. Tonight (4/8/09), the New Jersey Nets are coming off one of their strongest performances of the season. It came against Philadelphia when Philadelphia was playing a second of back-to-back games, off a win that clinched a playoff spot for the 76ers. It is actually a negative mark against New Jersey for that particular outing. The 76ers had been softened up, and New Jersey was still desperate for wins to help them qualify for the playoffs. When a less than mediocre team comes off a peak-high performance, they are eligible to crash in their very next game.
Minnesota T'Wolves
For example, see the Minnesota Timberwolves. Immediately after their three best outings in their last 40 games—games in which they covered the spread by 16.5, 19, and 27.5 points—they missed the spread by -10, -9, and -3 points in their very next game.
Boston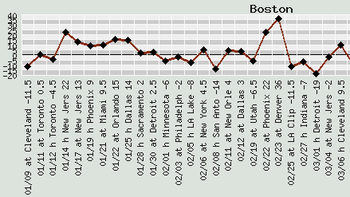 When a less than mediocre team happens to be playing a very good team on the road, the "bounce" is more likely to strike than if they were playing another so-so team like themselves. Tonight, New Jersey plays at the Boston Celtics. Notice how a superior team like the Celtics has displayed the ability to string multiple peak-high games together before they suffer a "crash" game. Tonight, plenty of people will like New Jersey because Kevin Garnett is out for Boston, and because they read that guard Rajon Rondo left the Celtics' practice floor limping on Monday. They should all remember that Paul Pierce limped off the game floor in the playoffs last season when he wasn't really hurt. People overreact to injuries that might not be injuries. Graphing games can help NBA bettors and handicappers overcome the "human error" element.
Keep Reading