Power Ranking the Top 20 Performers Early in the NHL Season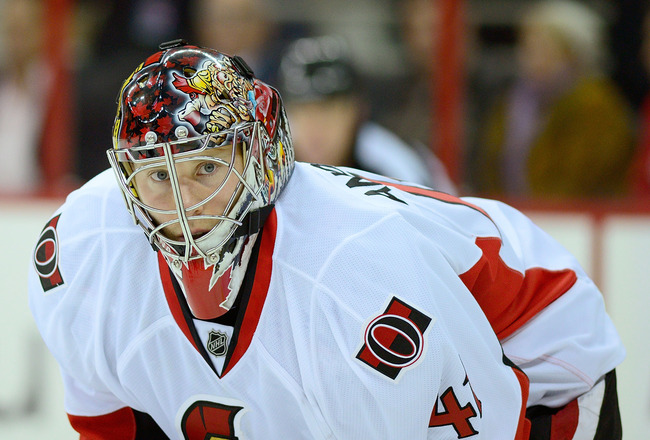 Craig Anderson has had an unbelievable start in 2013.
Grant Halverson/Getty Images
After months of enduring that gargantuan waste of time otherwise known as the lockout, NHL fans were chomping at the bit once they knew there would be a season. We were all looking forward to anything other than having to listen to Gary Bettman talk about money. So now that we're through the first quarter of this shortened campaign, what players have stood out the most?
Many in this list will be familiar names. However, a few are just starting to make their presence felt league-wide.
You would be hard-pressed to find too many people outside of Ottawa who predicted Craig Anderson would be dominating the way he is.
And who would have thought Roberto Luongo would still even be in a Vancouver uniform, let alone sitting at 4-0-2 with a 1.45 GAA?
Ahead, we're going to count down the top 20 performers of the NHL's young season so far, and talk about what kind of impact each has had on their team's success.
20. Marian Hossa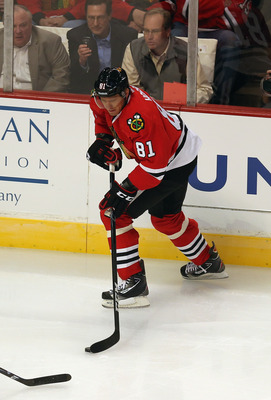 The 34-year-old will eclipse 1,000 games played within the next few weeks.
Jonathan Daniel/Getty Images
It should come as no surprise that we start with a key member of the league's best team at this point.
Hossa has 12 points through 13 games for Chicago. He's shown no ill-signs in his return from last spring's concussion courtesy of cheap-shot extraordinaire Raffi Torres.
No. 81, who now has 423 career goals, seems poised to make another Cup run with the Blackhawks.
19. Roberto Luongo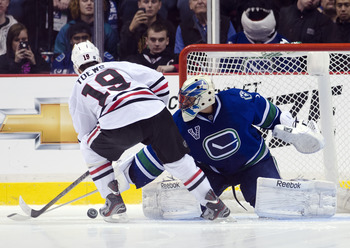 It can't be easy to excel when management openly talks about trading you.
Rich Lam/Getty Images
The Vancouver Canucks are off to a fast start again. It's due in large part to their tandem of netminders.
Cory Schneider still isn't the starter and Luongo still hasn't been dealt, so this bizarre situation in the Pacific Northwest has still yet to play itself out. Just three weeks ago, GM Mike Gillis had no trouble admitting he had a potential move in place.
It should go without saying that we've seen the Montreal native do this in the regular season for much of his career.
But can he erase the memory of the 2011 Finals if he stays in Vancouver through the playoffs?
18. Kevin Shattenkirk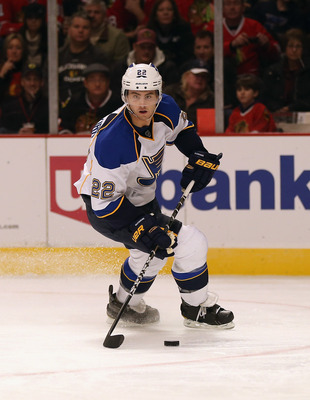 The young St. Louis defenseman is averaging a point-per-game this season.
Jonathan Daniel/Getty Images
A lot of preseason Norris Trophy hype centered around Shattenkirk's teammate, Alex Pietrangelo, and rightfully so.
Yet, through 13 games, it's No. 22 on the Blues who's leading his team in scoring (13 points). The 24-year-old former first-round pick is one of the new faces we mentioned that will be a household hockey name before long.
Still, St. Louis has struggled a little bit out of the gate. Shattenkirk and the rest of their defensive corps have limited the chances, but Brian Elliott has to play better for this team to go deep in the West.
17. John Tavares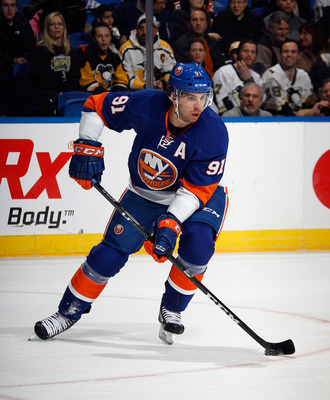 The Mississauga native is coming off a career high 81 points in 2011-12.
Bruce Bennett/Getty Images
One of the best offensive talents in the game is John Tavares of the New York Islanders. He's already racked up seven goals and 15 points in 12 games.
It's a shame that he plays on a team that has missed the playoffs and finished last in the Atlantic Division for five consecutive seasons. This is another squad that's been searching for consistent goaltending for years.
Tavares should finish in the top 10 in league scoring again, but the Islanders seem destined for another spot in the basement.
16. Erik Karlsson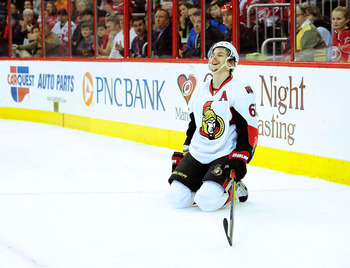 Ottawa's playoff chances take a serious hit with Karlsson out indefinitely.
Grant Halverson/Getty Images
Unfortunately, the reigning Norris Trophy winner suffered a 70 percent cut to his Achilles tendon Wednesday night in Ottawa's loss to Pittsburgh.
He was enjoying a great start to the 2013 season, leading all defenseman with six goals through 14 games. After finishing second on the Senators with 78 points in 2011-12, the 22-year-old Swede was on his way to earning some Hart consideration.
The Sens' shot at earning a postseason berth looks much less optimistic at this point. That's because Karlsson's recovery time has been set at three to four months.
15. Eric Staal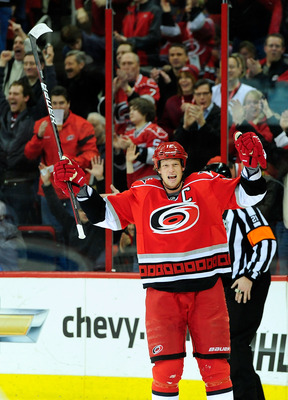 Carolina's captain has been on fire since being blanked in his first two games.
Grant Halverson/Getty Images
The Carolina Hurricanes took big steps in the offseason to improve their team, acquiring Alexander Semin and Jordan Staal.
But it's this franchise's cornerstone that's led them to their 8-4-1 start. With eight goals and 17 points in only 13 games, Eric Staal is currently on an 11-game point streak.
Now it is worth noting that the Canes are winning the weakest division in hockey, so let's not overstate their quick start too much. However, if Cam Ward returns to form, this is a team that can make some noise in the East.
14. Teemu Selanne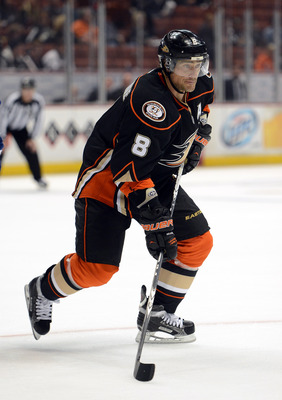 The ageless wonder is only 33 goals away from 700.
Harry How/Getty Images
At 42 years old, the fact that Selanne is still even playing in the NHL is unbelievable.
What's even more amazing is that he continues to perform at such a high level. No. 8 for Anaheim is leading the Ducks with 14 points in 12 games, and is showing no signs of slowing down.
He's been an integral part to the Ducks' resurgence, as they're off to a 9-2-1 start as his team looks to rebound from a disappointing 2011-12.
13. Antti Niemi
Niemi won the Stanley Cup as a rookie with Chicago in 2010.
Dilip Vishwanat/Getty Images
The San Jose Sharks have been by far the biggest rollercoaster ride in the NHL this season. After winning their first seven, they've lost six in a row (three in regulation).
But it has not been because of a drop-off in play by Niemi. His 1.74 GAA and .935 SV% are a great early sign for Sharks fans.
That's especially true for those who know their window of opportunity to win a Cup, especially with this "core group," continues to close.
12. Alex Pietrangelo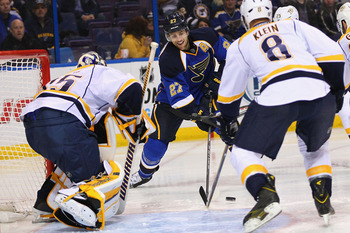 St. Louis' defense is in good hands for years to come.
Dilip Vishwanat/Getty Images
Pietrangelo is another name hockey fans better start getting used to.
Despite his nine assists and 12 points through 13 games, though, the St. Louis Blues have been the polar opposite of the team that came out of nowhere last year under Ken Hitchcock. Their offense is much better (second in the West), but their defense and goaltending have been atrocious (most goals allowed in the West).
Pietrangelo was the sexy pick for the Norris before the season. He needs to improve on his minus-two rating if he wants to get himself in the running in 2013.
11. Patrick Marleau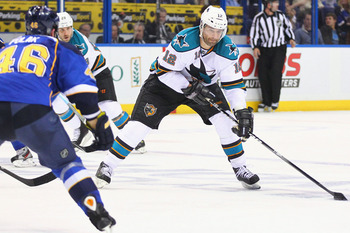 The 33-year-old sniper is on the verge of 400 goals.
Dilip Vishwanat/Getty Images
Like a lot of terrific goal scorers before him, Marleau can be incredibly streaky.
He had nine goals and 13 points in San Jose's first five games, but he and his team have since cooled off considerably. Marleau has only had one point in the midst of the Sharks' six-game losing streak.
Yet, this is still a guy who's scored 30 goals six out of the last seven seasons. Few around the league can equal that, so you take the ups with the downs when it comes to his production.
10. Corey Crawford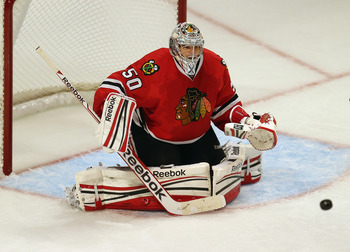 No. 50 for Chicago has only allowed 17 goals in 10 games.
Jonathan Daniel/Getty Images
With the Chicago Blackhawks still having yet to lose in regulation, their goaltender is starting to get some early Vezina buzz.
Corey Crawford's numbers are eye-popping; a 7-0-3 record with a 1.65 GAA and .935 SV%. The Hawks haven't just been squeaking by teams either. Their plus-16 goal differential is far and away the best league-wide.
You can attribute a large part of that to Crawford, who has responded to the pressure on him this year with a terrific beginning in 2013.
9. Alexander Edler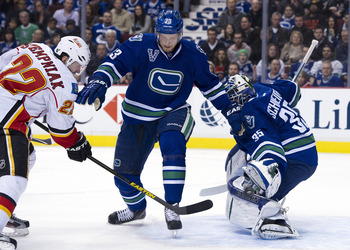 The Canucks were smart to sign him before he hit the open market.
Rich Lam/Getty Images
This upcoming offseason's top unrestricted free-agent defenseman was sure to be Edler.
Vancouver couldn't afford to lose him and still expect to be an elite team. So they re-signed him for six years and $30 million.
He's second on the team with nine points in 12 games as both Sedin's have struggled offensively, at least by their standards.
Sitting at 8-2-2, the Canucks should run away with the Northwest as Edler shines for the best defensive team in the league.
8. Steven Stamkos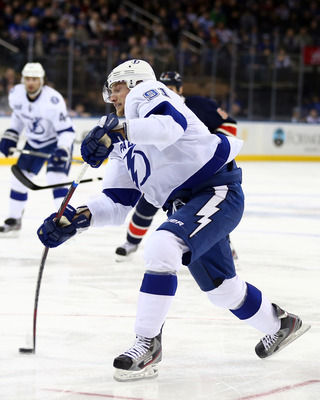 The former 60-goal scorer had an assist in Thursday night's loss to Washington.
Elsa/Getty Images
Tampa Bay Lightning fans can't ask for much more from the former first overall pick.
Stamkos has seven goals and 18 points through 13 games, but the Bolts have now lost six in a row. It's unfortunate for the 23-year-old superstar, as he's become one of the faces of this league over the last few years.
Tampa has the benefit of playing in the Southeast, but a 1-4 record away from home is not the sign of a playoff team. It would be the fourth time in his five seasons that No. 91 has missed the postseason.
7. Andrei Markov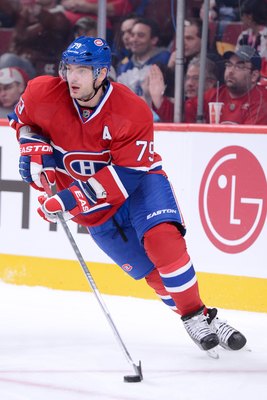 It's been three years since the Russian blueliner's been healthy.
Richard Wolowicz/Getty Images
One of the early surprises of the 2013 NHL season has been the success of the Montreal Canadiens.
With P.K. Subban's holdout dragging into the season, Habs fans were thrilled to have Markov back to fill the void. The 34-year-old veteran had only suited up for 65 games since 2009-10.
His offensive production has returned (10 points in 13 games), and along with Subban and Raphael Diaz, he helps make up one of the best defensive corps in the game.
6. David Clarkson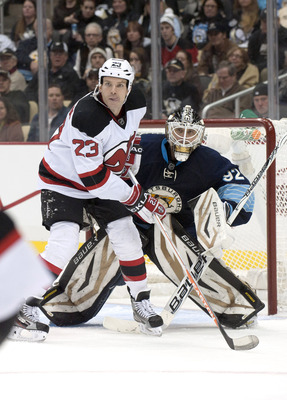 This is where this bruising center makes his living.
Vincent Pugliese/Getty Images
Before scoring 30 last season, Clarkson's career-high in goals was 17.
He burst onto the scene offensively in 2011-12, and still gave New Jersey his usual toughness, racking up 138 PIM. His nine goals in 13 games so far in 2013 has him tied for third in the NHL.
The Devils are the San Antonio Spurs of hockey. Year in and year out, they continue to be a model of success as a franchise.
Once again they sit atop the Eastern Conference standings, thanks in large part to their late-blooming power forward.
5. Sidney Crosby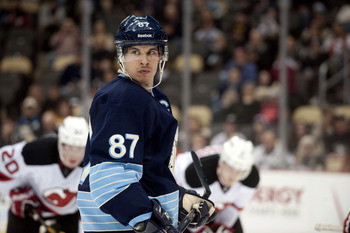 The face of the NHL averages almost 21 minutes a night.
Vincent Pugliese/Getty Images
Finally back healthy, Sid the Kid has shown again in this young season why he's the best player in the league. Tied for second in the NHL in points with Patrick Kane at 20, No. 87 also sits at plus-eight.
He played only 63 games over the last two years combined, but still put up 103 points over that span.
It's mind-boggling when you realize Crosby is still only 25. Pens fans are hoping he stays in the lineup throughout this shortened campaign, because Pittsburgh has as good a shot as any to come out of the East.
4. Patrick Kane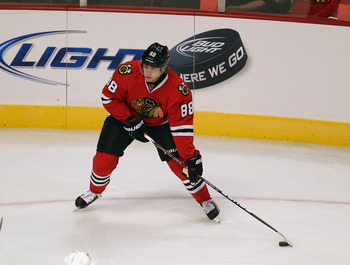 The Western New York product was coming off a career-low in points in 2011-12.
Jonathan Daniel/Getty Images
If you've noticed a trend here, it's that the best team in the league also has the most players in this list. And when 66 points is a down year, you know you've got talent.
Kane has quickly erased the memory of Chicago's first-round exit last spring, and Hawks fans have to be excited to see him respond the way he has to the added pressure he's facing.
Have we mentioned this team has Jonathan Toews too? No. 88 and the rest of this group look like they're gearing up for another championship run in the Windy City.
3. Pekka Rinne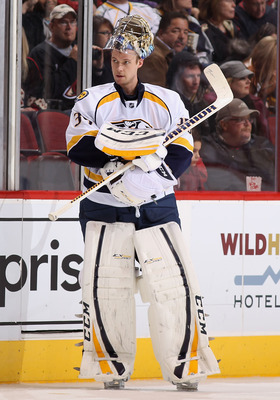 The two-time Vezina nominee shutout Phoenix Thursday night.
Christian Petersen/Getty Images
No single player in the league is more responsible for his team's success than Rinne is for Nashville.
Only two teams (Colorado and L.A.) have scored fewer goals than the Preds. The 30-year-old Finn has a ridiculous 1.75 GAA and .934 SV%.
Now some would argue that Jonathan Quick has as much, if not more, pressure on him nightly than Rinne. But L.A. has someone like Anze Kopitar, a legit No. 1 scorer, while Nashville does not.
The Predators' netminder should be an early favorite for both the Vezina and the Hart, as his team only sits five points behind the Blackhawks.
2. Thomas Vanek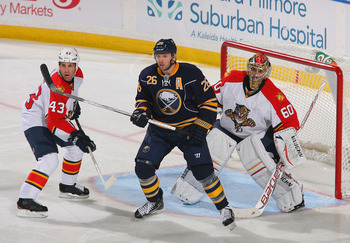 He takes as many cross-checks in front of the net as anyone in the league.
Rick Stewart/Getty Images
It's hard to make a case for the MVP to be someone who plays on a losing team. How valuable can you be if you're not making the playoffs?
However, Vanek is the only reason Buffalo isn't the worst team in hockey (yet). He's leading the NHL in goals (11) and points (23), as he tries to help avoid a second consecutive flop by the Sabres.
Only the Caps have given up more goals, which is very unlike a Lindy Ruff-coached team. It should mean his job is in jeopardy.
It's a travesty Vanek's season seems likely to be wasted.
1. Craig Anderson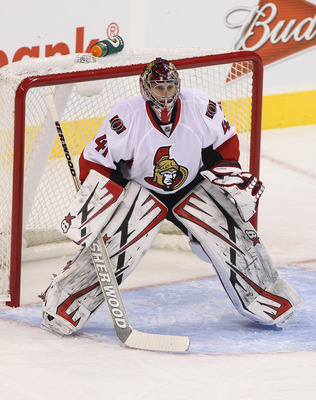 Losing Jason Spezza made it hard enough on Anderson, but now Karlsson too?
Marianne Helm/Getty Images
Regardless of what happens to the Sens from here on out, their starting goalie has been the top performer of the 2013 season so far.
Anderson, even after Wednesday night's loss in Pittsburgh, is still second in GAA (1.58), first in SV% (.949) and tied for first with two shutouts. Right now, the Hart race would be between him, Vanek and Rinne.
Without their two leading scorers from a year ago, Ottawa will continue to rely on their netminder to steal games for them. It remains to be seen whether or not he can maintain this torrid pace, though.
With that being said, he's got two more jam-packed months to show Canada's capital he can.
Keep Reading