There's only one question on the minds of Chicago Bulls fans these days:
How does Tom Thibodeau still have a voice?
Okay, so maybe two questions then, the other (and more important) one being, "When will Derrick Rose be back?"
At this point, pegging a definitive return date for Rose from his once-torn left ACL appears to be a futile endeavor. Insiders and outsiders alike had long predicted that the 2011 NBA MVP would be back sometime around the All-Star break.
But with the game itself fast approaching, Rose now insists that he won't come back until he's "110 percent," and that it may be a while until he reaches that point, given that his leg "still isn't feeling right."
All of which now jeopardizes any hopes—Rose's, the team's or otherwise—of the All-Star point guard getting back on the floor before the 2012-13 season comes to a close. At 30-22, the Bulls will emerge from the midseason showcase as the fifth seed in an Eastern Conference that's short on teams capable of challenging the Miami Heat. In theory, then, this Chicago squad could be a dark-horse candidate to come out of the East if/when D-Rose is back in the fold.
Though some think otherwise, and that the Bulls would be wise to advise Rose to sit this one out.
In any case, Derrick Rose has come a long way since that fateful day, when the hopes of an entire city were snapped under the weight of a knee that suddenly, tragically and unexpectedly gave way. Let's have a look back at just how far that way has been for Chicago's favorite son.
April 28, 2012
With 1:20 remaining and the Bulls leading the Philadelphia 76ers by 12 points in Game 1 of the two team's first-round playoff series, Derrick Rose drives the lane, comes to a jump-stop and lands awkwardly on his left knee. Team doctors tend to Rose before helping him off the floor.
Rose had missed 27 games during the regular season with an assortment of lower body injuries.
April 29, 2012
Rose undergoes an MRI on his left knee, after which time the team confirms everyone's worst fears: the Bulls' superstar has torn his anterior cruciate ligament (via Scott Powers of ESPNChicago.com). He is ruled out for the remainder of the playoffs and joins a long list of elite talents who will not be able to play for Team USA at the 2012 London Olympics
May 12, 2012
Derrick undergoes surgery to repair his torn ACL. The procedure, performed by Bulls team physician Dr. Brian Cole, uses a graft from Rose's patellar tendon to shore up the damage. Sources peg the recovery time at eight-to-10 months.
Reggie Rose, Derrick's manager and older brother, speaks positively of the outcome (via KC Johnson of The Chicago Tribune):
"The surgery went great today. I just left him over at Rush (Hospital),"
Reggie also insists that his gifted brother will be back in action at some point during the 2012-13 campaign while simultaneously preaching extreme patience:
"He's not sitting out the entire (2012-2013) year. We're just going to bring him back slowly. I think the biggest thing to do is not put a time limit on it, just when he feels comfortable. When he comes back, he's got to learn how to trust his body...

"Once he learns how to trust his body, then we will put him out there. But other than that, if the Bulls are in the playoff chase or whatever and they are trying to pressure him back ... we're just not going to pressure him back. That's the way we're looking at it
May 15, 2012
Dr. Brian Cole, who performed the procedure on Rose's knee, suggests an eight-to-12-month window of recovery (via KC Johnson):
"Derrick is doing great. The surgery went really well. No surprises."
Dr. Cole thinks that Rose should make a full recovery from his injury:
"It's impossible to predict tomorrow. Statistically, he should be that player and then some. That doesn't mean it's guaranteed."
June 19, 2012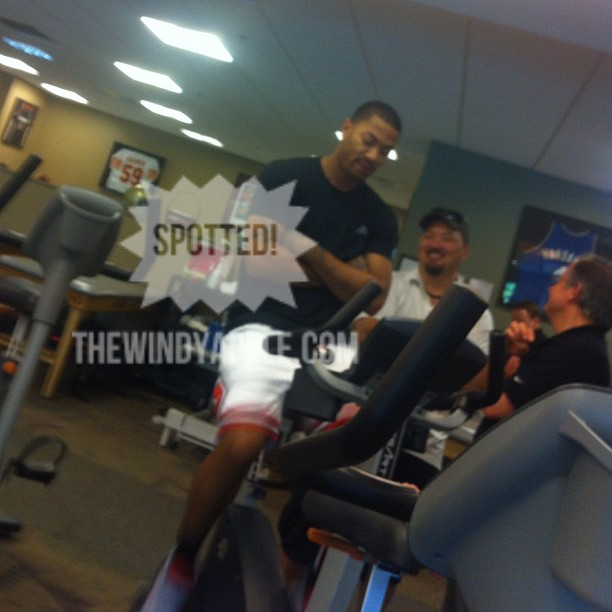 Derrick is seen in Alabama working out on a stationary bike, with Bulls trainer Jeff Tanaka by his side. He's presumably in the Yellowhammer State to visit Dr. James Andrews, the renowned orthopedic surgeon known for operating on some of the world's best athletes.
June 20, 2012
Back in Chicago, general manager Gar Forman speaks glowingly of Rose's rehab during a Q&A on the Bulls' website (via Scott Powers and Melissa Isaacson of ESPNChicago.com):
"Derrick Rose is doing terrific. He's been diligent in his rehab. He's made tremendous progress to this point.

"The surgery obviously was a huge success. The biggest thing that has been encouraging about Derrick has been his mentality towards the rehab. He's working each and every day, putting a lot of effort into it. We're optimistic that if he continues to make the kind of progress that he has that we will see Derrick back on the floor at some point next season."
June 21, 2012
During a phone interview with Nick Friedell of ESPNChicago.com, Dr. Cole clarifies that Derrick was in Alabama not to see Dr. Andrews, but rather to visit with a therapist who works in Dr. Andrews' office, and that Rose is "ahead of schedule" in his rehabilitation:
"This was part of the plan established before surgery. This was not a consultation with another physician, but rather it's working with another therapist in collaboration with the Bulls' training staff."
Cole also shoots down any speculation concerning setbacks in Rose's recovery.
"Nothing could be further from the truth. He's ahead of schedule. [The rehab] is a way to keep things fresh for Derrick, to help give him some variety."
July 12, 2012
Reggie Rose provides another uplifting update on his brother's progress (via Scott Powers):
"He's walking without a (brace). He's way ahead of schedule."

"It's just keeping him focused, and we're not trying to rush him. Basically, just rehab, rehab, rehab. We haven't put nothing basketball in his face."
He also explains that Derrick has been rehabbing in Los Angeles, rather than in his hometown of Chicago, so as to avoid any and all potential distractions:
"It's just a peace of mind," Reggie said. "He can't do too much in Chicago. The other day I talked to him, he was at Target just picking up stuff. Stuff like that, you can't do in Chicago."
And why, Reggie, hasn't Derrick spoken to the public yet?
"Eventually, he will. Just for now, he's getting his mind right and is out in in California."
July 20, 2012
In his first "public appearance" since undergoing surgery, Derrick Rose releases a video thanking his fans for their support and assuring them that his recovery is going well.
Aug. 11, 2012
During an appearance on ESPN 1000's "Talking Baseball," Bulls owner Jerry Reinsdorf insists that he won't rush Rose back from injury, citing the way he and the team mishandled Michael Jordan's foot injury during the 1985-86 season (via Scott Powers):
"I'm not going to let him back until the doctors tell me that it's absolutely safe for him to come back. I made that mistake with Michael Jordan years ago where I think we let him come back too soon. It worked out OK, but it might not have. This time I'm not going to make that mistake. Until the doctors say he's 100 percent and they put their reputations on the line, he's not coming back."
Reinsdorf also refers to a timetable for Rose's return similar to that which was mentioned from the get-go:
"The doctors told us that it would be eight to 12 months from the time of the surgery," Reinsdorf said. "Surgery was the middle of May. That means the earliest possible time he'll be back would be the middle of January. If it's 12 months, then he'll miss the whole season. We just don't know. The reports are very good. They say he's ahead of schedule. He's doing all the rehabbing he's got to do. We'll see. In the meantime, I think we're going to have a pretty decent club."
Aug. 15, 2012
For the first time since the injury, Derrick Rose speaks directly with the media (in this case, Aggrey Sam of CSNChicago.com) about his injury, his recover and how he's been dealing with the entire situation.
That same day, Rose returns to the court...for stationary on-court activities.
Feels good to be back in the gym... twitter.com/drose/status/2…

— Derrick Rose (@drose) August 15, 2012
Sept. 13, 2012
Derrick Rose breaks down at a press conference for the launch of his latest shoe. He also informs an eager throng of media that his knee is improving and that he's recently begun to jump again.
Reggie Rose gives his thoughts on his brother's recovery, but insists that there's no specific timetable guiding Derrick's comeback (via Andrew Seligman of The Associated Press):
"Everybody says All-Star break (to return), but we don't tell him that. It's really just his mental psyche. That's the major thing we have to work on and his (confidence) playing with the injury, just knowing it was an injury and it's not still an injury.''

''His body is looking amazing, his core and everything. Right now, he's running a little bit. He's shooting. I know one of the major things he's going to have to have is his cardio.''
Oct. 1, 2012
Derrick speaks with Steve Aschburner of NBA.com during Bulls media day. He says his knee feels good and that his return date will depend on the opinions of the team doctors, but that he hasn't yet discussed how late would be too late for him to still play in 2012-13.
Oct. 16, 2012
Derrick Rose conducts his daily shooting program in full view before the Bulls' preseason game against the Milwaukee Bucks. Head coach Tom Thibodeau doesn't offer any new information, other than to say that Derrick is "fine" (via Joe Cowley of The Chicago Sun-Times):
"[Derrick's] doing his job, and we have to focus on the guys that are here that have to perform right now, study our opponent, study our team. But he's doing well right now. He's fine.''
Nov. 13, 2012
Derrick starts cutting on his surgically-repaired knee. Thibodeau seems convinced that Rose will be back at some point during the season, even while the star point guard is off rehabbing in Los Angeles (via Nick Friedell of ESPNChicago.com):
"It's the next step for him. Everything is going according to plan; he's not ahead of schedule, he's not behind schedule, he's exactly where he should be."

"He's doing great. You have to be patient with it. He's been very diligent, he's in every day. He's moving along. He started cutting, he's been shooting for a while now, he feels pretty good so we just have to be patient."
At this point, Rose is conducting his rehabilitation in Chicago, around his Bulls teammates, as Thibodeau reiterates:
"For us, he's in every day so they see how hard he's working at his rehab, he's around his teammates, but we can't use that as a crutch."
Dec. 3, 2012
Rose runs sprints during Bulls practice at the Berto Center. An unnamed source tells Joe Cowley that Derrick could be just weeks away from his long-awaited return.
Jan. 1, 2013
For the first time since the 2011-12 season, Derrick joins his team on a road trip. It's an encouraging sign, though Rose is not yet taking full contact in practice. Thibodeau, meanwhile, remains non-committal about Rose's return date (via KC Johnson):
"He's doing more of practice, but he still can't take full contact. There are several steps he has to go through. This is all part of the plan of bringing him back. But everybody has to be patient."

"I want the focus to be on the rehab. He's working out oftentimes twice a day. We want that to continue. He's making good progress, feeling good. Each step, he's done well with. ... As he gets closer, he'll eventually be on the bench. But we're still a little bit away from that."

"You don't want to rule out anything. But he has to go through regular practice for an extended amount of time before we even think about him playing."

"Whether it's after the All-Star break, two weeks after, it's when he's ready. We don't want to put a date on it. When he makes it through practices for an extended amount of time and there's not any soreness the next day, we'll make a decision then. He's got a long way to go."
Jan. 8, 2013
Thibodeau announces that Derrick is dealing well with "predictable contact" in practice, but still has a ways to go before he's back up to speed (via KC Johnson):
"It's knowing what's coming. He has handled that part great. He has done a little one-on-one. But everyone has to be patient. The next step will be a regular practice, and he hasn't done that yet. Once he does that, you'll know he's getting closer."

"We have to feel good about this," Thibodeau said. "The most important thing is he has to feel really good about it. It's the type of injury where you have to be patient."
Jan. 23, 2013
Thibodeau confirms that Derrick Rose is taking full contact at practice and, thus far, is handling it well.
Jan. 25, 2013
Bulls executive vice president John Paxson talks about Rose's recovery, stressing Chicago's cautious approach, on "The Waddle and Silvy Show" on ESPN 1000 (via Nick Friedell):
"We don't have the defined plan yet because Derrick is still progressing. The way he feels and what his body tells him is going to dictate how we do things. But I can tell you one thing -- and this is for certain -- he's going to have to have a high volume of practices and contact, and where he's comfortable on the floor doing things that he used to do naturally. And that takes some time and he's just starting that process now.

"We can't sit here today and say he's going to be back in three weeks or after the All-Star break. Those things are a hope, but his body is going to tell us and then when we get to that point, that's when we're going to have to sit down and determine, after we talk to our doctors and everything, then determine our game plan of minutes and how best to bring him back. We don't want to bring him back and then have a setback because he wasn't totally ready. We want this to be a progression where he comes back, he starts to play and every week he gets better and feels better."
Jan, 28, 2013
Bulls owner Jerry Reinsdorf, during an interview with WGN-TV, insists that Rose's return will be dictated by the opinions of team doctors (via Nick Friedell):
"There's no date. The doctors say that he's doing everything that he's supposed to be doing and there's no specific date.

"He's not going to come back until the doctors say unequivocally that he has no greater chance of getting hurt than any other player. If there's any risk, he's not coming back."
Jan. 31, 2013
Thibodeau reiterates that Derrick is taking full contact in practice and has been for several days, but has yet to start scrimmaging five-on-five (via Nick Friedell):
"He's full-contact, yeah...He can do all the cutting, he can do shooting, he can go off the dribble. So it's just a matter of him getting acclimated to playing in a game situation.

"You have to understand that in practice you're striving to get as close to a game-like intensity as you can, but you also have to understand that you're not going to be able to get there, so that will be a whole different level. And we have to make sure that he's ready to handle that intensity."
Feb. 13, 2013
USA Today publishes Rose's wide-ranging sit-down interview with Jeff Zillgitt—Derrick's first official contact with the media since the preseason. He tells Zillgitt:
"I'm not coming back until I'm 110%. Who knows when that can be?"

"It can be within a couple of weeks. It could be next year. It could be any day. It could be any time," Rose said. "It's just that I'm not coming back until I'm ready. With all the hard work I've been putting into my craft, I think I'm going to be OK."
Rose characterizes his current readiness as "probably in the high 80s. Far away. Far away."
Prior to Chicago's Valentine's Day Eve game in Boston, Rose tells the attendant media (via Jimmy Golen of The Associated Press):
''My leg still isn't feeling right. I know if I could dunk off stride, I know I'd be out there playing. But I can't.''

What should Derrick Rose do?

''It's really on me to make a decision when I'm going to play again. So that's cool that they left it up to me. That's the last thing I'm thinking about, coming back too soon. I know it's all on me. I've just got to make a decision when I'm ready.''
Rose then suggests that he's come to terms with missing the entirety of the 2012-13 season if need be:
''If it's where it's taking me a long time and I'm still not feeling right, I wouldn't mind missing this year."

''I would love to play this year. I would love to. That's why I approach my rehab and my workout so hard. I'm trying to get back out there on the court as quickly as possible. But if I have anything later on there's no point.''
Thibodeau insists that Derrick is "right on schedule":
''When he's ready, we'll know. We'll go from there. That's why we've approached it the way we have. The team has to concentrate on their improvement and their next opponent. He has to do his rehab, and then at some point, he'll rejoin us and we'll go from there.''
So, will Derrick play this season or won't he? And if he does come back in time for Chicago's postseason push, when might that return be?
Surely, folks in the Windy City would like to know. So would the Bulls. So would D-Rose.