UConn Upsets Syracuse 66-58 in Final Big East Rivalry Game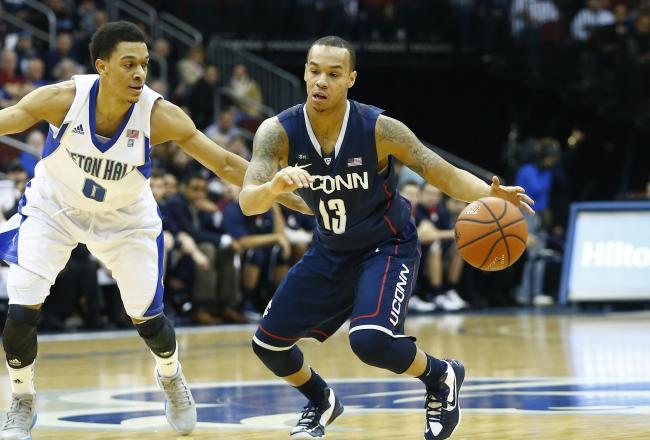 Can Shabazz Napier lead the Huskies to a big upset?
Jim O'Connor-USA TODAY Sports
The UConn Huskies outplayed and outhustled Syracuse in the final game, at least for the time being, of their bitter rivalry winning 66-58 at Hartford.
Kevin Ollie's club was paced by their impressive trio of guards and Ryan Boatright led all scorers with 17 points.
Shabazz Napier contributed 10 points and seven assists and Omar Calhoun, as has been his trend this season, knocked down clutch three after clutch three in the final minutes and finished with 15 points and six rebounds.
The biggest surprise came off the bench as Niels Griffey more than doubled his season average and added nine points.
It was an unexpected but clutch contribution and helped keep the Huskies offense balanced.
The Huskies outrebounded Syracuse 35-34 and did a great job of limiting second-chance points.
Syracuse was led by guard Michael Carter-Williams who dropped 15 points in the losing effort.
It was a huge win for the Huskies who improve to (17-6, 7-4 Big East) on the season and now look primed to play spoiler for the remainder of the Big East schedule.
That'll do it for us tonight folks! Hope you enjoyed our live coverage of the UConn Huskies stunning 66-58 upset of No. 6 Syracuse.
As always stay tuned to Bleacher Report for all your UConn Huskies and college basketball news and analysis!
Once again, Ollie has the entire team standing behind him for the ESPN postgame interview.

— Ed Daigneault (@EdDaigneault) February 14, 2013
This team believes in their coach. They've bought wholly into his system. A fun group to watch.
DOWN GOES 'CUSE! UConn upsets No. 6 Syracuse, 66-58. All 4 Orange losses this season have been to unranked teams away from home.

— SportsCenter (@SportsCenter) February 14, 2013
Huge upset. Lots of Big East teams are happy that UConn cannot play in the conference tournament. They'd be a tough out for anybody when Napier, Boatright and Calhoun play this well.
UConn 66, Syracuse 58 (FINAL)
Kevin Ollie's club shocks Syracuse in the final matchup of their rivalry. An absolutely tremendous team effort with balanced scoring and dominant guard play. A deserved victory.
Rush? I say yes, without question.

— Kevin Duffy (@KevinRDuffy) February 14, 2013
This is UConn's tourny moment of the season since they can't go. Definitely rush.
UConn 65, Syracuse 57 (27.7 Second Half)
Huskies about to score their biggest win of the season. An absolutely huge win for Kevin Ollie's team and well deserved.
UConn 65, Syracuse 57 (45.1 Second Half)
Ryan Boatright came into his own tonight. Showing great game awareness dribbling around and taking as much clock as possible.
UConn up 8 with a minute left. Great finish coming.

— ESPN College BBall (@ESPNCBB) February 14, 2013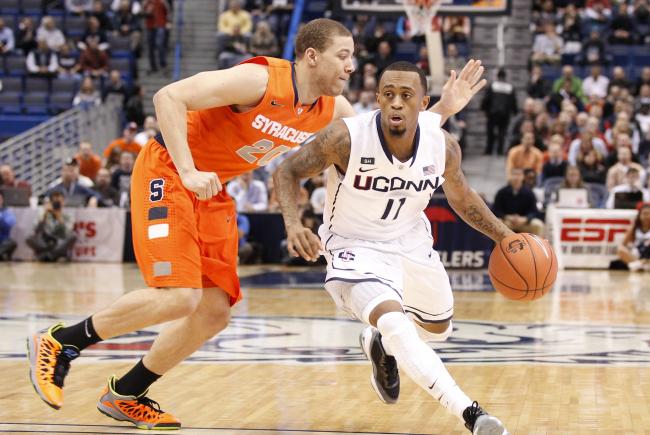 UConn 65, Syracuse 57 (1:27 Second Half)
Boatright with two free throws to put this one in dire straits for Cuse.
Kevin Ollie doing a great job at UConn. He has a great set of guards and an emerging star in Calhoun. He has camouflaged their weaknesses.

— Seth Greenberg (@SethOnHoops) February 14, 2013
Calhoun's already a star. Clutch when it counts. Tonight no different.
UConn 63, Syracuse 57 (1:39 Second Half)
Christmas with a huge missed slam follow up. Huskies breathing a sigh of relief as that would've cut the lead to four. Dicey moments here.
UConn 63, Syracuse 55 (2:24 Second Half)
UConn needs to make their free throws now. Clutch moments to hold onto the upset. Calhoun knocks down two to get the lead back up to eight.
Can't forget the job Ollie has done with rotations tonight, especially given Olander's foul trouble and Nolan's inexperience.

— Ed Daigneault (@EdDaigneault) February 14, 2013
UConn fans love Ollie and if they don't already—they will.
UConn 59, Syracuse 49 (3:30 Second Half)
Niels Griffey is the unsung hero off the bench tonight. He adds two free throws and has nine points for UConn.
33-24 UConn leads in rebounding.

— Syracuse Basketball (@SyrBall) February 14, 2013
The Huskies have simply outhustled a more talented Syracuse club tonight. It comes down to that. Intensity and hustle.
UConn 57, Syracuse 48 (4:21 Second Half)
Major upset brewing here tonight. Huskies have outplayed and outhustled the Orange tonight. Bottom line.
UConn 57, Syracuse 48 (5:23 Second Half)
DeAndre Daniels pushes the lead back to nine. Upset brewing in Hartford.
These end of shot clock 3s are back breakers. Impressive.

— Ed Daigneault (@EdDaigneault) February 14, 2013
Huge possession for Cuse.
UConn 55, Syracuse 46 (6:11 Second Half)
Back to back HUGE threes from Omar Calhoun. Suddenly he has 10 points and the Huskies have a nine point lead.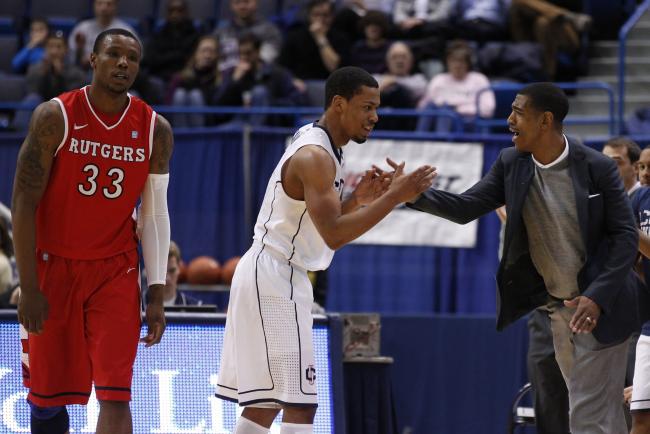 UConn 52, Syracuse 44 (6:44 Second Half)
Calhoun has a knack for hitting clutch threes and does it again! UConn once again with their largest lead.
UConn has stabilized itself on the boards, up 30-23. Going 6 for 11 from 3 helping in a large way.

— Ed Daigneault (@EdDaigneault) February 14, 2013
Understatements.
UConn's backcourt of Ryan Boatright and Shabazz Napier can play, people. #CUSEvsUCONN

— ESPN College BBall (@ESPNCBB) February 14, 2013
They are both playing like they want it tonight. HUGE game from both.
UConn 49, Syracuse 42 (8:20 Second Half)
Napier with two from the line gives the Huskies their largest lead of the night at seven.
47-42 UConn lead with 8:50 in the second half. Timeout Orange.

— Syracuse Basketball (@SyrBall) February 14, 2013
#Boatshow. Boatright leads the game with 15 points.
UConn 47, Syracuse 42 (8:50 Second Half)
Boatright with an emphatic slam to put the Huskies back up by five. What a game!
This article is
What is the duplicate article?
Why is this article offensive?
Where is this article plagiarized from?
Why is this article poorly edited?

UConn Basketball: Like this team?