5 Mets Fighting for Roster Spots in Spring Training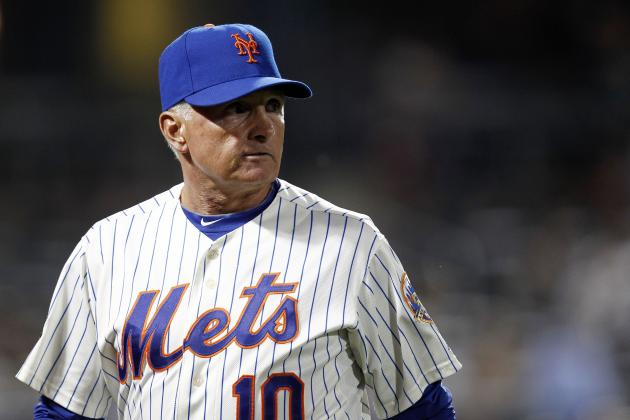 Jeff Zelevansky/Getty Images

Mets pitchers and catchers are now in spring training and getting ready for the upcoming 2013 regular season. This is a time where players review their fundamentals, do conditioning exercises and most importantly, prepare for the regular season.
Most of the Mets' major league roster will remain intact and certain additions are pretty much guaranteed to be on the roster as well.
Ike Davis, Daniel Murphy, Ruben Tejada and David Wright will be playing first base, second base, shortstop and third base for the Mets, respectively. Lucas Duda, Kirk Nieuwenhuis and Mike Baxter are the favorites to be the Mets' starting outfielders. John Buck will temporarily be the starting catcher until Travis D'Arnaud is ready to get called up. Anthony Recker will very likely be the backup catcher while Buck is starting. Colin Cowgill and Justin Turner will be two members of the Mets' bench.
On the pitching side, the Mets' Opening Day rotation looks set, which will include Johan Santana, Jon Niese, Matt Harvey, Shaun Marcum and Dillon Gee. Finally, the Mets' bullpen will include Bobby Parnell, Brandon Lyon, Josh Edgin, Jeremy Hefner and Robert Carson. Frank Francisco is currently sidelined with inflammation in his elbow.
With this being said, it looks as if a few spots on the Mets' bench and bullpen could be up for grabs during spring training. Here are five players that could be fighting for a roster spot for the next month.
Begin Slideshow

»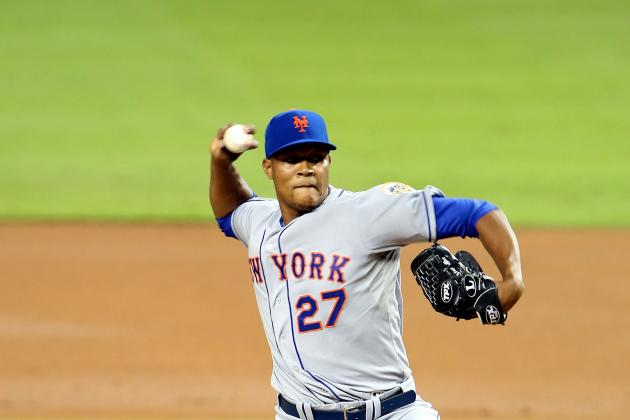 Marc Serota/Getty Images

Jeurys Familia will be one pitcher that will be competing for a spot on the Opening Day bullpen. He is probably one of the favorites to make the Opening Day roster, but with his past as a starting pitcher, his spot is not guaranteed by any means.
In 28 starts and 137.0 innings pitched in Triple-A Buffalo last year, Familia went 9-9 with a 4.73 ERA. He also allowed 73 walks and had 128 strikeouts.
In his September call-up with the Mets, Familia mostly pitched out of the bullpen and pitched well in that role before making his first major league start. He lasted just four innings that day and allowed six walks, which did not help his cause. His major league stats included a 5.84 ERA, nine walks, 10 hits allowed and eight runs allowed in just 12.1 innings pitched and eight appearances.
With his blazing fastball, Familia could be a successful middle reliever and especially because he is much better suited to be a reliever in the future. As long as he limits the walks and pitches effectively, he could become a cog in the Mets' bullpen for a long time.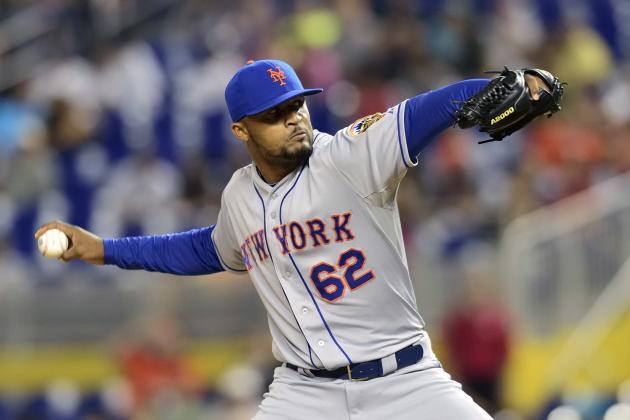 Steve Mitchell-USA TODAY Sports

One of the outside bullpen candidates is Elvin Ramirez, who was shuttled back and forth between the Mets and Triple-A Buffalo in 2012.
In 20 major league appearances last year, Ramirez went 0-1 with a 5.48 ERA. In 21.1 innings pitched, 24 hits and 13 earned runs. Clearly, Ramirez did not do particularly well in the major leagues and was viewed as more or less extra bullpen depth.
Ramirez's role with the 2013 Mets will very likely be the same as it was in 2012. He will most likely start the season in the minor leagues and get called up in case someone gets hurt. Hopefully this time around, Ramirez will pitch better enough to try and stay in the major leagues longer.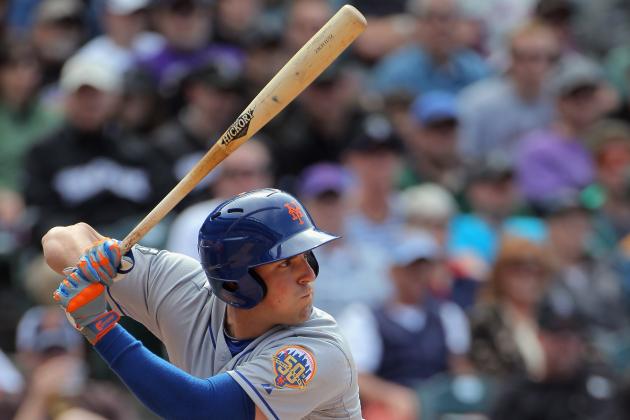 Doug Pensinger/Getty Images

Despite only playing in seven games and having just 11 at-bats with the Mets in 2012, infielder Zach Lutz will try to make the Mets' Opening Day bench if he has a very good spring.
Lutz made one start against the Rockies in April 2012, but all his other appearances were as a pinch-hitter. He had one hit and one run scored to go along with an .091 average.
Lutz is a natural third baseman, but can play first base as well. However, the presence of Wright at third base and Davis at first base severely limited Lutz's playing time in September and this will be the case again if he makes the 2013 Opening Day roster.
If Lutz indeed starts the season with the Mets, it will be because of his bat. He would then become another right-handed pinch-hitter along with Turner.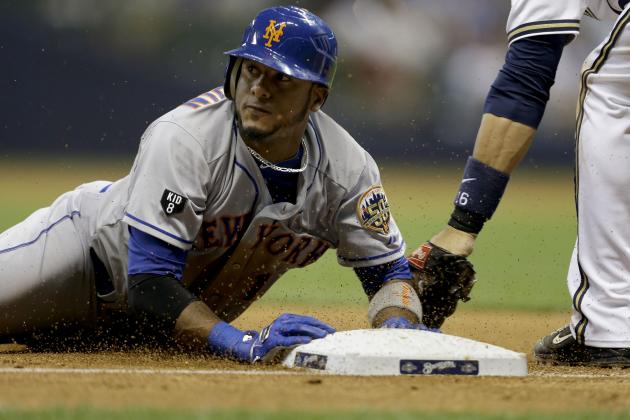 Mike McGinnis/Getty Images

One position player who will be competing for a spot on the Mets' bench is utility man Jordany Valdespin.
Valdespin was shuffled back and forth between the Mets and Triple-A Buffalo himself, but played in 94 games with 191 at-bats in 2012. He batted .241 with eight home runs and 26 RBI. Five of those home runs came as a pinch-hitter, which set a new Mets record.
Despite Valdespin's pinch-hitting heroics, he struggled to get on base, as shown by his .286 OBP. He also drew just 10 walks and had 44 strikeouts, which means that his plate discipline was not particularly strong. In order for him to play more at the major league level, Valdespin will have to learn to be more patient at the plate and get on base more often.
It would be wise for Valdespin to start the 2013 season in the minor leagues in order to not only improve his plate discipline, but to also spend more time in the outfield. Valdespin has great speed naturally, but as a natural infielder, he struggled in the outfield and did not always get good reads on fly balls.
In the minor leagues, Valdespin could play the outfield in every game and get more experience there because the Mets already have Murphy and Tejada playing second base and shortstop, respectively.
But if he happens to be on the Opening Day roster, Valdespin could be a valuable pinch-hitter and pinch-runner. Using him in that role could work, but Valdespin is not particularly ready to be an everyday outfielder at the major league level.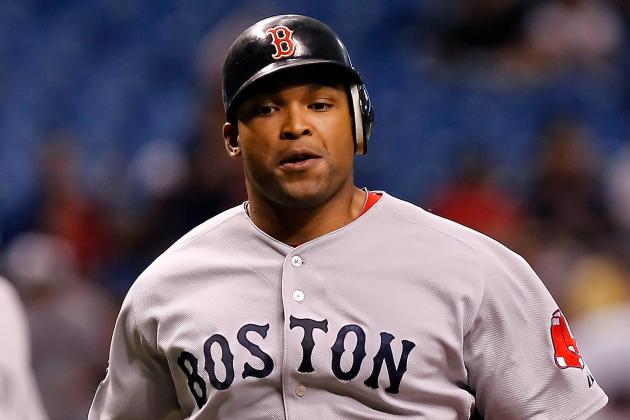 J. Meric/Getty Images

One of the more unnoticed signings the Mets made was that of veteran outfielder Marlon Byrd to a minor league contract.
Byrd is now in the Mets' spring training camp trying to find a spot in the Mets' outfield. He could end up competing with Baxter for the starting right field job, but a platoon between the two could be possible as well.
The 35-year-old Byrd was with the Red Sox for most of 2012 and batted .270 with one home run and seven RBI in 100 at-bats after getting traded from the Cubs, whom he had played for since 2010.