Minnesota Vikings: 10 Reasons Why I Love the Vikings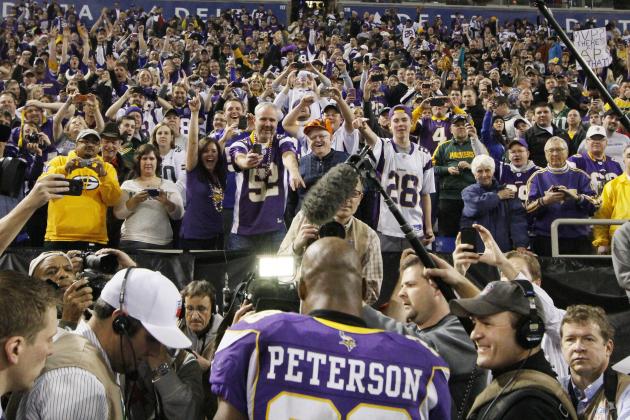 Andy King/Getty Images

Another Valentine's Day has arrived and that means it's time to question the true loves of our lives. People like myself are sitting home alone as we speak, reading this article wondering when that special someone will walk through their doors and warm their hearts.
However, I recently realized that I do not have this problem. The love of my life has been there all along and has grown with me every step of the way.
That love would be the Minnesota Vikings.
As a Minnesota native, my grandpa and uncle quickly taught me that if I didn't wear purple on Sundays, I would be immediately disowned.
Through 26 years, I have laughed, cried and agonized over the one I care about at the risk of my own personal health. However, wouldn't you do that for the one you love?
In honor of Valentine's Day, I would like to take some time to share why the Vikings are the one thing in my life I could not live without.
Begin Slideshow

»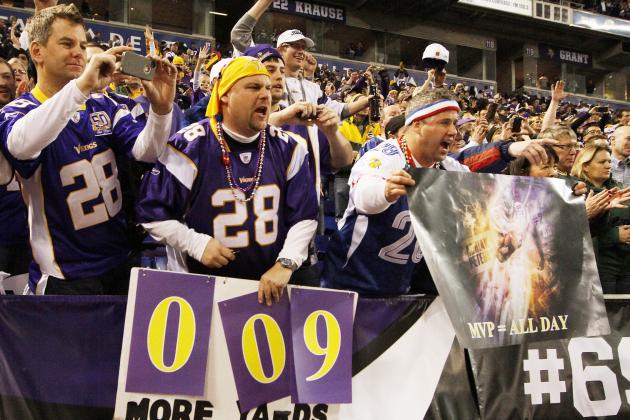 Andy King/Getty Images

In the National Football League, a team's colors represent something similar to war paint on Sunday afternoons.
From head to toe, every NFL fan decks himself out in his team's colors, hoping that the solidarity will lead his team to an important win.
That's where the Vikings are unique.
In a color pallet that includes mostly reds, blues and black, the Vikings stand out in a crowd anytime they take the field.
While that doesn't translate to on-field success, being loyal to the color purple is a dedication that is a tribute to the human will.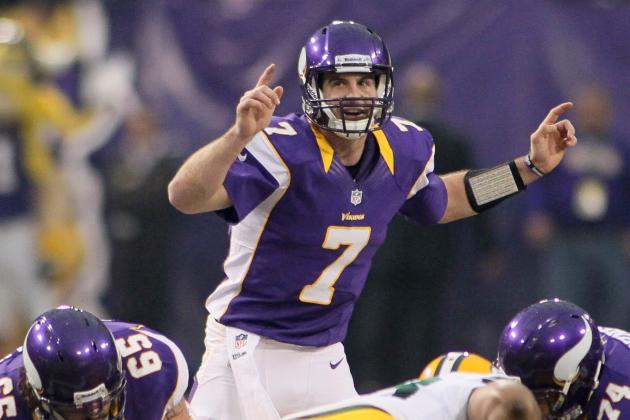 Andy King/Getty Images

Spergon Wynn, Todd Bouman, and Jeff George have all started a game at quarterback during the history of the Minnesota Vikings.
That alone tells you how much Viking fans have had to put up with at the quarterback position.
Since Fran Tarkenton retired after the 1978 season, the Vikings have tried to find a new franchise quarterback.
Time and time again, they've failed miserably.
The result has been the Vikings leaning on declining veterans such as Jim McMahon and Warren Moon and flash in the pans like Daunte Culpepper.
Even the current savior for the Vikings gets his share of mixed reviews as Christian Ponder unleashes the fury of the three-yard pass on a weekly basis.
Optimism tells you that some day the Vikings will be able to find somebody that can stick around and lead the team for a decade, but then reality shows up and reminds you that it is virtually impossible.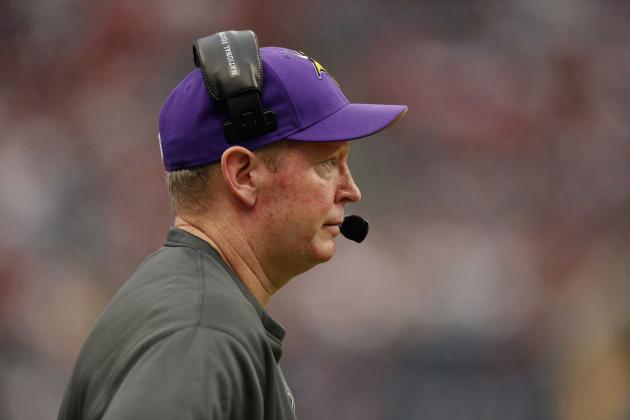 Thomas Campbell-USA TODAY Sports

Once upon a time, the Vikings were known as a team that loved to throw long bombs down the field to their impressive trio of wide receivers.
Cris Carter, Randy Moss and Jake Reed were collectively known as "Three Deep" and with strong-armed quarterback Daunte Culpepper throwing the ball as far as he could, there was no deficit that the Vikings couldn't tackle.
Fast forward a decade and the long bombs have been replaced by the devastation known as the three-yard pass.
Opposing defensive coordinators have trouble sleeping at night knowing that offensive coordinator Bill Musgrave will dig into his bag of tricks and come out with a bubble screen on 3rd-and-27.
Even former Viking coach Brad Childress, known for naming his playbook the "Kick A** Offense," thinks Musgrave's play-calling is too extreme and has no possible way of being stopped.
With another year to teach Christian Ponder the system, the rest of the NFL better hope that Musgrave doesn't turn it up a notch and install a four-yard pass to really keep defenses off balance.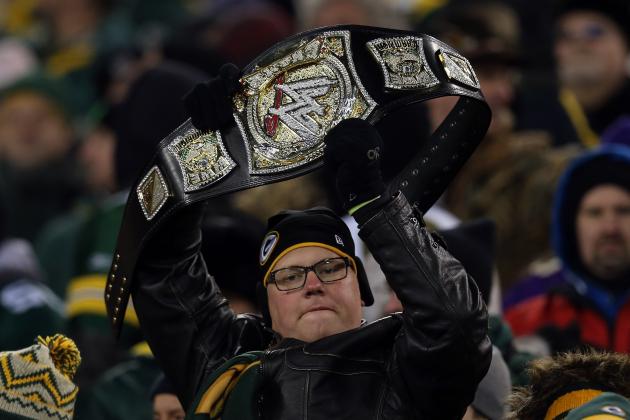 Jonathan Daniel/Getty Images

If the marketing office of the Green Bay Packers is reading this, I have a good slogan you can use to get even more money for your "ownership drives." (A.k.a. stadium renovation fundraisers.)
"The Green Bay Packers: Cheese, Beer and Championships"
As a fanbase that constantly screams about how many Super Bowls its team has won despite what the argument is, many Viking fans have to ask themselves why the football gods decide to shine down on THEM!
Even when the Packers seem to have something that's going to give them what they deserve, the football gods make it up to them in bizarre fashion.
"Brett Favre's retiring? Let's have Aaron Rodgers go 23 picks after he's supposed to go!"
One more Super Bowl on the board since Rodgers arrival, and Viking fans have to wonder what it's going to take in order to finally have the upper hand.
While the fanbase across the Mississippi River celebrates its four Super Bowls, it's time to give the Vikings credit for their Super Bowl appearances.
It takes a lot to lose four Super Bowls.
The Vikings and Buffalo Bills are the only teams that can make that claim, but the horned crusaders have the last laugh in that argument.
Aside from getting killed in all four appearances during the 1970s, the Vikings haven't made it back to the big game since losing to the Oakland Raiders in Super Bowl XI.
In fact, that may be where the Vikings had their most glorious Super Bowl moment when Sammy White held on to the football despite being decapitated by Jack Tatum.
The Super Bowl is something that no Viking fan ever dreams of because it will likely never happen in his lifetime.
Even if it did, the appearance may cause more harm than good as no team has ever lost a fifth Super Bowl.
I'll say this about being a Vikings fan: It's like stabbing yourself in the face repeatedly with a screwdriver.
No matter how good the Vikings seem to be, it seems like you're watching a bad horror movie. You don't want the main character to go into the basement, but curiosity seems to always get the best of us and we watch anyway.
The same can be said for the Vikings in the playoffs.
Drew Pearson pushing off, Brett Favre's idea to impale Tracy Porter instead of running out of bounds and Gary Anderson's first miss of the season are all reasons why Viking fans are the toughest in the NFL.
You think you know real pain? Try having your field-goal kicker go an entire season without missing a kick and then shank one in the most important game of the year.
Sadly, Buffalo Bills fans are the only ones who know of what I speak.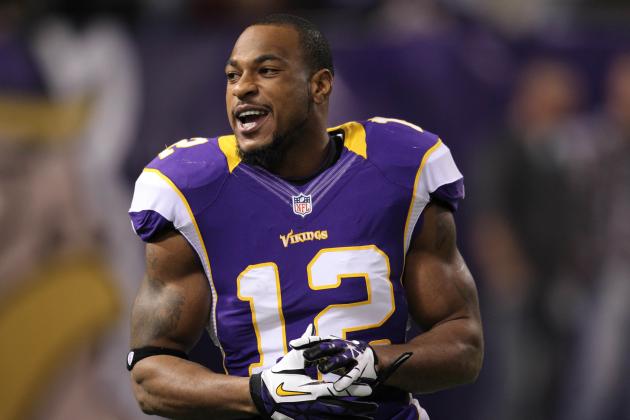 Brace Hemmelgarn-USA TODAY Sports

There's just something about the Vikings that has elite talent take an early fall from grace before blowing up somewhere else.
As the Vikings prepare to part ways with Percy Harvin because he offended coach Leslie Frasier by saying something along the lines of "Get me a real quarterback!" or "Can you call something other than a three-yard pass?" it's fair to look at the long line of talent that walked out the door early.
For every Cris Carter or Jared Allen pickup the Vikings have made, they've given up too soon on the Randy Moss' or had a Robert Smith retire to go be a doctor (and then become an ESPN college football analyst).
Even in the late 80s, the Vikings made the worst trade in all of sports by sending a slew of draft picks to Dallas for Herschel Walker. Oh, and one of those picks wound up being some running back named Emmitt Smith.
The Vikings just can't seem to stay out of their own way when it comes to assembling talent.
Have your Soldier Field or Lambeau Field. I'll take my giant inflatable toilet any day.
The Hubert H. Humphrey Metrodome has seen its share of magic and heartbreaks, but it doesn't hide the fact that it's the biggest joke of a stadium in the NFL.
But I love it.
Going to a game in the Metrodome is an experience in its own right as it was built on the cheap in 1982.
Fans routinely bang on the vents located at the top of the upper deck to create noise for opposing teams.
If you're all the way in the nose bleeds, you'll also probably see something that will be burned into your mind for all eternity.
The Metrodome will meet its demise in a couple of years as the Vikings plan to build a gigantic new stadium in its place.
However, it's safe to say that Viking games will never be the same again.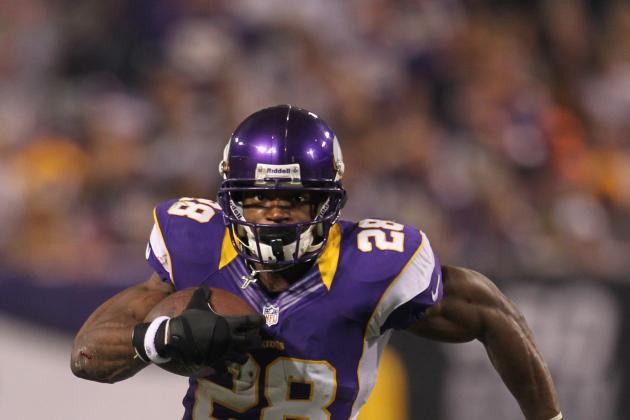 Brace Hemmelgarn-USA TODAY Sports

To counter the Packers' love affair with Aaron Rodgers, the only comparable situation that Viking fans have is with the 2012 NFL MVP Adrian Peterson.
Like Rodgers, Peterson was taken way after he should have been drafted. In fact, to this day the Cleveland Browns, Oakland Raiders and Arizona Cardinals are kicking themselves because they thought a collarbone injury was serious.
Turns out a broken collarbone is a hangnail compared to what Peterson can play through.
In the 2012 season, Peterson rebounded from a torn ACL by rushing for 2,097 yards and winning that MVP award in the middle of a league that's dominated by the passing attack.
Oh, and that was after suffering a sports hernia in Week 10 against the Detroit Lions before earning half of those yards.
While some Packer fans believe that Aaron Rodgers could turn a bench at Lambeau Field into a feast of bratwurst and Miller Lite to feed the masses, Peterson may have regenerative abilities similar to Wolverine.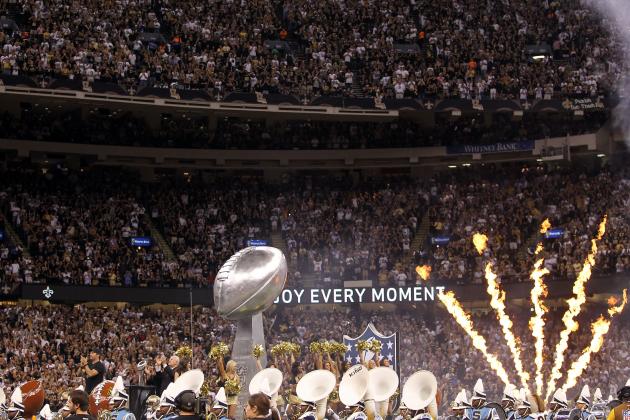 Ronald Martinez/Getty Images

As you've probably realized, there's a great deal of sarcasm when listing what I love about the Vikings. So why do I stick around when I'm annoyed by so much?
Because it will all be worth it someday.
A Viking victory in the Super Bowl would be the happiest day of my life. I can already envision myself looking my wife in the eye as the Vikings raise the Lombardi Trophy and say...
"This is the happiest day of my life. That includes the day we got married and the birth of our first child."
The extended stay on the couch would be worth it because the Vikings climbed the final hurdle and achieved something that I've dreamed of since my childhood.
A team's flaws are the reason a championship feels good when it finally happens. For me and other Viking fans, that feeling will be downright euphoric.