Latest Salary Cap Breakdown for Kansas City Chiefs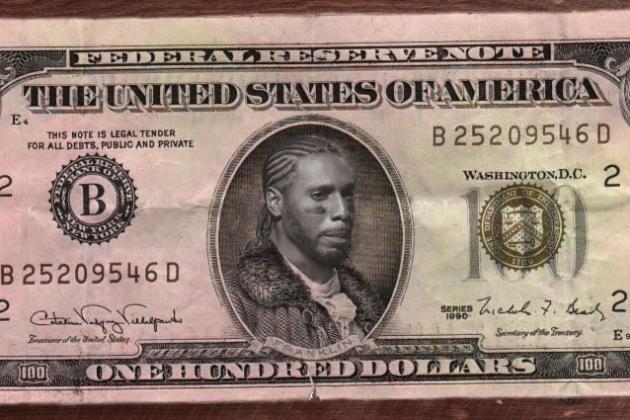 Image created by Brett Gering
The Kansas City Chiefs currently oversee $14 million (via Pro Football Talk) in which the team can spend in free agency. However, with some restructuring, the Chiefs can afford themselves more salary cap room to mask the roster's blemishes.
For the 2013 NFL season, the league's tentative salary cap figures to rest in the vicinity of $121 million. Free agency officially begins on March 12 (via ESPN). On the same date, the the league's Top 51 Rule—only teams' top 51 salaries are counted against the cap during the offseason—also takes effect.
Considering Kansas City owns the No. 1 overall pick in the 2013 NFL draft, the franchise's moves throughout free agency should hint at the Chiefs' mentality heading into Radio City Music Hall on April 25.
If left tackle Branden Albert is re-signed, head coach Andy Reid and general manager John Dorsey won't dial Luke Joeckel's number before the first pick is announced.
But in order for the front office to buy itself more financial leeway, the higher-ups will need to dissect the Chiefs' salary cap before trimming the fat.
All salary cap figures are provided by Spotrac.com.
Begin Slideshow

»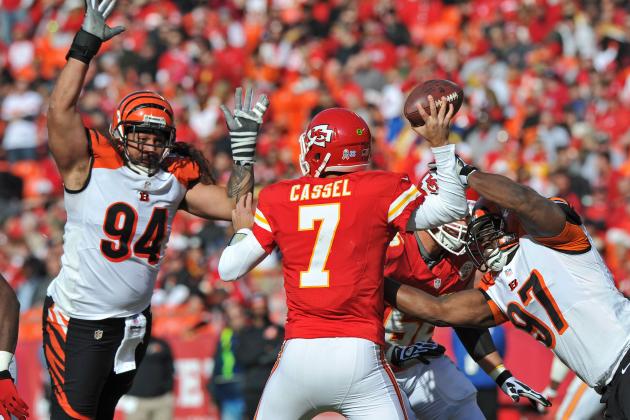 Peter Aiken/Getty Images

Total Cap Hit: $10.9 million
When the doors to free agency swing open on March 12, Brady Quinn's one-year contract will have expired.
Matt Cassel accounts for $9.8 million of the aforementioned cap hit. If the Kansas City Chiefs were to release Cassel, the team would still owe the quarterback $4.5 million in prorated bonuses. However, Kansas City would save the remainder and scratch Cassel's 2014 base salary ($11.1 million) off of next year's payroll.
Considering Cassel's treacherous 2012 season, the first ticker-worthy transaction of the Andy Reid era will likely result in No. 7 packing his luggage.
Kansas City has already been linked to Philadelphia Eagles quarterback Nick Foles, whom Reid coached.
Andy Reid and the Chiefs would be interested in Nick Foles. Problem is, the Eagles aren't interested in trading him: usatoday.com/story/sports/n…

— Mike Garafolo (@MikeGarafolo) February 14, 2013
Even if the Chiefs pull the trigger on a deal for Foles—or San Francisco 49ers backup Alex Smith—Andy Reid and Co. could still pluck a quarterback, such as West Virginia's Geno Smith, with the first pick of the 2013 draft.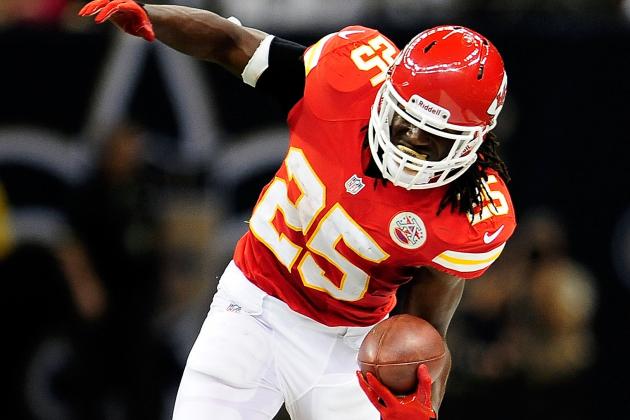 Stacy Revere/Getty Images

Total Cap Hit: $7.7 million
Despite lining up as one of the top home-run threats in the league, Jamaal Charles only ranks as the 17th-highest-paid running back in the NFL.
The often-injured Cyrus Gray oozed with potential during his limited action. But reliability plays a key factor when projecting roles in upcoming seasons.
Shaun Draughn showed that he's capable of plugging backfield leaks if called upon. He doesn't pose a legitimate threat defensively, though. And if his role expands due to injuries, coordinators won't think twice about burdening the quarterback by adding extra defensive backs and dropping into zone.
Unless a premiere prospect falls to Kansas City in later rounds—such as Marcus Lattimore, due to health concerns—the Kansas City Chiefs will likely turn to free agency in an attempt to bolster the backfield.
Free agents such as Mike Goodson and Felix Jones could relieve Charles without altering the Chiefs' aggressiveness in Andy Reid's offense.
Total Cap Hit: $11 million
Obviously, the above figure doesn't factor in Dwayne Bowe's potential contract.
If Bowe inks his signature, the modest figure of $11 million will quickly swell. And the front office is actively chasing that reality.
As I said on Total Access: #Chiefs are actively pursuing a long-term deal with WR Dwayne Bowe. They've met with his reps, want to keep him.

— Ian Rapoport (@RapSheet) February 15, 2013
Steve Breaston may find himself in the unemployment line, as the wideout is due $5 million in 2013. No. 15 endured a rocky 2012 campaign, oftentimes gracing the inactive list while showing no signs of injury.
Although fans are still tapping fingers in hopes of Jon Baldwin blossoming, his contract guarantees that he isn't going anywhere. Kansas City would only save $2 million throughout as many seasons by releasing Baldwin, who could still prove to be an effective No. 2 if given a productive passer.
With Dexter McCluster, Devon Wylie and newly signed Mardy Gilyard competing at the slot, Kansas City's receiving corps probably won't be receiving a drastic makeover any time soon.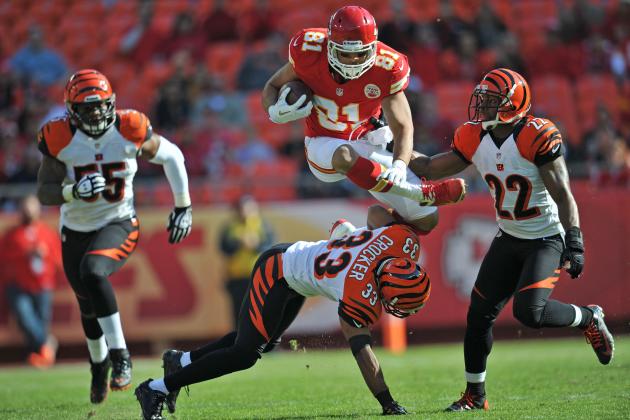 Peter Aiken/Getty Images

Total Cap Hit: $5 million
Kansas City could take a chance on a tight end later in the draft. A raw prospect, such as Colorado's Nick Kasa, could prove to be a worthwhile project down the road.
But with Kevin Boss and Tony Moeaki returning, the Kansas City Chiefs aren't likely to sign any attractive names at tight end.
The team also recently signed Kevin Brock, whose figures weren't disclosed at the time of the announcement.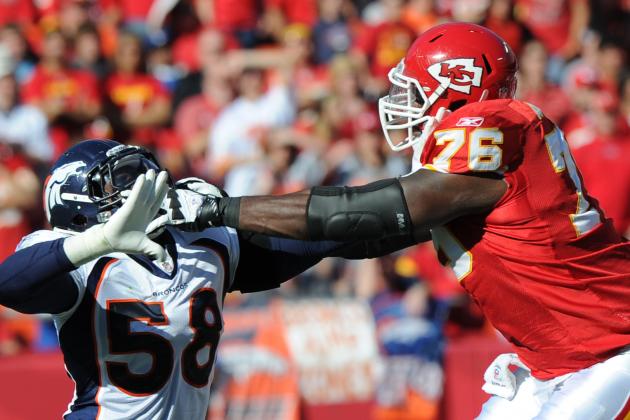 Peter Aiken/Getty Images

Total Cap Hit: $13 million
It's not a stretch to say that the near future of the organization could be shaped by Branden Albert's back.
If Albert re-signs with the team, Luke Joeckel's relevance will be demoted to the rearview. And the stocks of Geno Smith and Star Lotulelei (and perhaps Dee Milliner) will soar like Saturn Missiles.
Andy Reid could beef up the interior of the line by drafting a player like Khaled Holmes, who would come with experience at both center and guard.
With Ryan Lilja now retired, the staff faces a decision at left guard that's anchored in uncertainty. The Kansas City Chiefs snatched Jeff Allen in the second round of the 2012 draft, hoping that he could transition into Lilja's position as the veteran exited football. And while Allen displayed improvement throughout last year, he would likely enter 2013 as the front's weakest link if he cracked the starting lineup.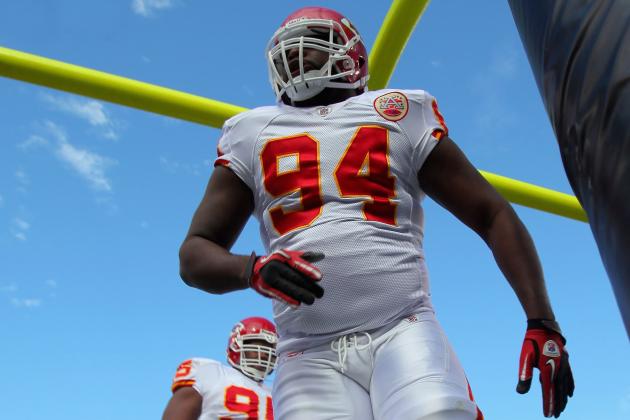 Doug Pensinger/Getty Images

Total Cap Hit: $23 million
If Tyson Jackson refuses to restructure his contract for a second consecutive year, No. 94 will be finding work elsewhere.
Last season's reconfiguring voided Jackson's 2014 salary (including bonuses), which resulted in 2013's bloated payday. Over the years, the defensive end has struggled to maintain his starting job and breathed new life into the trend of Kansas City drafting costly busts on the defensive line.
His former teammate, Glenn Dorsey, will likely join him in booking a ticket out of town. Dorsey's an unrestricted free agent who traveled a similar path to Jackson, and he was continuously sidelined throughout the latter half of 2012.
As of now, Dontari Poe is penciled in as the starting defensive tackle.
The Kansas City Chiefs could begin filling the void(s) at defensive end by snagging ex-New York Giants lineman Chris Canty, whom the team has already talked with.
Ok now your KC/Chris Canty update: His visit has ended. Will head back home and mull Chiefs/Titans. No other visits scheduled at this point.

— Mike Garafolo (@MikeGarafolo) February 12, 2013
Kansas City could also welcome the mountainous Star Lotulelei with the No. 1 overall pick.
Total Cap Hit: $22.5 million
Kansas City's linebacking corps is, by far, the sturdiest wave of its defense. The Kansas City Chiefs were sponsored by three linebackers—Tamba Hali, Derrick Johnson and Justin Houston—at last year's Pro Bowl.
But with Andy Reid's decision to stay in a 3-4 scheme, a gaping hole still resides at strong-side linebacker (opposite of Johnson).
A trio of standouts could potentially solve the riddle and fall to Kansas City in the second round: LSU's Kevin Minter, Notre Dame's Manti Te'o and Kansas State's Arthur Brown.
Minter is an ideal candidate, but a number of teams will be eyeing him as the curtain closes on the first round.
Te'o comes with off-field baggage and punctuated his collegiate career with a lackluster finale. However, he's big enough to handle the role—primarily fending off blockers and stuffing the run—and offers an immediate upgrade at the position.
Arthur Brown appears to be as dynamic as Minter, but would need to bulk up before lining up alongside Johnson.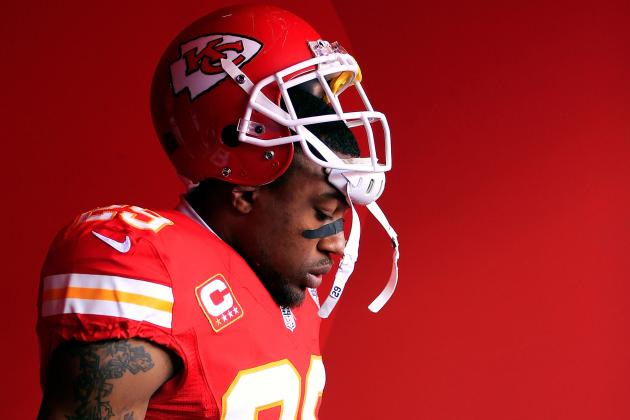 Jamie Squire/Getty Images

Total Cap Hit: $24.7 million
Kansas City's cornerbacks chew up $12.7 million of salary-cap space, but that total is guaranteed to skyrocket as the offseason progresses.
Injuries and anemic depth hampered the Kansas City Chiefs secondary in 2012.
Brandon Carr's replacement, Stanford Routt, clawed just to remain on the team by midseason and was eventually released. Javier Arenas finished the year opposite of Brandon Flowers, but he was often mismatched against taller receivers and lacked redline recovery speed. The remaining fleet of backups were torched on a weekly basis.
Drafting Alabama's Dee Milliner would answer the call. But selecting a cornerback with the No. 1 pick could prove to be foolish—especially in a draft so rich with talent at the position.
Oregon State's Jordan Poyer and Southeastern Louisiana's Robert Alford could be recruited at a cheaper price. And both embody the potential to mature into talented No. 2 cornerbacks.
Chiefs safeties are due to rake in $12 million. Free safety Kendrick Lewis has combated nagging injuries since 2011 drew to a close, and his effectiveness plummeted as a result. When healthy, Lewis jogs onto the field as a viable starter.
However, Kansas City could pair him with competition by drafting an up-and-comer, such as Florida International's Jonathan Cyprien. The strong safety made a name for himself by the time he left the Senior Bowl. Cyprien rattles helmets like maracas and flashes closing speed superior to Lewis', making the jump to free safety that much more feasible.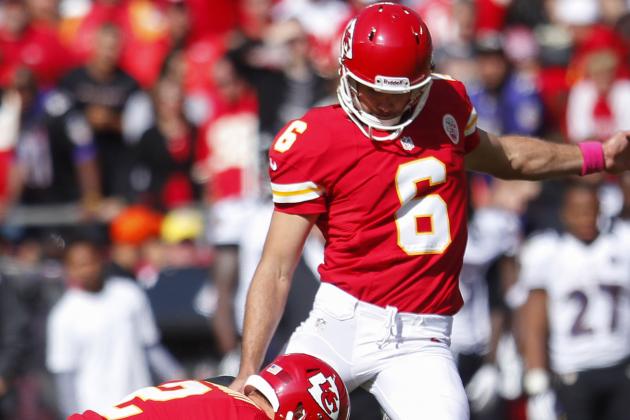 Kyle Rivas/Getty Images

Total Cap Hit: $2.8 million
Kansas City regularly banked on Ryan Succop as its source for points throughout 2012.
He finished last season 12-of-14 in kicks arching beyond 40 yards (Pro-Football-Reference), and his percentage has increased in each of the past three years.
He's not going anywhere.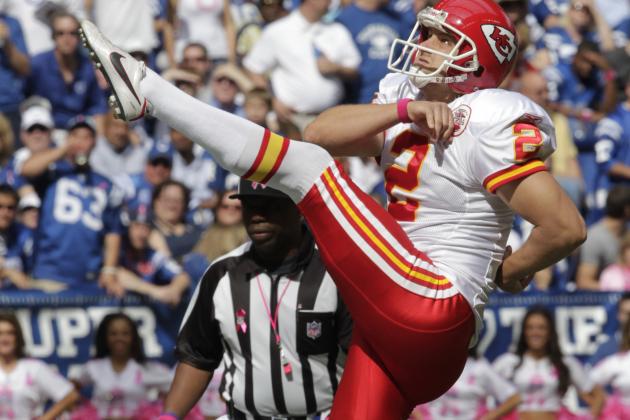 John Sommers II/Getty Images

Total Cap Hit: N/A
Oftentimes, punting is overlooked.
Punts are the free throws of football: They won't breach the highlight reel, but their value balloons in late-game situations.
A punter also doubles as the defensive coordinator's best friend.
Dwayne Bowe and Branden Albert will headline the Kansas City Chiefs' offseason negotiations. But re-signing Dustin Colquitt—who represented the Chiefs in last season's Pro Bowl—will be jotted down on Andy Reid's list of priorities.
Twitter: Follow @BrettGering
Email: gering.brett@gmail.com