Michigan State Basketball: 5 Biggest Questions Spartans Face in B1G Stretch Run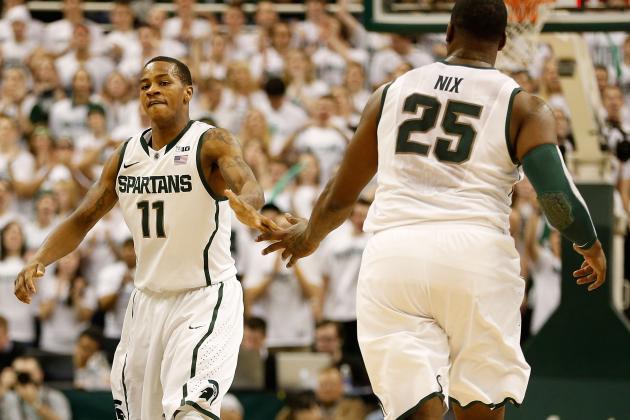 Gregory Shamus/Getty Images
Keith Appling (left) and Derrick Nix are crucial components of Michigan State's drive toward The Dance.
Five points essentially separate the two premier teams in the Big Ten.
Tom Crean's top-ranked Indiana Hoosiers can hold that title for now due to their 75-70 win in Bloomington over Tom Izzo's No. 8-ranked Michigan State Spartans, but B1G followers will see which team is the true king of the league Feb. 19 when the pair of heavyweights square off in East Lansing.
The Spartans (21-4, 10-2) are fresh off a Senior Day 2000-like thrashing of the No. 4-ranked Michigan Wolverines, who left the Breslin Center on the losing end of a 75-52 decision.
For all intents and purposes, the score misleads those who didn't witness the drama unfold. The score might as well have been 114-63—Michigan State was that dominant.
The Hoosiers (21-3, 9-2) went to Columbus and clobbered the Buckeyes, 81-68, showing that they can go on the road and impose their will on just about anyone.
The pair of wins speak volumes as to just how effective and dangerous Indiana and Michigan State are becoming, and just how lethal both teams will be during the B1G's home stretch.
It's clear that Crean and Izzo coach the conference's favorites. However, the Spartans may hold a slight advantage. Manhandling a bitter rival in a masterful performance does wonders for confidence and drive.
Izzo was impressed by his team's effort Tuesday against Michigan, although he wasn't too fired up about the pummeling. Michigan is a well-coached team that hit a Green and White bump in the road.
"We probably played our best game in three years and they [the Wolverines] probably played one of their worst," Izzo said during a post-game interview (via the Detroit Free Press).
The Spartans are nearing their apex. Typically a late-blooming team under Izzo, Michigan State is looking like a national juggernaut more and more each day.
But can Michigan State maintain its momentum?
That's one of the biggest questions facing Izzo and Co. as they look to finish as the Big Ten regular-season champions and evolve into a favorite come March Madness.
Begin Slideshow

»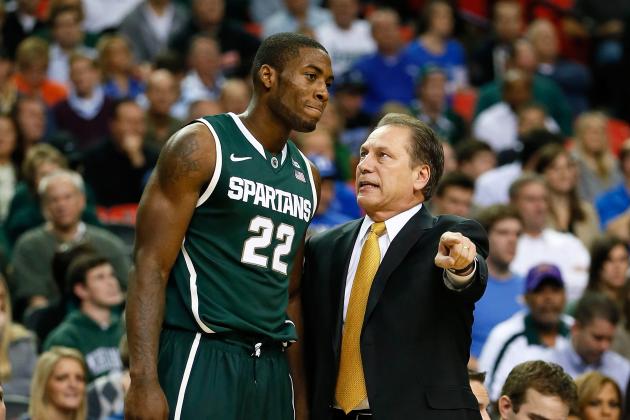 Kevin C. Cox/Getty Images
Branden Dawson is one of Tom Izzo's go-to powers.
When a team exploits a highly-ranked rival, expectations begin to grow.
But are those expectations realistic? Did the Spartans overachieve Tuesday night, or have they been playing possum all of this time, finally showing their true colors when it mattered most?
At the beginning of this season, the Spartans were pegged as a legitimate Big Ten threat, but the loss of senior Draymond Green raised concerns about leadership and reliability.
A tournament berth was likely, but aspirations of a Final Four or national title were lofty—even for an Izzo-led team due to the circumstances.
However, something just clicked Tuesday night. A presence like Green's can't be replaced. The best-case scenario for Michigan State was for a group of players to attempt to fill Day-Day's shoes.
It's clear that senior Derrick Nix is ready to take control and make his final year of college ball one to remember. It's clear that freshman Gary Harris is far from a kid; he's more like a veteran who happens to have three more years of eligibility.
Saturday's match with the Nebraska Cornhuskers will tell us what we need to know about the Spartans in terms of how they handle grand success. It's imperative that they seize the moment, dispose of Nebraska with ease and realize that they're on the cusp of morphing into one of the top five teams in the nation.
After Tuesday's bout with No. 1 Indiana, the Spartans face Ohio State, Michigan and Wisconsin—each ranked in the Top 20—before closing out the regular-season slate against Northwestern.
Beating Nebraska is likely, and the same goes for Northwestern—which always seem to give the Spartans problems and headaches.
Splitting with the Hoosiers is a must. There's a chance Michigan State could post a 2-0 record against Ohio State and Michigan—taking at least one of those games is a must in order to be truly thought of as a national power.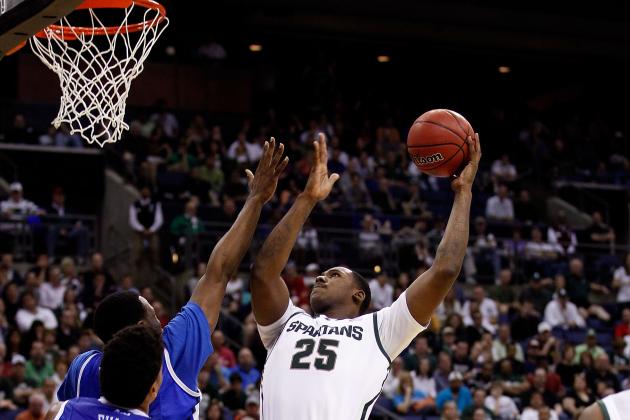 Rob Carr/Getty Images
Derrick Nix has one of the best left hands in college basketball.
As mentioned in the previous slide, Derrick Nix is vital to Michigan State's success.
His tumultuous tenure in East Lansing has been frustrating, but Nix seems to be on the right track when it comes to establishing himself as a cornerstone of the Spartans' offense and defense.
He may not put up 14 points every night, but he certainly can make life difficult for the opposition. Due to Nix's big-body tactics, Michigan couldn't penetrate the paint. And when Michigan got into the lane, Nix's massive left paw was there waiting.
Wolverines star Tim Hardaway Jr. had a blank scoring column until the opening minute of the second half. Glenn Robinson III, another standout for John Beilein, shot 1-for-4 on the night.
Nix was a major factor in holding two dangerous scorers to just four points.
"They bullied us -- point blank," Hardaway Jr. said of the Spartans' defense, likely giving a nod of respect to Nix (via ESPN). "I've got nothing else to say."
Can the Spartans pin their postseason hopes to Nix? Can they hitch their wagon to his 6'9", 270-pound frame?
If Nix is truly dedicated to being the type of senior that he said he wanted to be, the answer is a resounding "yes."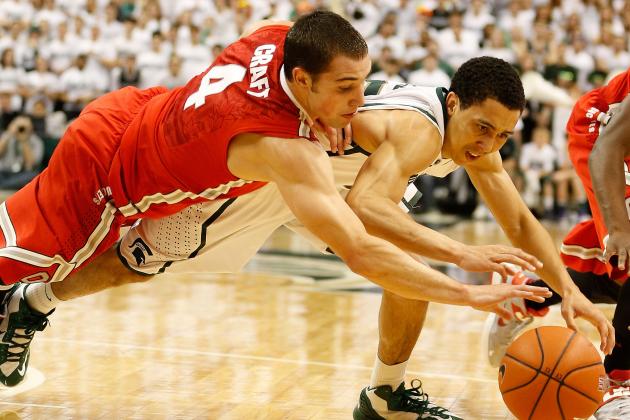 Gregory Shamus/Getty Images
Travis Trice (right) plays the game with tenacity. Unfortunately, that style invites injury.
Injuries can derail any team, regardless of star power or momentum.
That being said, Michigan State is dealing with the injury bug: Keith Appling has a bum right shoulder, Travis Trice is contending with concussion-like symptoms and Gary Harris battles back spasms.
Appling didn't look 100 percent against Michigan, but he made baskets and drew fouls when the Spartans needed him to rise to the challenge at hand.
Harris was lights-out from long range, converting an outstanding 5-of-9 from three-point range en route to a team-high 17 points in the Spartans' 75-52 shellacking of Michigan. Despite his high-octane showing, Harris showed signs of a bothersome back when running the floor.
Getting healthy is, bar none, of the utmost importance.
Another bump or bruise to a Spartans regular could spell doom in regards to their Final Four hopes.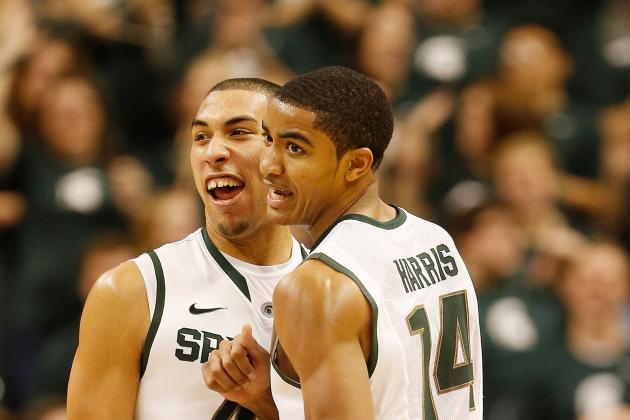 Gregory Shamus/Getty Images
Denzel Valentine (left) and Gary Harris are playing beyond their years as standout freshmen.
Matt Costello proved himself Tuesday night. Despite doubts of his true potential at the Big Ten level, Costello made strides in proving that he belongs in one of the most physical leagues in all of college sports.
As mentioned earlier, Gary Harris has been an offensive catalyst, oftentimes leading the Spartans in scoring and hitting crucial three-pointers by way of a pure and deadly stroke.
Denzel Valentine has been Michigan State's top bench performer this year. That being said, he'll have to play the role of the sixth man to perfection as the Spartans sprint toward The Big Dance.
Can they handle the pressure? These kids were running prep courts a year ago, now they're galloping in packed arenas that some of the country's top teams call home—including their own.
Teams like Kentucky can lean on endless supplies of 5-star, NBA-bound freshmen (maybe not this year, but it has in the past).
But can the Spartans do so with their stock of first-year kids? It's not like Michigan State has an abundance of depth at this point of the year, and relying on freshmen can be a risk.
Are Costello, Harris and Valentine up to the task? Harris and Valentine have to be, but Izzo would receive an added bonus if Costello ends up catching fire.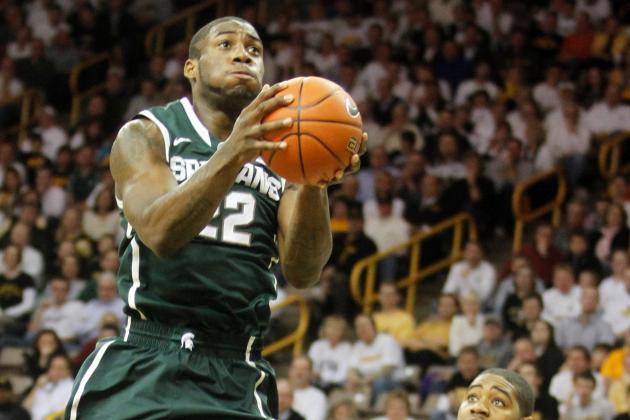 Matthew Holst/Getty Images
Branden Dawson brings a thunderous brand of athleticism to the floor.
Michigan State probably would have had more success in the 2012 NCAA Tournament with Branden Dawson on the floor.
However, an ACL injury knocked out the then-frosh star in the making. Dawson has rebounded in style, which is a great sign for the Spartans.
The nation hasn't seen the real Dawson, though, despite a career-high 20 points versus Purdue and 10 points and six boards against Michigan.
Now a sophomore, Dawson is one of the top young talents in college hoops; he's developing a skill set that will likely translate well into the NBA. But for now, his budding pro-like arsenal has to be present each night for Michigan State as it prepares another challenging stretch of the season.
If Dawson continues his clip, the Spartans will have an athletic swingman that's capable of knocking out powerhouses in March.
Follow Michigan State Spartans basketball writer Adam Biggers on Twitter @AdamBiggers81