Grading the NY Rangers' Special Teams Early in the 2013 NHL Season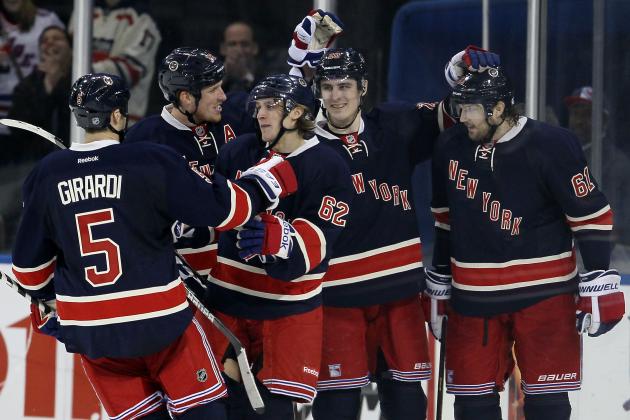 Elsa/Getty Images

In the modern era of the NHL, you know, the one where you get a penalty for breathing too heavily on your opponent, special teams have become increasingly more important.
In a league where scoring opportunities can come few and far between, it's vital that a team takes advantage of a situation where they have more players on the ice than their opponents.
And, obviously, a team that has the ability to neutralize an opponent's most potent source of offense, the power play, is positioning themselves nicely for victory.
If the Rangers are to have success this year, they're going to have to rely heavily on their special teams. This doesn't go for them only, but for any team looking to be a contender in this league.
But we're 13 games into the season and it's painfully obvious that the Rangers are nowhere near where they need to be in terms of the power play, and to a lesser extent, the penalty kill.
We're going to take a look at both, rate their performance and talk about what it is that needs to be changed, if anything, after the jump.
Begin Slideshow

»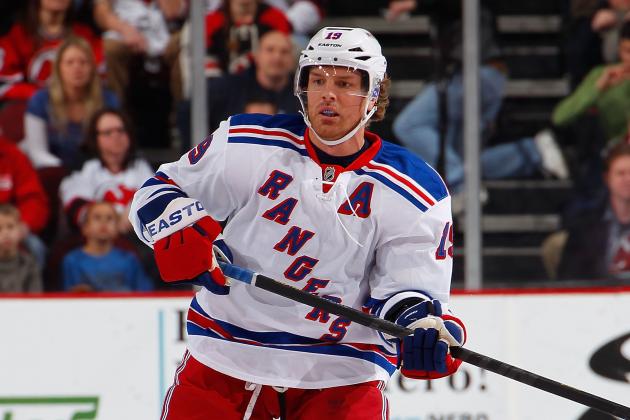 Paul Bereswill/Getty Images

Grade: A big ol' F.
There won't be any beating around any bushes here; the Rangers power play is atrocious.
To put how bad this team is on the man advantage into perspective consider this: On Monday night, the Islanders scored four power-play goals in one game. The Rangers have scored five all season.
Their 28th place 5-48 record is good enough for 10.4 percent, and when you consider the talent this team has at their disposal, it's actually hard not to either laugh or cry.
Rick Nash, Brad Richards, Marian Gaborik, Derek Stepan and Chris Kreider all have a sensational zero power-play goals. The only players who've been able to find the net on the man advantage are Carl Hagelin and the skill-capped Ryan Callahan and Taylor Pyatt. The rookie, JT Miller even has one, but the nearly $30 million trio of Nash, Richards and Gaborik don't have any.
How is that possible?
Probably because of the coaching, but it's also due in part by the players' reluctance to shoot the puck.
The Rangers have a lot of fancy guys out there on the power play, and that isn't always a good thing. If everyone is looking for the perfect play, then whose going to shoot the puck. Correct answer: Nobody. And that's why the Rangers have five power-play goals in 13 games.
A lot of people like to get on the New York fans because they will scream "SHOOT THE PUCK" on a power play if the Rangers are refusing to do so, but in all seriousness, these guys need to shoot the puck.
They need to utilize Richards or Del Zotto at the point as guys who are going to shoot the puck. Nash too, he should be parked on the right boards ready to unload. The rest of the guys should be around the net, either screening the goaltender and/or looking for a second chance opportunity.
What's even more alarming is that such a prolific coach as John Tortorella and his assistant Mike Sullivan can't fix this mess. It's not rocket science: Get in the players' heads and tell them to keep it simple.
If they don't want to, let the guys who need to keep it simple—the third and fourth liners—to take a crack at it. It couldn't get any worse, could it?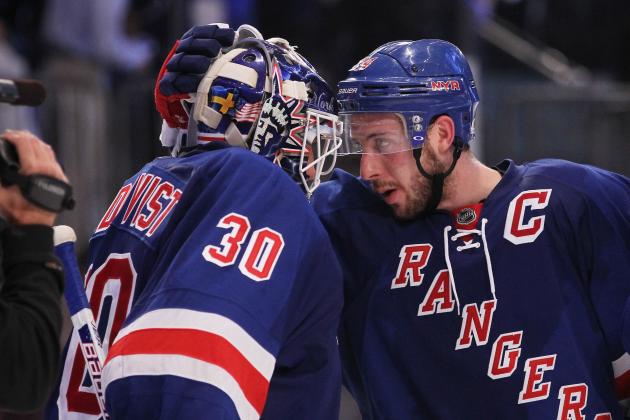 Bruce Bennett/Getty Images

Grade: B-
Three letters best describe the Rangers' penalty kill so far this season: Meh.
It's been good, but not great. It can definitely be better.
Currently it's at 82.7 percent and tied for 13th in the league. Last year, when the team finished the season running at 86.2 percent, they were ranked fifth. So this is, without a doubt, an area Tortorella is going to want to work on.
The biggest concern heading into the season was the loss of personnel. Brandon Dubinsky, Artem Anisimov, Brandon Prust and Ruslan Fedotenko were all really good penalty killers, and their departures seemed to leave the Rangers a bit thin.
They did retain Ryan Callahan, Derek Stepan and Brian Boyle, which is good, but they also needed to add some help.
Jeff Halpern is a guy who was brought in to serve as fourth-line center as well as a penalty killer. He's really excelled there and has been a solid option.
Rick Nash also has gotten a crack at killing penalties. He's been pretty good, too. Not only has he done well actually killing the penalties, but he's also kept opposing teams' power-play units on their toes with his speed and skill. He's even picked up a shorthanded tally.
More recently, the Rangers acquired Darroll Powe from the Minnesota Wild for Mike Rupp. He was advertised as a speedy, gritty third- or fourth-line guy who can kill penalties. He's been all of that and has helped the Rangers' penalty-killing unit improve over the past handful of games.
Then there's the defense, who have been good as always on the PK. Ryan McDonagh and Dan Girardi have picked up right where they left off, getting in passing lanes and blocking shots. A healthy Marc Staal from day one has also helped.
And of course there's Henrik Lundqvist. They said your best penalty killer needs to be your goalie, and Hank has been just that since he joined the team in 2005-06.
Bottom line here is that the PK is not a cause for concern by any means, but it does need some work. As the season progresses, and the new guys develop a greater familiarity with the returning players, this team's penalty kill should be back or close to where it was last season.