Ranking the Top 10 Players on the Carolina Panthers' 2013 Draft Board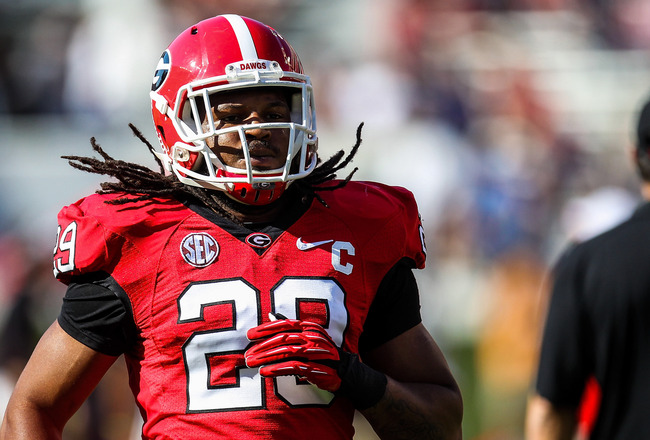 Daniel Shirey-USA TODAY Sports
The 2013 NFL Draft will be here before we know it, so it's time to take a look at what the Carolina Panthers' draft board should look like.
The 2012 season was a disappointment, but the way in which the team finished has given the fanbase hope for next season.
After starting 1-6, the Panthers rallied to finish the season 7-9, which put them in a three-way tie for second place in the NFC South with the New Orleans Saints and Tampa Bay Buccaneers.
It would be a small miracle if Star Lotulelei managed to slip this far, so although he would be a perfect fit, he did not make this list.
The Panthers have immediate needs along the offensive and defensive lines and could also use an upgrade at wide receiver and in the secondary. While every draft is important, this year's edition will be vital to the team's long-term success.
With young franchise cornerstones on both sides of the ball, the Panthers may be another solid draft class away from competing with the Falcons for the NFC South title.
10. Desmond Trufant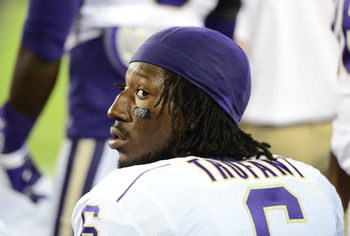 Mark J. Rebilas-USA TODAY Sports
Desmond Trufant already has two brothers playing in the NFL, as Marcus and Isaiah are members of the Seattle Seahawks and New York Jets, respectively. At this point, it's safe to say football is in Trufant's blood, which will only help at the next level.
At 5'11" and 190 pounds, Trufant may struggle to cover the physically dominant receivers that the NFL is loaded with. However, Trufant has the speed and fluidity that scouts love to see, which could make up for his size.
At the Senior Bowl, Trufant stood out and established himself as one of the best cover-corners in this year's class.
With the Panthers likely to cut Chris Gamble, the need at cornerback is only going to get bigger.
Barring an unexpected ascension up draft boards, Trufant should still be on the board when the Panthers choose at No. 14. That being said, the Panthers should look to move back in the draft if they decide to target Trufant, because he doesn't have the value of a top 15 pick.
9. Ezekiel Ansah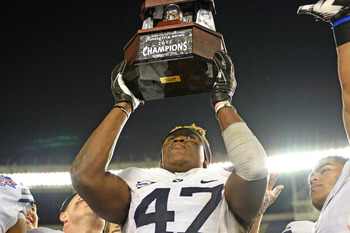 Jake Roth-USA TODAY Sports
Ezekiel Ansah is the quintessential boom-or-bust prospect, as he was an afterthought prior to breaking out last season.
At 6'5" and 270 pounds, Ansah has drawn comparisons to Jason Pierre-Paul, as both men are athletic freaks.
Whatever team selects Ansah will have a project on their hands. But he has the potential to become one of the most disruptive pass-rushers in the NFL.
With his quick first step and overpowering strength, the opposition will have no choice but to account for Ansah on every play. Having a player that forces opposing offenses to shift their pass protection can greatly improve a defense.
The Panthers already have Charles Johnson and Greg Hardy starting at defensive end, which could deter the front office from targeting Ansah.
In the pass-happy NFC South, the Panthers can never have enough quality pass-rushers and would be wise to give Ansah a long look.
Due to his high motor and versatility, I wouldn't bet against Ansah developing into a great defensive lineman.
8. Keenan Allen
Jason O. Watson/Getty Images
Let's face it, Steve Smith is not going to be able to play forever. The fact that Smitty is still such a reliable target 12 years into his career is remarkable, but all good things come to an end and Smith will slow down eventually.
Brandon LaFell had a decent season in 2012 but would have to improve greatly in order to be considered a quality No. 1 wideout.
In order for Cam Newton to develop into the passer he needs to become, the Panthers front office must surround him with competent weapons.
Selecting Keenan Allen would bolster the Panthers wide receiver corp, as he possess the size and talent to become Newton's favorite target.
In Allen, the Panthers would be getting a competitive, polished receiver to pair with Smith on the outside. Although he lacks top-end speed, Allen has the frame and hands to sustain a long NFL career.
In my opinion, the needs along the offensive and defensive lines are more glaring, which makes drafting a receiver in round one a tough decision to make.
7. Chance Warmack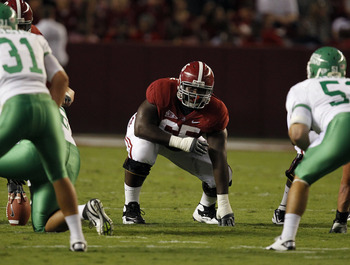 Butch Dill/Getty Images
Chance Warmack is one of the safest prospects in this year's class. The Alabama guard appears to be a lock to develop into a perennial Pro Bowler.
At 6'3" and 320 pounds, Warmack has the perfect frame to play guard in the NFL.
Unfortunately for Warmack, he has been overshadowed by his Alabama teammates and is limited due to the importance placed upon the guard position.
The Panthers could use an upgrade at guard, as Amini Silatolu struggled during his rookie season. At the very least, Warmack would represent a major improvement on the interior of the offensive line.
Warmack would improve the Panthers rushing attack from day one, which would take pressure off Cam Newton's arm. Also, Warmack's presence would help Carolina's backs bounce back after a relatively disappointing 2012 season.
His presence would make things easier for everyone else on offense, which speaks to how dominant Warmack is projected to be at the next level.
Taking a guard is never the sexy pick, but whatever team lands up nabbing Warmack will be better off for it.
6. Kenny Vaccaro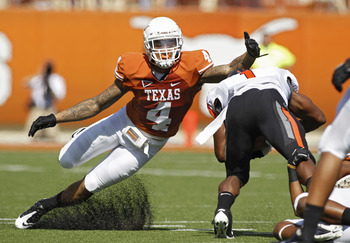 Erich Schlegel/Getty Images
The Carolina Panthers could use an upgrade at safety, and Kenny Vaccaro has the versatility to play either the free or strong safety position.
As a member of the Texas Longhorns last season, Vaccaro compiled 67 tackles, two sacks, seven passes broken up and two interceptions
Since the NFL is a passing league, Vaccaro's above-average coverage ability will aid in his ascension up draft boards until the draft.
While hard hits and tough-nosed play are being penalized more and more, Vaccaro's physicality is exactly what the Panthers need in their secondary.
For a safety to be selected in the first half of the first round is an uphill battle, as the value on the position isn't as high as others. That being said, Vaccaro is capable of playing in the box which would help to bolster the Panthers' lackluster run defense.
Vaccaro is hands down the best safety in this year's class. He has the ability to cover slot receivers, which is only becoming more important, but is equally capable of helping cover opposing wideouts over the top.
5. Cordarrelle Patterson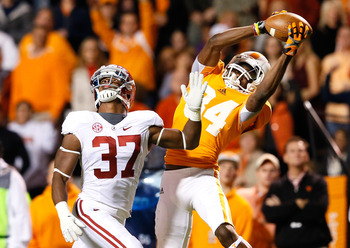 Kevin C. Cox/Getty Images
You may be surprised to see Cordarrelle Patterson ranked higher than Keenan Allen on this board, but I fully believe in the Tennessee Volunteer wideout.
After transferring from junior college, Patterson only played 12 games as a member of the Volunteers. However, he was extremely productive in his only season in Knoxville, averaging 154.8 yards all-purpose yards per game, which was the highest average in the SEC.
Since he only played at the highest level of college football for one season, the tape on Patterson is considerably shorter than the other receivers in the class.
At 6'3" and 205 pounds, Patterson has the size to have a successful NFL career, especially if he is drafted into the right situation.
As a wideout, Patterson has the potential to develop into the No. 1 option in an explosive offense. In order to become that player, Patterson has to continue to work on the nuances of the wide receiver position.
Patterson is still raw in terms of route running and locking the ball into his body, but his elite size will give him leeway as he refines his craft.
From a special teams perspective, Paterson could also double as both the kick and punt returner, which is an area the Panther should address during the offseason.
4. Johnathan Jenkins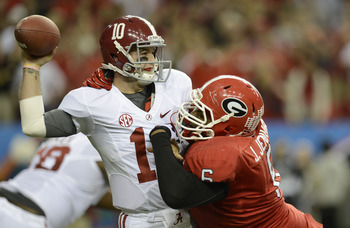 USA TODAY Sports
The Carolina Panthers finished the season ranked 14th against the run, although that number is somewhat misleading due to the poor rushing attacks in the division.
During the regular season, the Panthers were gashed by the likes of Bryce Brown and Andre Brown, which speaks to the state of the run defense.
Granted, the unit did improve as the season went on, but the area still needs to be addressed.
The Panthers run defense could be turned around with the acquisition of an elite run-stuffer, which is exactly what Johnathan Jenkins projects to be in the NFL.
At 6'3" and 358 pounds, Jenkins has the frame to be an immovable force on the interior of the defensive line. Carolina has not had a legitimate run-stuffer since Kris Jenkins, which is ironic because Johnathan shares the same surname.
3. Sheldon Richardson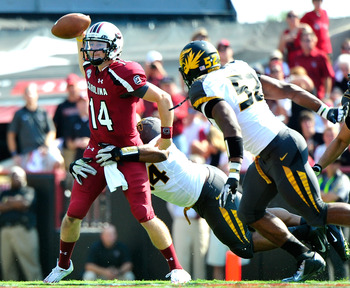 Grant Halverson/Getty Images
Sheldon Richardson has a non-stop motor, which is evidenced by the 75 tackles he racked up last year for Missouri.
For Richardson, who plays defensive tackle, to finish second on the team in tackles is remarkable.
The Panthers would be getting a player that can actively rush the passer from the defensive tackle position, which would help defensive ends Charles Johnson and Greg Hardy.
With Luke Kuechly in the second level, the Panthers have one of the league's premier tacklers. To maximize his impact, Carolina needs to bring in sound defensive tackles to keep offensive linemen off Kuechly.
Richardson routinely makes plays downfield, as he never quits on a play and possesses the speed to stay active.
Barring any surprises, Richardson should be able to make an immediate impact for whatever team drafts him. Luckily for the Panthers, this year's defensive tackle class is deep, which means Richardson may still be available at the No. 14 slot.
2. Sharrif Floyd
Kevin C. Cox/Getty Images
Sharrif Floyd has been flying up draft boards. Few players finished last season on more of a tear than Floyd, whose athleticism jumps off the tape.
Even though the Florida Gators got demolished by the Louisville Cardinals in the Sugar Bowl, Floyd managed to sack Teddy Bridgewater twice.
Throughout his time at Florida, Floyd played every position on the defensive line, which only increases his value.
At the NFL level, Floyd is best suited to play on the interior due to his 6'3", 303-pound frame. In a pinch, Floyd could easily shift outside and play defensive end.
Floyd's quickness on the interior gives him the chance to be special one day, as his first step will help him get into positive situations.
With the rate Floyd is rising on draft boards, he may not be on the board when it's the Panthers' turn to pick.
1. Jarvis Jones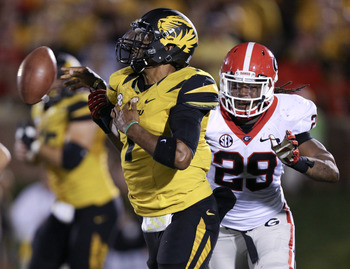 Ed Zurga/Getty Images
OK, I know what you're thinking. There is no way Jarvis Jones will slip all the way to 14th.
Before completely dismissing this slide, take note that Bleacher Report's very own Matt Miller has Jones going to the Panthers in his latest mock draft.
If Jones were to fall so far it would likely be due to medical concerns surrounding Jones' spinal stenosis. Entering the evaluation portion of the process, NFL teams will make sure Jones will be physically cleared to play on the next level.
However, some franchises may shy away from selecting Jones because of the inherent risk involved with the situation.
When with USC, Jones was ineligible to play because the Trojans did not feel comfortable with him playing football due to his condition.
From a football perspective, Jones is an excellent prospect. He was without a doubt the best pass-rusher in college football last season, as his mix of speed and power were too much for most college tackles.
Simply put, if Jones slips to No. 14, they should grab him because of his game-changing ability.
Jones has drawn quite a few comparisons to Von Miller, who is without a doubt one of the best defensive players in the league.
Keep Reading

Carolina Panthers: Like this team?