NFL Draft 2013: Mid-Round Defensive Gems with First-Round Potential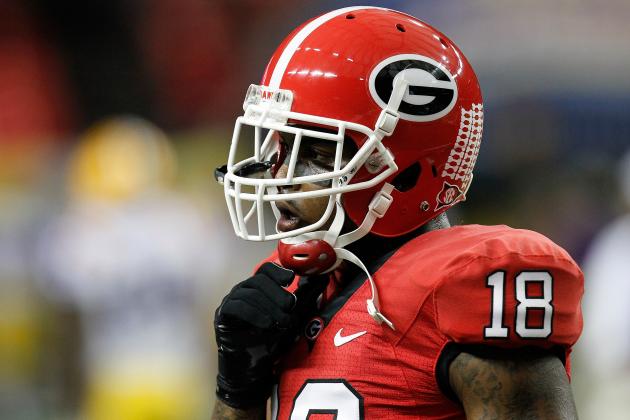 Kevin C. Cox/Getty Images
It's easy to overlook Bacarri Rambo on Georgia's defense.
Defense is overtaking the 2013 NFL draft class.
And with this happening, the mid-round prospects become more appealing, because some with first-round talent will inevitably fall to Day 2 or Day 3.
Georgia's Bacarri Rambo is a primary example, as the Bulldogs fielded an elite defense throughout 2012.
By the same token, Rambo can go underrated courtesy of the immense talent on Georgia's defense. Factor in a shallow safety class for top talent and he becomes lumped into the crowd.
We'll first hit Rambo as well, but there are also other middle-round gems we'll check out that possess Round 1 talent this April.
Begin Slideshow

»
The Georgia Bulldogs can rightfully expect three defenders getting selected in Round 1: Jarvis Jones, John Jenkins and Alec Ogletree.
So, their NFL potential immediately allows for safety Bacarri Rambo to get overlooked.
Then again, each of the three aforementioned defenders lines up in the front seven as well. Rambo, on the other hand, presents the size and explosive physical capabilities to his position.
Having recorded 16 picks throughout his career, Rambo also forced six fumbles and made 235 tackles. That impact makes him dynamic, because a defense can utilize him deep or rolling down into the box.
Either way, he brings the versatile construct to read in Cover 1 or 3 and fill for a blitzing linebacker underneath.
The defensive tackle position is arguably the deepest of the 2013 draft class.
There are at least seven with first-round potential, and least five should get taken that high in April.
As a result, North Carolina's Sylvester Williams gets shunned from the top.
A bruising force along the Tar Heels' defensive line, Williams recorded 96 tackles, 8.5 sacks and defended four passes between 2011 and 2012. His strength alone bodes well to impact as a 4-3 tackle or 3-4 defensive end, because Williams has a nose for getting into the backfield.
In addition, he'll draw double-teams to free up the linebackers and react quickly to tosses and screens. The guy plays with solid discipline, which will help when given a limited role of responsibility in the NFL.
Instincts and patience are two of Khaseem Greene's dependable qualities.
As a reliable tackler and hitter, Greene racked up 354 tackles the past three seasons for Rutgers.
During that same span, he also forced 12 fumbles, defended 13 passes and recorded 9.5 sacks. The guy is simply all over the field, but it's because he knows how to get in playmaking position.
Possessing great lateral quickness and acceleration, Greene produces on delayed blitzes and when shielding in coverage. In turn, he has the athleticism and size to play outside linebacker in any front or a 3-4 inside 'backer.
If anything, Greene is technically sound across the board. Whether it's tackling, generating turnovers or reading pre-snap, he's consistently around the ball and making an impact.
Sio Moore isn't the most electric linebacker, but the guy is around the ball and makes plays.
A better coverage 'backer than at first glance, Moore defended 19 passes over the past two seasons.
He also contributes well as a pass-rusher with 14.5 sacks between 2011 and 2012. And when facing a quick-developing play, Moore possesses the instincts to get a paw on the rock to prevent a receiver screen or slant from occurring.
Against the run he plays downhill and willingly takes on blockers, which forces the back to redirect. Otherwise he generally makes the play.
Without question, Moore needs to build some lateral quickness and top speed, but his size and ability to get depth fits as a 3-4 inside linebacker. Not to mention the capability to sink outside and rush the edge.
Be sure to keep an eye on San Diego State's Leon McFadden.
Combine the elements of him coming from the Aztecs, competing in the Mountain West, playing on the West Coast and not facing SEC talent, he'll go drastically overlooked.
On the bright side, this makes McFadden that much greater of a mid-round steal.
He was extremely reliable for the Aztecs in defending 46 passes and recording 162 tackles from 2010 through 2012. With excellent reactionary skills, McFadden also possesses great explosiveness and field awareness.
Capable of darting up to a quick pass, he can lock down from the slot or on the outside. Plus, should he get immediately beat the catch-up speed is there to still make a play.
Likely a nickel or dime back from the start, McFadden holds No. 1 corner promise in pro football.