Happy Valentine's Day: Some of the Oddest Couples in Wrestling History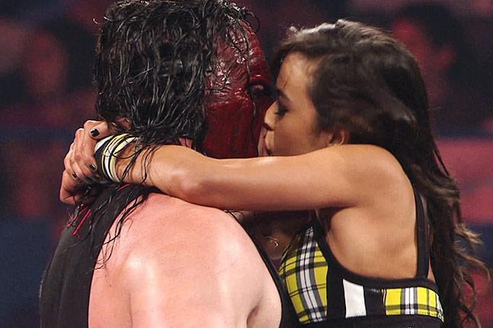 beneaththemat.com
Happy Valentine's Day. Yes, love is in the air, and love has struck a chord with the wrestling business over the years.
There are real couples in the business (Stephanie McMahon and Triple H), and there are those who were a match made in grappling lore (Edge and Vickie Guerrero). We cannot name all of them, but we can certainly enjoy some of them.
While Eddie Guerrero and Chyna did not make the list, nor did Edge and Lita, there are others we may have forgotten over the years.
All of this may be in fun, but on Cupid's day, it is important to remember that love bites, and sometimes, love bleeds. And in the world of professional wrestling, it leads to "pain" in most cases.
Here are 10 of the oddest couples in wrestling history.
Begin Slideshow

»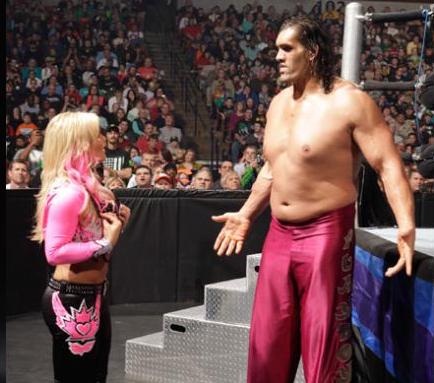 www.natbynature.com
Two former champions. You figure, in "mainstream" circles, this would be a match made in heaven—not even close.
This "union" seems more about the fact they are oddities together. Add Hornswoggle to the mix and it would seem the circus is in town.
I have never liked the Khali character, but Natalya is too talented to waste.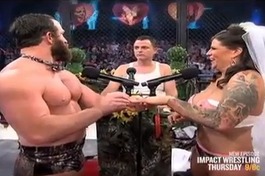 diva-dirt.com
Sometimes, it makes you wonder which one is the wife in this relationship and how much longer these two will be holding the TNA Knockouts Tag Team titles.
This is the oddball couple of TNA Impact Wrestling. ODB could kick his ass and Eric Young, who is a fine wrestler in his own right, has been subjected to the role of the village idiot.
The idea of the two of them being married is really cool, but at some point, the relationship or the tag team tandem must end.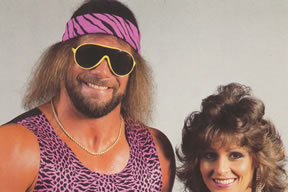 rantnravewithjohn.com
Two great WWF icons who came together in real life.
Savage as written about by both Ric Flair and Hulk Hogan was obsessive about everything to do with wrestling, and it carried over into his marriage with Elizabeth.
While she helped Savage get over as one of the greats of all time (Savage was great before he met her, but having her on his arm never hurt), she also became a liability for him, always being at ringside and in the way at times.
These two divorced in time. Both left this world way too soon.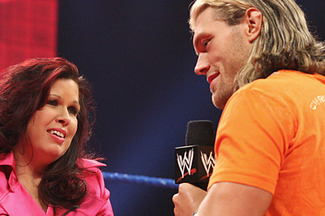 wwe.com
The things wrestlers will do to gain power within the WWE.
It was comical and almost surreal. With Edge being a major player on SmackDown, it was only fitting that he "seduce" the older cougar Vickie Guerrero for his personal gain within the WWE.
While I enjoyed watching Edge and Lita, this was one duo I could not stand seeing on a weekly basis.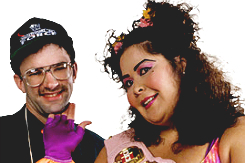 tumblr.com
Oh, a match made in wrestling heaven—the larger-than-life Bertha Faye, who won the Women's title at one point, and the smaller Wippleman.
You cannot make up this kind of "Walmart love."
In 1995, when he managed his on-screen girlfriend Bertha Faye. Faye, with Wippleman in her corner, won the WWF Women's Championship by defeating Alundra Blayze at SummerSlam 1995.
The WWF Women's Championship was abandoned in late 1995, and Faye did not wrestle for the company after that.
Wippleman did not appear on television for the WWF after that as well.
Tainted love, anyone?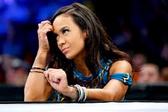 fanpop.com
Insert your favorite WWE superstar here and you get the same results.
Daniel Bryan, Kane, CM Punk and John Cena have all been linked to the WWE's "Black Widow." Her current fling with Dolph Ziggler is in the "honeymoon" stage.
For all that she is (hot in a pixie sort of way), Lee is everything the WWE wants in a "heel" diva. While the union with Ziggler is going nowhere now, the WWE has done well to make 2012 the Year of AJ. And any of her suitors felt the wrath of a good girl gone bad.
tasothegreek1.blogspot.com
Take one of the oddest men in professional wrestling and join him with one of the hottest women to ever grace a wrestling ring.
If you watched Florida Championship Wrestling in its heyday with Gordon Solie, you saw plenty of the satanic-following Sullivan in his quest to rid Florida of Dusty Rhodes.
In his cult of odd creatures, which included The Purple Haze and Jake Roberts was Nancy, who was hot as hell and part of the "package."
Anyone who has seen pictures of Nancy Sullivan, who later became Nancy Benoit, on the web knows just how hot she was and how tortured Sullivan might have been.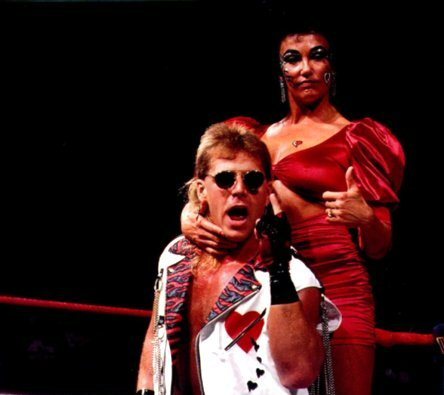 tumblr.com
Bordering on the insane. Martel was HBK's manager once he left The Rockers as a tag-team specialist. The rest is history.
These two characters were major players on the WWF machine in the early and mid 1980s. Martel had stopped wrestling full time to concentrate on managing and needed a "client" to prove she wasn't a fluke.
The two seemed to be a perfect pair.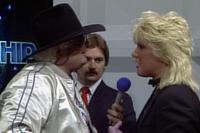 www.twylah.com
Beauty and the Beast, Part II.
This is how great the NWA was in the last 1980s and showed the masterful mind of Rhodes as a booker and writer.
Baby Doll left World Class Championship Wrestling in Dec. 1984. In Feb. 1985, she joined the Jim Crockett Promotions and was introduced by Tully Blanchard as his new manager, "The Perfect 10" Baby Doll.
Nickla Roberts (her real name and sister-in-law of Jake Roberts) assisted Blanchard during his feuds with Dusty Rhodes and Magnum T.A.. After Rhodes defeated Blanchard for the NWA World Television Championship at The Great American Bash in 1985, Roberts was forced to be Rhodes' valet for 30 days. During this time, vignettes aired in which Rhodes tried to turn her into a "real lady."
In the end, Baby Doll turned on Rhodes, helping Ric Flair win the NWA World Title.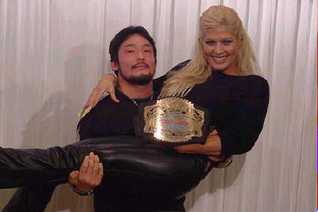 www.oocities.org
While he was a thrill-a-minute performer in the WWE, Tajiri was anything but smooth with the ladies.
These two just looked strange and uncomfortable. In the end, Tajiri was a heel who made Torrie Wilson wear a Geisha outfit (awesome) in his feud with Billy Kidman.
Wilson eventually left him during a WWE Cruiserweight Championship match against The Hurricane. During the match, she stripped on top of a table during the match causing Tajiri to be counted out and later joined forces with Tajiri's rival, Maven.
Tajiri never had a chance.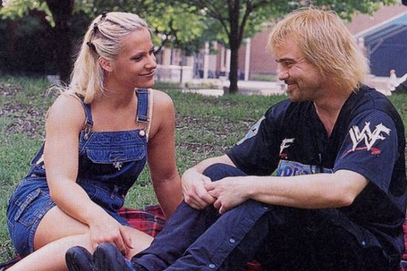 tumblr.com
High school love brought to the WWF.
It was cute, written well and showed WWF's softer side in a time where attitude was everything. Molly Holly, whose real name is Nora Greenwald, said the program with Dudley was the best time of her career.
In 2001, Molly formed an on-screen relationship with Dudley, in the midst of their storyline rivalry between her cousins and Spike's brothers (The Dudley Boyz).
Later, Holly went on to become a heel diva in the company.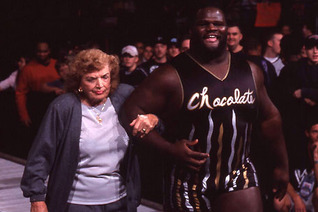 my123cents.blogspot.com
This just goes to show you how many awful programs Mark Young has been in with the WWE.
He and Mae Young entered into a relationship which finally saw Young, in her older years, become pregnant.
It was a stupid idea and one of the many bad spots the WWE has had since Henry has joined the company.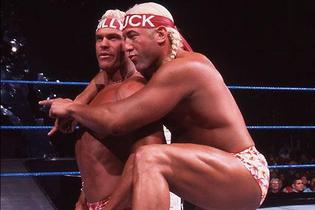 www.tumblr.com
This one still baffles me.
At one point, Billy Gunn was one of the 10 best performers in wrestling and his association with DX and the New Age Outlaws showed how great a wrestler and performer he was. It was only after he split from the uber-popular stable that things got weird for him.
He became "Mr. Ass" and then teamed with Chuck Palumbo in a tag team that took on more than just a team challenging for the WWE Tag Team titles.
A storyline began in which Billy and Chuck became increasingly friendly, showing evidence of a homosexual relationship. The duo adopted matching red ring gear and bleached their hair.
There was even a commitment ceremony to show their "love."
The outcry from the gay and lesbian community led to the WWE chopping the angle.
Surely, one of the oddest and most daring angles the WWE has ever attempted.