Over the 2012-13 season, Arsene Wenger's head has been called for on a silver platter by such illustrious commentators as Goal.com, JustArsenal, Bleacher Report, Caughtoffside, The Daily Mail and, er, Bleacher Report.
Former players have turned against him. As recently as December of 2012, bookmakers were offering 5/2 odds that the Frenchman would be sacked before the conclusion of the 2012-13 season.
Most of these articulations emerged following the Gunners' humbling defeat on penalties against Bradford in the Capital One Cup in mid-December.
However, the justifications offered are indicative of long-held frustrations with Wenger's management, catalysed by Arsenal's humiliation against a side whose total annual wage bill is half of what Maroune Chamakh is paid to keep the Emirates bench warm.
The arguments levelled at Wenger, simplified, comprise the following: that he has lost the ability to assemble a winning team; that his unwillingness to enter the transfer market and the dissolute nature of his recent purchases has prevented the Gunners from strengthening their team to the point of trophy contention; that his inability to hold onto star players proves Wenger no longer commands the respect from footballers that he once had; and, most importantly, that he has overseen a transfer drought at Arsenal that has now lasted seven long years, and for which he must therefore be culpable.
All of which, if you'll pardon the French (I'm sure Arsene would), is merde absolue.
This topic will be long-winded. This article will be broken into several parts. I may have to pay royalties to the peerless I.J. Yarison for appropriating his format, and I expect torrents of abuse from Wenger naysayers.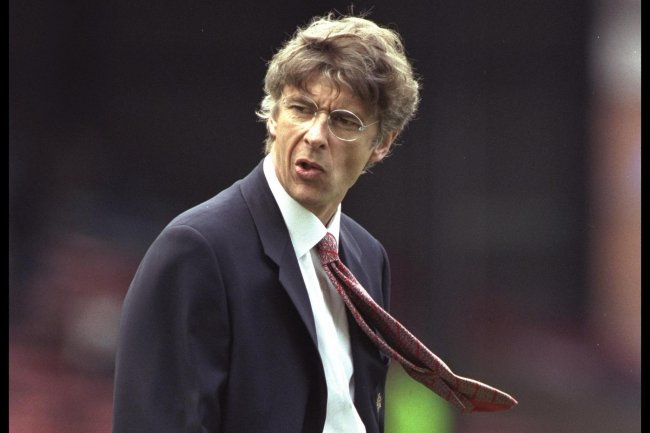 Stu Forster/Getty Images
So let's get cracking.
Arsene Wenger and Teams
When Arsene Wenger first took charge of Arsenal, the "fashionable" formation of the time was the 4-4-2. The 4-4-2 formation is, as Wenger himself has stated, the most rational of all football formations: 60 percent of the team covers 60 percent of the pitch, 40 percent covers the other 40 percent—few complications, little fluidity or interchanging between positions; a do-your-job-and-let-your-teammates-do-theirs style of play.
Wenger was fortunate upon taking over from Bruce Rioch (Pat Rice, for the pedants among you) to inherit a tough-as-nails back four who had been playing together since doctors sponsored cigarettes. Tony Adams, Nigel Winterburn, Lee Dixon and Steve Bould formed as uncompromising a defensive unit as one could hope for in the late 1990s.
An industrious midfield consisting of Ray Parlour and David Platt was complemented by the timely addition of Patrick Vieira before Wenger arrived at Highbury, and Emmanuel Petit before the Professor's second season in charge.
Wenger's countrymen brought steel to the midfield that the Gunners of the mid-'90s had previously lacked, and the signing of Marc Overmars added another string to the already nicely-balanced attacking bow of Ian Wright, Dennis Bergkamp and Nicolas Anelka.
Wenger's squad of 1997-98 won the club's first domestic Double since 1970-71.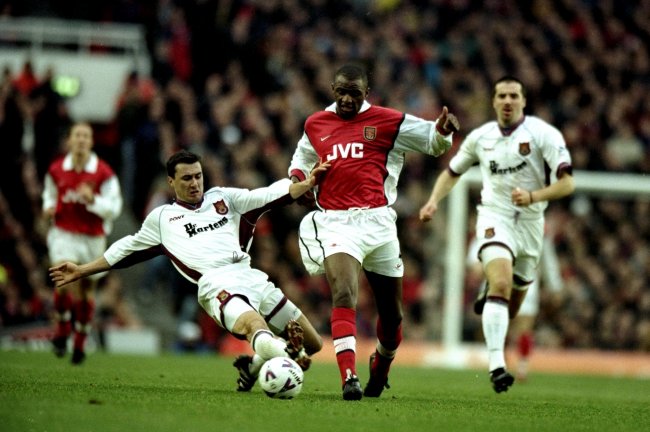 Chris Lobina/Getty Images
The success of Arsenal in the 1997-98 season is not solely down to Wenger, but it would be foolish to say he had nothing to do with it.
The culture that the Frenchman entered into was a foreign one in more than an environmental sense: Ed Smith of More Intelligent Life perhaps says it best (via MoreIntelligentLife.com):
After Bruce Rioch was sacked in 1996, Wenger's first task was to connect with Arsenal's existing culture, which was red-blooded, to say the least. Heavy drinking and gambling were as central to the culture as the pragmatic, puritanical style of play. Wenger's temperament is the opposite-drowning his sorrows with a few pints and a large punt is scarcely his style--and he must have been tempted to make radical and immediate changes. But Wenger stuck with much of the existing squad and still managed to win the Premiership-FA Cup double in only his second season.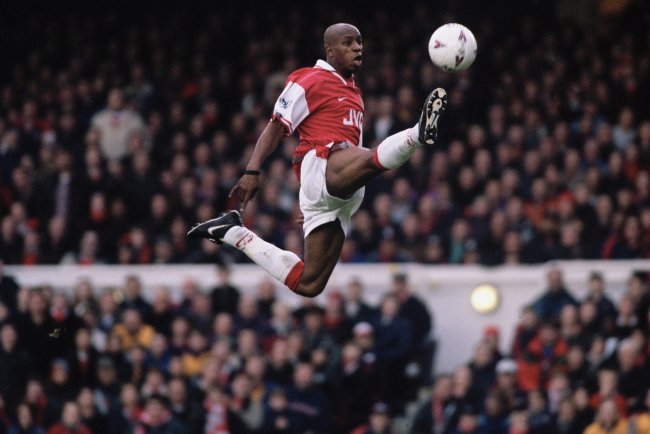 Getty Images/Getty Images
The Arsenal team, as well as the Arsenal team culture, was not one with which Arsene was accustomed; regardless, the workman adapted. He did not blame his tools, but appropriated them to his means. His team was firmly entrenched in a specific style of play; Wenger thus examined this style of play, identified imperfections in the team, brought in players to improve on those areas and the team won the Double.
The thing is, the tactics that won Arsenal the Double that season were not Wenger's; he simply inherited a style of play that the team was used to. The tactical setup of the team was Arsenal's, and Arsenal had developed that style of play because they had played together for such a long time.
There is no magical formation or tactical style of football that wins every match. There are tactics, but the execution of those tactics requires cohesion and chemistry.
Cohesion and chemistry, as Chelsea and their eleventy-five managers can testify, cannot be bought.
Cohesion and chemistry, as Barcelona and the seven players in their starting lineup who grew up playing youth football together can testify, can only be learned.
Has Arsene lost his touch?
Wenger's preferred style of football has always been one of fluidity and dexterity, inter-relations and unconscious understanding between players.
When the ageing Arsenal team of the late-'90s began to dissipate, Wenger was in a prime position to build a team from scratch which reflected his footballing philosophy.
Over the next three years, Winterburn, Dixon, Adams and Bould retired or moved to other clubs to guarantee themselves playing time. By 2002 their places had been filled: The emergence of a youth player by the name of Ashley Cole had ticked the left-back box; a technically proficient, athletically-supreme, 21-year-old Ivorian, Kolo Toure occupied the centre of defense, along with Sol Campbell, a mutineer from the despised Tottenham Hotspur; and the Cameroonian wing-back Lauren completed the back four.
The midfield, which had lost Platt to ineffectiveness at the end of 1998, and Petit and Overmars to a raid from FC Barcelona in the summer of 2000, had replaced the Frenchman's mettle with Gilberto Silva's discipline, the Dutchman's pace with Robert Pires' quiet elegance, and added Freddie Ljungberg's pace and movement to the mixing pot. Ray Parlour was still contributing in the centre, and in 2002 added to the discipline of Brazilian Gilberto Silva.
The attack, having lost Ian Wright and sold Anelka, brought in Nwankwo Kanu and Silvain Wiltord to complement the talents of Bergkamp and a burgeoning young Frenchman, signed in 1999, named Thierry Henry.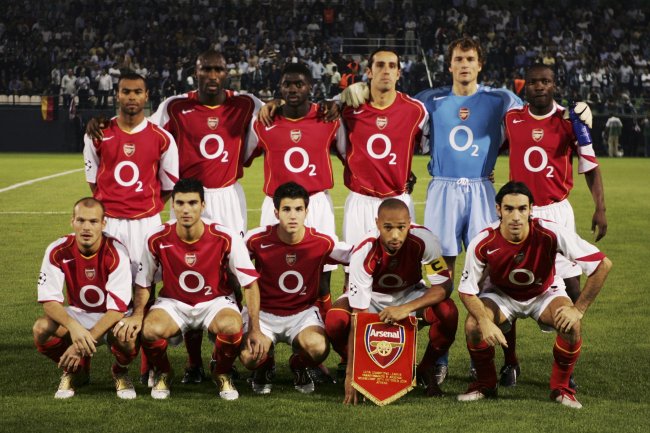 Shaun Botterill/Getty Images
In the 2001-02 season, with their new-look team, Arsenal again won the Double. They narrowly missed out on winning back-to-back titles when, in 2002-03, the Gunners lost out to Manchester United by just five points.
After this season, Wenger cautiously suggested that the side he had painstakingly assembled over the past four years could go through a season unbeaten. In 2003-04, Arsenal did just that, playing some of the most aesthetically pleasing, technically pure football ever to grace the English game along the way.
Two titles in three years, and officially the Greatest Premier League team of all time. A history lesson, but why is it pertinent?
This is why.
The starting XI of the 2001-02 season and the equivalent starting XI of the 2003-04 Invincibles season are effectively exactly the same. With the exception of the goalkeeper (David Seaman for Jens Lehmann), the core of both the teams remained almost completely untouched.
Vieira the captain was a constant, Bergkamp the creator was a constant, Campbell the enforcer, the wide men Ljungberg, Wiltord and Pires and the top scorer Henry, all constants.
The team was built, and the team grew. It grew to fruition quickly, but the influence of playing with the same group of players week-in, week-out, month by month, year by year, cannot—I repeat, cannot—be overstated.
How does this relate to Arsene Wenger's ability to build a team now? Well, let's take a look.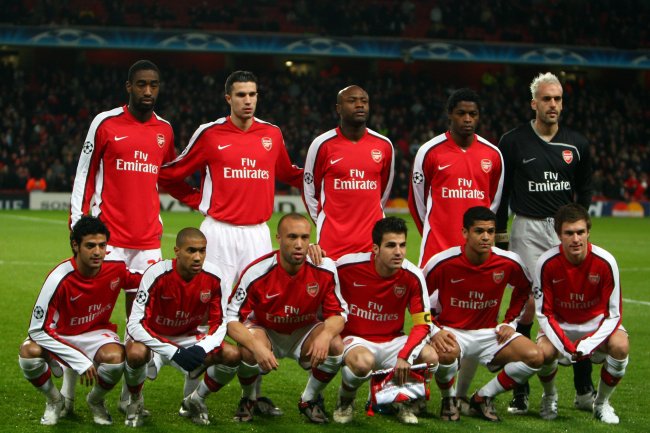 Jamie McDonald/Getty Images
This is the Arsenal starting XI of the 2008-09 season. This is the starting XI of the 2012-13 season thus far. If you get the feeling that you're looking at two entirely different teams, you're pretty much right. The only constant between the first-choice teams of these years is Bacary Sagna.
Between 2008 and 2013, Arsenal have gone through four top goalscorers (Emmanuel Adebayor in 07-08, Robin van Persie in 08-09, 10-11 and 11-12, Cesc Fabregas in 09-10 and Theo Walcott this year).
They have presented the captain's armband to four different players (William Gallas, Fabregas, Van Persie and Thomas Vermaelen).
Of the entire 25-man squad of 2008-09, only 12 players remain. And of those 12, six (Andrey Arshavin, Vito Mannone, Lucas Fabianski, Denilson, Nicklas Bendtner and Johan Djourou) have no real Arsenal career ahead of them.
The point is, football teams need to grow together. You know the old saying, "a champion team will always beat a team of champions"? It's pretty spot on.
Look at Chelsea: man-for-man, one of the most threatening attacking teams in world football; on paper, they are smashing. But the lack of continuity or solidity at the helm of the club surely means they are constantly adjusting their style of play; the conveyor belt of players in and out the door each transfer season surely means that players don't have the time required to bed in with one another.
Of the class of 2008-09, six of the players who left Arsenal were sold for fees in excess of £15 million. Four of that squad (Abou Diaby, Tomas Rosicky, Eduardo da Silva and Aaron Ramsey) were unfortunate enough to suffer injuries which kept them out of action for at least eight months.
The core of the team was torn out through a combination of misfortune, egoism and, admittedly, carelessness on behalf on the manager.
Wenger is not blameless for the dissolution of his project: he could have and should have fed his young blood with the aphrodisiac of trophies earlier. But the team was a mouthwatering prospect, and one which the Frenchman had painstakingly compiled through diligence and painstaking selection over many years. They were hardly the failure you might think them to be, given the commentary; to the contrary: They are surely the greatest Arsenal team that never was.
Even today, Arsenal stand proud in fifth place, having lost their two great young creators in Samir Nasri and Fabregas and their two great goalscoring forwards in Adebayor and Van Persie; having bought three-quarters of their attack in the summer, and thrown them together into a melting pot with barely a game's experience playing with one another.
Having recovered from their worst start to a season in 18 years, the Gunners are snapping at the heels of the Champions League with a team cobbled together over the past three years that has been scarred by injury and betrayal, which has been depleted by chequebooks and bright lights.
Wenger has spurred Arsenal into recovery after the dissipation of what was one of the most promising young teams of the modern era.
You can say what you like about Wenger's inability to keep his team together; you can say what you like about his recent ill-fated dalliances into the transfer window; you can say what you like about his suspicious, impeccably-coiffed hair. But, after the success he has shown both in adapting to his environment in 1997-98 and 2012-13, and in building his masterpiece from 2001-04, from 2006-08, you can't tell me he doesn't know how to build a team.
He has lacked time. He has lacked faith from his players and, at times, from his fans. But you can't blame the man for everything.
Part II will come out in a week or so, hopefully you will have finished reading this one by then. In the meantime, follow me on Twitter, because I'll know if you don't, and you don't want to be rude, now, do you?
;)