7 Takeways from Tuesday Night's Mardi Gras NBA Action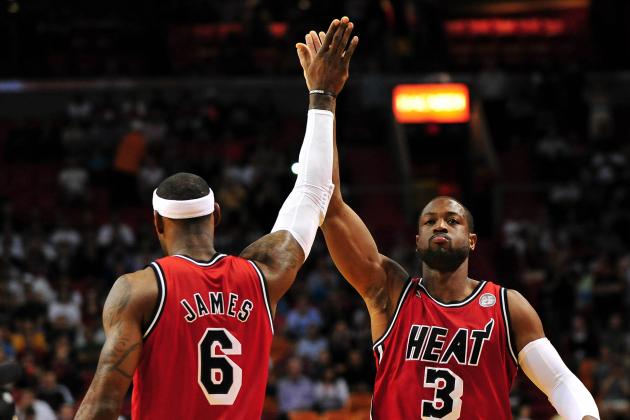 USA TODAY Sports

"Fat Tuesday" seems like a poor way to describe a night in the NBA that featured a relatively modest six-game slate.
Not that there weren't plenty of intriguing results to settle even the most insatiable of basketball appetites. There was LeBron James aiming to keep his historic streak alive, the Los Angeles Lakers looking to bounce back against Steve Nash's old squad, and the Houston Rockets and Golden State Warriors meeting in a rematch of a game that nearly turned ugly a week ago.
Not to mention another entry into the "Kevin Durant vs. Russell Westbrook" file, the end of a sneaky streak for the Memphis Grizzlies, and the Toronto Raptors and Denver Nuggets tangling in a surprisingly epic thriller.
I suppose it doesn't much matter that this wasn't the most "Gras" of "Mardis," so long as there was no shortage of excitement.
Begin Slideshow

»
You can bet the Charlotte Bobcats, Cleveland Cavaliers, Orlando Magic and just about any other team hoping for a lucky bounce of the ping pong balls in the upcoming NBA draft lottery are tracking the status of Nerlens Noel with bated breath.
The shot-blocking freshman phenom landed awkwardly on his left leg and was writhing in pain on the court during the second half of Kentucky's 69-52 loss to Florida on Tuesday.
There's no official word yet as to the nature or severity of the knock to Nerlens' left knee, though David Whitley of Sporting News reported that the big man left the arena in a wheelchair.
That's certainly not good news for the Wildcats or for the scores of NBA squads looking to pick up a big, bouncy athlete who can challenge shots. Noel is incredibly raw on the offensive end, though that's to be expected for an 18-year-old who's still growing into his 6'10" frame.
For now, the kid can rebound (9.6 boards) and protect the rim (an NCAA-leading 4.5 blocks).
That is, if his body allows him to.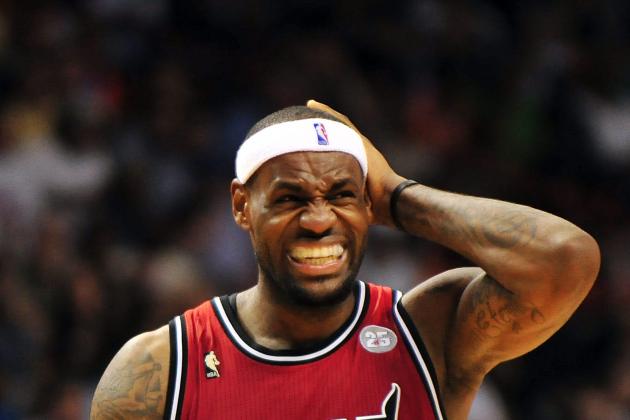 USA TODAY Sports

Was there ever any doubt that LeBron James would torch the Portland Trail Blazers' 24th-ranked defense? The guy's been on a roll all month and made sure that roll would continue with 30 points on 11-of-15 shooting to propel the Miami Heat to a 117-104 win.
With that performance, LeBron became the first player in NBA history to string together six straight games with 30 points or more while shooting 60 percent from the field or better.
All told, James is averaging 30.8 points on 71.7 percent shooting from the field during the streak.
Let me repeat: LeBron James has hit 71.7 percent of his shots over the last week-and-a-half.
But, in truly LeBronian fashion, he deferred to his teammates to pull out the victory over Portland. James attempted just one shot (a dunk) during a 16-2 run over the final 4:09 that turned a close game into a blowout.
So far, so good for the Toronto Raptors' Rudy Gay era. The former Memphis Grizzlies swingman hit his second winning bucket in his last three games to eke the Raps past the shorthanded Denver Nuggets, 109-108.
Gay's night had largely been a forgettable one up to that point. He went off for 13 points in the first quarter, but managed just two points between the second quarter and the closing minute while plagued by foul trouble.
But Rudy came through when the Raps needed him most, propelling his new team to its fourth victory in six tries since his arrival. Six games still separate T-Dot from the eighth seed in the Eastern Conference, though Gay, at the very least, lends the team some hope for making its first playoff appearance of the post-Chris Bosh era.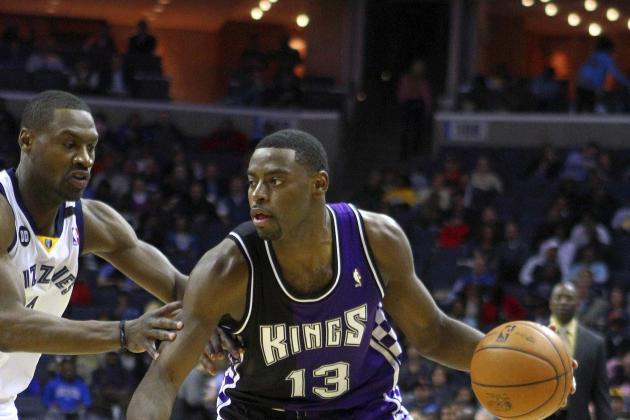 Spruce Derden-USA TODAY Sports

If moral victories counted in the standings, the Sacramento Kings would have just their second three-game winning streak of the season.
As it stands, their 108-101 loss to the Memphis Grizzlies comes with some satisfaction, and not just because they played a tough game against a postseason-bound team in the Western Conference.
More importantly, the Kings became the first Grizzlies opponent to top the 100-point plateau at the FedEx Forum all season. That snapped a Memphis franchise-record 28-game streak to start 2012-13.
Better yet, the Kings did it by committee. Six Sacramento players scored in double figures, including a pair of 20-plus-point performances from DeMarcus Cousins and Tyreke Evans.
This sort of "accomplishment" may not seem like much to most teams, but when you've struggled as mightily as the Kings have this year (both on and off the court), you pretty much have to take your encouraging signs wherever and whenever you can find them.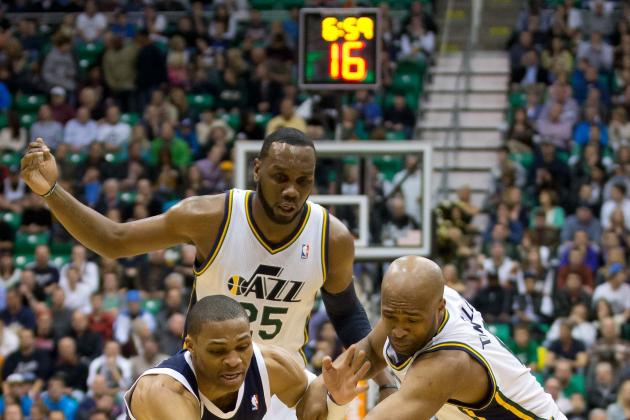 USA TODAY Sports

How is it that the Oklahoma City Thunder lost by 15 points to the seventh-seeded Utah Jazz, even when Kevin Durant scores 33 points (on 11-of-16 shooting) and chips in six rebounds, five assists and four steals for good measure?
Because...well, Russell Westbrook.
OK, so the end result wasn't entirely Westbrook's fault. After all, Utah is a solid 20-6 at home and racked up 19 more field-goal attempts (with nearly as many free throws) than their OKC counterpart with Paul Millsap and Al Jefferson going to work on the glass.
But, you know, Westbrook accounted for seven of OKC's 20 turnovers, and he's usually the one to blame. So why not feed into the narrative, right?
In all honesty, Russ' decision-making was suspect, though he can hardly be blamed for the way Utah's bigs pounded the Thunder on the interior. It's that disparity that could prove troublesome for OKC if the Thunder and the Jazz meet in the first round of the playoffs.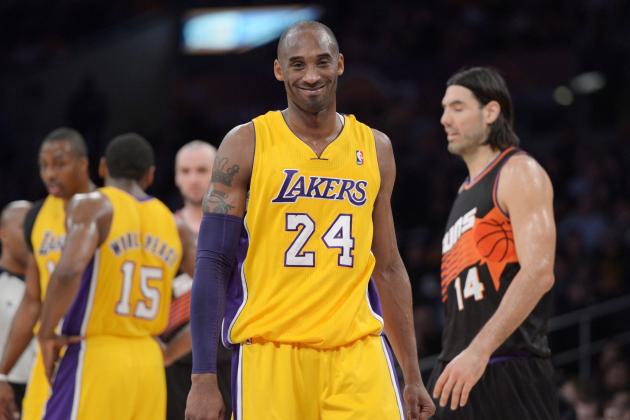 USA TODAY Sports

The Los Angeles Lakers looked to be on their way to an embarrassing home loss to the failing Phoenix Suns. The Lakers missed their final 13 shots of the third quarter on the way to being outscored 24-9 in the frame. L.A. looked lifeless and lackluster while watching a 12-point lead turn into a six-point lead heading into the fourth.
Kobe Bryant had made nary a shot from the field after passing up nearly every scoring opportunity that came his way in the first half.
Luckily, the Lakers pulled out a 91-85 win over the Suns behind a 26-14 fourth quarter and a 19-point, 18-rebound performance from Dwight Howard.
Kobe's line was a bizarre one, to say the least—four points on 1-of-8 shooting from the field, nine assists and eight turnovers in 36 minutes. It was almost as though Bryant was trying to prove a point or something.
Which, come to think of it, he just might've. Maybe he was trying to feed Howard, Antawn Jamison (19 points) and the rest of his disgruntled teammates while making every effort to visibly subjugate his own desire to score.
How else would you explain the way the Black Mamba played?
Don't get me wrong, I love watching Kobe pass and play the point as much as the next guy. But after Tuesday night, it seems to me that Bryant's better off as a scoring point guard than a pure one.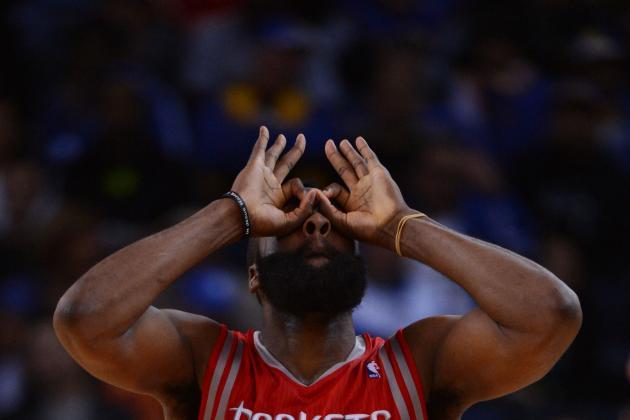 Kyle Terada-USA TODAY Sports

Remember the last time the Houston Rockets and the Golden State Warriors met?
It wasn't that long ago. In fact, it was exactly a week ago that Houston ran away with a 140-109 win. If you're a Rockets fan, you might remember that game forever after watching the team tie the NBA record with 23 three-point makes.
If you're a Warriors fan, you've probably tried to forget that abysmal performance, as well as Mark Jackson's attempt to keep the opposition from making history on his watch.
Remember when, immediately after the game, Andrew Bogut tweeted out a not-so-sneaky jab at the Rockets in anticipation of Round 2?
As it turns out, the Warriors saw the Rockets...run right past them. The game was much more competitive this time around, with Houston leaving Oracle Arena with a 116-107 win.