Nebraska Football: 5 Players Who Will Bring Blackshirts Back to Glory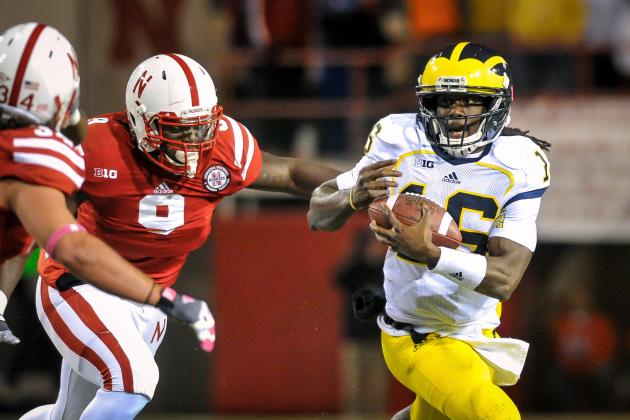 Eric Francis/Getty Images

Nebraska football fans are used to seeing dominant defensive performances. In Nebraska's glory days from the mid-90s, Nebraska's fearsome Blackshirt defense led the way to three national titles in four years. Nebraska fans learned how to "throw the bones" as the Blackshirts made another fantastic stop.
So the Children of the Corn have been disturbed, to put it mildly, to see Nebraska's defensive performance slipping in the last two years under defensive guru Bo Pelini.
Nebraska's national total defense ranking went from No. 7 in 2009 and No. 11 in 2010 to No. 35 in 2012. Even worse, Nebraska's defense was humiliated on national television last year, surrendering 653 yards to UCLA, 63 points to Ohio State, and 70 points to Wisconsin in the B1G title game.
That's nowhere near good enough for Nebraska fans expecting Blackshirt dominance. In 2013, a fully-revamped roster looks to bring a number of new faces to Nebraska's defense. Here are five of those faces who could restore the order for Nebraska's defense.
Begin Slideshow

»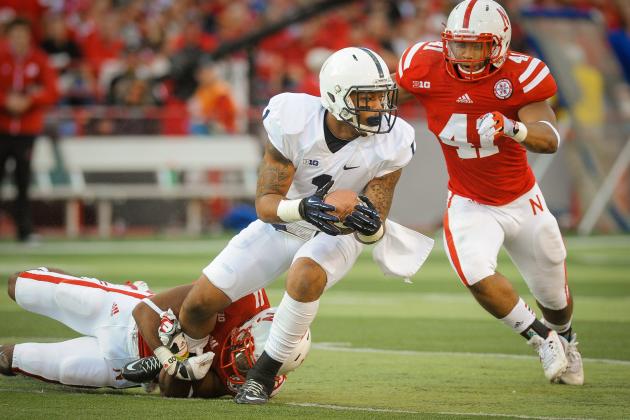 Eric Francis/Getty Images

In 2013, Nebraska will be breaking in an entirely new linebacker corps. So any in-game experience will be crucial, and Santos will have the most of it as the season starts.
Santos saw more and more playing time as the season wore on, and cut his teeth making mistakes that he should learn from (most notably against Northwestern, where it appeared that his missed assignment freed Venric Mark for a long touchdown run).
Sure, Santos will still be learning the position if he wins a starting job. But he was on the field for a reason, and his speed and athleticism were a welcome addition to a linebacker corps lacking in both last year. Santos looks to be the bedrock on which the rest of the 2013 Nebraska defense will be built.
Nebraska's secondary was a bit of a crazy-quilt last year, with Bo Pelini mixing and matching different players in different positions to find the right combination. This year looks to be more of the same, with the possible exception of Rose.
A transfer from Auburn, Rose played nine games for the Tigers as a true freshman before transferring. He redshirted last season, leaving him with three years of eligibility. Listed at 6'1" and 180 pounds on his Huskers.com bio, Rose looks to have the SEC-type size to be a fixture in Nebraska's secondary for years to come.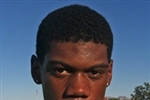 DE prospect Randy Gregory. Original located at http://bit.ly/UZpGeu
With the departure of Eric Martin, Nebraska lost its best pass-rushing defensive end. The arrival of Gregory, a junior college transfer rated No. 1 at defensive end and No. 4 overall by 247Sports.com, looks to fill that Martin-sized hole very nicely.
Gregory is a pass-rushing specialist, and his ability to disrupt an opponent's backfield should yield immediate results for Nebraska.
Gregory is coming off a season-ending broken fibula in 2012, so his recovery will be crucial. But he has three years of eligibility, so Nebraska should have Gregory terrorizing the edges for quite some time.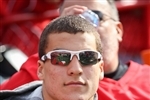 LB prospect Josh Banderas. Original located at http://bit.ly/WHM3Xc
It's hard to pin down which of Nebraska's linebacker recruits are the most exciting.
Nebraska signed three linebackers,—Courtney Love, Josh Banderas and Marcus Newby, all 4-star prospects according to 247Sports.com. In a recruiting roundtable of local experts from the Omaha World-Herald, both Love and Newby were touted as stars of this year's recruiting class.
But I'm going to take a guess that it will be Banderas who will have the biggest hand in a return to Blackshirt glory. Banderas is a Nebraska kid, a graduate of Lincoln Southwest. His father, Tom, played tight end for Nebraska .
So Banderas grew up steeped in Nebraska football tradition, culture and lore. He will understand, in a way that Love and Newby cannot, the meaning of a Blackshirt. And he has a legacy to uphold that his freshman linebacker compatriots do not.
Love and Newby are exciting prospects, and they very well could do amazing things in Lincoln. But if I have to bet on one of the three to restore Blackshirt glory, my money is on Banderas.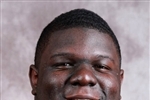 Redshirt freshman DT Vincent Valentine. Original located at http://bit.ly/VeHzWT
When Nebraska defenses under Bo Pelini have been good, they have gotten dominant performances from the defensive tackles (see Suh, Ndamukong). When Nebraska's defensive tackles have struggled, Nebraska's defensive performance as a whole has plummeted.
So Nebraska will be looking for a new star in the middle of the defensive line to fill the gap and help bring NU's defense back.
Look for redshirt freshman Valentine to be the leading candidate as that dominant defensive tackle presence. Generally, Pelini and his staff will redshirt players they think have the highest upside or need more work to see the field. With Valentine having a full offseason of training and learning the defense, he looks poised to step into an unsettled position and claim a starting role.
If you'd like to contact Patrick to schedule an interview, provide feedback or get advice on which type of chocolate goes best with fresh fruit (spoiler alert: dark), send an e-mail to patrickrunge@gmail.com.
Or, you could always...Follow @patrickrunge.