Houston Rockets vs. Golden State Warriors: Live Score, Results and Highlights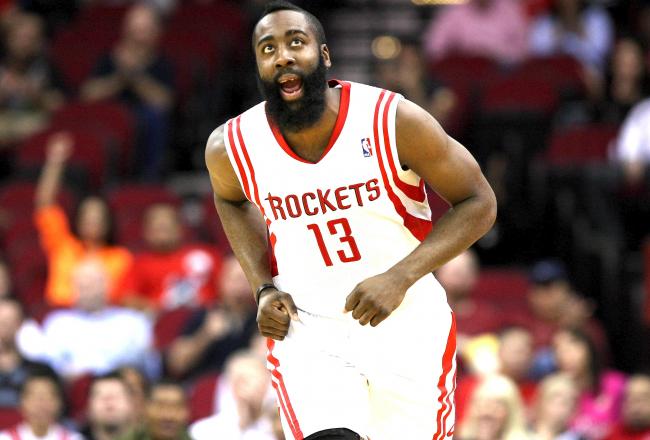 The Rockets scored a big victory in a tough venue to play in, and they handed the Warriors their fifth straight loss heading into All-Star weekend. For a team that has thrived this season, it's not the greatest transition to the second half of the NBA season.
These were the factors that led to the Warriors' loss:
1) Too much fouling: James Harden and Jeremy Lin continually got to the line because the Warriors bigs weren't going straight up and were reaching too much.
2) Lackadaisical perimeter defense: Harden seldom has a problem getting to the basket, and he really didn't tonight either. His jumpshot was off the entire night, but both he and point guard Jeremy Lin were consistently able to split defenders and get into the lane.
3) Poor Third Quarter: The Warriors turned the ball over six times in the third quarter and they were out-scored by eight in the period. The deficit proved to be too much to overcome in the fourth, and Warriors coach Mark Jackson did everything he could to prevent it, leaving starters in foul trouble on the court.
ROCKETS 116, WARRIORS 107 — FINAL
If a game isn't close, I'd prefer a total blowout. These games where the team has a remarkably slim chance of coming back are the most annoying because who wants to sit around for ten minutes while one minute elapses on the game clock and there's an endless parade to the free throw line?
I love basketball. A lot.
But that strategy isn't basketball, and it's bothered me as long as I've played and watched.
ROCKETS 114, WARRIORS 104 — Under 1 Minute in Game
A James Harden shot clock beating three puts the Rockets up by 13 with under two minutes to go. Dagger; doing it the Harden way. And so on.
The Rockets are rapidly evolving into the type of team that none of the upper seeds want to draw in the 2013 NBA Playoffs.
ROCKETS 114, WARRIORS 103 — 1:43 4th — Let the foul fest begin.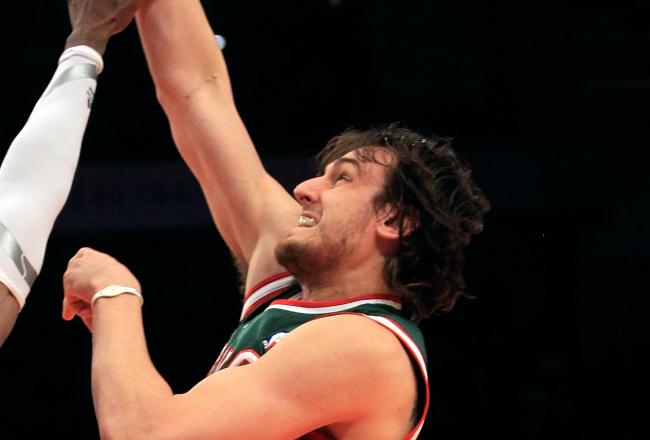 Andrew Bogut is beginning to get back into game shape again and played a nice game tonight in 27 minutes of play, but was removed from the game with about three minutes to go.
There was a minute restriction on Bogut as he continues to recover from the micro-fracture surgery he had last spring, and it's unclear whether his exit from the game is due to that or because Mark Jackson feels the Rockets have this one wrapped up. It's most likely the former, but the Warriors will miss Bogut's defense and passing ability while Draymond Green plays the crunch time minutes.
Bogut had six points, 12 rebounds, four assists and a block.
ROCKETS 109, WARRIORS 101 — 2:33 4th, TV Timeout
The Warriors are giving up too many offensive rebounds and are being out-hustled for loose balls. The Rockets have nine offensive rebounds and god-knows-how-many loose balls they've beat the Warriors to.
So much emphasis is placed upon shooting, passing, and other offensive aspects; but it's often hustle and other seeming minutia (box out anyone?) that end up making the difference between closely matched teams.
ROCKETS 107, WARRIORS 97 — 5:30 4th
David Lee picked up a silly reaching foul as Patrick Beverley corralled a rebound. It was Lee's fifth foul, but Mark Jackson made no move to take the forward out of the game.
When down by nearly double-digits, Jackson really has no choice but to leave his best five on the court.
ROCKETS 104, WARRIORS 95 — 6:19 4th
The Rockets are a young team blossoming before our eyes. Anyone who thought the team would struggle indefinitely on the road didn't consider the fact that young players mature over the course of an NBA season.
They've handled the crowd at Oracle well, which is known to be among the NBA's loudest and most supportive.
ROCKETS 99, WARRIORS 93 — 7:30 4th
The Warriors have cut the lead to six with a ton of time left. Again, given the pace of this game, a six point lead is nothing and can easily be overcome in the span of a minute. I don't think I'm telling anyone anything they don't already know if they've observed the Golden State Warriors over the last decade.
Even with different coaches coming through the organization the team continues to run, run, run.
It's part of the Bay Area culture, I think.
ROCKETS 95, WARRIORS 89 — 8:56 4th
The Rockets have both their starting guards out of the game, which seems dangerous given the fact that they're responsible for generating most of the Houston offense.
Chandler Parsons, a small forward, is again matched up with Jarrett Jack (PG). Patrick Beverley is running the point on offense.
ROCKETS 93, WARRIORS 86 — 10:00 4th
The Rockets out-scored the Warriors 31-23 in the third quarter, as James Harden hit 3-of-6 from the floor in the period after struggling mightily the entire first half. Strangely, the better play coincided with the ankle tweak that he suffered.
The Warriors have their work cut out for them, but in a game as fast paced as this one has been a nine point lead is by no means entirely safe for Houston.
ROCKETS 88, WARRIORS 79 — End of 3rd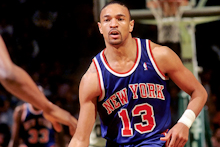 With five turnovers in the quarter, Warriors coach Mark Jackson has to be pondering inserting himself into the game to handle the ball.
Jackson always kept his turnovers low as a player. He averaged eight assists per game over his NBA career, while averaging just 2.4 turnovers per game. The Warriors could use that right now...it's a pity Jackson is 47 years old and nearly a full decade removed from his time as a player.
ROCKETS 86, WARRIORS 77 — 1:12 3rd, Timeout in Play
And James Harden is back on the court. Good news, great news, fantastic news for Rockets fans. It would have been a pity to see the ankle tweak keep the NBA's fifth leading scorer out of his first All-Star game.
ROCKETS 80, WARRIORS 73 —3:11 3rd
Andrew Bogut proves that timing and anticipation is more important than leaping ability when blocking shots. Bogut consistently blocks and changes shots just by being in the right place at the right time.
Being a 7-footer doesn't hurt either, of course.
ROCKETS 75, WARRIORS 69 — 5:25 3rd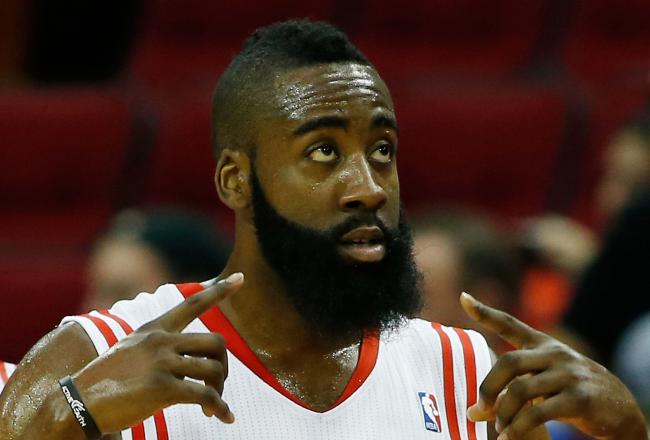 James Harden just suffered what could potentially be a high ankle sprain when landing awkwardly on Stephen Curry's foot in transition. Harden tried to walk it off, but was unable to shake the injury and gingerly walked back into the locker room.
Strangely enough, if Harden is unable to play in the All-Star game due to injury, the guy who replaces him could be the guy whose foot he stepped on.
Coincidence or irony?
Hardly funny either way.
ROCKETS 71, WARRIORS 67 — 7:09 3rd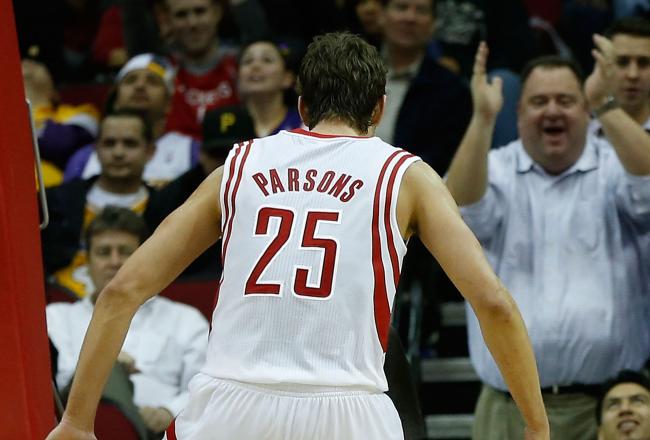 Both coaches made defensive adjustments and put their respective small forwards on the opposing team's point guard.
They're alternating the matchup, but Harrison Barnes has been covering Jeremy Lin at times, while Chandler Parsons is trying to slow down Stephen Curry.
It's a strategy that has seem to have caught on more this year around the league (Orlando coach Jacque Vaughn did the same on Damian Lillard on Feb. 10), or perhaps I'm just finally noticing it after 22 years of playing and watching basketball.
ROCKETS 69, WARRIORS 67 — 7:10 3rd
One of the things I've never understood about some players is why they don't adapt to the inadequacies of their teammates. Chandler Parsons zipped an 80 mph pass through the defense at Omer Asik, who has been known to have trouble catching ordinary passes, nevermind the speeding bullet variety.
It's only a great pass if your teammate can catch it.
ROCKETS 65, WARRIORS 63 —8:18 3rd
Stephen Curry is playing with four fouls, but with a backup as good as Jarrett Jack it's a risk that Mark Jackson can take.
ROCKETS 63, WARRIORS 63 — 9:45 3rd
Klay Thompson begins the second half with a nice triple from the right wing. It seems James Harden is conserving almost all of his energy for the offensive end, which is a big mistake with a shooter like Thompson who is capable of getting hot and staying hot.
WARRIORS 61, ROCKETS 61 — 10:43 3rd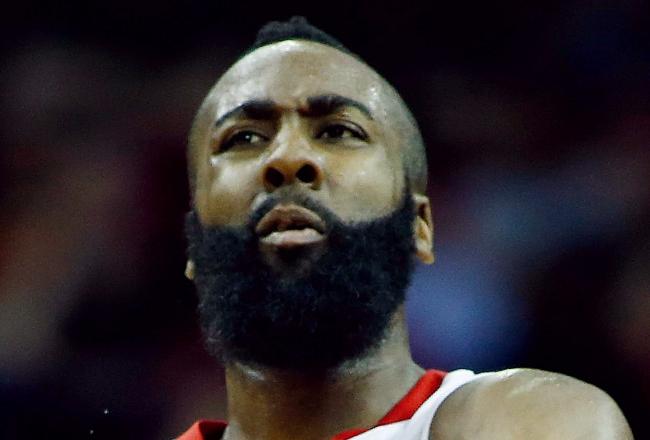 James Harden is just putting his head down and going to the basket. I've covered the Rockets probably a dozen times for B/R, and this is the most selfish game I've seen the 2-guard play this season.
The fact that he's shooting so horribly is likely contributing to this feeling.
Despite Harden being 4-of-15 from the field, the Rockets still find themselves up by a point. However poorly Harden may be shooting from the field, he and Jeremy Lin are having no trouble getting to the free throw line and the duo has yet to miss a free throw in 15 combined attempts.
The Warriors backcourt is doing damage, too, as Lin and Harden's defensive assignments Stephen Curry and Klay Thompson have combined for 27 points, as well.
This is a battle of the backcourts—and every bit as exciting as billed.
ROCKETS 57, WARRIORS 56 — Halftime
David Lee and Andrew Bogut function so well as a big man combo. Both are capable mid-range shooters, good passers and very tough on the boards.
And they're both underrated by most fans and analysts. When watching them operate, it's no wonder that the Warriors are in the thick of the Western Conference playoff race.
Lee's pass to a cutting Stephen Curry was on-point and well-timed. You don't always see that from 6'10" power forwards.
ROCKETS 55, WARRIORS 53 — 58.1 seconds in half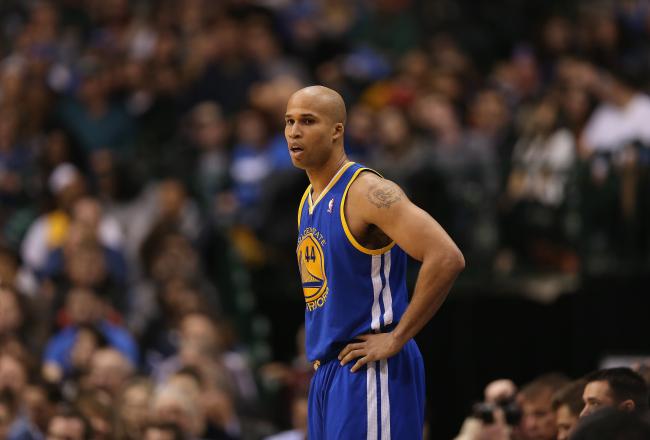 It's hard to believe that at the beginning of the season some thought Richard Jefferson may be the starting small forward for the Warriors this season.
As good as Harrison Barnes has been thus far, the washed up Jefferson seems like a distant memory as an NBA starter. Jefferson was a great dynamic player in his prime, but has played just four minutes tonight and is a frequent contributor in garbage time when the Warriors blow teams out.
It's just sad to watch great athletes decline, and Jefferson's skill set was never so astounding that it rendered him the type of guy who could succeed in advanced age like Grant Hill, Chauncey Billups, Jason Kidd, and so on and on.
ROCKETS 51, WARRIORS 49 — 2:52 2nd
If you subtract James Harden's awful 3-of-13 shooting, the Rockets are shooting 58 percent from the floor (14-of-24).
ROCKETS 51, WARRIORS 49 — 3:01 2nd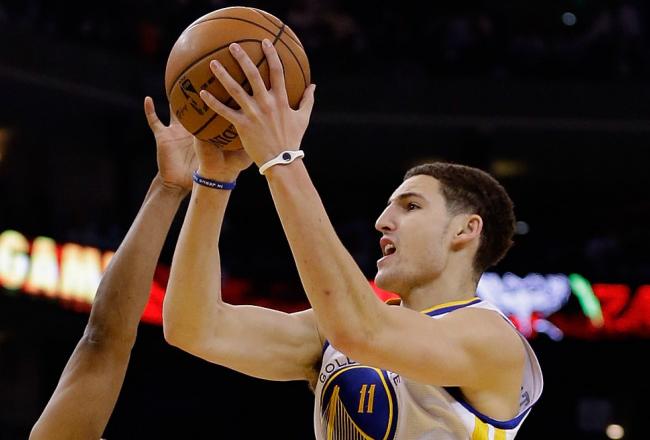 I'd be hard pressed to say James Harden has been out-played by Klay Thompson, but to assert such isn't ludicrous tonight. Thompson has 12 points on an efficient 5-of-9 from the floor, while Harden has taken more shots (11) and got to the line, yet has two fewer points.
Yes, Harden is impacting the game by drawing significantly more attention than Thompson when he has the ball, but the second year Warriors guard has done a very admirable job of defending the NBA's fifth leading scorer tonight.
WARRIORS 45, ROCKETS 45 — 4:49 2nd
The Houston Rockets are 5-of-12 from behind the arc and that's keeping them in the game. It's surely not their seven turnovers that have enabled them to keep pace with the Warriors, while forcing only two turnovers themselves and only having a plus-2 advantage on the boards thus far.
WARRIORS 45, ROCKETS 43 — 5:43 2nd
You can almost read the expression on Stephen Curry's face.
It is as if to say, "They're giving Jeremy Lin star treatment?"
Curry's foul on Lin in the paint was nearly non-existent, and Lin has been the recipient of several questionable whistles so far.
WARRIORS 44, ROCKETS 40 — 6:29 2nd
This article is
What is the duplicate article?
Why is this article offensive?
Where is this article plagiarized from?
Why is this article poorly edited?

Golden State Warriors: Like this team?