Portland Trail Blazers vs. Miami Heat: Postgame Grades and Analysis for Miami
USA TODAY Sports
LeBron James' will be done.
The Chosen One chose to play his way into the record books against the Portland Trail Blazers, leading the Miami Heat to their 35th victory of the season.
While the Heat won by 13 points (117-104), the game didn't get away from Portland until the waning minutes.
South Beach's finest fell behind early, but a late surge in the first half allowed them to cut the lead to one heading into halftime. From there, it was a game of back-and-forth until the latter half of the fourth quarter when Dwyane Wade and James took over.
Damian Lillard and LaMarcus Aldridge torched the Heat's porous defense, but the trio of Chris Bosh, James and Wade was simply too much. Miami's Big Three combined for 86 points, and inside of five minutes in the final period, the Heat ran away and never looked back.
Well, maybe LeBron looked back.
He had to make sure that he made history, after all.
Point Guard: Mario Chalmers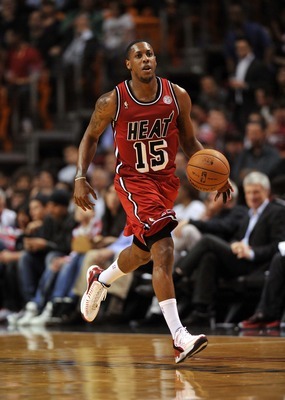 USA TODAY Sports
Grade: C
You never know what form of Mario Chalmers you're going to get. Either he's an aggressor or a passive distributor who defers without any intent to direct.
Guess which version showed up against the Blazers?
Chalmers scored just five points on 2-of-5 shooting from the field in 34 minutes of action. He did dish out four assists, but I wouldn't call his performance on offense one that promoted ball movement.
Normally an OK defender, Chalmers played some lazy defense. Watching, one might have thought he was attempting to play some commanding defense, but the contact he drew was the result of his lethargy, not effort. He went for steals instead of moving his feet and had trouble keeping pace with Damian Lillard and the rest of Portland's backcourt.
Somehow, Miami was a plus-41 with their point man on the floor, but all that really tells us is those metrics don't always tell the whole story.
Why?
Because Chalmers bordered on non-factor in this one.
Shooting Guard: Dwyane Wade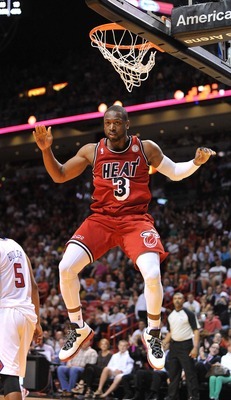 USA TODAY Sports
Grade: B-
Dwyane Wade's night wasn't pretty by any means.
He shot just 8-of-18 from the field for 24 points. Recognizing that his shot wasn't falling, Wade did opt to defer more often than not, but his angles were off, as was his handles, and he coughed the ball up four times.
A decade into his career, and I can't help but still marvel at how much work Wade's jump shot still needs. He's usually able to hit the mid-range jumper and overshadow his deficiencies from the outside, but old faithful wasn't exactly falling here.
Plenty of Wade's shot fell short, and few seemed to have any arc on them at all; most were line drives.
Offensive struggles aside, though, Wade played some serious defense. He grabbed nine rebounds, forced one steal and blocked two shots.
A mark of a good player is their ability to make their presence felt no matter what. Outside of the fourth quarter, Wade's presence was almost nonexistent on the offensive end. Defensively, though, he was able to make some great plays both on and off the ball, which helped get the Heat back in the game.
No, this wasn't his finest performance, but Wade got the job done.
Ugly or not, that's all that matters.
Small Forward: LeBron James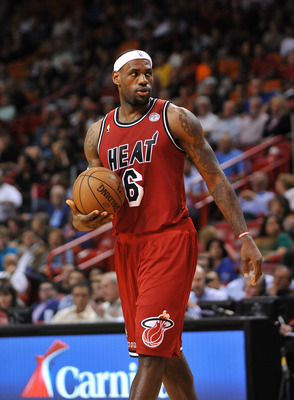 USA TODAY Sports
Grade: A
All LeBron James does is break records.
With 30 points on 11-of-15 shooting from the field, James became the first player in NBA history (via Elias Sports Bureau) to score 30 or more points on 60 percent or better shooting from the field. And believe me when I say the Heat needed every point he scored.
They needed his defense, which was sensational as well. LeBron forced three steals, grabbed six rebounds and even blocked two shots (though one should have been goaltending).
After nine-plus years of James-fueled accolades, you'd think the excitement would wear off, but the Miami faithful exploded late in the fourth when LeBron all but iced his spot in history.
Never, at any point during the game, did you get the sense that the weight of making history was getting to James. He wasn't selfish in his offensive maneuverings; he was just the opposite. He dished out nine assists, but also didn't hesitate to hoist up a jumper if it was available to him.
Considering he was going for a record predicated on exuberant efficiency, it was refreshing to see LeBron continue to play his game. Making tactical adjustments would be understandable under these circumstances, but as he always does, he let the plays come to him and seized them when they did.
And the results speak for themselves over the last six games.
Just like they have for the past 10 years.
Power Forward: Udonis Haslem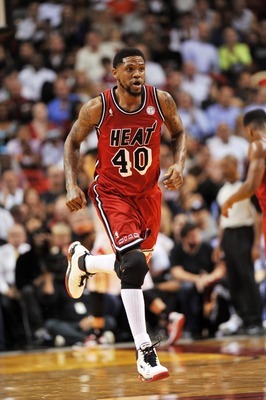 USA TODAY Sports
Grade: Incomplete
Udonis Haslem played just nine minutes through the first two quarters and didn't return in the second half.
Per Ira Winderman of the South Florida Sun-Sentinel, he suffered a contusion on his lower right leg:
Udonis Haslem done for the night with a contusion on his lower right leg.

— Ira Winderman (@IraHeatBeat) February 13, 2013
Before his removal, Haslem converted on the only shot he took and even added a block. He didn't grab a rebound, which even in just nine minutes of action is out of character for him.
No timetable has been set for his return to the court, nor has it been determined if he'll miss any time at all.
But fear not citizens of Miami. If he's forced to miss extensive time, there's always Joel Anthony.
Center: Chris Bosh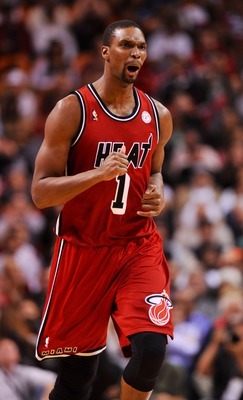 USA TODAY Sports
Grade: A
So that's why the Heat hang on to Chris Bosh.
The power forward turned center was an absolute monster in this one. He dropped 32 points on a ridiculous 81.3 percent shooting from the field and just found holes in Portland's defense in general.
Bosh's defense wasn't an eyesore either. I'd still like to see him do a better job of contesting shots, but he's developed great hands and his rotations were more than dependable. He came up with two steals in the game as well.
What I was most impressed with was Bosh's success both scoring and rebounding the basketball. He's struggled all season to remain involved on the glass and put points on the board simultaneously, but not here. He grabbed 11 rebounds, three of which came on the offensive end, and he was just visibly more cognizant of his surroundings when boxing out.
I'm not saying Bosh needs to score 30-plus points a night, but this level of aggression is the one Miami needs from its big man every night.
It's also one we would prefer to see as well, since it's performances like these that remind us why he was selected to yet another All-Star Game.
Sixth Man: Ray Allen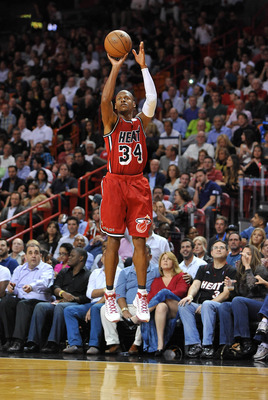 USA TODAY Sports
Grade: B-
Ray Allen was "eh" in this one.
He scored 14 points but shot just 5-of-11 from the floor. He did hit on 50 percent of his deep balls, but that's an occurrence we've come to expect from the NBA's leading three-point shooter.
Defensively, Allen wasn't horrible. He came up with two steals and provided some nice help defense on a few possessions.
Still, his performance lacked that added punch that it usually has. Allen wasn't a failure in the fourth quarter by any means, but in a closely contested game, he usually hits a multitude of big shots. He actually missed a few big ones here.
It's difficult to chide Allen too much, though. He was one of the bright-ish spots coming off a dreary Miami bench (spoiler alert).
Rest of Bench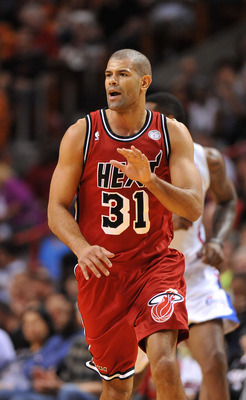 USA TODAY Sports
Grade: D
This has become all too familiar a grade for the Heat bench.
While I understand Miami's success is predicated on star power, not depth, this is getting a bit ridiculous.
Shane Battier stepped up and played some solid minutes on either end of the floor, but outside of him and Allen, the "second unit" was a disaster.
Joel Anthony played just 13 minutes but picked up three fouls, and Norris Cole played just 16 but picked up five. Are you kidding me?
To make matters worse, neither of them pitched in any points. In fact, no one outside of Allen and Battier pitched in any points.
Of the eight bench players who saw time in this one, just three attempted any shots, and just two connected on any of their shots. Though I get the Heat don't expect much from most of their supporting cast, I really would like to see guys like Cole and Anthony (defensively) make the most of their minutes.
I'd also still like to see more of Chris Andersen. His playing time has been too inconsistent since his arrival. I'm stoked that he'll be in South Beach for the remainder of the season, but I'd be more jubilant if we could get an extensive look at what he brings on defense.
Alas, the bench continues to be of little significance and seldom used by the Heat.
I suppose that's just the luxury you're granted when LeBron James is breaking records.
Keep Reading

Miami Heat: Like this team?