10 Best Promotions at Target Field in 2013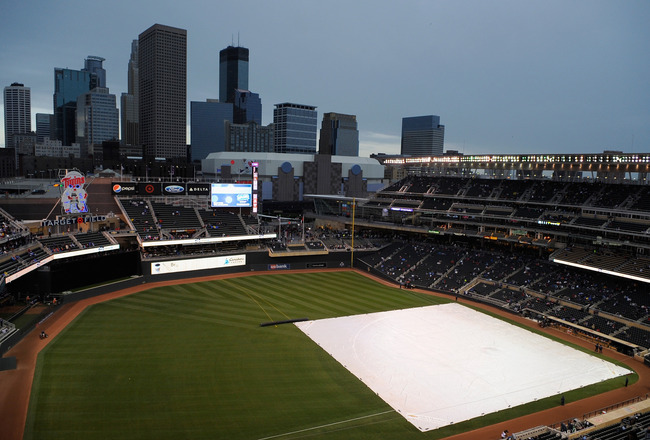 Hannah Foslien/Getty Images
Last year, there was an outcry at Target Field and it wasn't about the play on the field. Okay, there was just a lot of plain ol' bawling about the play on the field last year. Anyway…
In 2012, the Minnesota Twins did not give away a bobblehead, and by the end of the year, fans weren't even showing up to the building, but that might be due to the play too, actually.
No matter how the 2013 Minnesota Twins fare on the field, one thing is for certain, bobbleheads are back!
For that fact alone the Twins should be planning their parade route!
I was thinking, it should start right on University Avenue in the middle of the University of Minnesota's campus and just meander its way down to the Dome, just for kicks.
April 22 – Twins Rain Gauge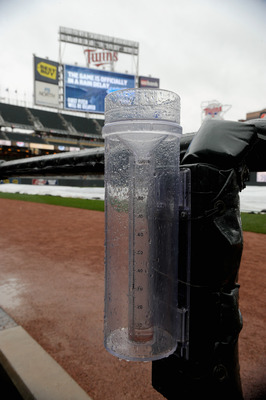 Hannah Foslien/Getty Images
Ha! I get it!
See the MInnesota Twins don't play in the Hubert H. Humphrey Metrodome anymore, so rain outs are possible!
Oh, we are so funny!
This is only the third season outside, the Twins can milk the new stadium for a long time!
In all seriousness though, this is a pretty cool promotion. A rain gauge is very practical. It is kind of ironic and it's unique. It's not just another baseball cap day.
And it's Minnesota, if you don't want your rain gauge, I'm sure you know a farmer that would love another rain gauge.
April 25 – Glen Perkins Fishing Lure

A former edition of the Twins lure. Photo from: http://www.ebay.com/itm/Minnesota-Twins-Rapala-Fishing-Lure-SGA-Limited-Edition-5000-/181058471255?pt=US_Baseball_Fan_Shop&hash=item2a27ed0557
The Minnesota Twins have been giving out fishing lures for a while, but it's still unique enough to have some cool factor left. It goes along with the 'Land of 10,000 Lakes' motto I get stuck reading when I'm stuck in traffic on 35W.
But there is a deeper connection. The ballpark is a very calming place and so is being on the lake, why not combine the two? It can only bring out additional glee.
Putting a native Minnesotan on the lure is a nice little move too.
April 27 – WE Fest Cowboy Hat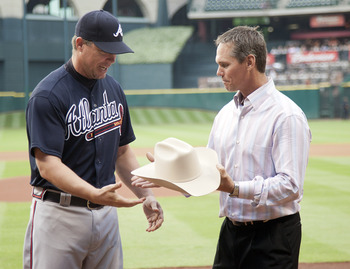 Here Chipper Jones is getting a cowboy hat, so it's going to be kind of like this.
Bob Levey/Getty Images
Target Field and country music go together like a hand and a glove. Kenny Chesney is coming back to Target Field for the second consecutive summer in 2013. Opening for Chesney is the Zac Brown Band instead of Eric Church, who opens for Chesney on most other stops on the tour.
(Nothing against Zac Brown Band, but C'mon man, gotta bring Eric Church)
Anyway, this cowboy hat give-away is a promotion for WE Fest in Detroit Lakes, Minnesota where there will be the likes of Keith Urban, Carrie Underwood and oh-would-you-look-at-that Eric Church as headliners.
Cowboy hats are always fashionable and are nice to wear during a rain delay. I was one of the lucky ones to get the hat and experience a rain delay in what ending up being, and you guessed it, a Minnesota Twins loss.
NOTE FOR THE LADIES: If you plan on wearing the hat at the park that day make sure your hair will work with the hat. You'll thank me later.
April 28 – Josh Willingham Silver Slugger Bat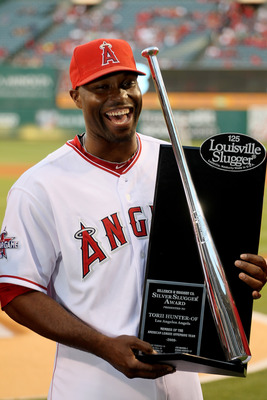 Kids will have that Torii Hunter smile when they get their Josh Willingham bat.
Stephen Dunn/Getty Images
Once a year, there's always a promotion that I wish I was 14 and or younger for, and this is the one for 2013.
2012 saw Josh Willingham put down the hammer and bring home a Silver Slugger Award. The first kids to waddle through the gates at Target Field on April 28 will get a bat.
I assume this bat will be silver, and therefore, will be awesome.
The great thing is that this isn't even the best Josh Willingham promotion of the year...
May 10 – Josh Willing"hammer" Bobblehead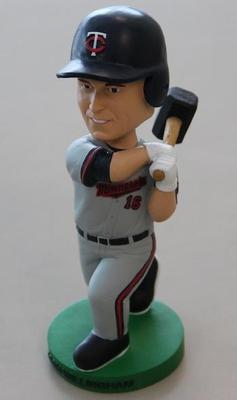 Photo from: http://bizj.us/n3gd1/i/1
Most bobbleheads have the player with a bat or a glove or, if you're Doug Mientkiewicz (now the current manager of Single-A Fort Myers), a piece of bubblegum, but not Josh Willingham.
Nope, not the Hammer! Willingham will be wielding a sledge hammer with this bobblehead.
It may not exactly look like him, but you'll definitely know who it is by the number on his jersey, his name on the base, and the fact that he's holding a freakin' hammer!
May 14 – Twins Fleece Blanket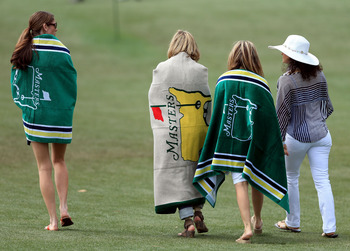 A tradition unlike any other, blankets.
David Cannon/Getty Images
Here comes my soft side. And I know with my curmudgeon ways, it may seem like a front, but I'm not afraid to say that I love blankets. They keep me warm and they like my Snuggie jokes, which is good because I have a lot of them.
Here I again joke about another very practical promotion. Now that the Minnesota Twins are out in the elements of Minnesota weather, a blanket may well be needed somewhere during the season.
Sure it could be 100 degrees on Opening Day, but it could also be about 15 degrees as well.
As a side note, these cold temperatures could also affect a playoff run and a World Series appearance, but practicality has really become a factor in this slideshow.
July 19 – Mauer/Morneau Double Bobble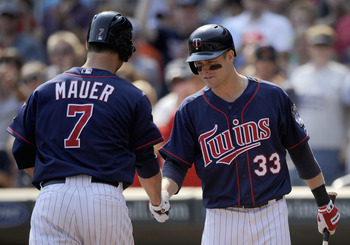 Something like this?
Hannah Foslien/Getty Images
I don't really know how this bobblehead is going to work.
There are really a lot of possibilities on how the two MVPs can be situated: back to back, shaking hands like Minnie and Paul, action poses, a scene from Mauer's wedding this offseason, conjoined Twins?
However the two are positioned, I'm sure it'll be a popular item, since both are still probably 1-2 in the popularity poll amongst Minnesota Twins fans.
I'd also like to point out that this promotion is before the July 31 trade deadline. I'm not saying anything about Justin Morneau, but I'm just saying.
August 16 – Aviator Sunglasses and Shell Necklaces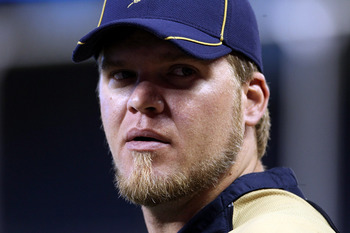 This is Corey Hart. Read on, my friends.
Marc Serota/Getty Images
This promotion would only be better if the Minnesota Twins were playing Corey Hart and the Milwaukee Brewers on August 16, and if you got that reference, you and I can truly be friends.
Okay, there is another Corey Hart who is a one-hit (two-hit technically) wonder who sang a song titled 'Sunglasses At Night'. I'm a geek…
This promotion is perfectly placed right at the end of summer and right before college courses commence. These aviators and shell necklaces will make you think of those long summer nights and moon-lit walks on the beach.
Summer loving, had me a blast. Summer loving, happened so fast…
September 13 – Blaze Orange Camo Cap
Orange.
Gregory Shamus/Getty Images
For those who need to be seen, this is the promotion for you. No one will miss you walking down Nicollet Mall in this blaze orange cap, and more importantly, no one will mistake you for a deer out in the woods.
For each lake that Minnesota has there are about five hunters who need some more orange in there wardrobe. Anything to get the big one, folks.
May 31, July 3 & August 2: Fireworks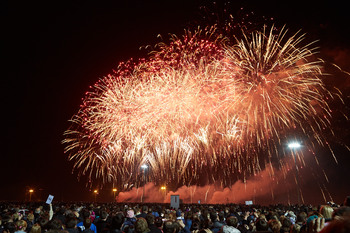 Oleg Nikishin/Getty Images
Is there anything more patriotic than fireworks at a baseball stadium while eating a hot dog?
Well, actually, fireworks at a baseball stadium while Bruce Springsteen shreds on stage while eating a hot dog is more patriotic, but I assume the Boss is booked far in advance.
Fireworks aren't something you can take home, other than the echo in your ear if you're close enough, but we Americans sure do love them. Reds and blues, oohs and awes, and the pointing out of which ones look like Whoopi Goldberg's hair is just something grand.
You have three chances to see fireworks at, in my biased opinion, the best ballpark in America. I'm going to take advantage with an iPod full of Springsteen tracks ready to go.
Keep Reading

Minnesota Twins: Like this team?