6 NBA Players You've Completely Forgotten About During 2012-13 Season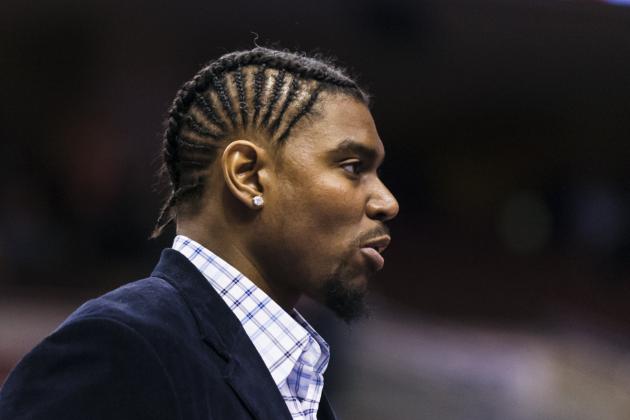 USA TODAY Sports

In the segmented world of the NBA, there isn't a more undesirable characterization than being equal parts inept and boring.
For the successful franchises, wins foster media attention and fan discussion. It's not a fluke that teams like the Oklahoma City Thunder, Miami Heat and New York Knicks save their fans from an NBA League Pass subscription with a host of nationally televised games.
Other teams have maintained their relevance thanks to their storied history (Los Angeles Lakers) or the arrival of new faces (Toronto Raptors).
But some clubs have just had difficulty making any headway in either the conference standings or in the national forum.
For many of these franchises, the wounds are self-inflicted. Be it personnel mismanagement, dastardly draft picks or a frugal approach to the hardwood, these teams have effectively restricted themselves from the NBA radar.
Some of these six players have inherited the worst effects of this collective irrelevance. Others have simply drifted to the basketball back burners with season-derailing injuries.
Begin Slideshow

»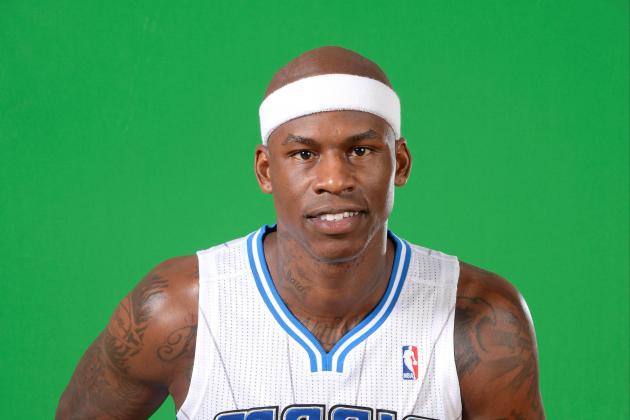 Brad Barr-USA TODAY Sports

After undergoing left knee surgery and suffering a subsequent staph infection, Harrington's Orlando Magic career has been reduced to nothing more than a few preseason photos in the uniform.
One season after posting 14.2 points and 6.1 rebounds per game as a valued contributor off George Karl's bench with the Denver Nuggets, he has yet to play a single game with his new franchise. Brooke Thomas of FoxSportsFlorida.com floated a report on Jan. 21 that said Harrington was close to a return but stopped shy of offering a timetable. Thomas noted that the big man had been participating in strenuous individual drills after the team practiced.
Still, he's yet to return to action. With the Magic (15-37) crashing toward the bottom of the Eastern Conference, there's no reason to rush him back.
Orlando faces a massive rebuilding project, and Harrington's return presents two problems. For starters, he'll presumably improve the team's level of play, which could lead to more wins—and worse draft positioning. Also, any minutes given to Harrington would likely come at the expense of rookies Andrew Nicholson and Kyle O'Quinn, stunting their development.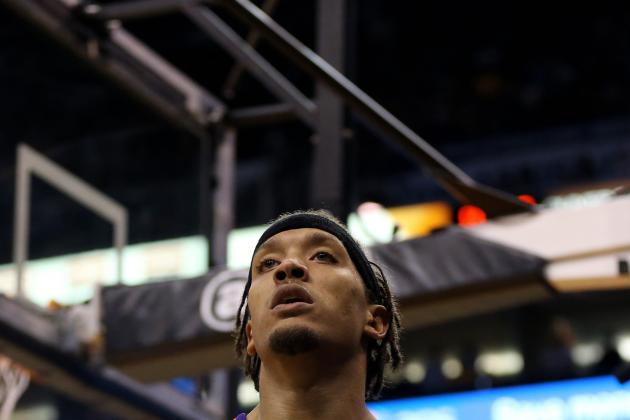 Mark J. Rebilas-USA TODAY Sports

Beasley landed in Phoenix over the summer by way of a three-year, $18 million contract. He was one of several misguided signings by the Suns front office in an effort to delay the inevitable rebuilding project that loomed over the franchise after the departures of Steve Nash and Grant Hill.
The reason for the signing was obvious: The Suns needed star power. The second overall pick in the 2008 NBA draft hadn't quite extinguished his potential despite three frustrating seasons in his first four years.
The problem for Phoenix (and Beasley) is that it has since become obvious why he was even available. After a successful 2010-11 season with the Minnesota Timberwolves (19.2 points and 5.6 rebounds per game), Beasley plummeted back to earth with a dreadful 2011-12 campaign (11.5 points and 4.4 rebounds).
And his first year in the desert has gone even worse. He's set career lows nearly across the board, including an unsettling field-goal percentage (40.0) and paltry playing time (22.5 minutes per game). He's been a reserve (29 games) more often than a starter (20), a troubling sign for his "star" potential considering he plays for the worst team in the Western Conference (17-36).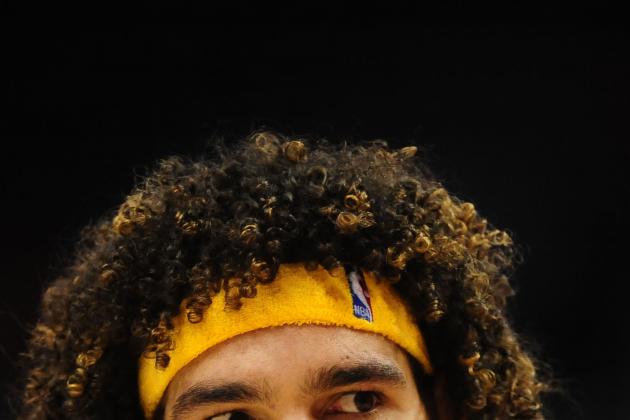 Mark J. Rebilas-USA TODAY Sports

Life couldn't have been any sweeter for Varejao on Dec. 18, 2012.
He was fresh off a brilliant 22-point, 10-rebound performance against the Toronto Raptors (his fifth 20-10 effort of the season). The 30-year-old was well in the midst of his breakout campaign, setting career highs in points (14.1 per game) and rebounds (14.4).
But disaster struck just three days later. A nagging ankle injury had forced some extended time in the trainers' room, but that was nothing like what confronted him next. The Cleveland Cavaliers announced that their center had developed a blood clot in his lung and would miss the remainder of the season (via USA Today).
While he's assuredly remained in the collective thoughts of the basketball world, the Cavs' improved play without him has left him largely an afterthought.
Cleveland hasn't exactly emerged as a postseason contender in his absence. But after posting a 5-20 record with Varejao anchoring the interior, the Cavs have since rattled off a relatively impressive 10-17 record since that fateful announcement.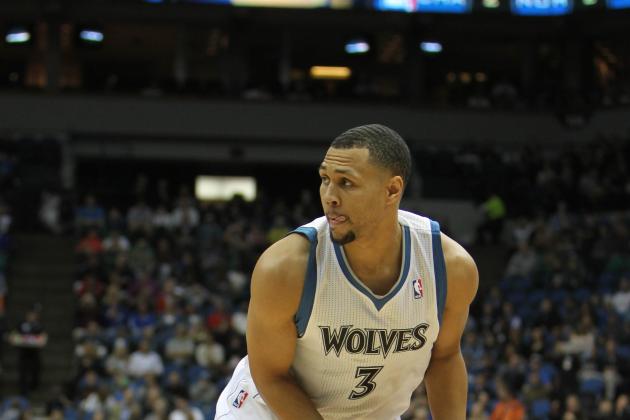 Brace Hemmelgarn-USA TODAY Sports

It was never supposed to end this way.
Outside of the blockbuster summer acquisitions by the Los Angeles Lakers (and perhaps Ray Allen's shunning of the Boston Celtics), the return of Brandon Roy was the story of the offseason. The three-time All-Star inked a two-year, $10 million deal with the Minnesota Timberwolves less than 12 months after announcing his injury-driven retirement.
But his comeback lasted all of five games before a right knee injury necessitated yet another surgery. The writing was unfortunately on the wall before the operation took place, as Roy appeared a shadow of his former self during those five games. He attempted 35 field goals in 122 minutes, connecting on just 11 of those tries (31.4 percent) and none of his nine three-point shots.
His basketball IQ and playmaking skills were still there (his 4.6 assists per game still ranks second on the Timberwolves), but his explosiveness was gone. He became a liability on defense, and the career 18.8-points-per-game scorer could only affect the offensive end with his passing.
The team has remained hopeful that Roy will return at some point (according to Ray Richardson of the St. Paul Pioneer Press), but his recent history has all but removed any substance from that hope.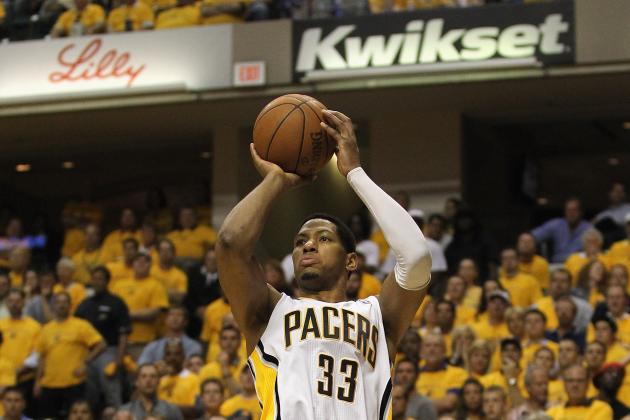 Jonathan Daniel/Getty Images

From a numerical perspective, it's easy to understand why the Indiana Pacers would entertain offers for their former All-Star, Danny Granger.
When he embarked on a four-year stretch of at least 19.6 points and 35.0 minutes per game from 2007-08 to 2010-11, Indiana posted a .430 winning percentage. The team had nothing more than a five-game playoff appearance in 2010-11 to show for its efforts.
When Granger's numbers dipped last season (18.7 points, 33.3 minutes and a career-worst 41.6 field-goal percentage), Indiana responded with its best regular season since 2003-04 (.636 winning percentage, Eastern Conference semifinals appearance).
Plagued by patellar tendinosis in his left knee, Granger has yet to play his first minute of the 2012-13 season. The Pacers (32-21), meanwhile, have entrenched themselves among the Eastern Conference's elites.
Indiana had hoped to return its former All-Star to the lineup for its Feb. 13 showdown with the Charlotte Bobcats, but flu-like symptoms kept him away from the arena (according to Pacers coach Frank Vogel, via ESPN.com). With Granger's name making recent appearances on the NBA trade rumor mill, one can only wonder about the true source behind the team's desire to return him to action.
The 2012-13 season held career-defining possibilities for Bynum. Acquired by the Philadelphia 76ers in the four-team trade that sent Earl Clark Dwight Howard to the Los Angeles Lakers, Bynum finally had the chance to be what he wasn't during his seven seasons with the Lakers—the focal point of the offense.
In theory, the move couldn't have come at a better time. The 25-year-old appeared set to cash in on the free-agent market in the summer of 2013.
But a poorly timed resurfacing of chronic injuries in both knees has restricted Bynum to the less-than-desirable roles of spectator and limited practice participant throughout the season. Outside of a bowling blunder (via Brian Windhorst and Chris Broussard of ESPN.com) and inconsistent progress reports (via CBS Philly), Bynum has nearly disappeared from the basketball landscape.
He still has two-plus months to work himself back into the mix. And with his size (7'0", 285 pounds) and skills, that could still be enough time to garner a major payday over the summer.
But at this time, that's nothing more than speculation. And as Sixer fans have come to know all too well this season, speculation doesn't go far in the NBA. Bynum has had at least three different speculative time frames set for his return and has missed all of them.