Michigan vs. Michigan State: Live Score, Updates and Analysis from B1G Showdown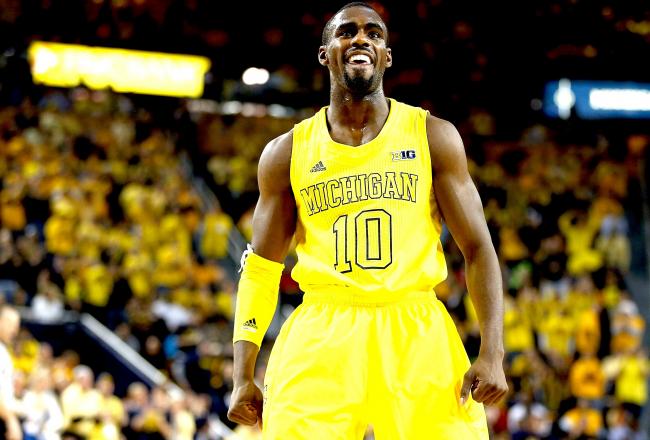 One of the most anticipated match ups in the history of the rivalry between the No. 4 Michigan Wolverines and No. 8 Michigan State Spartans did not provide much drama, but the Green and White lived up to their top 10 billing with a 75-52 rout of the Maize and Blue.
The Wolverines were flustered by Michigan State's lockdown defense from the opening tip. The Spartans held Michigan below 40 percent from the field and held the Wolverines to their lowest point total all season.
With the exception of sophomore point guard Trey Burke, who finished with 18 points on seven-of-11 shooting, and freshman shooting guard Nik Stauskas on a couple of occasions, Michigan played timid and could not combat the Spartans' stingy defensive effort.
Michigan State also dominated the paint. The Spartans out-rebounded the Wolverines 40-28 and pulled down 14 offensive boards.
Big men Derrick Nix and Matt Costello combined for 24 points and sophomore small forward Branden Dawson chipped in 10 points for head coach Tom Izzo's team.
The Wolverines slip to a tie for fourth in the Big Ten Conference, while the blowout win enables Spartans to remain tied atop the standings with the Indiana Hoosiers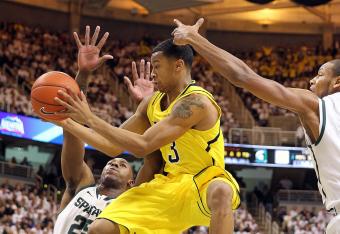 Michigan fans should not be hitting the panic button right now, despite the fact the Wolverines were completely dominated by Michigan State.
The Wolverines were at the tail-end of a daunting stretch - they faced four ranked opponents (three on the road in 10 days - and were unable to match the Spartans' energy after getting rattled early at the offensive end.
The Maize and Blue's interior defense was exposed once again, turned the ball over 16 times and shot below 40 percent from the field. Easy buckets were hard to come by for Michigan on Tuesday, and the Wolverines were forced to shoot contested jumpers almost the entire game.
The road ahead is a lot easier for Michigan than the one behind it. The Wolverines get Penn State twice in the next three games and Illinois travels to the Crisler Center between those contests.
Those games should allow Michigan to rest some of its freshman, restore some confidence and prepare for a rematch with the Spartans on Mar. 2.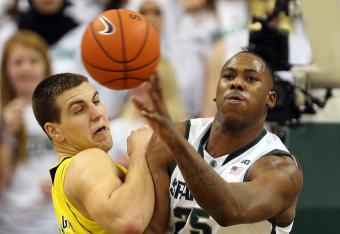 Tom Izzo summed it up best in his post-game interview. Michigan State played its best game of the year and Michigan played its worst.
The Spartans set the tone early with ferocious defense, which did not allow Michigan to get any open looks on the perimeter and completely kept the Wolverines out of the paint.
On the offensive end, Michigan State dominated the battle on the boards and got several easy buckets as a result of the Wolverines' non-existant interior defense.
Derrick Nix came fired up and ready to play, Branden Dawson dominated Tim Hardaway Jr. and Keith Appling did enough to leave his mark on this game. Gary Harris also turned in one of his best performances of the season.
If anyone had doubts about Michigan State being a Big Ten title contender, they were put to rest on Tuesday night. The Spartans are a major threat to win the league and make a run at a seventh Final Four in the last 14 years.
Michigan got hit in the mouth early by Michigan State's effort on the defensive end and never recovered:
Benches emptied for both teams -- officially a complete embarrassment for Michigan tonight. No other way to cut it.

— Nick Baumgardner (@nickbaumgardner) February 13, 2013
MSU 74, Mich. 44 - 1:20 2nd Half
The fans are chanting "Appling is better!" Burke had the better game tonight, though. No one else stepped up to help. Burke hit seven-of-11 shots and dished out four assists.
I agree Appling played great defense and had a heck of a game, but by no means did he completely shut down Burke. Just to keep that match up in perspective.
MSU 74, Mich. 43 - 2:03 2nd Half
Both teams with reserve-heavy lineups in the game. Valentine is the only notable player in the game for either team.
Looks like there should be nothing to worry about for Dawson:
Report from the trainers is that Dawson is woozy from the shot to his head. The noise was bothering him, so they took him to thr locker room

— Adam Ruff (@Spartan_Radio) February 13, 2013
MSU 72, Mich. 43 - 2:42 2nd Half
Jon Horford gets stripped, Valentine runs the floor and Costello comes up with a tip-slam. If that is not symbolic of how bad things have been for Michigan tonight then I don't know what is.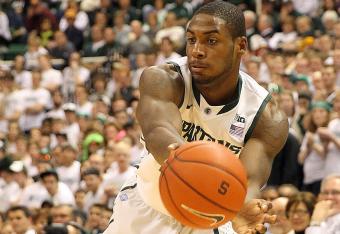 MSU 70, Mich. 41 - 4:32 2nd Half
Bad sign for Michigan State that could mar an amazing performance. Branden Dawson is heading to the locker room and looks woozy after being inadvertently hit by McGary going for a rebound.
The Spartans already know how tough concussions can be. Travis Trice has missed a handful of games this season with concussion-like symptoms.
MSU 70, Mich. 41 - 5:30 2nd Half
Payne hits a three and Appling draws a foul in the lane. This one is in the books for Michigan State. All the Spartans need to do is run out the clock.
Thankfully for Michigan, this marks the end of an absolutely daunting stretch. The Wolverines took on Indiana, Wisconsin and Michigan State away from home and faced Ohio State between those three road games.
This is something I do agree with wholeheartedly:
I'm not sure Michigan State can play any better, and I'm not sure Michigan can play any worse.

— Nick Baumgardner (@nickbaumgardner) February 13, 2013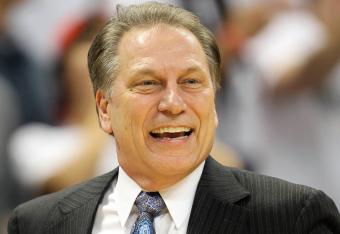 MSU 64, Mich. 39 - 8:17 2nd Half
The Spartans look like they belong atop the Big Ten Conference with the Indiana Hoosiers. Michigan State's defense has been even more impressive than Ohio State's and it has a great combination of size in the post to go along with talented guards.
MSU 62, Mich. 39 - 8:40 2nd Half
Burke rejected driving into traffic. Now Michigan is trying to force plays rather than set up the offense. Guess there is not much you can do after falling behind by 23 points.
Rod Beard points out what I alluded to earlier. No one aside from Burke, and maybe Stauskas came to play tonight:
Trey Burke: 16 points; rest of team: 20...that's not going to cut it -- even against Penn State.

— Rod Beard (@detnewsRodBeard) February 13, 2013
MSU 60, Mich. 36 - 10:15 2nd Half
Dawson likely done unless this one gets close. Harris also on the bench for the Spartans.
Hardaway's dreadful night continues with another missed three.
MSU 57, Mich. 36 - Under-12 Media Timeout
Denzel Valenine hits another open three for the Spartans. Michigan is not getting through any screens right now and Michigan State has got open looks all night from the perimeter.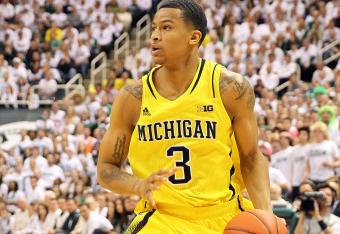 MSU 54, Mich. 36 - 12:37 2nd Half
Burke looks like the only Wolverine who got off the bus tonight. He has 16 points, but no other Michigan player has more than five points.
Thankfully for the Spartans, Appling did not pick up his third foul until Michigan State built a 19-point lead:
Hold everything. Appling gets his third, apparently stuck the leg out on a cutter. That's big. TV TO, 48-29 MSU. Neither PG can play D now

— Joe Rexrode (@joerexrode) February 13, 2013
MSU 48, Mich. 29 - 16:16 2nd Half
Albrecht did a nice job to stay with Appling there, but he still knocked down the jumper. Appling hits a three in transition and this one looks like it is all but over for Michigan.
Timeout Wolverines.
MSU 43, Mich. 29 - 17:40 2nd Half
Appling hits a jumper from the elbow and then draws a charge on Burke, who heads to the bench with three fouls.
Spike Albrecht is going to get tossed into the fire here. Hardaway needs to take over the offense for Michigan with Burke forced to sit.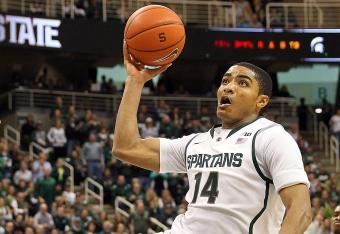 MSU 41, Mich. 29 - 18:30 2nd Half
Hardaway finally gets his first bucket of the game. Harris answers for the Spartans with a three-ball.
Every time Michigan looks like it can get a run started, Michigan State has provided a response.
Burke with a chance for a three-point play coming, though.
If Hardaway is exorcising his Breslin Center demons on the bench I am sure everyone will be fine with him not warming up for the second half:
Tim Hardaway Jr. is on the bench and not taking part in second-half warm-ups -- and not putting on his maize shoes, either. #uhoh

— Rod Beard (@detnewsRodBeard) February 13, 2013
This is Michigan's biggest fear coming to life:
MSU has a 24-8 advantage in points scored in the paint. #MSUUM

— Spartan Basketball (@MSU_Basketball) February 13, 2013
Nick Baumgardner of MLive.com points out Tim Hardaway Jr.'s struggles at the Breslin Center. Hardaway is zero-of-six tonight:
Hardaway is now 1 of 16 in his last 60 minutes of hoops at the Breslin Center.

— Nick Baumgardner (@nickbaumgardner) February 13, 2013
MSU Team Stats: FG 16-30 (.533), 3FG 3-8 (.375), FT 3-6 (.500), REB 19 (Valentine 7), AST 10 (Harris 3), TO 4, BLK 2, STL 5. #MSUUM

— Spartan Basketball (@MSU_Basketball) February 13, 2013
This article is
What is the duplicate article?
Why is this article offensive?
Where is this article plagiarized from?
Why is this article poorly edited?

Michigan Wolverines Basketball: Like this team?