NJ Devils Early Season Stock Report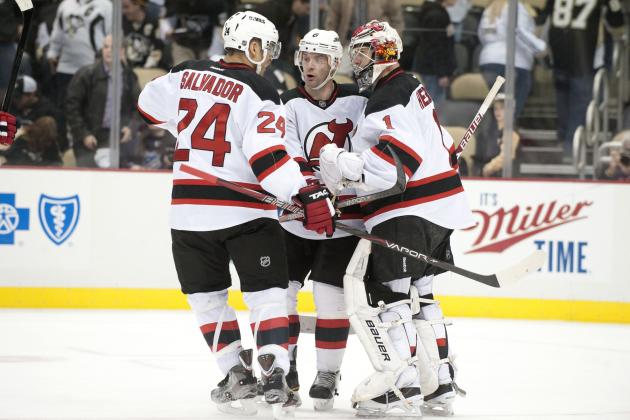 Vincent Pugliese/Getty Images
New Jersey's 8-1-3 record has them atop the Eastern Conference
Buy! Buy! Buy!
You can hear that word bellowing from the floor of the New Jersey Devils Stock Exchange, an imaginary place where a current five game winning streak has catapulted the Devils to the ranks among the early season NHL elite.
New Jersey swept a home and home with the Pittsburgh Penguins this weekend, holding Sid and Geno to just one point between the two and securing first place in the Atlantic. They have a 6-1-1 record in the division and sit atop the the Eastern Conference.
I majored in History, so I couldn't tell you the difference between a financial bond and a molecular bond. However, I'm going to give you guys some stock tips anyway.
Begin Slideshow

»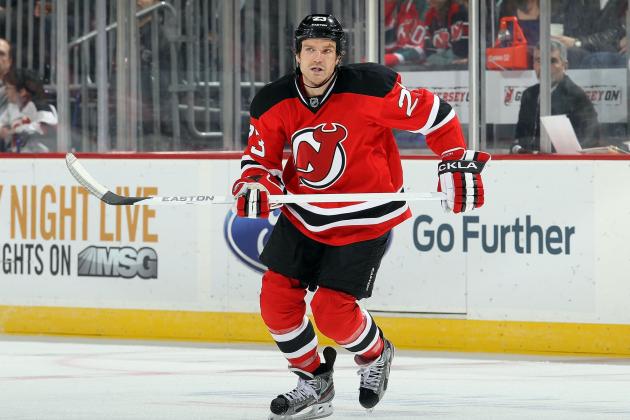 Jim McIsaac/Getty Images
Clarkson is tied for second in the NHL with nine goals.
David Clarkson's nine goals are second in the NHL.
After recording his first 30 goal season in 2012, many wondered if he would be able to continue that production.
He is nearly a third of the way there just 12 games into 2013.
While a cool down is inevitable and the 30 goal plateau is probably out of reach in a 48 game season, Clarkson is in his walk year and will most likely lead the New Jersey Devils in goals.
He's a good investment for sure.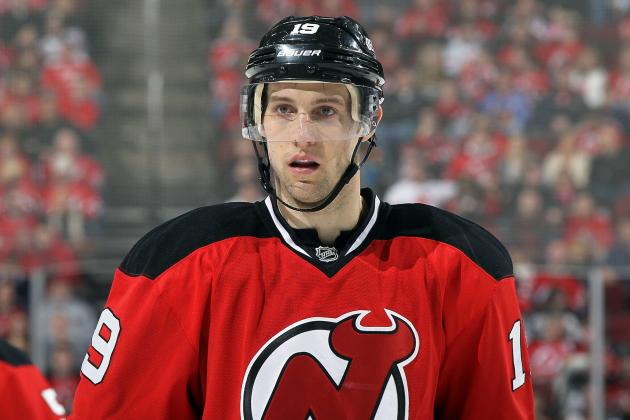 Jim McIsaac/Getty Images
Zajac signed the first max contract under the new CBA.
The New Jersey Devils invested a lot in the centerman right before the season began, signing him to an eight year extension with a $5.75 million annual cap hit.
Travis Zajac is a big, strong two way center. But defensive responsibility is not enough to live up to that max contract.
With just two goals and one assist so far, he has to pick up the production.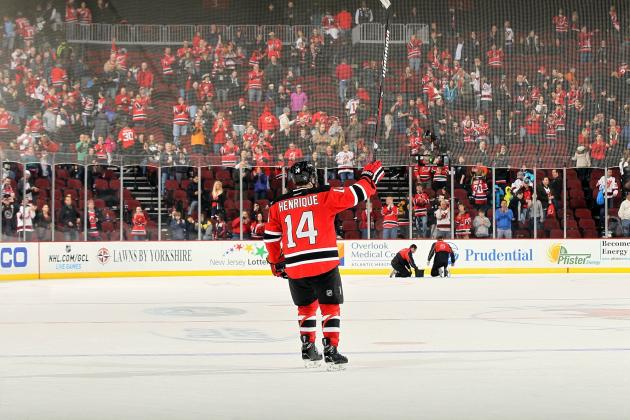 Jim McIsaac/Getty Images
Henrique came out flying after a thumb injury held him out of the team's first five games.
Going into 2013, Adam Henrique's stock was tougher to predict than Wall Street.
After an unexpected rookie campaign in which he was a Calder Cup finalist, you had to worry about the dreaded sophomore slump. That seems hardly likely now. Henrique has six points (four goals) in seven games this year. He appears to be a guy who has taken it upon himself to make up for the goal scoring Zach Parise took with him to Minnesota.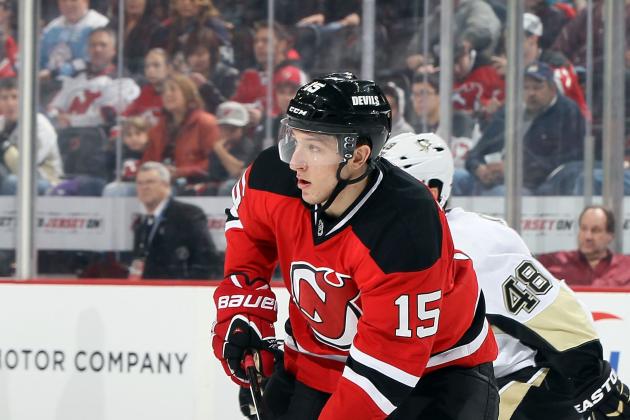 Jim McIsaac/Getty Images
Matteau looks like he may be here to stay.
When Stefan Matteau suited up against the Tampa Bay lightning last Thursday, it was his sixth game of the season. That meant this is officially the first year of his rookie contract, thus lowering any incentive the New Jersey Devils had to ship him back to the Juniors.
He rewarded them the very next game, scoring a skillful goal against the Pittsburgh Penguins. Check it out here. That slap pass from Andy Greene was not easy to catch, especially on the backhand.
It seems like the rookie could be a mainstay all year. At a low buying price, this could pay big dividends by the end of the season.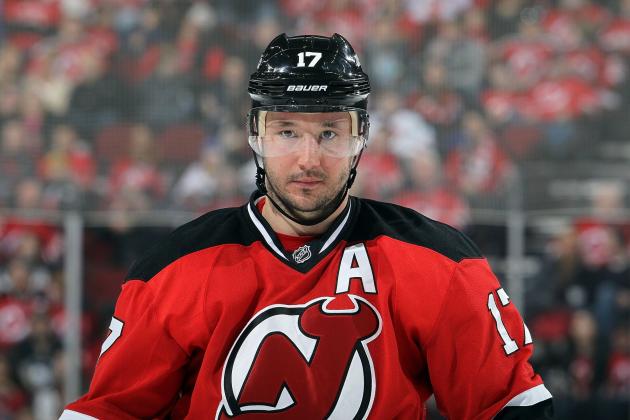 Jim McIsaac/Getty Images
Ilya Kovalchuk bought into New Jersey's defensive philosophy.
That's right, with just four goals in 12 games this season, Ilya Kovalchuk's stock is rising.
Perhaps not in the fantasy hockey world, but in the market of winning, he is a hot commodity. It seems Kovalchuk is really buying into the defense-first mindset that Lou Lamoriello has preached for 20 something years. He has cut down on the turnovers and is doing a great job killing penalties. I've always felt that the most valuable hockey players are the guys who are vital to both the kill and the power play.
Plus, he is averaging a mind boggling 26 minutes of ice time a game, nearly four minutes more than the next forward, John Tavares. Tenth in the league, Kovalchuk is the only forward ranked in the top 60 players in terms of ice time per game.
Read that stat again!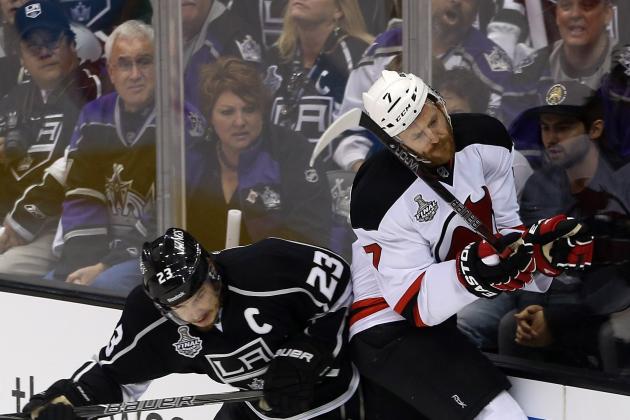 Bruce Bennett/Getty Images
Tallinder has been a healthy scratch the past five games.
Henrik Tallinder has been a healthy scratch for Pete DeBoer the past five games. When you are a veteran like Tallinder is, that is hockey lingo for being benched.
Young Adam Larsson has taken his place on the blueline. Tallinder will be back at some point, but the coinciding of his inactivity with New Jersey's winning streak does not help his cause.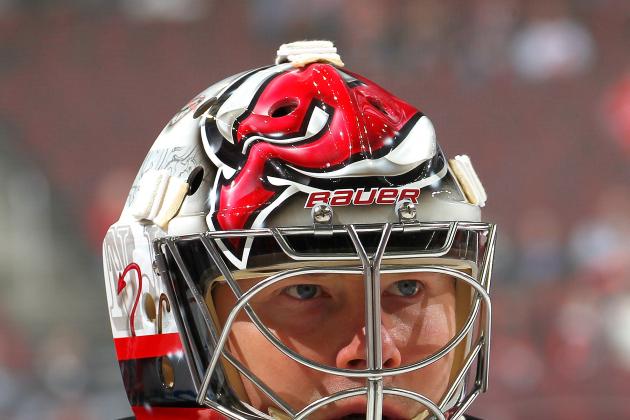 Paul Bereswill/Getty Images
Hedberg has been stellar is his starts this year.
Johan Hedberg has a .973 save percentage in his three starts this year. He is 2-0-1, but played well enough to win in an overtime loss to the Boston Bruins a few weeks ago.
The man affectionately known as "Moose" to New Jersey Devils' fans leaves coach Pete DeBoer in a comfortable situation. There is not much pressure to over work the 40-year-old Martin Brodeur in this truncated season.
Hedburg is a more than a capable back up.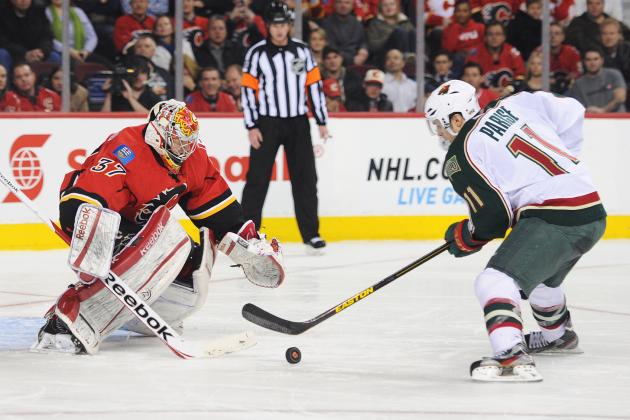 Derek Leung/Getty Images
Parise going on a breakaway in a Wild uniform. He is a wizard during shootouts.
The New Jersey Devils are going to miss Zach Parise during shootouts.
The way the Devils like to tighten up hockey games, they are going to play in a lot of shootouts. Last year, they went 12-4 in such scenarios, leading the league in wins. In this NHL shootouts matter.
Parise finished third in the league in shootout goals last season and that particular skill will be sorely missed. Luckily, the man who finished first wears No. 17 for the Devils.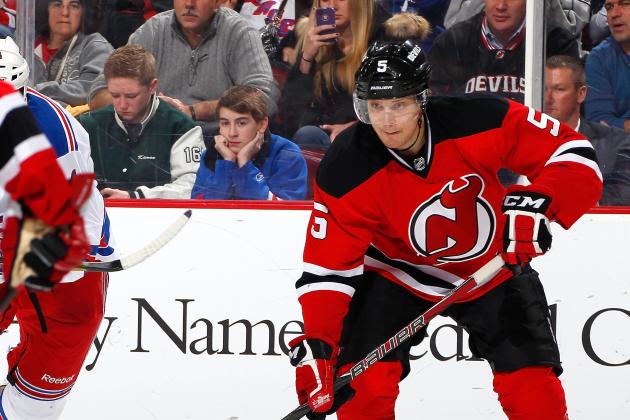 Paul Bereswill/Getty Images
Larsson looks a bit more composed this season.
A youngster like Stefan Matteau, you can't expect a whole lot from Adam Larsson. As a result, you can buy his stock low with plenty of room for growth in the future.
He has definitely improved since his rookie year in 2012. He is making smarter decisions and looks comfortable with partner Andy Greene.
With a boatload of talent and still just 20, buying Larsson's stock now would be like buying Apple stock in the late '90s.