If Liz Carmouche Defeats Ronda Rousey Don't Expect a Catchweight Cyborg Bout
Use your ← → (arrow) keys to browse more stories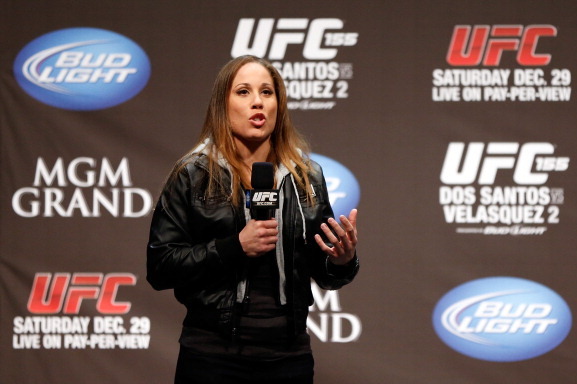 Josh Hedges/Zuffa LLC/Zuffa LLC via Getty Images
Liz Carmouche has 10 professional mixed martial arts fights on her record, having won eight of those bouts while dropping two. On February 23 she will be involved in the first women's MMA bout to be presented by the UFC, where she looks to dethrone the unbeaten Ronda Rousey, who will carry the UFC title into the Octagon.
The fight between Rousey and Carmouche is a huge step for the UFC. Let's not forget that not too long ago White proclaimed that women would never fight in the UFC. Not only are Rousey and Carmouche fighting inside the famed Octagon, but they are headlining the UFC 157 pay-per-view card.
There had been some rumblings that the UFC was not going to add any more female fighters to its roster until the Rousey and Carmouche fight shook out, but that talk was laid to rest over the last two days as the UFC added four more fighters to their WMMA roster.
Those additions are a positive sign as far as Carmouche is concerned.
I think Dana White and the UFC is invested in the women's division, but it wasn't known to other people and now this is evidence of the work he's putting in to build up the 135-pound division. I don't think he would make a title fight between myself and Ronda if he didn't actually want to have a full division to follow up after that. It's great to see that something is lined up and that more people are starting to trickle in now.
That "something" that Carmouche refers to is a bout between former Strikeforce champion Miesha Tate and Cat Zingano as well as the signing of Sara McMann and Alexis Davis.
Carmouche, knowing that her bout with Rousey has the potential to lead to more fights in the UFC, sees the signings as not only good for the sport, but is using them as motivation as she looks to be the first fighter to defeat Rousey.
It's motivation for the success of the division. I don't think the UFC would have been as successful as the have been if they just prepared for one fight at a time. They're looking out for the future of the whole corporation, so this just shows that the women's division is going to be a long road rather than just one fight.
Carmouche made it clear that while she is happy to see a future for WMMA in the UFC, she is not looking past Rousey at all.
If she does get past Rousey and White straps the UFC belt around her waist at the Pond in Anaheim, don't think the door will be open for a catchweight bout with former Strikeforce champion Cris Santos.
Carmouche echoed Rousey's words when it came to that potential bout: You want to beat the queen, you fight her at her weight.
I absolutely take the same approach that Ronda has (taken). Cyborg was the champion at 145, but it's currently Ronda at 135, so whoever's the champion in that weight division I think if it's a title they really want they have to go to that weight division and not fight at a catchweight.
Carmouche is taking in stride all the attention that has been heaped on her during the lead up to her bout with Rousey. However, don't think she doesn't notice or appreciate the difference between this bout and her past fights as far as media attention is concerned.
So far (the media blitz) has been rewarding. It's been a change from past fights, but getting to meet new people and see new faces has been great through the whole thing.
Carmouche will surely meet more new people in the coming days, but those faces will quickly fade when the Octagon door closes behind her and Rousey in Anaheim on February 23.
All quotes obtained first hand by BR MMA.