Kentucky vs. Florida: Live Score, Updates and Analysis for SEC Game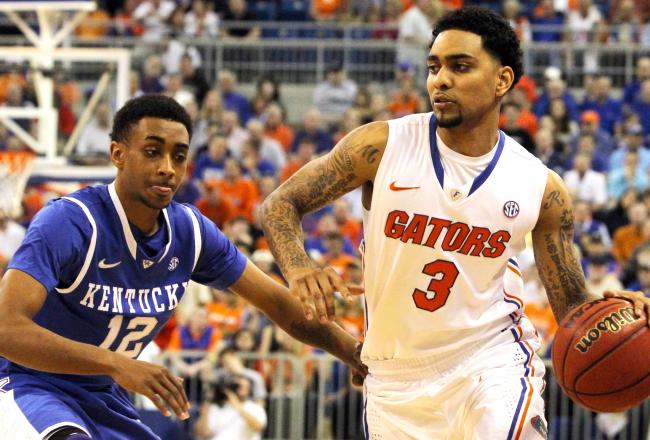 Florida buzzed by Kentucky in Gainesville on Tuesday, beating its SEC rival 69-52.
But the post-game fray will revolve around freshman sensation Nerlens Noel. The Kentucky big man injured his left knee chasing down a fast break in the second half and had to be helped off the court.
The live blog archive is below.
Thanks for following along and stay with Bleacher Report for updates on the Noel injury.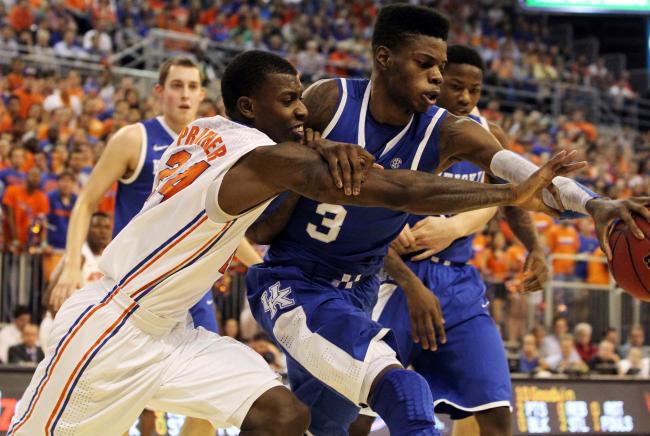 Florida 69, Kentucky 52 (Final)
Post Game Wrap-Up
Florida was as good as advertised tonight: spreading the ball, pressuring Kentucky's young guards into turnovers and baiting Big Blue's post players into foul trouble. The Gators weren't simply the more experienced team, they were the better team—in every phase. Florida now leads the SEC by two full games over Kentucky, and looks like it will cruise to a regular-season conference crown.
Despite reckless play and spotty shooting, Kentucky managed to hang with Florida through the midway point of the second half. That is until star forward Nerlens Noel went down with what a left knee injury that left him wailing on the hardwood in pain.
While we don't yet know the nature and severity of the injury, Kentucky can hardly afford to lose Noel for even a game—much less the season. Big Blue wasn't exactly steamrolling its foes with Noel in the lineup, and without him Kentucky gets a whole lot worse on the defense end. You have to wonder if Coach John Calipari can afford to play a poor defender like Kyle Wiltjer if Noel isn't on the back line putting out fires.
But that's all X's and O's. The big picture basketball fans will want to know if Noel, perhaps the top NBA prospect in the college game and a marvelously entertaining talent, survives this brush with bad luck and reemerges as a star.
To that, the only answer is a nervous shrug and a call for patience.
Some final thoughts from OnlyGators.com on Florida's home dominance this year:
Florida is 4-1 against top-25 opponents this season and 12-0 in the friendly confines of the O'Dome.

— OnlyGators.com (@onlygators) February 13, 2013
Florida 69, Kentucky 52 (Final)
STATS!
Florida (20-3, 10-1)
26-53 (FGs), 6-14 (3Ps), 10 TOs
Wilbekin, 14 points
Prather/Young/Rosario, 12 points
Kentucky (17-7, 8-3)
21-50 (FGs), 4-12 (3Ps), 17 TOs
Cauley-Stein/Mays, 10 points
Goodwin/Noel, 8 points
The Gainesville Sun's Kevin Brockway directs some due attention to Florida reserve Casey Prather. He was everywhere tonight, including a memorable stuff of seven-footer Willie Cauley-Stein:
Fans here chanting "Prather, Prather" after his big performance, Florida beats Kentucky 69-52 to keep hold on first in SEC.

— Kevin Brockway (@gatorhoops) February 13, 2013
Florida 69, Kentucky 52 (Final)
A nice win for Billy Donovan's Gators, but the mood is heavy after Noel's injury. You could even sense it from the Florida fans, who wanted to crow but seemed uncomfortable with the thought.
Yahoo! columnist Pat Forde brings us home:
Gators drill Kentucky 69-52. The bigger story will be the status of Nerlens Noel's left knee. May not get an answer tonight.

— Pat Forde (@YahooForde) February 13, 2013
Florida 69, Kentucky 51 (31.3 seconds Second Half)
The game winds down in Gainesville. Florida fans serenading the 'Cats with a "Hey, hey, hey goodbye" chant.
The Gators remain on top in the SEC. Kentucky moves forward with more questions than answers.
Florida 66, Kentucky 51 (1:40 Second Half)
The latest update on Noel is...there is no update.
ESPN tells us that there is no X-Ray equipment at the O'Dome.
CBSSports.com's Jeff Borzello with some thoughts on Florida's impressive performance:
Florida up by 18, five dudes in double-figures -- and Kenny Boynton has five points. They're just sharing the ball so well.

— Jeff Borzello (@jeffborzello) February 13, 2013
Kentucky media personality Larry Vaught giving the UK players a pass for their post-injury performance:
Not one to fault UK players now. They have to be shook after what happened to teammate/friend Nerlens.

— Vaughts' Views (@vaughtsviews) February 13, 2013
Florida 65, Kentucky 47 (3:33 Second Half)
I know the man on most peoples' minds is injured Kentucky big man Nerlens Noel.
All we know is that he appeared to have injured his knee and left the court in great pain. Didn't put any pressure on the injured leg.
No new reports out of the locker room.
Florida 63, Kentucky 45 (4:50 Second Half)
UK hasn't scored since Noel went down.
Florida is in control. After a period of shocked silence, the crowd at the O'Dome is back into the game.
Kentucky TV personality Thomas Beisner with the grayest of silver linings:
Lost in that injury was that Nerlens made an incredible play to run down the ball and save his team some points.

— Thomas Beisner (@thomasbeisner) February 13, 2013
Florida 59, Kentucky 45 (7:20 Second Half)
The 'Cats look shellshocked right now, as well they should.
The result of this game is really no longer in question.
With the focus on Noel, questions abound.
What does this mean for UK's season?
Who steps in for Kentucky in Noel's absence?
What does this mean for Noel's draft stock?
And, most important, will the kid be ok?
Let's hope he is. For the sake of basketball and for the sake of the young man.
CBS.com scribe Jeff Goodman with some personal insight on the Noel injury:
Have known Nerlens Noel for about 5 years -- and is about as good of a kid as I've come across doing this job. Just hope he's alright.

— Jeff Goodman (@GoodmanCBS) February 13, 2013
Florida 57, Kentucky 45 (8:03 Second Half)
All of Noel's UK teammates help carry him to the tunnel.
Hate to think about what this could mean for NN's career.
Florida 57, Kentucky 45 (8:03 Second Half)
Noel is still writhing on the floor.Intense grimace on his face.
Florida 57, Kentucky 45 (8:03 Second Half)
TERRIBLE news for UK fans.
Nerlens Noel is in agony on the floor after hustling back on a Florida fastbreak and blocking a Rosario layup. He crashed into the basket pad and looks to have hyper-extended his knee.
Crowd is silent and TV cameras are picking up Noel's moans. A chilling moment.
Florida 57, Kentucky 45 (8:44 Second Half)
Poythress muffs an easy put-back opportunity. And there goes UK's best chance to get back in this game.
Florida 57, Kentucky 45 (9:29 Second Half)
Mays drains a three-ball. He's been Kentucky's best shooter tonight. If Wildcats get a stop here...
I'm not sure I get this tweet from SBNation satellite site Alligator Army. But I like it:
The lights are as bright as Patric Young's smile, and he's playing his best game. Evolution is dope.

— Alligator Army (@AlligatorArmy) February 13, 2013
Florida 57, Kentucky 40 (11:00 Second Half)
So this is nuts: If UK plays Florida even the rest of the way, it'll be the Gators' smallest margin of victory at home this year.
Florida 53, Kentucky 38 (11:49 Second Half)
TV Timeout.
Kentucky has slipped within 13 on two occasions. But the Gators have been quick to answer.
CBS.com CBB writer Jeff Goodman on UK's Alex Poythress. Poythress, Kentucky's second-leading scorer, is one-for-seven from the field tonight:
Alex Poythress looks completely lost.

— Jeff Goodman (@GoodmanCBS) February 13, 2013
This article is
What is the duplicate article?
Why is this article offensive?
Where is this article plagiarized from?
Why is this article poorly edited?