NBA Finals Predictions: All-Star Break Edition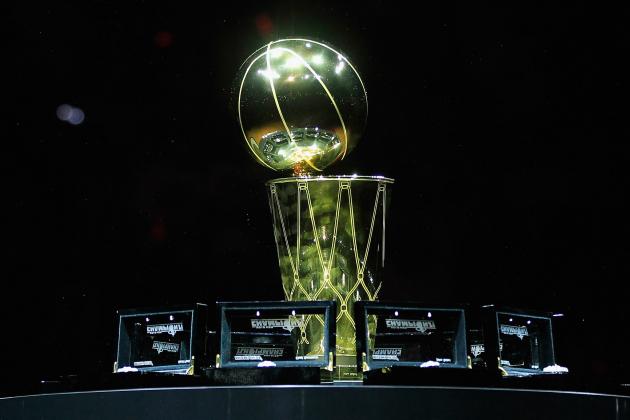 Chris Trotman/Getty Images
In under five months, a new NBA Champion will be crowned. Who will it be?
We have reached the All-Star break, the official, yet unofficial, halfway point of the NBA season.
In under five months, the NBA will award the Larry O'Brien trophy to the new NBA Champions. So who will it be? There are still playoff spots up for grabs, and around 30 games to go before we reach the playoffs.
I'll break down the predicted conference standings then go series-by-series until the Finals to predict who the NBA Champion will be.
Begin Slideshow

»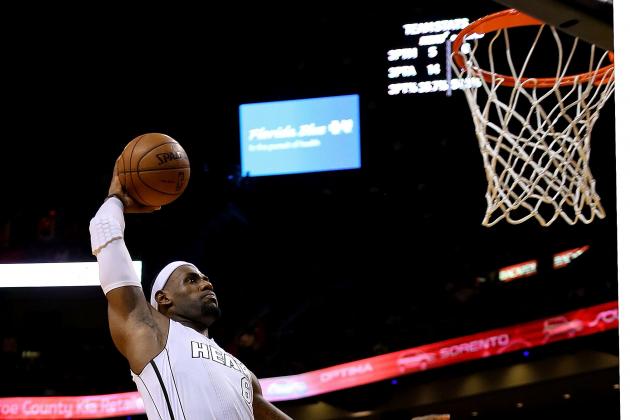 Mike Ehrmann/Getty Images
LeBron James is putting up MVP numbers yet again, which will guide the Heat to their first #1 seed in 8 years
The Eastern Conference is all about the Miami Heat, and then everyone else. Sure the Knicks could have a late-season surge to get to the top spot, or the Bulls could get inspired by the return of Derrick Rose, but Miami, who currently holds a 2.5-game lead in the conference, will hold on to claim the East's top spot.
Final Eastern Conference Standings:
1. Miami Heat
- 59-22 finish, 36-14 current

2. New York Knicks
- 53-29 finish, 32-18 current

3. Chicago Bulls
- 50-32 finish, 30-22 current

4. Brooklyn Nets
- 48-34 finish, 31-22 current

5. Indiana Pacers
- 47-35 finish, 32-21 current

6. Boston Celtics
- 45-37 finish, 28-24 current

7. Atlanta Hawks
- 43-39 finish, 29-22 current

8. Milwaukee Bucks
- 41-41 finish, 26-25 current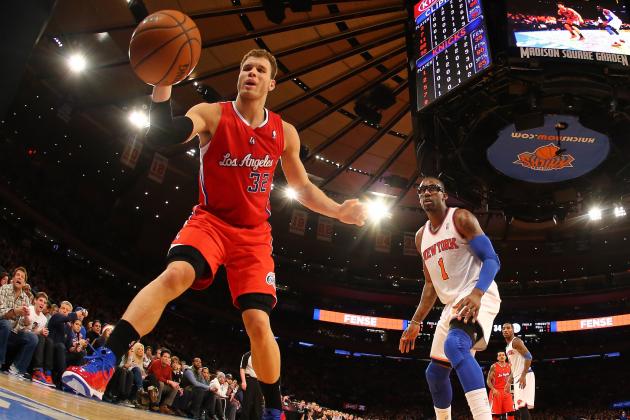 Al Bello/Getty Images
Blake Griffin and the Clippers are looking to shock the world by chasing down the Spurs to grab the #1 seed
Unlike the East, the West is wide open. Only 4.5 games separate the one through three seeds, and six games between the fourth and eighth seed. Oh, and don't forget about the lurking Mavericks, Trailblazers and Lakers sitting just outside the playoffs.
Final Western Conference Standings
1. Oklahoma City Thunder
61-21 finish, 39-14 current

2. San Antonio Spurs
60-20 finish, 42-12 current

3. Los Angeles Clippers
57-25 finish, 39-17 current

4. Denver Nuggets
54-28 finish, 33-21 current

5. Memphis Grizzlies
53-29 finish, 33-18 current

6. Golden State Warriors
49-33 finish, 30-22 current

The Race for 8th Place:
The Lakers currently sit in 10th place, 3.5 games out of the playoffs. Portland is one spot ahead of them, 2.5 games out of the playoffs and Dallas is lurking in 11th, 4.5 games out. Houston is clinging to the 8th seed while Utah is only 1.5 games up in the 7th slot. Here's how I think the season finishes for Utah, Houston, Portland, LA and Dallas.
Utah: I see only 10 wins in their last 28 games, which puts Utah with a 40-42 final record. Three bouts with OKC, one each with San Antonio, Chicago, and the Clippers are six losses right there, not including games against the Knicks, Celtics, Warriors, several games with Portland, Houston and Dallas. Utah has to stand tough in a murder's row second-half schedule. I don't think they can.
Houston: With a relatively light second-half schedule, I can see Houston going 14-13, giving them a 43-39 final record. That puts them ahead of Utah by three games.
Portland: Portland has a slightly easier road to the finish, but with stops in Chicago, OKC, and Los Angeles to play the Clippers, I can't see more than a 12-17 finish—making them 37-45 on the year. Bye-bye, Portland.
Los Angeles: The good news for the Lakers is Utah and Portland have rough roads to April. The bad news for the Lakers is they're still playing like the crap Lakers.
That said, the Lakers don't have that crazy of a schedule in the second half, so I have them finishing 16-12. That's if—and that's a HARD if—they can get their act together and beat the "slacker" teams that litter the schedule. 16-12 means an even 41-41 finish to this debacle of a year. Will it be enough?
Dallas: As it stands, Houston would be the 7th seed at 43-39, and Los Angeles would be the 8th seed at 41-41. Dallas needs 42 to get in, which means they need 19 wins in their last 33 games.
I'm going to say Dallas falls just short and gets 18 wins—tying them with the Lakers at 41-41. The key for Dallas—and L.A. for that matter—is their two games against one another on February 24 and April 2. Those two games could be the difference between in and out for both Dallas and Los Angeles.
7. Houston Rockets
43-39 finish, 29-26 current

8. Los Angeles Lakers
41-41 finish, 25-29 current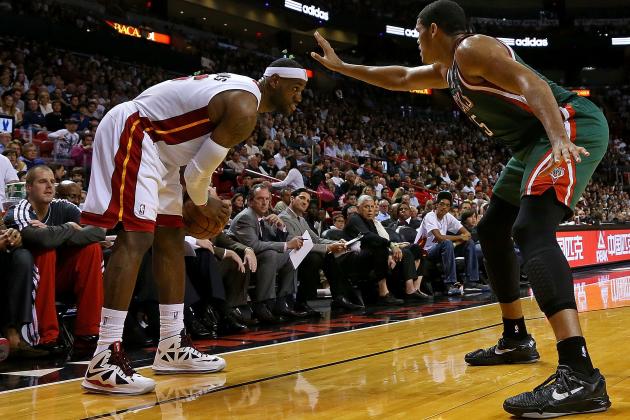 Mike Ehrmann/Getty Images

The Matchup:
On paper, this seems like a lopsided advantage for the Miami Heat. The Big Three of LeBron James, Dwyane Wade, and Chris Bosh should completely outmatch Milwaukee's Monta Ellis and Brandon Jennings—who deserve mad respect in their own right.
Milwaukee will have a slight advantage in the backcourt, but it's Miami's frontcourt of James, Shane Battier, Udonis Haslem, and Bosh that completely overmatch anything Milwaukee has.
Backcourt:
The Bucks' starters, PG Ellis and SG Jennings, outmatch Miami's Mario Chalmers/Norris Cole and Wade/Ray Allen, but only slightly. If Milwaukee is going to snag a few games from Miami, let alone the series, they'll need magic from Jennings and Ellis.
Front Court:
Milwaukee has a serious problem in the front court matching Samuel Dalembert with Chris Bosh and Ersan Ilyasova with LeBron James. Let alone having no counter part to Shane Battier and Udonis Haslem off the bench. Milwaukee needs to contain (there is no containing) LeBron James and shut down Bosh if they want to win.
Series Breakdown:
Game 1 in Miami: Miami routes Milwaukee to open up the series. Heat win, up 1-0.
Game 2 in Miami: A tighter game than Game 1, but Miami pulls away in the end. Heat win, up 2-0.
Game 3 in Milwaukee: Fueled by the home crowd, Milwaukee snags Game 3 with a late surge. Bucks win, Heat up 2-1.
Game 4 in Milwaukee: Upset from the night before, LeBron goes off and leads the Heat to a statement victory. Heat win, up 3-1.
Game 5 in Miami: Wade and James combine for 70 points while Bosh adds 15 of his own, leading the Heat to a home victory, and a series win. Heat win, take series 4-1.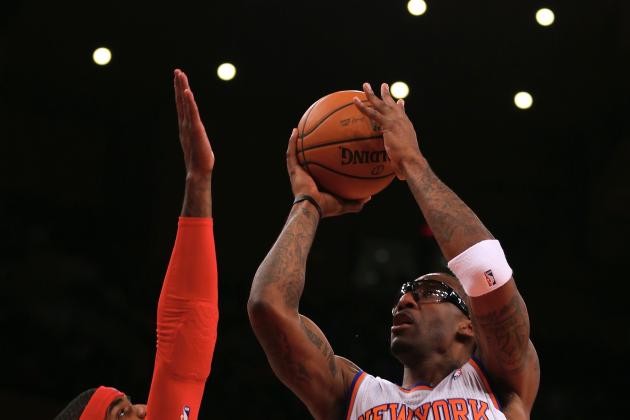 Elsa/Getty Images

The Match Up:
New York seems to have their game together with Carmelo Anthony, Tyson Chandler and Amar'e Soudemire. Atlanta, however, is a cautionary tale. Josh Smith, if he is in fact still a Hawk, and Al Horford will have to play the series of their lives in order to beat the Knicks.
Back Court:
Knicks PG Raymond Felton and SG Jason Kidd will primarily be matched against Jeff Teague and Kyle Korver throughout the series. That's a small, and I mean ever so small advantage for Atlanta - offensively speaking. Korver can still be dangerous beyond the arc, while Teague has done a fine job facilitating all year long.
Front Court:
The Knicks match Carmelo Anthony, Tyson Chandler, and Amar'e Stoudemire to go against Al Horford, Josh Smith and Anthony Tolliver (in the starting lineup, that is, but Atlanta will use more rotation). Horford and Smith can hold their own, but they're not going to be able to stop Chandler, Stoudemire and Anthony all series.
Series Breakdown:
Game 1 in New York: The Knicks get rolling early and cruise to a Game 1 win. Knicks win, up 1-0.
Game 2 in New York: In an effort to establish presence in the series, Atlanta steals a game in New York late. Hawks win, series tied at 1.
Game 3 in Atlanta: Monkey see, monkey do. Knicks go into Hotlanta and spoil the Hawks' homecoming party. Knicks win, up 2-1.
Game 4 in Atlanta: Fighting desperately not to get swept at home, Atlanta fights New York late into the game but loses in the final two minutes. Knick win, up 3-1.
Game 5 in New York: The Knicks can smell blood in the water, and want to end it at home. Atlanta, like Game 4, puts up a fight into the final two minutes but Carmelo Anthony drills a big three with under 10 to go, putting New York up by two possessions. Series over. Knicks win, take series 4-1.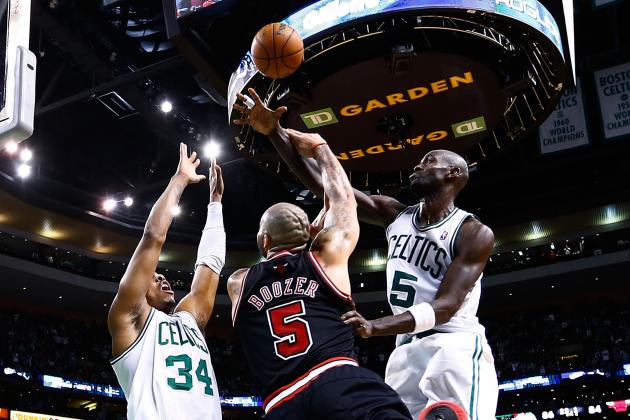 Jared Wickerham/Getty Images

The Match Up:
Both teams have been through the ringer this season. Boston lost star PG Rajon Rondo to an ACL injury in February while the Bulls (at the writing of this article) are still without their former MVP point guard Derrick Rose to an ACL injury. The difference is, the Bulls will have their superstar back while Boston will have to rely on the heart of Paul Pierce and Kevin Garnett to take down the Bulls.
Back Court:
Derrick Rose will have made his triumphant return by the playoffs, igniting the Bulls for a playoff run. With Nate Robinson coming off the bench, and Kirk Heinrich and Rip Hamilton working the wings, the Bulls should have no match-up problems against Boston's Avery Bradley, Courtney Lee, and Jason Terry. Don't forget the Bulls also have three-point specialist Marco Belinelli coming off the bench - the greatest Italian American I've ever laid my eyes on a basketball court. OK, I'm biased. But we do share a first name, we're both Italian, and he can hit threes. I can't.
Front Court:
The Bulls offer Joakim Noah at Center, Luol Deng and Carlos Boozer at forward with Taj Gibson and Jimmy Butler coming off the bench - in other words - the Bulls are very solid in the front court. But this is where Boston makes a living. Kevin Garnett will battle Noah at Center, Paul Pierce has Luol Deng duty and Brandon Bass gets Carlos Boozer. Boozer wins the Bass battle, Deng can out-defend Pierce, but Pierce can out-score Deng, while Garnett can score in the pain while Noah can clean the class and score down low too. This is where the series is won or lost for both teams. We know Derrick Rose can facilitate to anyone down in the front court, but can those guys down there both, A, get separation and score, or B, clear the way for Rose. You can bet this is where Doc Rivers sets his focus.
Series Breakdown:
Game 1 in Chicago: The last time Bulls fans saw Derrick Rose in a home playoff game, he was clutching his knee in Game 1 against the 76ers last year. This time, Chicago gets taken late into the game but overcomes Boston. Bulls win, up 1-0.
Game 2 in Chicago: Doc Rivers won't allow Boston to lose games late in back-to-back fashion. This one comes down to a final possession, and Jason Terry nails a game-winner with less than 2 seconds left. Celtics win, series tied at 1.
Game 3 in Boston: Boston comes home to a raucous crowd, that is quickly plunged into 48 minutes of anxiety. A late Chicago possession comes up short, sending the game to OT. In OT, each side trades blows until a late Paul Pierce bucket buries the Bulls. Celtics win in OT, lead series 2-1.
Game 4 in Boston: Trying to avoid another post-season collapse, the Bulls get 25 points and 12 rebounds from Carlos Boozer, while Derrick Rose slashes his way to the rim for 29 points and dishes 9 assists. The Bulls roll to a big win and tie the series heading home. Bulls win, series tied at 2.
Game 5 in Chicago: This is the moment when Derrick Rose rises up with the clock winding down, 94-94 tie in the 4th quarter, and knocks down a buzzer-beater. The United Center crowd goes insane and the Bulls take a 3-2 series lead back to Boston. Bulls win, lead series 3-2.
Game 6 in Boston: Boston has now lost two in a row, one in their own building, and find themselves a loss away from a first round elimination. That said, Chicago can smell blood. This game is an epic battle that, again, goes to overtime. Boston, charged primarily by the home crowd, gets enough in OT to make the final box score look lop-sided. Celtics win 110-100 in OT, force Game 7. Celtics win, series tied at 3.
Game 7 in Chicago: Game 7 isn't a phrase Chicago Bulls fans are particularly familiar with. Only five times in franchise history has a playoff series gone the distance - the last one coming in 2009, ironically against the Boston Celtics. Chicago lost that game 109-99 in Boston. This time around, Chicago roars to a Game 7 victory, and clinches the first round series. Bulls win, take series 4-3.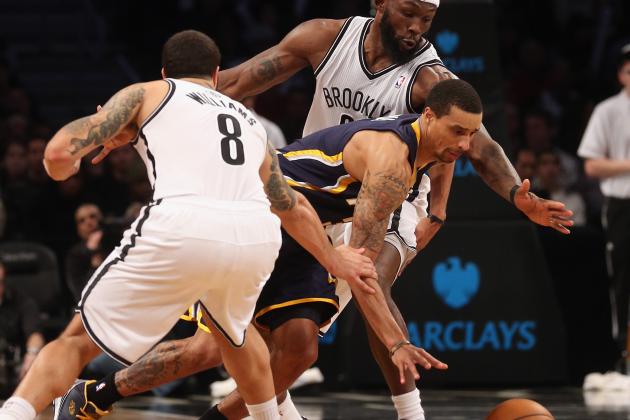 Bruce Bennett/Getty Images

The Match Up:

Both Indiana and Brooklyn bring a well-rounded roster to the playoffs and match each other very well. The key is, can Indiana slow down Deron Williams, Joe Johnson, and Brook Lopez?
Back Court:
Brooklyn's back court of Deron Williams and Joe Johnson has been one of the better back courts in the NBA all season long. They'll be matched up against Indiana's George Hill and Lance Stephenson - both good players in their own right. But this is a huge advantage for Brooklyn.
Front Court:
Brooklyn brings Gerald Wallace, Brook Lopez, Reggie Evans to the starting rotation to face David West, Roy Hibbert and Paul George. Both sides have a sound front court, even down to the bench. The Nets' Kris Humphries (Kardashian jokes aside) is a good 6th man/rotational player while Jerry Stackhouse and Andray Blatche are OK subs. Don't forget MarShon Brooks, Keith Bogans and C.J. Watson on Brooklyn's bench, either. Indiana has Gerald Green, D.J. Augustin and Tyler Hansbrough on the bench, but I'd say advantage Brooklyn.
Series Breakdown:
Game 1 in Brooklyn: Unlike the previous three series in the East, Indiana will be the first team to upset a home team in Game 1. Brooklyn will be sluggish in shooting, while Indiana plays inspired. Pacers win, up 1-0.
Game 2 in Brooklyn: Disappointed by their effort in Game 1, Brooklyn pleases the home crowd and beats Indiana up in Game 2. Nets win, series tied at 1.
Game 3 in Indiana: Indiana looks like the team that took a 2-1 series lead against the Heat last year and trounces Brooklyn at home in Game 3, yet again, taking a 2-1 series lead in the playoffs. Pacers win, up 2-1.
Game 4 in Indiana: Sensing trouble, Brooklyn plays desperate basketball and comes away with a win, even though they clung to a 3-point lead through the final minute of play. Nets win, series tied at 2.
Game 5 in Brooklyn: Brooklyn knows that going into Indiana in Game 6 down 3-2 is a death trap, as opposed to going into Indiana up 3-2, and all that pressure on Indiana at home, is ideal. That said, Indiana plays their hearts out but falls just short in Brooklyn. Nets win, up 3-2.
Game 6 in Indiana: It's last year against the Heat all over again for Indiana. They had the series lead, dropped two straight and faced a Game 6 elimination at home. Once again, Indiana will fall. Brooklyn plays great basketball and eliminates the Pacers. Nets win, take series 4-2.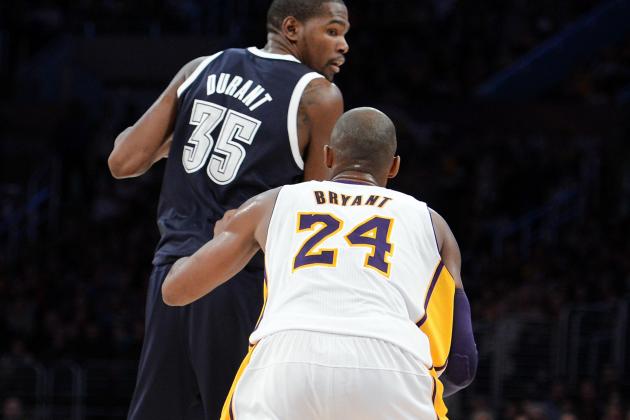 Harry How/Getty Images

The Match Up:
Kobe Bryant is a desperate man. The Los Angeles Lakers are underachievers, barely sneaking into the playoffs with perhaps the most talented roster in the NBA. But the Oklahoma City Thunder are defending Western Conference Champions. They're the most explosive team in the NBA, and still hungry to avenge their finals loss. The Thunder see the Lakers as what they are - pretenders. Kobe sees the Thunder as a pimple that needs to be popped, and sees the Lakers as pretenders, too. The rest of the Lakers see the golf course just seven games away.
Back Court:
If the Lakers want to shock the basketball world and beat the Thunder, it'll need to come from MVP-like production from Kobe Bryant and Steve Nash. It's a tall order against OKC's Russell Westbrook and Thabo Sefolosha. Steve Blake and Jodie Meeks come off the bench for LA, and Kevin Martin, Jeremy Lamb and Reggie Jackson are off the bench for OKC.
Front Court:
Kevin Durant, Serge Ibaka and Kendrick Perkins go against LA's Dwight Howard, Metta World Peace, and Earl Clark. This is a huge advantage for OKC, unless Howard plays like he did on that 2009 NBA Finals Magic team and Metta gets going. And by gets going, I mean not clubbing someone in the head, but actually dropping shots. It's a tall order, but if the Lakers are playing inspired basketball - this could be a much more interesting series than it appears.
Series Breakdown:
Game 1 in OKC: This game is a tone-setter for OKC. The Laker's shoot-at-will offense will succumb to OKC's slow pace as they try to control the clock. It's a close one, but OKC wins it. Thunder win, up 1-0.
Game 2 in OKC: The Thunder are rolling now. Westbrook is facilitating, Durant is scoring, Ibaka is playing good defense, and they're controlling Dwight Howard in the paint. Another win, and full control in the series for OKC. Thunder win, up 2-0.
Game 3 in LA: Kobe Bryant is angry. You won't like him when he's angry. "Screw facilitating, and screw you clowns pretending to be Lakers players," says Bryant as he drops 48 on OKC to take Game 3 at home. Lakers win, Thunder up 2-1.
Game 4 in LA: "Oh, yeah?" says Kevin Durant as he drops 44 on the Lakers. Thunder win, up 3-1.
Game 5 in OKC: "Yeah," says Bryant, actually facilitating the ball to Howard, who gets 31 points and 12 rebounds en route to a 94-85 victory to save the series. Lakers win, Thunder up 3-2.
Game 6 in LA: Kobe is fantastic, Howard plays well, Metta drops a few treys, and Nash dishes 11. But the Thunder put the final nail in the coffin on LA's putrid season. Thunder win, take series 4-2.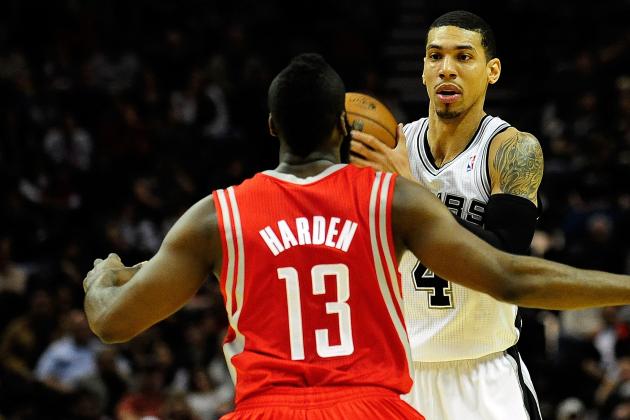 Stacy Revere/Getty Images

The Match Up:
The Spurs are old. How many times have you heard that crap, then watched the Spurs get to the West Finals over and over and over? The Rockets are a young team, not to mention, it's been a really good year for Houston. A playoff birth, hosting the All-Star Game, new acquisitions of James Harden, Omer Asik, and Jeremy Lin have all been highlights for Houston. But can they take down the Spurs?
Back Court:
Houston's duo of Harden and Lin will face the rotation of Tony Parker, Danny Green and Manu Ginobili. I could go on and on about How good Parker and Ginobili are, but I'm more interested in how Lin and Harden will step up to the plate. Harden did an exceptional job for Oklahoma City last season in the playoffs - but he wasn't the starter. And this will be Lin's first playoff experience. I'm going with veterans over newcomers every day of the week in the playoffs. Advantage Spurs.
Front Court:
Patrick Patterson, Omer Asik and Chandler Parsons start for Houston and Tim Duncan, Tiago Splitter and Kawhi Leonard get the nod for San Antonio. Asik will do a sound job, but, again, I'll take the Duncan/Splitter combo all day.
Series Breakdown:

Game 1 in San Antonio: Houston won't shake the playoff jitters in Game 1, thus falling to the Spurs. Spurs win, up 1-0.
Game 2 in San Antonio: The Spurs know what it takes to take control of series - home victories. Spurs win, up 2-0.
Game 3 in Houston: "I don't care if we're boring, we win," - Tony Parker in imaginary interview. Spurs win, up 3-0.
Game 4 in Houston: You get where this is going. Spurs win, take series 4-0.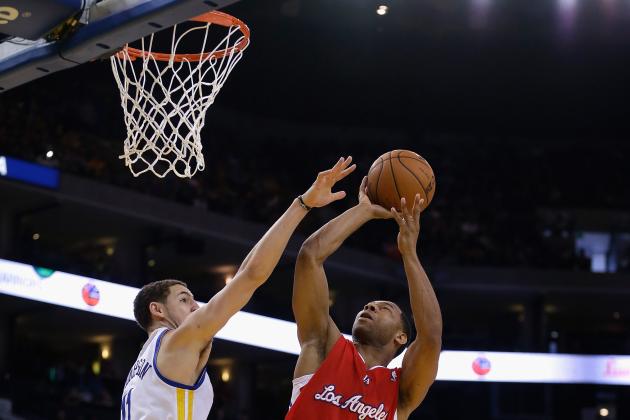 Ezra Shaw/Getty Images

The Match Up:
It's the series between the two "Pleasant Surprises" of the season thus far. Golden State has way over-achieved (that's a good thing, folks), and the Clippers are playing extremely well - well enough they can still challenge for the #1 overall seed. But one Cinderella story comes to an end in the first round.
Back Court:
The Clippers send Chris Paul and Chauncey Billups to face Steph Curry/Jarrett Jack at PG, and Klay Thompson at SG. The advantage is obviously in LA's favor, but don't sleep on Curry, Thompson and Jack. There's a reason Golden State is having such a great season - the continuity and chemistry is astounding.
Front Court:
Blake Griffin, DeAndre Jordan and Caron Butler start for the Clippers and David Lee, Andrew Bogut and Harrison Barnes get the go for the Warriors. The front court is very evenly-matched, even down to the bench where the Clips have Lamar Odom and Matt Barnes while Golden State has Carl Landry, Richard Jefferson and Draymond Green.
Series Breakdown:
Game 1 in LA: Now that the Lakers aren't "LA's Team" (I know I'm in murky waters, relax), and the Clippers drew a well-matched team in the first round, it's time to take control of the series and make a statement early. It won't be pretty on either side of the court, but the Clippers get a tight one. Clippers win, up 1-0.
Game 2 in LA: Game 1 jitters are gone (second time in this slide show I've said that), and the Warriors have something to prove. They want this series, and it's going to take a few road wins to establish a presence. Here's one. Warriors win, series tied at 1.
Game 3 in Golden State: Don't underestimate the home crowd of Golden State. This is the same crowd that willed the Warriors to a first-round upset of the defending NBA Champion Mavericks in 2007. And this is Golden State's first playoff appearance since that season, and first playoff home game since May 13, 2007. That's all the motivation you need. Warriors win, up 2-1.
Game 4 in Golden State: Now that we got that out of the way, the Clippers are over the "sappy" Cinderella crap. They feel like the best team in the series. And they are. Clippers win, series tied at 2.
Game 5 in LA: 75 percent of the time, when a series is tied at two the team that wins Game 5 wins the series. Your welcome, Clippers. Clippers win, up 3-2.
Game 6 in Golden State: The crowd will be loud, the atmosphere electric, and the game epic. But in the end, Los Angeles will pull away in the final five minutes and take the series. Clippers win, take series 4-2.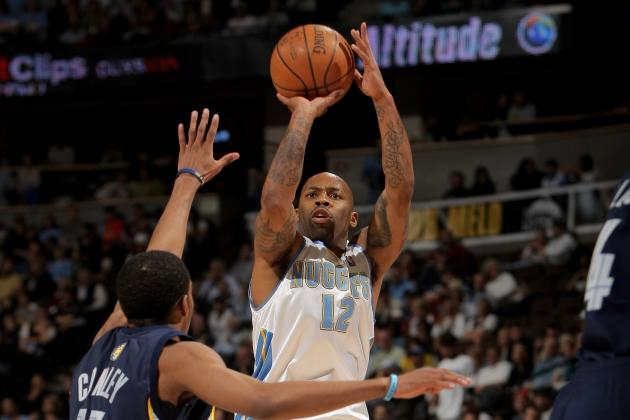 Doug Pensinger/Getty Images

The Match Up:
Two well-rounded, high-scoring teams meet up in this match between the Denver Nuggets and Memphis Grizzlies. If you were looking for "sexy" ... it's not here. If you want an evenly-matched series? This is for you.
Back Court:
Denver's Ty Lawson and Andre Iguodala meet Memphis' Mike Conley and Tony Allen in the back court match up. Lawson and Iggy are having good seasons while Conley and Allen have been very serviceable for Memphis by working well in their lineup. Lawson and Iggy are scorers while Conley and Allen are facilitators.
Front Court:
Both sides have very good front courts; Memphis with Zach Randolph, Marc Gasol and Tayshaun Prince, Denver with Kenneth Faried, JaVale McGee, and Danilo Gallinari. Faried is having a great season, as is Gasol for Memphis. McGee has done well coming off the bench, and Gallinari is a scoring machine. The series will come down to Randolph/Gasol V.S. Faried/Gallinari down low.
Series Breakdown:
Game 1 in Denver: Memphis will be traveling to the high altitudes of Denver, and it'll take a game to adjust. How many times have you heard that before? I don't care. Nuggets win, up 1-0.
Game 2 in Denver: Denver will have some trouble going down low, between Gasol and Randolph, so they settle for perimeter shooting from Iggy. It doesn't work all that well. Grizzlies win, series tied at 1.
Game 3 in Memphis: In the spirit of home teams usually winning their first game at home, I'll give Memphis this one. Grizzlies win, up 2-1.
Game 4 in Memphis: Here's the thing; Denver can score, and Memphis plays sound defense. But how well can Memphis defense a perimeter shooting team, and take care of the low-post presence with Faried and McGee? Not to mention Gallinari haunting the wings? This feels like a series-changing game for Denver. Nuggets win, series tied at 2.
Game 5 in Denver: The Grizz are in trouble. They want to avoid getting trounced early yet again - and losing Game 5 puts all the pressure on them at home down 3-2. Denver plays relaxed - which proves to be a huge mistake. Grizzlies win, up 3-2.
Game 6 in Memphis: And just like that, the Memphis Grizzlies are back in the driver's seat in this back-and-forth series. No team has won back-to-back, and Memphis knows if this thing gets back to Denver for a Game 7? Bye-bye, baby. It's a close game - maybe even an Overtimer. No matter, the Memphis Grizzlies move on. Grizzlies win in OT, take series 4-2.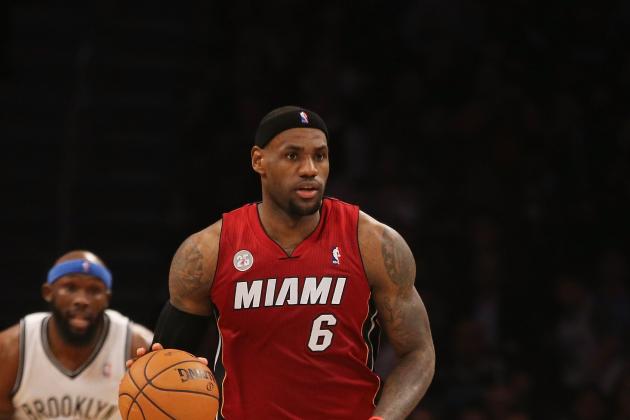 Al Bello/Getty Images

The Match Up:
Miami is coming off their 4-1 first round victory over Milwaukee and the Nets are confident after coming back from 2-1 to beat the Pacers 4-2. Miami looks like they can roll through to the Eastern Conference Finals, but Brooklyn will put up a bigger fight than you think.
Back Court:
Dwyane Wade and the combo of Norris Cole and Mario Chalmers face much tougher competition in Deron Williams and Joe Johnson than they did against Milwaukee. Brooklyn needs make Wade work harder than he's done in the last few years to win the series. Take away his good shot looks, and frustrate him early.
Front Court:
Brooklyn's front court has their hands full with Bosh, Battier, and Haslem - let alone the elephant in the room LeBron James. Much like in their last series, the Nets need Brook Lopez to be a defensive monster down low to take away LeBron's post game. Be careful, though - LBJ can hit from anywhere now.
Series Breakdown:
Game 1 in Miami: The Heat have awoken. They're not letting series get away from them early. They roll to a Game 1 victory 101-88. Heat win, up 1-0.
Game 2 in Miami: LeBron scores 39, Wade gets 22, Bosh has 11 and here comes Ray Allen burying two late threes to end a last-minute Nets surge. Heat win, up 2-0.
Game 3 in Brooklyn: Deron Williams finally gets his signature performance, knocking down 31 points on 10 assists and 4 rebounds en route to Brooklyn's 99-96 victory. Nets win, Heat up 2-1.
Game 4 in Brooklyn: The Heat have this down to a science now - get home late in the series with a nice lead and then put the nail in the coffin at Triple A. Check. Heat win, up 3-1.
Game 5 in Miami: Not so fast, LeBron. Are the demons coming back? LeBron goes 1 for 6 at the free throw line in the final two minutes and the Nets surge to a 98-97 victory. Skip Bayless goes ballistic the next day bringing back the old "LeBrick" puns. Nets win, Heat up 3-2.
Game 6 in Brooklyn: Remember those demon eyes LeBron had on against Boston in Game 6 last season? He ended up scoring 45 points in 46 minutes. This will be a little like that. LeBron will hoist 24 shots and drop 19 of them, scoring a blistering 55 points - and the Heat are in the Eastern Conference Finals for the third straight season. Heat win, take series 4-2.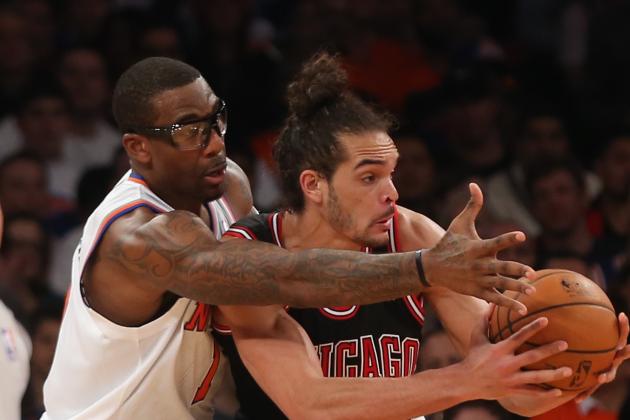 Bruce Bennett/Getty Images

The Match Up:
I love it when rivalries get renewed. The Knicks are fresh off taking down Atlanta in five games while the Bulls are exhausted from their seven-game battle with Boston. If the Knicks win, they will go to the Conference Finals for the first time in 13 seasons. If Chicago wins, they will re-match the Heat in the Eastern Conference Finals for the second time in three years.
Back Court:
Derrick Rose V.S. Iman Shumpert. Jason Kidd V.S. Kirk Heinrich/Rip Hamilton. Rose had a heck of a series against Boston and is in full attack mode now. The Knicks will probably put their focus defensively on Rose, which could be bad news down for them down low. Leave Derrick alone and he goes off, pressure him and he finds his boys down low.
Front Court:
Carmelo Anthony and Amar'e Stoudemire will have their hands full on offense when guarded by Luol Deng and Joakim Noah. But the Bulls' weak spot on defense is still Carlos Boozer. Match 'Melo with Boozer, and you got yourself a huge advantage. Defensively speaking, the Knicks will actually have their hands full as Boozer, Noah and Deng can all score. And don't forget Bellinelli on the bench! My Italian brethren!
Series Breakdown:
Game 1 in New York: New York sets the tone early with a barrage of scoring, almost dismantling the Bulls' defense. But Rose and Co. get going late to make the game close. In the end, the early lead turns out to be too much for Chicago to overcome and they fall 101-90. Knicks win, up 1-0.
Game 2 in New York: It looks bad for Chicago. It's the end of the third quarter, and they trail by 20. Somehow 'Melo went off for 35 in three quarters, Tyson Chandler is eating up the boards and Jason Kidd drilled 4 three-pointers. The Bulls go on an 11-2 run in the fourth, but again it's not enough. Knicks win, up 2-0.
Game 3 in Chicago: Enough screwing around for Chicago. They've seen this movie before - allowing the Heat to dismantle them in four games in 2011, and watching the 76ers dismantle them a year later after the Rose ACL tear. The home crowd is jacked, Rose is on fire, Boozer gets another 20 points and 10 rebounds, and the Bulls blow by the Knicks. Bulls win, Knicks up 2-1.
Game 4 in Chicago: There is a gathering storm in Chicago in the form of Derrick Rose. Call him the "Chicago Savior," but 10 months of "The Return" campaigns are well-worth it as Rose drops an unthinkable 51 on 11 assists to drown the Knicks. Bulls win, series tied at 2.
Game 5 in New York: The Knicks are bewildered. Their 2-0 series lead is gone, they've allowed Derrick Rose to single-handedly beat them in Game 4, and now they face going down 3-2 and a long plane ride to Chicago for Game 6. Not even Derrick Rose can stop the Knicks on this night. Knicks win, up 3-2.
Game 6 in Chicago: Once again faced with elimination, Chicago rallies from a 12-point fourth quarter deficit to beat the Knicks and force a Game 7 in New York. Bulls win, series tied at 3.
Game 7 in New York: This is all out war. 47 minutes of back-and-forth basketball and we find ourselves locked in a 98-98 tie with 0:45 left. It's Bulls ball. Rose dribbles it up court, crosses over Shumpert, dishes it to Deng on the wing who drills a three. 101-98 Bulls, 0:32 left. Shumpert has it now, races up court as the clock drops under 30 seconds to play. The Knicks move the ball for 21 more seconds until finally, at the buzzer, Carmelo Anthony hits a sloppy two-pointer from the baseline. 101-100 Bulls. With 11 seconds to go, the Knicks foul Rose in the bonus. At the line, he hits the first free throw. 102-100 Bulls. The second bounces off the back iron, and is quickly gathered by Tyson Chandler. After their final timeout, the Knicks run a clear-out play for Anthony, who dribbles slowly from the left wing to the top of the key, guarded closely by Rose. 8 seconds left. Anthony shimmy-shakes Rose and explodes towards the rim. 5 seconds. The lane is quickly clogged by Noah and Boozer, but they're careful not to foul Anthony. 3 seconds. Anthony gathers himself and dishes to the right corner pocket where an awaiting Shumpert, the team's 3rd-best three-point shooter, hoists a three at the buzzer with Deng's hand right in his face. It clanks off the rim as time expires. Bulls win, takes series 4-3.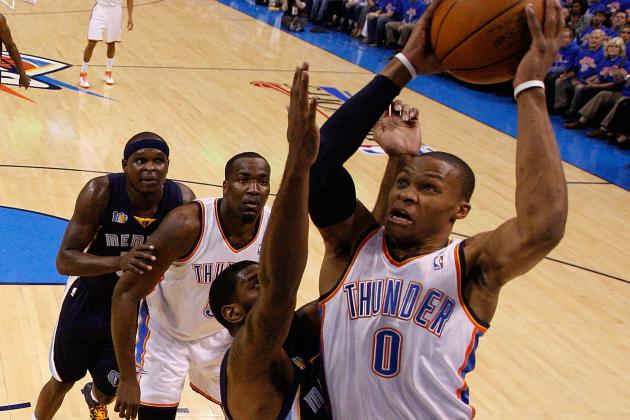 Ronald Martinez/Getty Images

The Match-Up:

The Thunder are looking to get back to the Western Conference Finals for the third straight year while Memphis goes for their first franchise Conference Finals appearance. The battle-tested Thunder come rolling in after their six-game bout with the Lakers while Memphis comes in after their own six-game series win over Denver.
Back Court:
Oklahoma City has a big advantage over Memphis in the back court with Westbrook and Sefolosha. But don't forget, two years ago a similar Grizzlies team (a strong front court and a suspect back court) took the Thunder to seven games in this very same round. Memphis is probably going to involve their front court in more of a rotational game plan to accommodate the large differential from their back court.
Front Court:
This is the meat of the series. Memphis' Randolph-Gasol-Prince lineup goes against the Durant-Perkins-Ibaka lineup. On paper, this seems like an advantage for OKC. But don't sleep on the abilities for Randolph and Gasol, they can play both sides of the ball and give Thunder Head Coach Scott Brooks headaches if he's not careful.
Series Breakdown:
Game 1 in OKC: I don't know why I like Memphis to steal the series opener. Their 12-10 road record is "meh" at best, and OKC is 2-1 at home in these predicted playoffs, and 23-4 at home at the All Star Break. There's no definite reason for me to pick Memphis here. But I am. Why not? Grizzlies win, up 1-0.
Game 2 in OKC: Everything I just said about Game 1 ... happens here. Durant gets 34 points and 9 dishes, Ibaka becomes a blocking machine, and Westbrook moves the ball with ease, guiding the Thunder to a solid 99-91 victory. Thunder win, series tied at 1.
Game 3 in Memphis: The Thunder are rolling. Durant gets 30+ in back-to-back games, Perkins grabs 10 rebounds again, and Zach Randolph can't seem to find his shot as Memphis gets blown out on their home court. Thunder win, up 2-1.
Game 4 in Memphis: Memphis is shaken. They couldn't get Marc Gasol involved enough offensively in games two and three to get past the Thunder. Now, they're at home, maybe for the final time in the season, and play good enough in a sloppy game to sneak past the Thunder 105-104 late. Grizzlies win, series tied at 2.
Game 5 in OKC: The all-important Game 5. This would be the sixth series in these playoffs that two teams entered a Game 5 tied at two games apiece. Of those five series, the team that won Game 5 went on to win the series four of the five times. OKC is just too good at home, and they're not going to allow the Grizzlies to beat them twice at home in the same series - that hasn't been done since the Mavericks beat OKC at home in Games 3 and 4 in the 2011 Western Conference Finals. Thunder win, up 3-2.
Game 6 in Memphis: Memphis' front court finally gives way to the sheer scoring power of Kevin Durant, the defensive ability of Serge Ibaka and the rebounding of Kendrick Perkins. Randolph, Gasol and Prince are simply out-matched. Thunder win, take series 4-2.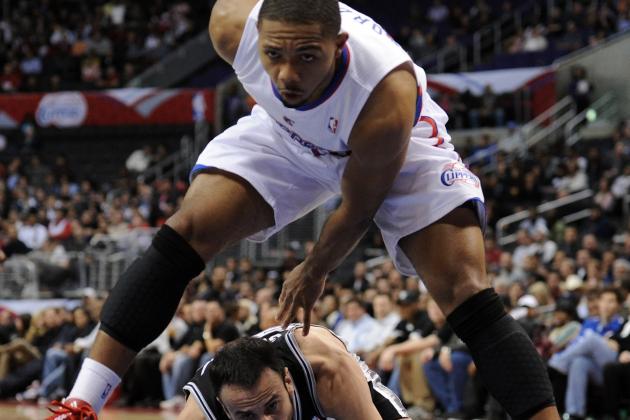 Harry How/Getty Images

The Match Up:
Could this be the series where basketball in Los Angeles changes forever? Could this be the series, after 43 years of never winning an NBA Championship, let alone winning a Conference Championship, hell, never even getting to a Conference Championship all goes away for the Clippers?
Ponder this for a second: in the 43-year existence of the Clippers, they've only made the playoffs 8 times, have a 3-8 series record in those playoffs, and have never made it past the semi finals round. Now take a look at their opponent. The San Antonio Spurs have won more Championships and Conference Titles than L.A. has won playoff series. San Antonio also has twice as many division championships and exactly four times as many playoff appearances as the Clippers.
Imagine now the elation, the changing of the guard, the pure awesomeness that new-age "lob city" basketball finally gets over the hump, and the "old school," "slow ball," San Antonio Spurs.
I can't wait to dive into this one.
Back Court:
It all starts and ends with Chris Paul. Paul needs to be MVP-like this series by getting Griffin, Butler and Billups involved. For the Spurs, you can rely on Tony Parker to control the pace and get the game to slow down - exactly what the Clippers don't want.
Front Court:
This is a huge moment for Blake Griffin. He's going to be matched with Tim Duncan - arguably one of the best forwards in NBA history. If Griffin wants to establish himself as a force in the NBA, and not just some dunk king, he can do it by holding his own against Duncan all series long. L.A. will get their scoring from their guards, but Griffin will need to be the glue down low that keeps the Clippers alive in the series.
Series Breakdown:
Game 1 in San Antonio: Here we go. When these two teams squared off in this same round last, San Antonio trounced Los Angeles 108-92 in the series opener at the Alamo. The Spurs went on to sweep the series. I expect the Spurs to take Game 1 again, pushing their playoff home record to 3-0, but the series will not end in another sweep. Spurs win, up 1-0.
Game 2 in San Antonio: The Spurs are starting to realize the Clippers aren't the Rockets in that they won't hoist up a million threes in a game - but they actually rotate the ball quite nicely and make the Spurs get out and run with them. Los Angeles steals a game here, 89-88 in the closing seconds, handing the Spurs their first home loss of the playoffs. Clippers win, series tied at 1.
Game 3 in LA: The Clippers faithful arrive in droves for Game 3, but the Spurs aren't fazed by the crowd. San Antonio jumps out to an early lead, and holds it through three quarters. The Clippers make a flurry of shots as time winds down in the fourth, but San Antonio gets the Clippers into foul trouble late, and seal it with a few late free throws. Spurs win, up 2-1.
Game 4 in LA: Chris Paul, meet rim. Rim, meet Chris Paul. Paul torches the Spurs down low - uncharacteristically - and gets 7 combined layups/dunks for 31 points and 14 assists - quickly going down as an instant career-highlight game. Clippers win, tie the series at two, and prepare for that all-important Game 5. Clippers win, series tied at 2.
Game 5 in San Antonio: I've been babbling a lot about Game 5's in this prediction piece, and I don't think this is the last time I'll do it, either. The Spurs want to put the pesky Clippers away and get back to the Conference Finals. But the Clippers are hungry. Paul amazes, Griffin throws it down enough times to make his own highlight reel off this game alone, but a last second dagger by Tony Parker buries the Clippers. Spurs win, up 3-2.
Game 6 in LA: High drama and high anxiety fill the Staples Center in L.A.. The Clippers are on the verge of elimination, which would push their all-time playoff series record to 4-9, and make it 44-straight years without a Conference Finals appearance. With everything on the line, Head Coach Vinny Del Negro finds a way to overcome Spurs Head Coach Gregg Popovich's unselfish basketball - with a little "Lob City" and some Chris Paul. The Clippers trailed by 11 in the third, but eventually push past the Spurs and win this one 101-98, forcing a Game 7. Clippers win, series tied at 3.
Game 7 in San Antonio: The last time the San Antonio Spurs lost a Game 7 at home was against Dallas in 2006. This would be just the fourth Game 7 for the Spurs in 15 years, and only the second at home. With so much pressure at home, I wonder when the moment comes when Los Angeles finally cracks the code. Will it be a Griffin dunk? An impeccable dish from Paul that puts the Clippers up big? A late steal? Whatever it is, the Los Angeles Clippers will go into San Antonio and defeat the Spurs. Clippers win, take series 4-3.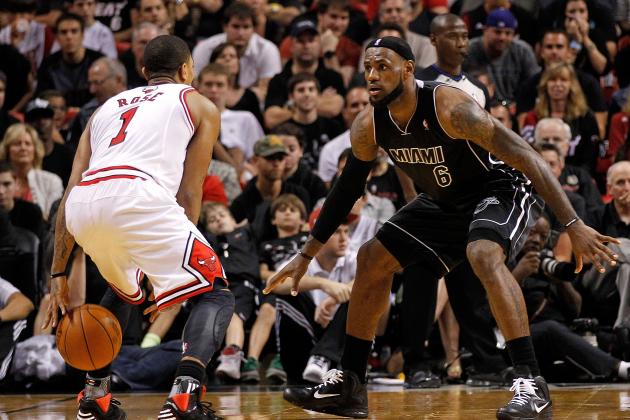 Mike Ehrmann/Getty Images

The Match Up:
Bulls V.S. Heat. Rose V.S. James. Blue collar V.S. Superstardom. High Rises V.S. Beaches. Every weather element under the sun V.S. 80 degrees and sunny. The Magnificent Mile and Michigan Avenue V.S. Biscayne Bay and South Beach. MVP V.S. MVP's. Legend V.S. Legacy.
Round 2.
Two years ago the Bulls and Heat squared off for what should have been an epic seven-game battle, but ended when the Heat rolled to a 4-1 beat-down, en route to LeBron's second NBA Finals. Last year, the two teams were destined to meet again until Derrick Rose fell to an ACL tear. Miami went on to roll through the Knicks, Pacers, Celtics, and Thunder to en route to an NBA Championship, LeBron's first.
Now, two years in the making, we finally get to see "The Rematch." For Miamians, this is simply just another road block to get LBJ his second ring, Wade his 3rd, and the Heat their second consecutive. For Chicagoans, this is much more than a basketball series. This is about Pride V.S. Pride, Cities V.S. Cities (who couldn't be any different against each other), character (the blue-collar worker) V.S. character (the flashy beach-living "superstar"), and History V.S. Present Day. No one loves Michael Jordan more than the city of Chicago - so why let LeBron inch any closer to MJ? Whether or not you believe in anything I just said - there is some truth to it.
Front Court:
I'm torn in this series - I was born and raised in Chicago, but lived in Florida for many years and grew up a Heat fan. This is absolutely about pride for both sides. Bulls fans want to see Derrick Rose get the Bulls back to the NBA Finals, and legitimize him as one of the best in the game. Heat fans love Dwyane Wade more than any player to ever throw on a Heat uniform (yes, even more than Tim Hardaway and Alonzo Mourning), so it's fitting to start in the front court - where we're going to see Wade and Rose go toe to to offensively. Rose has the advantage, clearly, but if the Heat do what they did two years ago and rotate LeBron over on defense to have Derrick Rose duty - this series could end just as quickly as it did two years ago. Don't forget Ray Allen coming off the bench for Miami, but watch out for Rip Hamilton and Kirk Heinrich for the Bulls - they could be the difference makers if Wade isn't playing like MVP Wade.
Back Court:
Carlos Boozer and Joakim Noah need to play the series of their life. I think I've said that before, but it bears repeating. Boozer can't continue to be a liability on defense, and Noah needs to establish his presence within the first few minutes of the series against Chris Bosh and LeBron James. James will likely camp down in the post, so the Bulls should put Luol Deng on him and keep Noah there to clog the lanes. I hate to be so disrespectful to Boozer, but if he's played anything like he's played in the past playoffs on defense, it's 5 on 4 out there. Miami will do what they always do and play the match-up game. LeBron on Rose, Wade on Rip Hamilton or Luol Deng, Bosh with Noah (they'd like to get that Bosh-Boozer match-up, but the Bulls won't let that happen), Battier on Boozer, and Ray Allen or Chalmers or Cole (whoever happens to be on the court at that given moment) against whoever else trots out there for the Bulls. Also, it should be mentioned this isn't 2011 again, Miami actually has a bench and it may be better than Chicago's. The Bulls lost a ton of firepower from the bench in the last two seasons - particularly Omer Asik, C.J. Watson and Ronnie Brewer.
Series Breakdown:
Game 1 in Miami: Miami is focused. They're 8-3 in the playoffs and well-rested having wrapped up their series with the Nets in 6 games. The Bulls are tired - they've had back-to-back seven-game series, and now have to go into Miami to open the Eastern Conference Finals. The Heat cruise to a Game 1 victory, 109-93. Heat win, up 1-0.
Game 2 in Miami: It certainly seems the Heat are far-and-away better than the Bulls, at least in the first two games. Chicago can't seem to get the right match-ups, and it goes from bad to worse as Miami takes advantage and comes away with another blowout victory. Heat win, up 2-0.
Game 3 in Chicago: Bulls Head Coach Tom Thibadeau is upset. His team is in trouble. He can't seem to find a hole to exploit in the Heat's lineup - until Game 3. Chicago out-plays Miami at home by out-scoring them in the "hustle stats" - rebounds. The Bulls have new life and grab a home victory. Bulls win, Heat up 2-1.
Game 4 in Chicago: "Let's not allow the Heat to take one from us at home," is the Bulls' mentality. They shell-shock the Heat 99-86 and tie the series going into ... you guess it ... Game 5. Bulls win, series tied at 2.
Game 5 in Miami: One thing that has been established in roughly the last 380 days is LeBron James no longer fears the big moment. Game 6 in Boston proved that, his Finals performance against the Thunder proved that, his performance against the Nets last round proved that, and now his Game 5 performance against the Bulls proves it again. I imagine a stat line that goes something like this: 56 points, 11 rebounds, 9 assists, 4 steals, 2 blocks. Heat win 100-89. Heat win, up 3-2.
Game 6 in Chicago: The Bulls have been through a lot since last losing to the Heat in the 2011 playoffs. They blew up the famed "Bench Mob," lost their star for nearly 11 months, battled back to the playoffs and came within two games of the NBA Finals. After putting up a huge fight in Game 6 at home, Chicago falls to the Miami Heat 99-97. Heat win, take series 4-2.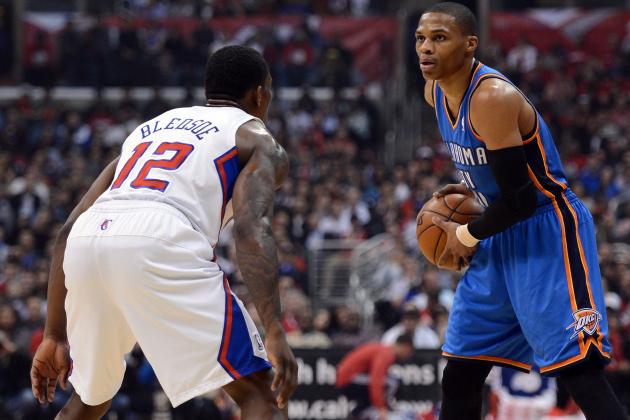 Harry How/Getty Images

The Match Up:
Oklahoma City meets the Los Angeles Clippers for a chance to go to the NBA Finals. Two young teams look to get to the Finals - the Thunder for the second time in a row, the Clippers for the first time in franchise history.
Back Court:

Russell Westbrook V.S. Chris Paul. This is an epic match up, where I believe the series will be won or lost for either team. Though Westbrook hasn't been putting up quite the numbers we're used to seeing from him, he's still an incredible Point Guard. Paul is the captain of "Lob City", the facilitator, and the scorer. At the Shooting Guard spot, it's Chauncey Billups V.S. Sefolosha - which could provide its own fireworks all series long.
Front Court:
It begins and ends with Kevin Durant. If the Thunder forward can go off, which he will, and the Clippers can't find a way to slow him down, it's series = over. Blake Griffin will once again have a tall order going against Durant, but OKC still has incredible firepower in Ibaka and Perkins down low.
Series Breakdown:
Game 1 in OKC: It's all business for the Thunder. They've been here before, they understand the moment, and they're not star-struck like the Clippers. OKC holds on late to take Game 1. Thunder win, up 1-0.
Game 2 in OKC: The Clippers and Thunder do incredible battle for 45 minutes, trading blows and three-point dimes until the Thunder pull away in the final seconds, taking Games 1 and 2. Thunder win, up 2-0.
Game 3 in LA: OKC has their foot on the pedal, and not even a road trip to the Staples Center can stop their roll. The Thunder shock the Clippers and roll to a huge win. Thunder win, up 3-0.
Game 4 in LA: The Clippers aren't going to get all the way to the Western Conference Finals just to get swept - let alone at home. It's a nail-biter, but the Clippers stay alive with a 101-98 Game 4 win. Clippers win, Thunder up 3-1.
Game 5 in OKC: Suddenly, all the pressure is on Oklahoma City. They're at home with a chance to take the series, while the Clippers are on the ropes, yet somehow feeling loose. They weren't expected to be here, while anything short of another Finals appearance is a disappointment for OKC. It's time for one more fight out of the Clippers, and they take Game 5. Suddenly, we've got a series. Clippers win, Thunder up 3-2.
Game 6 in LA: Well look at what we've got here. The Clippers have come roaring back, down 3-0 and they're home with a chance to tie the series and force a Game 7. It's high drama in the Staples Center as the Clippers trail by 5 with 0:45 left. A furious drive from Chris Paul results in a foul, and one. Paul converts, and the Thunder lead is now trimmed to 2. Kevin Durant races up court and drills a mid-range jumper, extending the lead to 4. With just under 0:20 left, Paul finds Blake Griffin under the hoop, who throws down a dunk, pulling the Clippers again within 2 of OKC. A quick foul, and Serge Ibaka is at the line with 0:16 left. Ibaka misses the first, but hits the second - OKC leads by three. Paul pulls up on the next possession, and knocks down a jumper to pull within 1. Instead of fouling, the Clippers strip the ball from Russell Westbrook and Paul throws up a dunk to Griffin, and take the lead with 0:05 left. OKC is unable to get a shot to fall in the next possession, and the Clippers do the unthinkable by pushing the series to seven games. Clippers win, series tied at 3.
Game 7 in OKC: No team has ever come back from a 3-0 deficit to win a playoff series. Only twice in NBA history has a team down 3-0 ever pushed the series the distance - the last being the 2003 Portland TrailBlazers. Now, the Clippers have to go into Oklahoma City off three straight wins and get to the NBA Finals. It's a close battle early, but late in the game OKC starts to pull away - leading by as many as 13. The Clippers are able to make one final surge, but it isn't enough to overcome the Thunder. Thunder win, take series 4-3.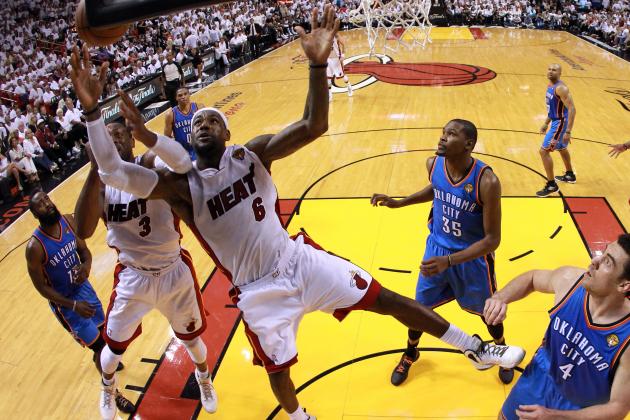 Ronald Martinez/Getty Images

The Match Up:
It's the Heat V.S. Thunder, Round 2. Kevin Durant V.S. LeBron James. The Thunder's road to the final including bouts with the Lakers, Grizzlies and Clippers while the Heat took down the Bucks, Nets and Bulls. These two went five games in last year's finals and now get set to do battle yet again.
Front Court:
The Heat are just as good, if not better than last year's Finals. LeBron has put up incredible numbers through the All-Star Game, continued them through the rest of the season, and the Heat have rolled into the Finals with a 12-5 record. The Thunder's road here has been a bit rockier - they went six games with the Lakers and Grizzlies, and seven with the Clippers (making a 12-7 record through the playoffs). Having not played the two extra games has helped Dwyane Wade. He's well-rested. It's also provided a few extra precious days of preparation for Russell Westbrook and Thabo Sefolosha.
Back Court:
The Thunder struggled last season in the front court to keep up with Miami - and that was with James Harden as their hybrid guard/forward. Now, they're going to have to go pound-for-pound with Durant, Perkins and Ibaka against James, Bosh and the Heat's endless rotation including Haslem, Battier, Cole, Chalmers, Anderson, and Lewis. The good news for the Thunder is they're going to get home court again, so they're going to have to strive to win Games 1 and 2 in order to force the series back to OKC in Game 6.
Series Breakdown:
Game 1 in OKC: The Thunder took apart the Heat in Game 1 in Oklahoma City last year, and Miami doesn't want that again. The Heat establish their presence here in Game 1 and stun the Thunder with a huge win. Heat win, up 1-0.
Game 2 in OKC: Oklahoma City is not going to Miami for three straight games down 2-0, but this win doesn't come easy. The Heat battle them through and through, but Kevin Durant's 40 finally overcome the Heat. Thunder win, series tied at 1.
Game 3 in Miami: LeBron James' 40 pts ignite the home crowd as the Heat roar to a huge Game 3 victory. This is starting to look a lot like last year's finals. Heat win, up 2-1.
Game 4 in Miami: The Thunder are back. Refusing to let last year happen again, the Thunder bash the Heat in the paint and grab a road Finals win. Oh, and the all-important 2-2 tie going into Game 5. Thunder win, series tied at 2.
Game 5 in Miami: Miami absolutely throttles OKC in Game 5. The Heat are upset about Game 4, and want to grab one last win before heading back to OKC for Games 6 and a possible 7. Oh, and LeBron James is angry. Very angry. Heat win, up 3-2.
Game 6 in OKC: It's an epic battle that will go down in NBA history as one of the best Finals games of all time. The Heat and Thunder trade blows through the entire game - each leading by as many as 5. The game is tied many times, then the lead is taken right back. In the end, the Miami Heat overcome the Oklahoma City Thunder and win the NBA Championship.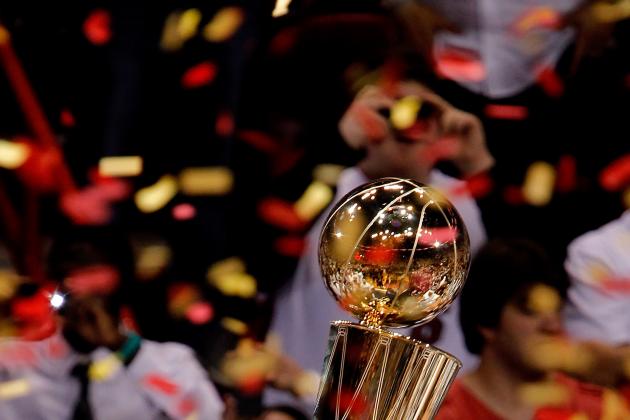 Mike Ehrmann/Getty Images

The Miami Heat will win the 2013 NBA Finals, and become back-to-back Champions.