Updated Grades for Top 25 NBA Stars, All-Star Break Edition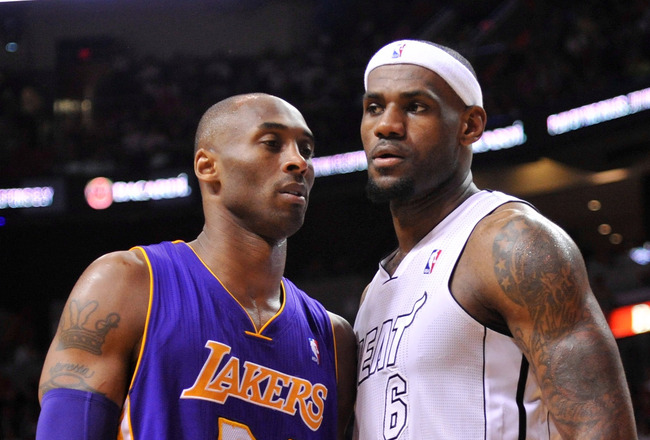 USA TODAY Sports
The 2013 NBA All-Star Game is coming up, and it's time for me to hand out mid-term grades for the league's biggest stars.
So here's the deal: I'm going to rank the top 25 players in the NBA—according to yours truly and based on some sort of Secret Sauce-like recipe that accounts for talent, potential impact and current performance—and then assign each guy a grade to account for what he's done in 2012-13.
Why wouldn't I just rank the top 25 according to their grades? Because such wouldn't be quite so reflective of where (I think) players stand in relation to one another in the bigger picture. For instance, I could give, say, David Lee a better grade for what he's done this season than I give Dwight Howard for what he's done (which I did), but I still wouldn't pick the former ahead of the latter if we were holding a league-wide re-draft of some sort.
Got it? Cool. Let's get a move on with the list, then, before my need to explain myself reaches Hannah Horvath-like heights of confusion.
25. Al Horford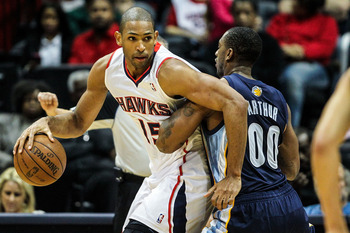 Daniel Shirey-USA TODAY Sports
With all the chit chat concerning the availability of Josh Smith, it's a wonder that there's been little (if any) relating to Al Horford.
Which might just tell you something about how the Atlanta Hawks view Horford. The two-time All-Star won't be joining his colleagues in Houston, and his free-throw shooting has been relatively abysmal (a career-low 59.6 percent).
But, for a guy coming off a triceps injury that knocked him out for all but 11 games last season, Al's doing just fine, thanks. He's one of seven players in the Association averaging at least 16 points and 9.5 rebounds per game, the others being Dwight Howard, David Lee, Zach Randolph, DeMarcus Cousins, Greg Monroe and Al Jefferson.
Unlike most of his productive colleagues, Horford has had to shift constantly between power forward and center amidst Larry Drew's lineup tinkering. So far, Horford's adapted beautifully. He's shooting an astounding 79.3 percent on attempts at the rim—the highest mark in the league among players who've logged at least two attempts in 20 minutes per game across 20 games this season (per Hoopdata). He's also shooting 40 percent on 4.5 long-two attempts per game, which doesn't measure up to the 52.3-percent mark he posted on such looks two years ago, but remains a solid number nonetheless.
Throw in Horford's stout defensive play and his dependable effort from night to night, and you've got yourself a guy around whom the Hawks would be wise to build for the foreseeable future.
Grade: B+
24. Paul Pierce
USA TODAY Sports
The Truth has been set free since Rajon Rondo was ruled out for the season with a torn ACL. In his last eight games, Paul Pierce has averaged 18.1 points, 9.9 rebounds and 7.4 assists while shooting nearly 40 percent from three in 36.8 minutes per outing. He's also posted triple-doubles in each of the Boston Celtics' two overtime games in Rondo's absence, including a staggering line of 27-14-14 in just over 54 minutes of play in a triple-overtime bonanza against the streaking Denver Nuggets on February 10.
In a season chock-full of surprising performances from guys presumed to be "over the hill," Pierce's turn as a do-it-all wing (at the age of 35, no less) is positively Kobe-esque. He's still shooting under 42 percent from the field overall, but is getting to the line almost six times per night and remains an effective (if not-exactly-aesthetically-pleasing) crunch-time scorer for the C's.
Kevin Garnett deserves plenty of credit for anchoring Boston's defense, which has only recently crept back into the top 10 in efficiency. But if there's one Celtic who deserves to play in the All-Star Game for his all-around contributions this season, it's Pierce.
Grade: A-
23. LaMarcus Aldridge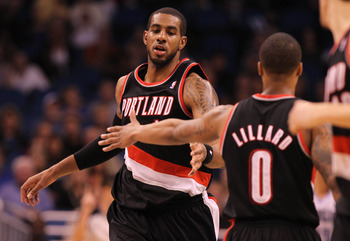 Kim Klement-USA TODAY Sports
LaMarcus Aldridge has been the prettiest girl at the Portland Trail Blazers' party since Brandon Roy's knees became the latest casualty of the team's tortuous training staff. But his share of attention has shrunk considerably this season, thanks to the explosion of Damian Lillard's push for Rookie of the Year honors.
Don't cry for LMA, though. He's still getting plenty of passes from the league at large. He's on his way to his second-straight All-Star Game, thanks to mid-season marks of 21 points, nine rebounds, 2.6 assists and 1.2 blocks in 38.2 minutes a night. He's shooting a career-low 48.1 percent from the field, though that has as much to do with a notable shift in his shot distribution; he's attempting the most long-twos (7.4) of anyone in the NBA, and his at-rim attempts have plummeted from 6.1 two years ago to 4.0 in 2012-13 (per Hoopdata).
To Aldridge's credit, he's also converting a career-best 71.6 percent of his close attempts this season, and though his 41-percent mark from between 16 and 23 feet is hardly Bosh-like, it's well above the league average.
The Blazers will need LMA's production even more after the All-Star break. They're quickly slip-sliding out of the Western Conference playoff picture, and with their non-existent bench, they will have to squeeze all they can out of their best starter going forward.
Grade: B
22. Paul George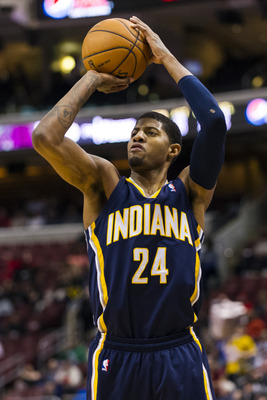 USA TODAY Sports
Most nights, Paul George looks like the All-Star most expected he would be this season and the one he's since become. It's taken time, but he seems to have settled into an expanded role in the absence of fellow swingman Danny Granger.
George's increased workload has, predictably enough, spawned career highs across the board, save for overall field-goal percentage. Despite that extra effort expended on the offensive end, George has also managed to step up his game on the defensive end. He guards the opponent's best perimeter player more often than not, and has come about as close to flustering LeBron James at all as anyone else has this season.
And it's worked quite well for the Indiana Pacers thus far. They're 31-21, good for the three-spot in the East, with dreams of upending the Miami Heat in the playoffs dancing in their heads.
But, some nights...well, some nights, George looks like he's stayed up cashing in his bad luck. Take, for instance, his 1-for-10 stinker against the Deron Williams-less Brooklyn Nets or his 4-for-18 flameout opposite the Boston Celtics.
Paul George has clearly come a long way in a short span of time, but if this kid's going to be a true superstar for the Pacers at any point, he must become a more reliable source of offense for a team that needs it so desperately.
Grade: B+
21. David Lee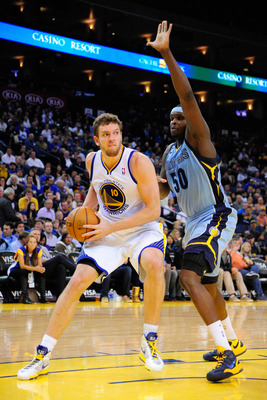 Kyle Terada-USA TODAY Sports
Once this list started to get crowded, I debated with myself—often out loud, much to the concern of my neighbors—over who, between David Lee and Zach Randolph—had done more to deserve inclusion among the top 25.
Both are double-double machines playing for mid-level playoff contenders in the Western Conference. Both will be headed to the 2013 NBA All-Star Game in Houston on Sunday. Neither is known for playing particularly strong defense.
But, after much "careful" thought, I had to give the nod to Lee. He's easily the best interior presence the Golden State Warriors have on the offensive end, while Z-Bo is, at best, Option 1A next to Marc Gasol (more on him later) with the Memphis Grizzlies. Lee, for all of his defensive shortcomings, has been active and attentive on that end under Mark Jackson. At the very least, he has the requisite lift to get off the floor, whereas Randolph would have some difficulty leaping over an antiquated copy of the Yellow Pages.
Keep in mind, too, that Lee is the closest thing there is to a 20-point, 10-rebound guy this season (19.2 points, 10.8 rebounds), and is producing for a Warriors team that, despite a recent slide, remains one of the more pleasant surprises of 2012-13.
Thanks in no small part to Lee, of course.
Grade: A-
20. Tyson Chandler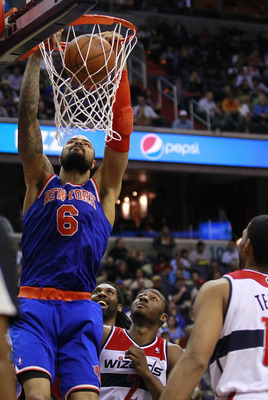 Geoff Burke-USA TODAY Sports
At long last, Tyson Chandler is an All-Star. Thing is, his long-overdue selection smacks of the sort of career-award recognition that landed Martin Scorsese the Oscar for Best Picture for The Departed in 2007. That movie, like Chandler's 2012-13 campaign, stands as fine work on its own, though both player and director in this case could point to efforts from years past that were more deserving of accolades.
Not that Tyson doesn't deserve his trip to Houston, but he was probably more deserving of an All-Star berth in 2011-12. He led the league in field-goal percentage, had emerged as a terrific pick-and-roll big and, most of all, had almost single-handedly turned one of the NBA's softest defenses into a top-five unit on the way to earning Defensive Player of the Year honors.
Chandler's still tops in the Association in field-goal percentage and has been even more of a terror in the two-man game with Raymond Felton directing traffic. But New York's defense is merely middle-of-the-pack at the moment, and though Chandler surely isn't to blame for the regression, it's clear that he's not anchoring that back line quite as effectively as he did just last season.
It seems, then, that winning has made up much of the difference; the Knicks are currently 32-17, well within striking distance of the Heat for the top spot in the East. Chandler has been a vital part of that progress in the standings on both ends of the court.
Grade: B+
19. Stephen Curry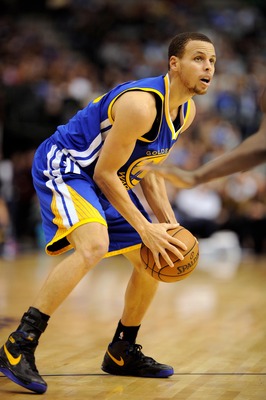 USA TODAY Sports
Stephen Curry's hopes for his first All-Star "selection" are likely riding on the beaten-up lower body of Tim Duncan. If Duncan can't participate, Curry, who was considered by some to be a "snub" during the initial announcements, figures to garner heavy consideration as the top replacement.
As well he should. Golden State's recent slide shouldn't take away too much from his overall performance in 2012-13. Now seemingly free from his most serious ankle troubles, Curry is averaging career-highs in points (20.9), assists (6.6) and minutes (37.6) while shooting 44.8 percent from three. He's already cobbled together five games of at least 20 points and 10 assists, including a string of four in a row back in December.
Curry's defensive presence remains a work-in-progress and he's a bit limited as far as his ability to attack the basket and create off the dribble in the middle are concerned. But there's no denying that Steph is an elite shooter, if not the best in basketball today. That single skill will serve him and the Warriors well, so long as he remains surrounded by dribble drivers and interior scorers for the time being.
Grade: A-
18. Jrue Holiday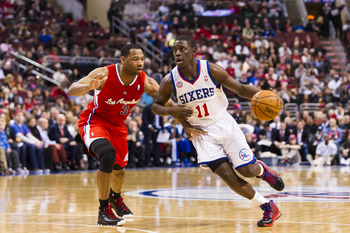 USA TODAY Sports
It's a shame that Andrew Bynum's bad knees have overshadowed the blossoming of Jrue Holiday into a bona fide franchise-caliber player for the Philadelphia 76ers this season. The 22-year-old point guard has stepped up his game considerably, posting career-bests in points (19.1), assists (8.8), rebounds (4.2) and field-goal percentage (.454) while chipping in six 20-10 games.
In other words, he's lived up to his new four-year, $41-million extension, and then some. Hence, Holiday will be an All-Star for the first time this season.
To be sure, it hasn't all been gravy for Holiday. The Sixers are stuck a full six games below .500, and Holiday currently leads the NBA in turnovers with 4.0 per game.
But such sloppiness is to be expected from a young player thrust into a much bigger role sans Bynum and Andre Iguodala, who's now with the Denver Nuggets. And Philly's failure thus far is hardly Holiday's fault. Without Jrue's defensive presence on the perimeter and orchestration of the offense on the other end, the Sixers would be well on their way to Tankonia right about now.
Grade: A
17. Chris Bosh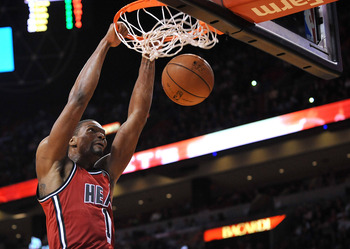 USA TODAY Sports
If LeBron James and Dwyane Wade are the new Michael Jordan and Scottie Pippen, does that make Chris Bosh the new Horace Grant? Or is he closer to Toni Kukoc? Something in between, perhaps?
Or something better. Bosh has adapted beautifully to his role as a floor-spacing, mid-range-shooting big man in Miami's Oregon-style spread offense. Bosh is scoring 17.3 points on a career-high 54.4 percent shooting, including an NBA-best 56-percent mark from the left elbow (per Grantland's Kirk Goldsberry).
Bosh's rebounding numbers are down across the board, though that probably has as much to do with his move away from the basket (and LeBron's shift closer in) than anything else.
The Heat have shown that they can win without Bosh, and decisively at that, if a 22-point win over the Clippers is any indication. With CB4, though, the Heat's ceiling extends to something more on par with a surefire title-defending favorite.
And, really, would Miami be as much fun without Bosh's photobombing skillzz?
Grade: B+
16. Marc Gasol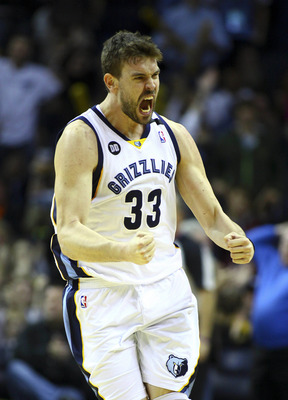 Spruce Derden-USA TODAY Sports
It's no accident that Marc Gasol has become the darling of so many NBA insiders, including Grantland's Zach Lowe, despite any compelling evidence from conventional statistics. The guy is the centerpiece of nearly everything the Memphis Grizzlies do on both ends of the floor. He directs Memphis' offense from the high post and anchors one of the league's toughest defenses, even though he lacks any true semblance of foot speed or athleticism.
What Marc lacks in scoring and rebounding for an All-Star-caliber big, he more than makes up for in intelligence and on-court clairvoyance. He's as responsible for turning the similarly bulky and slow-footed Zach Randolph into an All-Star as any player, and his understanding of spacing and angles is nearly second-to-none.
To be sure, the Grizzlies' offense would be better served if Gasol shot better than 47.6 percent from the field. But strict citation of that number ignores that Marc takes two-thirds of his shots in the mid-range and makes nearly 44 percent of those—well above the league average.
In any case, Memphis will need more from the sizable Spaniard going forward, now that Rudy Gay is no longer a resident of Music City.
Grade: A-
15. Joakim Noah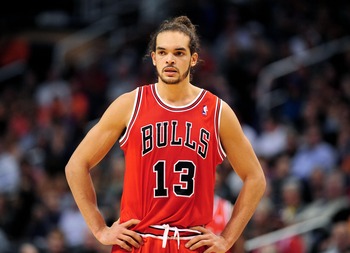 Jennifer Stewart-USA TODAY Sports
Kudos to Luol Deng for pulling an Emeril Lagasse in Derrick Rose's absence this season. He's earned another All-Star berth (his second straight) for the work he's done to keep the Chicago Bulls afloat in the Eastern Conference.
But this space ultimately belongs to Joakim Noah. On a team-wide level, Noah's impact on the Bulls' overall performance has been far more positive than has Deng's, per NBA.com. To be fair, though, Chicago has played only sparingly without those two All-Stars.
For his part, Noah is in the midst of a career-defining season. His current averages in points (11.8), rebounds (11.3), assists (4.1), blocks (2.0), steals (1.3) are all personal highs, as is his minutes tally (38.2), which ranks among the most burdensome in the NBA.
Predictably enough, the added responsibility on the offensive end has led to more turnovers and a lower shooting percentage for "JoNo." Those shortcomings aside, Noah, like Marc Gasol in Memphis, has emerged as a steady offensive facilitator and Defensive-Player-of-the-Year-type force for Chicago.
At this point, the Bulls can only hope that the heavy lifting (and the resulting plantar fasciitis) won't cut short Joakim's personal jump.
Grade: A
14. Brook Lopez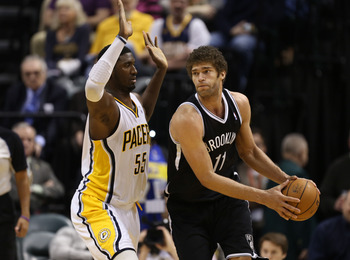 Brian Spurlock-USA TODAY Sports
It's understandable that the drama surrounding Deron Williams, his health and his massive new contract have engulfed the Brooklyn Nets to the extent that it has. But let's set all of that aside for a moment and appreciate what Brook Lopez has done this season.
After spending most of last season sidelined by foot injuries, Lopez has roared back with 18.9 points (on 51.8 percent shooting) with 7.4 rebounds and a career-high 2.2 blocks in just 30.1 minutes per game. His size, skill and shooting ability have all been crucial to keeping Brooklyn's offense productive amidst the tandem decline of D-Will and Joe Johnson.
Remarkable, too, is Lopez's progress on the defensive end. He'll never be a particularly quick or agile presence in that regard, but he seems to be learning how to better position himself to make plays. Likewise, the Nets have done a better job of directing Brook within that sphere.
It's a shame he needed an injury to crack the All-Star Game field, but now that Lopez has his in, folks should start to take seriously his role in the future of the Nets franchise.
Grade: B+
13. Dwight Howard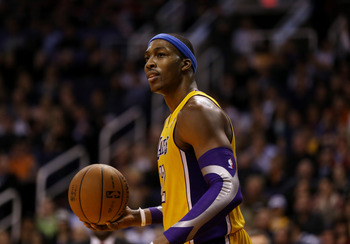 Mark J. Rebilas-USA TODAY Sports
It's a testament to Dwight Howard's inherent talent and prior standing among the NBA's elite that he's even this high on this particular list after the stinker-of-a-first-half that he's turned in.
A stinker in relative terms, anyway. Howard is on pace for his fifth rebounding crown in six seasons to go along with his 16.2 points (on 57.7 percent shooting from the field) and 2.4 blocks.
In Dwight's case, though, the numbers can't mask his apparent decline in effectiveness. He's not dominating on the defensive end with nearly the same vim, vigor and reliability that he once did. He's also devolved into a nagging, if not entirely disruptive, isolation presence on offense, despite playing next to a master of the pick-and-roll (Steve Nash) and being a fantastic finisher himself.
How much of Dwight's drop-off is due to the health (or lack thereof) of his back and shoulder and how much to his own dramatic difficulties is a matter of some debate. In any case, Howard has fallen far short of expectations this season, which, not surprisingly, has coincided with the Los Angeles Lakers' own lackluster performance since his arrival.
Grade: D
12. Blake Griffin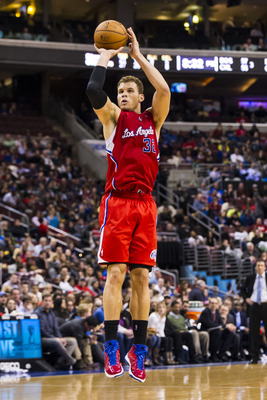 USA TODAY Sports
Don't look now, but Blake Griffin might just be figuring out this whole "shooting" thing. He's thus far tallied career-high percentages from nearly every zone on the floor (per Hoopdata), including an encouraging 65.4 percent at the free-throw line.
His overall scoring, shooting and rebounding numbers are down, though that decline corresponds closely with a concurrent drop in minutes per game along with a somewhat reduced role on a loaded Los Angeles Clippers squad.
More importantly, Griffin's taken some sneaky steps forward on the defensive end for a team that ranks among the top 10 in that regard. He'll never be a shot-blocker per se, since his length doesn't quite match his leaping ability, though he's quickly learning how to parlay his strength and footwork into better performance in one-on-one situations.
Chris Paul is the key to the Clips' hopes of even being in the championship conversation, but it's Blake Griffin whose ongoing growth can put this team over the top.
Grade: B
11. Tim Duncan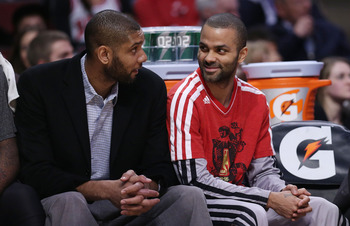 USA TODAY Sports
The San Antonio Spurs had better hope that Tim Duncan's recent bout with injuries doesn't cut short his personal renaissance. He's missed four games in a row and nine of the Spurs' last 11.
Not that San Antonio's missed him all that much. They've won eight of these nine games without him.
They've also been fantastic when Timmy's been in the middle. According to NBA.com, the Spurs are 11.2 points per 100 possessions better than their opposition with Duncan, as opposed to 6.8 points per 100 possessions without him.
As great as Tony Parker has played and as well as the rest of the Spurs' supporting cast has developed as a whole, San Antonio will only go as far as its offensive hub takes it. His interior scoring (17.3), presence on the boards (9.7) and sharp shooting percentage (.505) have contributed to Duncan's PER of 25.04—the fourth-highest in the NBA—while his shot-blocking (2.7) and general intelligence have pushed the Spurs to third in defensive efficiency.
In short, the difference between regular-season success and postseason glory once again rests on the shoulders of the Big Fundamental.
Grade: B+
10. Kyrie Irving
As far as sheer entertainment is concerned, Kyrie Irving is arguably a top-five player in the NBA. On the whole, he's already proven to be a top-10 talent.
His shooting percentages continue to improve, even as his workload as a scorer reaches new heights with the clumsy Cleveland Cavaliers. Dr. K's up to sixth in the NBA in scoring with 23.9 points per game and ranks among the top 15 in three-point percentage.
Defense is still a concern for Kyrie, though that's to be expected for most any 20-year-old kid with Irving's responsibilities. So, too, does Irving deserve a pass for his low assist numbers for now, given the dearth of quality shooters and scoring options by his side.
In the meantime, sit back, relax and enjoy watching this kid make defenders look like fools with his ridiculous handles.
That is, if you're fortunate enough to get Cavs games.
Grade: A-
9. Russell Westbrook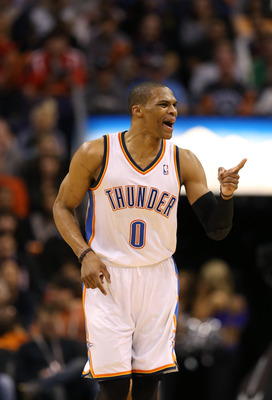 Mark J. Rebilas-USA TODAY Sports
The ratio between Good Russ and Bad Russ continues to shift further toward the positive end of the spectrum. His shooting percentages and scoring are down slightly, but his assist numbers have skyrocketed to fill the Oklahoma City Thunder's need for playmaking sans James Harden.
Surely, the Thunder would love to see Westbrook play with more patience, poise and control on both ends of the floor. But they know just as well that letting Russell be Russell is vital to their success as well as his. They'll have to take the good with the bad.
And hope that Westbrook does his best to accentuate the former and limit the latter therein to propel OKC back to the NBA Finals.
Grade: B+
8. James Harden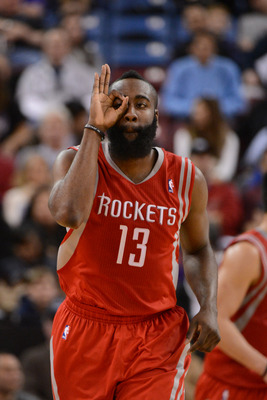 Kyle Terada-USA TODAY Sports
That James Harden is putting up stronger numbers amidst a bigger role with the Houston Rockets shouldn't come as a surprise. His performance as the Sixth Man of the Year for the Thunder in 2011-12 suggested that Harden was, indeed, a gifted wing to be reckoned with, even though his productivity came at the expense of opposing benchwarmers.
What is somewhat surprising is the extent to which Harden has flourished as a starter in Houston. He's fifth in the NBA in scoring at 26.1 points and leads the league with 10 free-throw attempts per game. The next closest? Former teammate Kevin Durant, with 9.2 per game. Such free-throw frequency is part-and-parcel of James' attacking style, which Grantland's Zach Lowe recently detailed with data from STATS LLC.
It's only fitting that Harden will make his All-Star debut in the city he now calls home. Just as the Rockets have adapted an up-tempo, basket-attacking/three-point-shooting identity that jibes perfectly with Harden's style of play, so too has he become an integral part of Houston's bright, young future.
Grade: A+
7. Dwyane Wade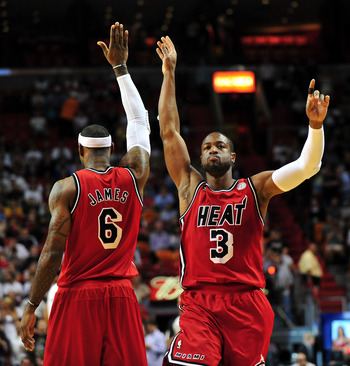 USA TODAY Sports
Apparently, those reports of Dwyane Wade's decline were a bit premature.
True, he's scoring less and attempting fewer shots than he has since his rookie campaign, and true, the Miami Heat clearly "belong" to LeBron James now.
But that has hardly prevented D-Wade from turning in yet another excellent season. His line? 21.1 points on 50.7 percent shooting, with 4.9 rebounds, 4.8 assists and 1.6 steals in 34.2 minutes per game.
And for all the attention that Bron-Bron's garnered for his brilliant February (and rightfully so), keep in mind that Wade is pouring in 23.6 points, 6.4 rebounds, 5.9 assists, 2.6 steals and 1.4 blocks over that very same span.
Most impressively, Wade is getting to the line nearly eight times per game this month. Not bad for a guy who's supposedly too old to play the way he used to and still be effective doing so.
Grade: A
6. Tony Parker
Anthony Gruppuso-USA TODAY Sports
Remember all those nice things I said about Tim Duncan? They all still stand, but they wouldn't mean jack without the MVP-caliber season he's stringing together.
The San Antonio Spurs, with their abundance of pick-and-rolls and fast-paced play, have come into their own as a team made in Parker's image. Tony's certainly done well playing the part as the center of the basketball world in San Antonio. He leads the Spurs in scoring (20.7 points) and assists (7.7). He's shooting a sizzling 53.5 percent from the field, including a career-high 40 percent from three. He's once again among the elite guards with regard to attempts (5.7) and shooting percentage (69.7) at the rim.
All of which adds up to a career-best PER of 24.4 for the fleet-footed Frenchman and a league-leading 41 wins for his team.
Grade: A+
5. Carmelo Anthony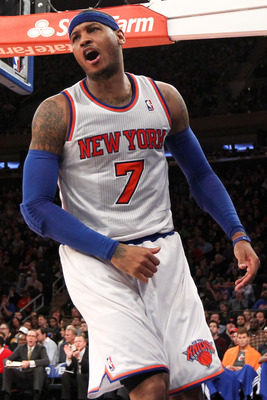 USA TODAY Sports
Carmelo Anthony's doing this season what he's always done, except he's doing it better than he's ever done it.
What I'm trying to say is, 'Melo's scoring...a lot. He's currently tied with Kevin Durant for the league lead in that department at a career-high 29 points per game. It certainly helps Anthony's cause that he's shooting more often than he has since 2006-07, though his field-goal percentage (.454) and three-point percentage (.411) certainly warrant the volume of attempts.
As do the overall results for the New York Knicks—a 31-17 record, good enough for the No. 2 seed in the Eastern Conference. So long as the Knicks keep winning, you probably won't hear many complaints about 'Melo's shot attempts.
Grade: A
4. Kobe Bryant
USA TODAY Sports
Kobe Bryant has long since "ditched" the race for the scoring title, even though his 27.4 points per game still constitute the third-highest average in the NBA.
At least, Kobe's recent turn as Los Angeles Lakers point guard would suggest he couldn't care less about the scoring title. Over his last 11 games, Bryant's scoring 18.3 points and has hit just 1-of-26 from three-point range.
Not exactly Kobe-like. Then again, the same could be said for his efforts elsewhere. Bryant seems to have channeled his energies into rebounding (7.2 boards) and sharing the ball (8.3 assists).
Coincidentally, the Lakers are 8-3 since Kobe's recasting. His ability to keep up this recent run of basketball schizophrenia may well determine whether or not the Lakers salvage this lost season with a late run into the playoffs.
Grade: A
3. Chris Paul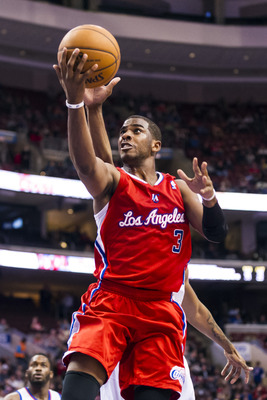 USA TODAY Sports
A cursory glance at Chris Paul's stats would suggest that he's on the fringes of the MVP discussion, at best.
But Paul's impact on the success of the Los Angeles Clippers extends far beyond the basics, though 16.6 points, 9.5 assists and a league-leading 2.6 steals certainly ain't too shabby. He's the coach on the floor (and, perhaps, in the huddle and in the locker room). He orchestrates LA's offense to perfection, providing a steady hand in half-court sets and on the fastbreak.
He's also the Clips' go-to guy in crunch time. He's scoring 48.3 points and hitting 24.9 free throws per 48 minutes of clutch play, which 82games.com defines as "4th quarter or overtime, less than 5 minutes left, neither team ahead by more than 5 points."
Or, when MVPs come alive.
Still not satisfied? Consider this: The Clippers are 6-6 without Chris Paul this season, compared to 31-11 when he plays.
Grade: A+
2. Kevin Durant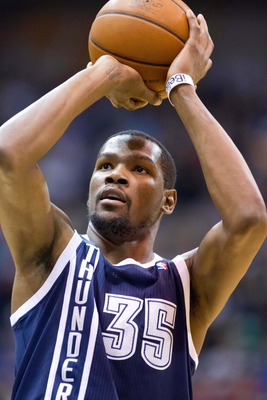 USA TODAY Sports
If it weren't for LeBron James, Kevin Durant would have a healthy hold on the "Best Basketball Player on Planet Earth."
And, as great as LeBron's been this season (we'll get to that in a second), the gap between Durant and the reigning MVP isn't as treacherous as some would suggest. He's on track for not only his fourth-straight scoring title, but also his first entry into the 50-40-90 Club.
He's also sharing the ball more than ever (4.4 assists), rebounding plenty (7.5 boards) and playing a brand of defense that should land him on his fair share of All-Defensive teams in due time.
But, really, KD's brilliance is all about his offensive artistry. According to Grantland's Zach Lowe, Durant is scoring with remarkable efficiency in nearly every way imaginable. Spot-up jumpers, pick-and-rolls, dribble drives—you name it, and Durant is probably putting up more points with it than the vast majority of his peers.
If his Oklahoma City Thunder wind up with the best record in the NBA, Durant might just have a case to make the MVP pursuit an actual race.
Grade: A++
1. LeBron James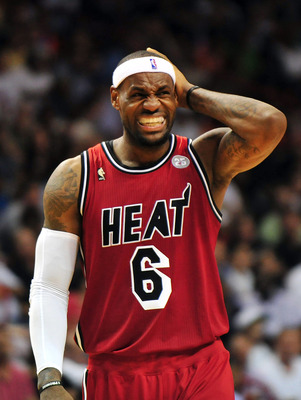 USA TODAY Sports
Here's all you need to know about what LeBron James is doing to the rest of the NBA: Over the Miami Heat's last six games, he's averaging 30.8 points on 71.7 percent shooting from the field.
If you wanted to pick some nits, you could point to all the layups and dunks that James has tallied in that span. But that would ignore that LeBron is also shooting 55.6 percent on threes, 52.1 percent from the mid-range and a whopping 84.6 percent on those funky shots that are in the non-restricted-area portion of the paint.
To put all of this madness in perspective, only one player in NBA history (Wilt Chamberlain) has ever shot better than 70 percent over the course of a season.
And now, only one player in NBA history has ever averaged better than 30 points on 60-plus-percent shooting over a six-game span.
Grade: A+++
Keep Reading