Rockets vs. Warriors: Postgame Grades and Analysis for Houston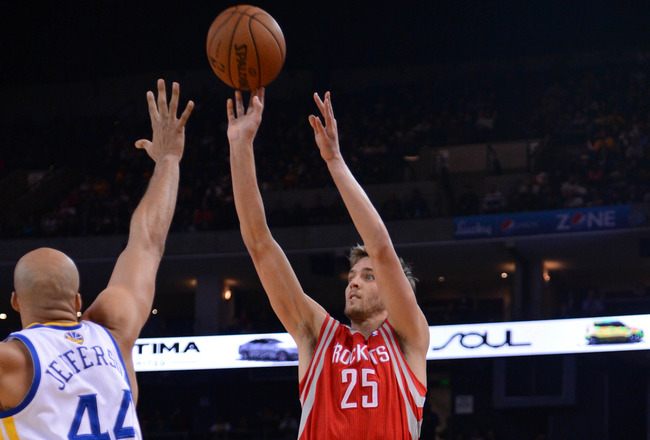 Kyle Terada-USA TODAY Sports
The Houston Rockets are one of the highest-scoring teams in the league for a reason, and it showed Tuesday night when they took down the Golden State Warriors 116-107.
From the opening quarter, the Rockets did a good job of pushing the tempo and getting to the line. They played the fast-break game extremely well, and with their willingness to get into the paint, they earned themselves 20 extra points off of foul shots alone—a necessity with James Harden shooting bricks from the field.
Along with the tempo came a sloppy first half for the Rockets. Poor shooting was a problem for Harden and Jeremy Lin, but it was more disappointing to see how the team reacted to the game's pace defensively. You expect them to give up points, but what you don't like to see is them getting beat in transition with sheer speed and effort.
The other problem, which has been a problem all year, was ball control. They were giving the ball away too easily, and they let the Warriors—a fast-break team by nature—take full advantage.
But despite the early problems, the Rockets came out of halftime and began playing a much cleaner brand of basketball. They kept the pace high, they stopped turning the ball over and they outscored Golden State 31-23 in the third quarter.
The Warriors got themselves behind, and when it came down to it, their lack of defense made it tough to stop Houston. This game featured two elite offensive units, and luckily for the Rockets and their fans, they're the ones who came out on top in this 48-minute battle.
Point Guard: Jeremy Lin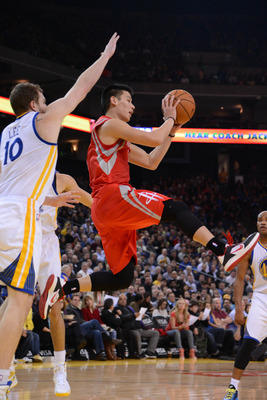 Kyle Terada-USA TODAY Sports
Jeremy Lin may not be playing like Linsanity these days, but he made it known that he is no longer the rookie who once played for the Golden State Warriors.
As a facilitator, Lin did a good job of driving and kicking in this one. One of his best qualities is his ability to keep a dribble alive, and when he did just that, good things happened for his teammates in both half-court and fast-break situations.
Where Lin really excelled was at the foul line. His shot wasn't falling at any point in this matchup, but he still managed to knock down all eight of his free-throw attempts.
The Houston Rockets' point guard would go on to finish with 14 points and 10 assists on 3-of-11 shooting.
Defensively, Lin had trouble with Stephen Curry all game long. Curry finished with 27 points, five rebounds and six assists.
Grade: B-
Shooting Guard: James Harden
Kyle Terada-USA TODAY Sports
James Harden entered this game having scored 101 points in his last three games. That's an average of nearly 34 points per showing, and he wasn't shy about trying to reach that average again Tuesday night.
The Houston Rockets' 2-guard took nine first-quarter shots for a team-high 10 points at the time. He was launching from deep, attacking the paint and doing whatever it took to make sure he got his attempts.
The problem for Harden, as it's been many times this season, was efficiency. In the first half, he shot just 4-of-15 from the field and only managed to make one of his four three-point attempts. He also turned the ball over four times in the half, and the only bright spot was his 7-of-7 shooting from the foul line.
After exiting the game temporarily in the third quarter with an apparent ankle injury, the rest of the team began to establish a rhythm. Harden would return without too much time in the locker room, but he wouldn't score in the fourth quarter until about the two-and-a-half-minute mark.
He managed to score a game-high 27 points to go along with his five assists and seven rebounds, but without his perfect 11-of-11 shooting from the line, his 7-of-22 from the field—and six missed three-pointers—would have been a much bigger cause for concern.
Grade: B
Small Forward: Chandler Parsons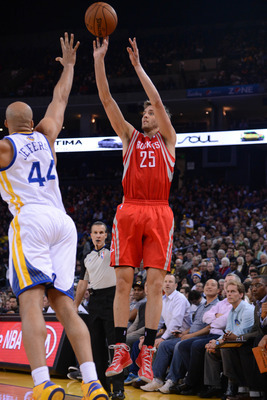 Kyle Terada-USA TODAY Sports
In a first half that saw James Harden miss 10 of his first 13 shots—including three from behind the arc—you have to wonder why Chandler Parsons didn't get more looks early.
Parsons came out and scored on his first three attempts. Two of them were from three-point range, and he had eight points to go along with his two rebounds and three assists. Unfortunately for him, Harden was looking for his own shot, which meant that the rest of the team could never get going.
Parsons began the second half looking for his own shot, as he attempted the first two buckets without hesitation. He would get the hot hand going quickly, as he went on to become a viable option all over the floor.
When Parsons gets the chance to score, we've seen him take advantage time and time again this season. He's never going to be a No. 1 option over Harden, but Tuesday's 21-point performance on 9-of-15 shooting shows that he can be relied upon when the 2-guard's shot simply isn't falling.
He also recorded nine assists and eight rebounds.
Grade: A
Power Forward: Patrick Patterson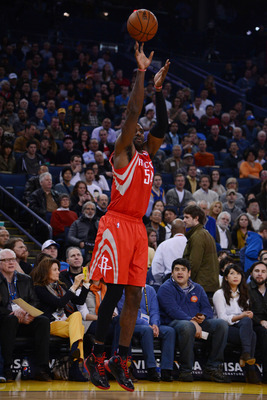 Kyle Terada-USA TODAY Sports
Patrick Patterson was quiet in this one. With the pace as frantic as it was—and with so much of the offensive game plan running through James Harden—it was difficult at times for the big man to show what he can do with the basketball.
Quiet isn't always a bad thing, though, especially when you quietly play a very smart game.
While Harden was missing shot after shot, Patterson managed to shoot 67 percent from the field. He was never a contributor in any category other than shooting, but in a shootout like this one, that's all you can ask for.
Patterson went on to finish with 12 points in 30 minutes.
Grade: B
Center: Omer Asik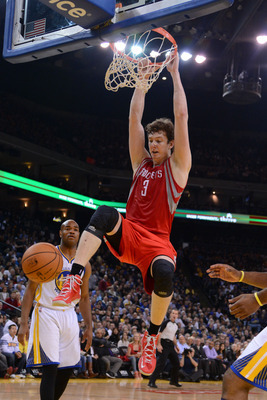 Kyle Terada-USA TODAY Sports
Omer Asik began this game with a ton of energy, and that energy helped him produce early in the contest.
The Houston Rockets' center finished the opening period with seven points and seven rebounds. He was getting touches when James Harden saw double-teams, but more importantly, he was creating opportunities for himself by getting up and down the floor at the same pace as his teammates.
Offensively, Asik never shined, but he remained reliable throughout his 33 minutes. He only took smart shots, and while that kind of mentality is coveted in every outing, it can be a breath of fresh air in a battle with such a fast tempo.
He finished with 13 points on 6-of-8 shooting.
On defense, Asik made more of an impact on the glass (15 REB) than he did in one-on-one situations. The reason for that, though, is that Golden State didn't exactly look to dump the ball down low very often.
Asik took what he was dealt, and luckily for Houston, he made it work.
Grade: A
Sixth Man: Marcus Morris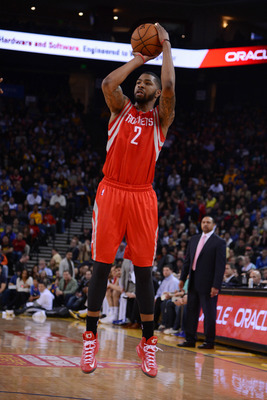 Kyle Terada-USA TODAY Sports
The Houston Rockets bench played a great game against the Golden State Warriors, and the play of Marcus Morris was one of the biggest reasons why.
Morris, like the rest of his teammates off the bench, didn't truly establish himself until late in the contest. When he finally got going, though, it was clear as to why Kevin McHale left him in the game.
Despite shooting just 2-of-7 from behind the arc, one of his two completions came at a crucial point midway through the final period. He finished the game 3-of-4 from inside the three-point line, and he managed to score 12 points—the most of any bench player on the team.
Morris wasn't just in the game for scoring, as he also collected seven rebounds
His presence was crucial when it came to fending off a late-game surge by the Warriors, and he deserves a ton of credit for the 22 minutes he saw Tuesday night.
Grade: B+
Bench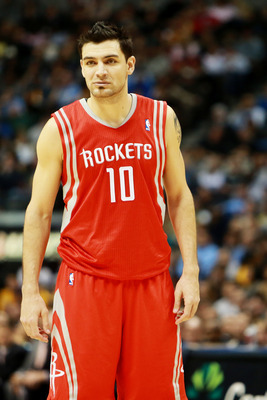 USA TODAY Sports
The Houston Rockets got solid balance from their bench Tuesday night, as they got meaningful minutes out of three reserves—Marcus Morris, Carlos Delfino and Patrick Beverly.
As a group, the three of them combined for 29 points and 14 rebounds on 12-of-26 shooting by the time the game was over.
But the performance from the second unit was about much more than just numbers. The Rockets played a majority of the fourth quarter with three reserves in the game, and those bench players were playing with a ton of confidence and tenacity.
They were scoring both at the rim and behind the arc, and they are the biggest reason Golden State was never able to fully come back in this one.
Grade: A
Keep Reading

Houston Rockets: Like this team?