10 Most Hilarious Post-Match Interviews in World Football History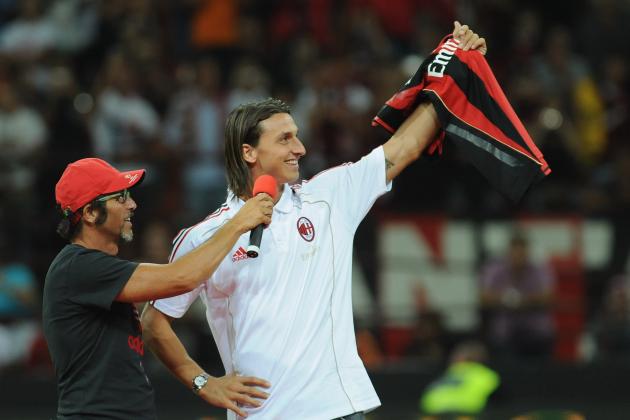 Valerio Pennicino/Getty Images

Football is a wonderful and beautiful game, and often a very funny one.
And whether it be because of a terrible question from a reporter or just the sheer creativity of the player being questioned, sometimes the interviews themselves can be hilarious.
Read on to check out 10 of the funniest post-match interviews in history.
Begin Slideshow

»
As we'll see throughout this list, it in fact wasn't the most stupid question ever asked by a reporter, but it certainly wasn't a great one to a man who had just lost the Champions League final.
Though, having said that, it was nice to see a rare smile from Sir Alex Ferguson in the post-match conference. For if he can find the funny side of it, then anyone can find it as well.
Why reporters insist on interviewing players just after the final whistle is beyond me—they're always going to say something that really isn't that insightful.
Especially when they weren't that insightful to begin with.
Cue Mario Balotelli after winning the Premier League regarding the team, the season, the haters and ironically, his future. Typical in-depth stuff from Mario.
Roberto Mancini clearly wasn't happy with some refereeing decisions in their 3-2 loss to Manchester United, but he wasn't going to say so.
He was trying so hard to be a good boy and stay diplomatic, but the reporter just keeps pushing. And watching the Italian manager try to dance around the question—well, that's the funny part of it all.
It's never a good thing to keep your head down when Zlatan Ibrahimovic is in your team.
Especially if you're giving a post-match interview.
Thierry Henry just chimes in with what the correct answer should be from Cesc Fabregas.
Just say yes. Very clever.
David Luiz comes out very, very drunk for Brazilian television after winning the Champions League.
And watching drunk people can be very, very funny sometimes.
Even if you have no idea what he's saying.
This footage of English footballer Joey Barton with a French accent just a couple of weeks after Marseille has been well documented and scrutinized.
That doesn't make it any less funny, however.
Just how did he get that accent so quickly?
Argentinian striker Lionel Messi is asked a question on the national football team about their chances at the upcoming World Cup.
Which, surprisingly, the legendary striker fails to answer.
Why? Because the stupid reporter asked him about the Danish football team and about their chances—how on earth is Messi supposed to answer that?
Well, he does his best anyway.
Rough translation: Sincerely, I don't know so much about the Danish selection, but I think that it had a good performance in the classification. And I think that is a selection that can give a surprise in the World Cup (laughs). I'm serious! I'm talking seriously...
Don't watch Frank Lampard in this post-match interview. Don't watch Fernando Torres, either.
Just keep your eyes firmly fixed on David Luiz in the middle and you'll agree, with everything.
Just like Luiz does, who gives arguably the funniest post-match interview of them all without saying a single word. Incredible.
Any funny interviews that we missed?
Comment below or hit me up on Twitter: Follow @dantalintyre