Oregon Football: What to Look for in Spring Practice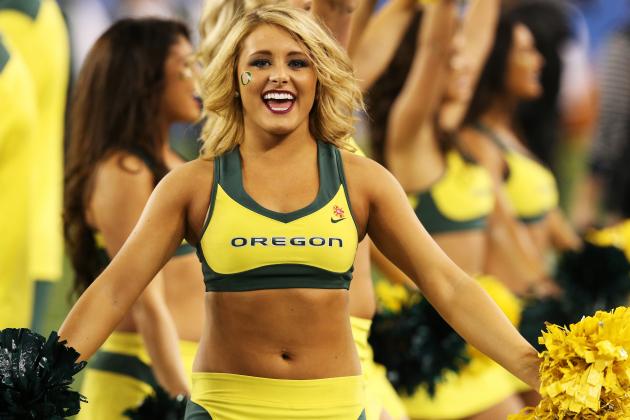 Stephen Dunn/Getty Images

While it's not likely that you will see the Oregon cheerleaders when spring practice starts up on April 2, there will be plenty of other interesting things to look for. Oregon football will still be alive after former head coach Chip Kelly's departure, but it may look a little different.
New head coach Mark Helfrich will undoubtedly want to continue the Ducks' winning ways. It's also likely that Helfrich will want to put his own spin on the Oregon program.
How will Helfrich launch the Helfrich Era? What recruits will show up in the spring? Will the veterans show up healthy?
Let's take a look at what to expect when Oregon's spring practice begins.
Begin Slideshow

»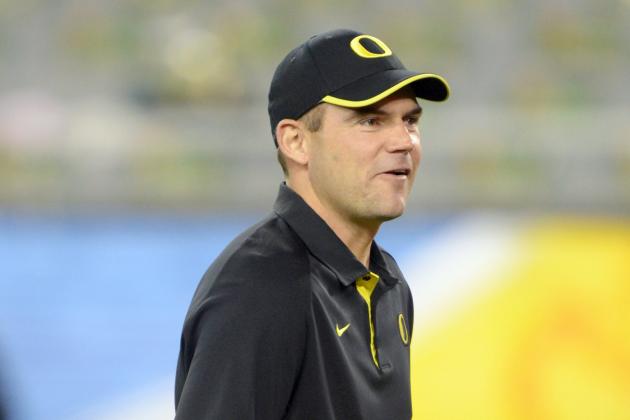 USA TODAY Sports

Mark Helfrich grew up in Coos Bay, OR. Lots of people in Coos County, OR still don't lock their doors at night.
Trusting bunch.
Chip Kelly wasn't quite so trusting as the head coach of Oregon, especially when it came to the media and the public watching the Ducks practice. Some might say that Kelly was paranoid, although it's not paranoia if they're really out to get you, is it?
So, the big question is: Will Helfrich allow the public to observe practices? Or will he follow his predecessor's lead and keep out prying eyes?
Helfrich should strike a happy medium—let in all kids and all redheads.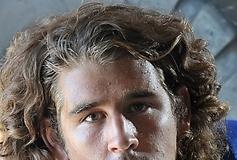 Joe Walker photo courtesy 247Sports.com
As of today, junior college transfer Joe Walker is the only one of the 19 scholarship newcomers in the 2013 class who has enrolled at Oregon early. The linebacker standout from L.A. Harbor College enrolled in January and will have a head start at spring practice.
During his national signing day press conference, Helfrich said that Walker came to the Ducks in fantastic shape. He added that Walker was vocal during workouts, which was something fairly unusual for newcomers.
Expect Walker to get some serious reps in during spring practice and to probably earn a spot on the 2-deep at linebacker in the fall.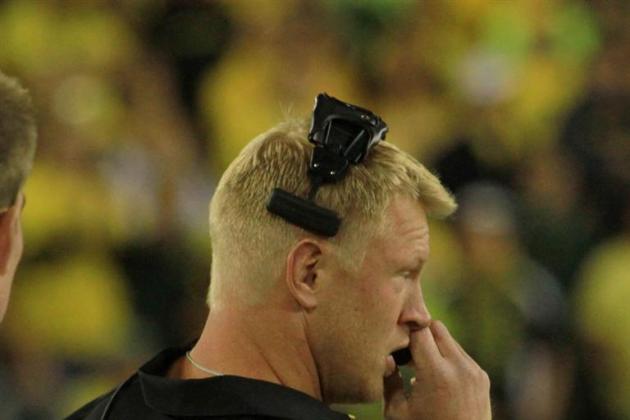 Scott Frost photo courtesy 247Sports.com
Not only will Mark Helfrich want to imprint the Ducks with his own stamp, but new offensive coordinator Scott Frost also has something to prove.
Frost has already interviewed for a head coaching position—Louisiana Tech—so we know the 38-year-old has further ambitions. The offensive coordinator position at Oregon is not exactly a place for shrinking violets. Whoever holds the OC job for one of the most prolific offenses in college football will likely be under the microscope, especially in this first post-Chip year.
Don't you have a vision of Frost holed up in his office with a pizza—on second thought, he looks pretty fit; maybe he's got a veggie and tofu stir-fry—madly diagramming new plays. Perhaps De'Anthony Thomas is there too, in between classes, of course, telling Frost what more he can do for the Ducks.
Whether it will be increased razzle-dazzle or just a new variation on an old play, expect Scott Frost to bring a new wrinkle or two to Oregon's Spring Game (April 27.)
Mark J. Rebilas-USA TODAY Sports

Will there be a quarterback controversy at Oregon spring practice?
Uh, no.
Even in Duckville's "everyone has a chance to compete" mantra, redshirt sophomore QB Marcus Mariota has the job sewn up. The only QB controversy at Oregon will be who is No. 2 behind Mariota now that former backup Bryan Bennett has transferred. And, perhaps, will Mariota go down in history as the best ever Oregon quarterback.
The most excellent Rob Moseley of the Register-Guard is projecting redshirt freshman Jeff Lockie as Mariota's backup. It will be intriguing to see what the early buzz from spring practice will be regarding Lockie and fellow redshirt freshman Jake Rodrigues.
Expect Lockie to be a little further along, only because of Rodrigues' broken leg, which occurred in a high school playoff game in 2011. But also keep in mind that one year ago prior to the Spring Game, you thought Bryan Bennett was a lock for the starting quarterback role.
Springtime in Oregon—when legends are born. Can't wait.
Kay Jennings is a member of the Football Writers Association of America.