Ohio State Football: 7 Most Explosive Options on Offense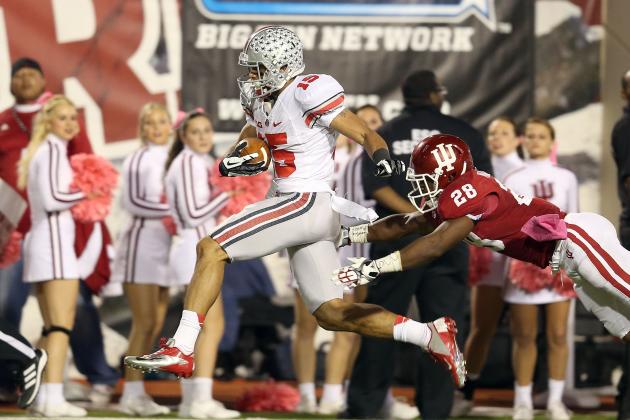 Andy Lyons/Getty Images

Anyone even distractedly following Urban Meyer's career as a head coach knows that his spread attack can be extremely explosive.
The system is based on getting the ball to the offense's most talented players in an optimal position to excel. Therefore, when executed properly, the athlete can utilize his specific skill set and produce an explosive play.
Meyer and his coaching staff focused on reeling in more speed and athleticism at offensive skill positions in their 2013 recruiting class. They wanted to add a plethora of weapons to their spread attack, and they succeeded.
Add these new explosive recruits with current weapons on the roster who've had a year of experience in the new offense, and that is a pretty dangerous line-up.
Who's the most explosive option for the Buckeyes? Is it an incoming freshman or a seasoned wideout? Is it even a wide receiver? Exactly what does "explosive" entail?
For the sake of this slideshow, I'm defining "explosive" as the ability to turn any given play into a highlight. These are the offensive weapons with the ability to drop jaws and end up on ESPN on any given Saturday.
Begin Slideshow

»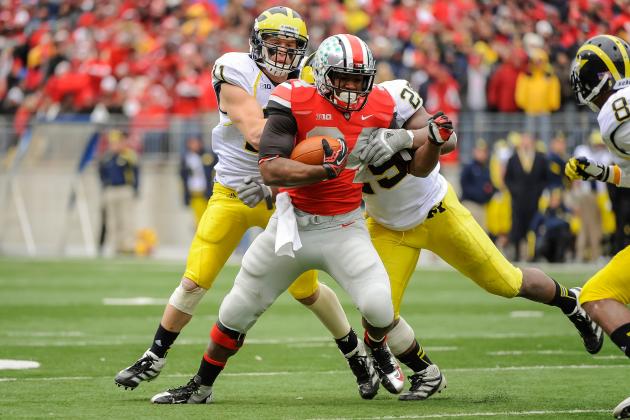 Jamie Sabau/Getty Images

Let me preface this ranking by saying that Hyde is a great back. In terms of value and production, he's one of the top offensive players for OSU. But since we're on the subject of "explosiveness," he falls down the totem pole a bit.
Don't get me wrong, the bruising back still has the potential to reel off a huge run from time to time. However, Hyde normally wears down defenses with his power running and is responsible for taking the bulk of the carries and picking up the necessary, but shorter, first downs.
The junior also isn't very involved in the passing game, which limits his ability to make big plays. He does an excellent job of filling his responsibilities but is easily the least explosive player on this list.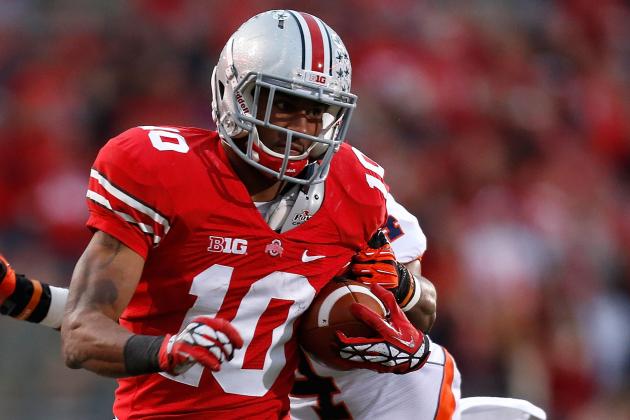 Kirk Irwin/Getty Images

Philly Brown has shown glimpses of explosiveness during his time at OSU.
However, he's low on this list because those glimpses have been just that: glimpses. He has struggled in the past to make something happen in space and rarely breaks a basic play open into a major gain.
As the 2012 season progressed, Brown became one of Miller's most reliable targets, and his catches per game steadily rose. He led the team in receptions last season but only caught three touchdown passes.
Basically, Brown is a reliable and valuable possession receiver with the potential to make something happen. Late in the 2012 season, the Philadelphia native started to make more plays when a opportunities arose but still isn't really expected to make highlight plays week in and week out.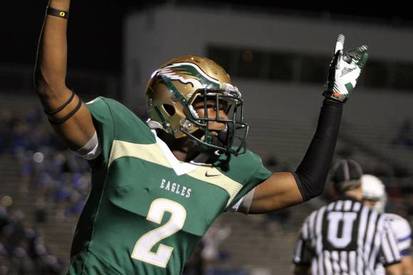 dallasnews.com
It's always difficult to compare incoming recruits to current college players, but it's also very difficult not to expect Wilson to make a serious impact right away.
The former Oregon commit is the ideal athlete to use in the spread, and his combination of speed and quickness make him one of the most impressive athletes in the 2013 class.
Wilson will most likely line up all over the field under Urban Meyer, and this variation of positions makes him that much more explosive. The product out of Texas will have the opportunity to make big plays out of the backfield as well as in the slot and could even make an impact in the return game.
In high school, Wilson constantly reeled off huge touchdown runs and burned his competition when he split out wide. While high school football doesn't compare to the level of competition he will face in college, his skill set fits perfectly with Meyer's system.
Wilson could very easily explode for a few unexpected TDs in 2013.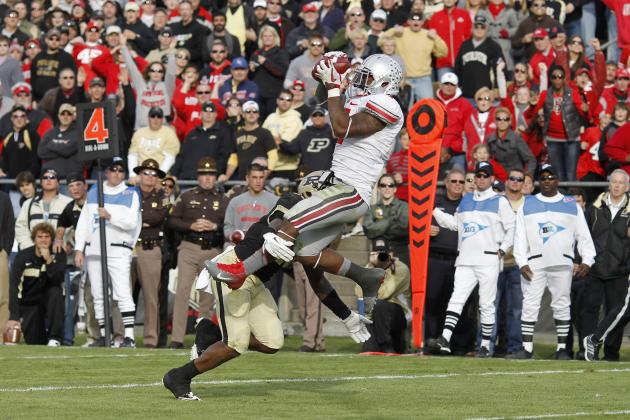 Joe Robbins/Getty Images

What makes Jordan Hall so explosive is his versatility.
The redshirt senior has the ability to run between the tackles, run the option with Miller, and catch the ball out of the backfield. His experience gives him excellent vision, and he's one of the Buckeyes' best weapons in space.
Before his injury-riddled season in 2012, Hall was one of the best return men in the nation, garnering a decent amount of yards on offense despite being stuck in a futile system.
When Meyer was hired, Hall was expected to dominate in the new spread offense but struggled to stay healthy. Luckily, Hall received a medical redshirt and is available for the 2013 season.
As long as he can stay healthy, Hall has the potential to really shine in this offense and make some big plays for the Buckeyes. His ability to catch the ball out of the backfield and his experience at the college level should make him one of the Buckeyes' most dangerous weapons.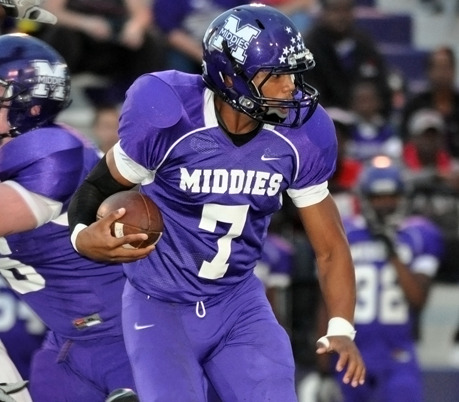 maxpreps.com
Rated as the best athlete in the 2013 class by Rivals, Jalin Marshall comes to Columbus with plenty of expectations.
The product out of Middleton, Ohio primarily played quarterback in high school but will be the first incoming freshman expected to really fill the Percy Harvin role. This is a lot to live up to for an incoming freshman, but Marshall seems to have the size and athleticism to deliver.
On film, Marshall looks to be an excellent runner who not only has speed and elusiveness but an ability to shed tacklers. He's not the biggest guy in the world at 6'0" and 200 pounds, but he's big enough to last at the next level, especially after an offseason of college workouts.
In high school, Marshall ran the triple option at quarterback and still managed to pull off outstanding runs.
Imagine what the former QB will do in a system curtailed to his skill set and talents. He's a highlight waiting to happen and should make a serious impact in his first season in Columbus.
Jamie Sabau/Getty Images

Devin Smith has the ability to disappear from any game. However, he also has the uncanny ability to get behind a defense and haul in a long touchdown pass or snag a ridiculous catch out of nowhere.
If this were a list of the most reliable offensive players, he probably wouldn't even make the list, but this is focusing solely on explosiveness, he deserves to be rated this high.
For starters, Smith hauled in arguably the best catch of the entire college football season in the first week against Miami (OH). His one-handed grab was not only jaw-dropping but all over ESPN that day and at the end of the season when ESPN recapped the greatest plays of the season.
Smith also led the Buckeyes in yards per catch in 2012 and has been on the receiving end of most of the Buckeyes' longest TD passes in the past two years.
Sure, Smith fails to show up at times, but with a greater understanding of the offense and better competition behind him on the depth chart, he should become more reliable and haul in more catches.
And as we've seen time and again, big things happen when he makes an impact.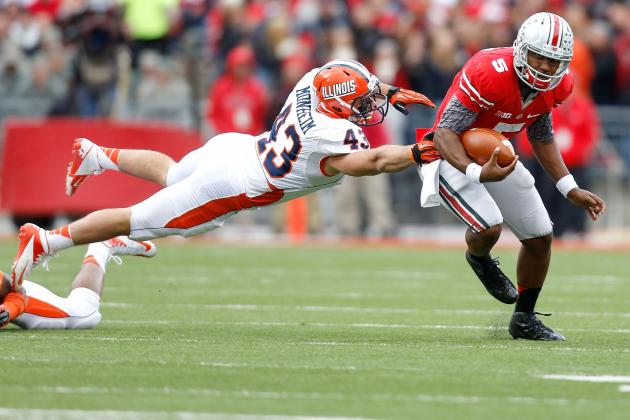 Kirk Irwin/Getty Images

Braxton Miller may be the most explosive player in the entire nation.
The now-junior QB has been a human highlight reel since he arrived in Columbus and has only improved in Meyer's beneficial system. He has the ability to turn any play, even a poor one, into a highlight that results in a big play for OSU.
Towards the end of the season, Miller was clearly improving as a passer and looked much more comfortable with his arm. In 2013, Miller will have plenty of options, which will not only improve his passing game but keep defenses from keying on him too much.
As a runner, Miller is one of the best in all of college football.
He's the most elusive quarterback in the nation, and his speed and athleticism make him a nightmare to bring down in space.
The product out of Huber Heights succeeded on the ground in a traditional offense his freshman year, and the emergence of Meyer's spread attack has only made him more explosive.
Expect Miller's highlight tapes to get better and better each year and his explosive ability could very easily catapult him to the front of the Heisman race in 2013.