2013 NFL Draft: Carolina Panthers' Top 10 First Round Targets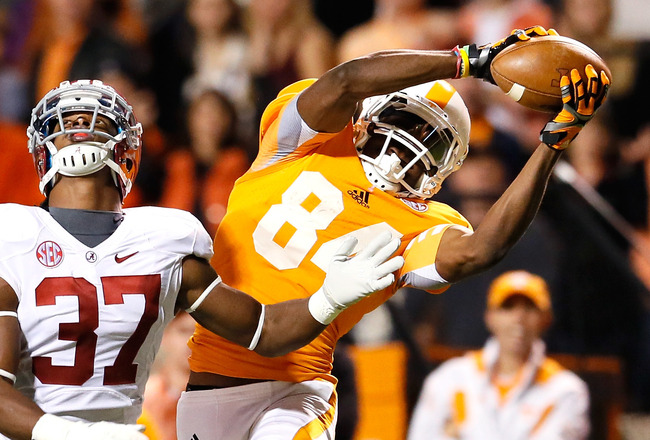 Kevin C. Cox/Getty Images
The 2013 NFL Draft will be a considerable step in the progression of the Carolina Panthers.
At 7-9 this past season, it seems as though the team is just a few inches off a playoff berth. In order to make that a reality, the Panthers' front office must establish some depth on the roster by filling in a few key positions.
Here is a list of the top 10 draft prospects the Carolina Panthers should be looking at for this year's first round.
Unlikely Draft Prospects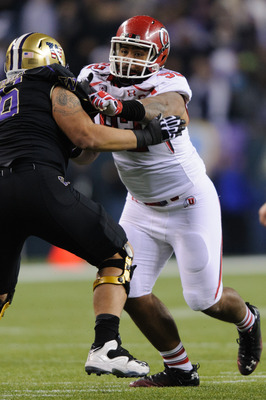 Steven Bisig-USA TODAY Sports
If they remain at the 14th overall spot, the Panthers will certainly miss out on some top talent. Here are the draft prospects that would make sense for Carolina but will very likely be drafted before the selection:
1. Luke Joeckel, OT, Texas A&M (Projected draft position: 1-4)
2. Star Lotulelei, DT, Utah (Projected draft position: 1-10)
3. Dee Milliner, CB, Alabama (Projected draft position: 4-13)
4. Eric Fisher, OT, Central Michigan (Projected draft position: 4-11)
10. Jarvis Jones, OLB, Georgia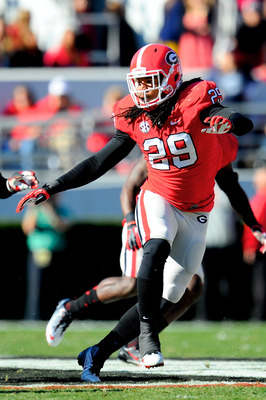 Dale Zanine-USA TODAY Sports
Carolina and new general manager David Gettleman are in quite a cap room squeeze this offseason. And, if they decide to cut linebacker Jon Beason, this scenario could become a real possibility.
The quick emergence of Defensive Rookie of the Year Luke Kuechly has earned him his spot as the team's inside linebacker, leaving the three-time Pro Bowler out of his natural spot.
Beason, whose injuries have limited him to just five games over the past two seasons, could end up restructuring and moving to the outside.
But if not, Jarvis Jones could be a nice grab for the Panthers. Spinal stenosis concerns aside, Jones may very well be the best pass rusher this class has to offer.
I doubt, however, Beason ultimately gets cut—making Jones the No. 10 choice on this list.
9. Johnathan Hankins, DT, Ohio State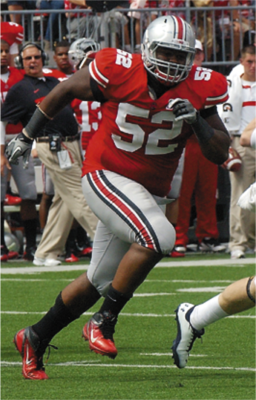 It seems Panthers fans have seen a first-round defensive tackle being mocked to their team just about every year. Unfortunately, it'll stay that way until the position is addressed with capable talent.
Johnathan Hankins of Ohio State is one of a handful of candidates for the vacancy.
Hankins, 6'3" and 325 pounds, is the type of big body the Panthers have been missing since the departure of Kris Jenkins. He does show some solid explosiveness off the snap and has the ability to stuff the run.
The Buckeye's draft stock has taken a hit due to a lack of production in 2012, making him a lower-end option for Carolina here in February.
8. Keenan Allen, WR, California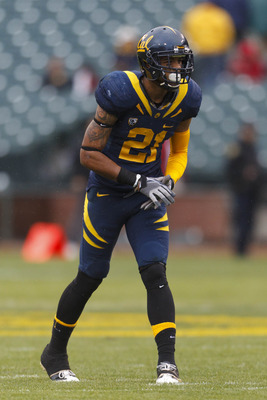 Jason O. Watson-USA TODAY Sports
Steve Smith turned in yet another impressive campaign in 2012, reeling in 73 catches for 1,174 yards and four scores. But as we very well know, the 33-year-old isn't going to be around that much longer.
In that case, the Panthers could be looking to grab that first-round wideout to grow with their franchise quarterback Cam Newton. Greensboro native Keenan Allen is certainly an intriguing option.
Allen has soft hands, runs solid routes and is extremely adept to picking up yards after the catch. The California product could also be utilized in the return game given his explosiveness and ability to make defenders miss.
He can rejuvenate his slightly damaged stock with a strong showing at the combine. Allen must prove to scouts that his recent knee injury is well behind him.
7. Jesse Williams, DT, Alabama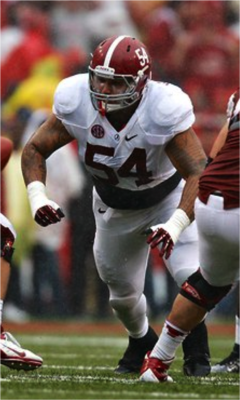 Richey Miller/Cal Sport Media, via Associated Press
Jesse Williams will be another defensive tackle option on day one for Carolina.
The Aussie out of Alabama is this year's version of Dontari Poe. He didn't post great numbers coming into the draft but can make up for it with his incredible size and raw power.
He is good at the point of attack, uses his bull rush effectively and is an all-around disruptive force in the middle.
Expect Williams to create some buzz at the combine with his performance on the weights.
6. Lane Johnson, OT, Oklahoma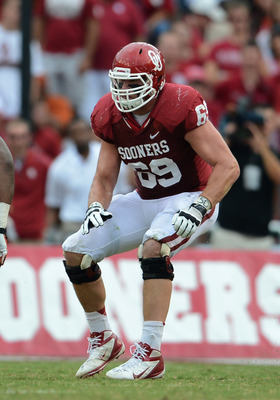 Matthew Emmons-USA TODAY Sports
If it's not their primary concern at this point, protecting their franchise guy in Newton should be somewhere towards the top of the team's priority list.
The rising Lane Johnson could be the pick, given Carolina's oft-injured offensive front. If drafted by the Panthers, Johnson would be the successor to Jordan Gross at left tackle.
As a former quarterback and tight end, Johnson is one of the more appealing athletes in the class. He plays with great physicality and uses his big frame to fend off pass rushers.
I would, however, be surprised if Johnson is there for the Panthers at No. 14.
There are three potential franchise left tackles in Johnson, Luke Joeckel and Eric Fisher with as much as seven teams possibly vying for their services in the top 11 of the order. (Kansas City, Oakland, Philadelphia, Detroit, Arizona, New York and San Diego.)
5. Sheldon Richardson, DT, Missouri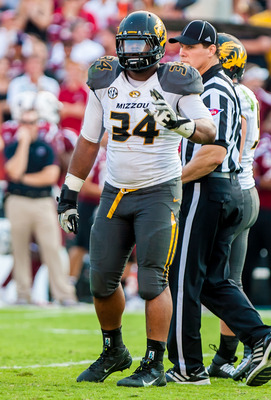 Jeff Blake-USA TODAY Sports
Missouri's Sheldon Richardson is now the third defensive tackle option on the list.
Richardson uses his hands very well and can use his burst to get into the backfield. Given his ability to rush the passer, he could be the defensive playmaker the Panthers have needed in the middle of their line.
Although he did play considerably well in the SEC this year, one knock on Richardson is the possibility of him being a one-trick pony. While he can get to the quarterback, Richardson isn't considered much of a run stuffer.
Regardless, he can command some double teams that would free up Carolina's two monster ends in Charles Johnson and Greg Hardy.
4. Kenny Vaccaro, S, Texas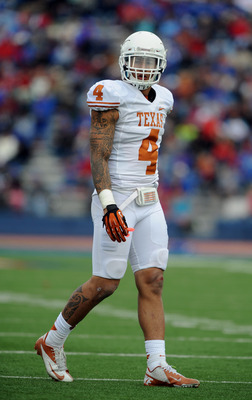 John Rieger-USA TODAY Sports
Poor safety play cost the Panthers at least two wins this past season. If the secondary had held for the last drives in two different contests, one against Atlanta and one against Tampa Bay, this could have been a 9-7 team.
The top safety in this class by a mile is Kenny Vaccaro.
Vaccaro possesses great instincts, covers plenty of ground and is a very hard hitter. His overall skill set should make him a lock for a top 20 selection.
3. Sharrif Floyd, DT, Florida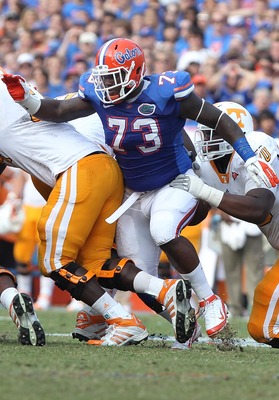 Kim Klement-USA TODAY Sports
The fourth and final defensive tackle on the list is Florida's Sharrif Floyd.
Floyd, one of the more overlooked first round talents, is a great athlete. He uses nice speed off the edge, uses his hands well on blocks and often breaks into opposing backfields
He is also very versatile, as he played in multiple spots on Florida's defensive line during his collegiate career. Floyd's big body, flexibility and overall talent make him the most sensible option for the Panthers given their draft position.
If Carolina does not decide to take a defensive tackle in the first, they can always dip into the very deep class in round two.
2. Cordarrelle Patterson, WR, Tennessee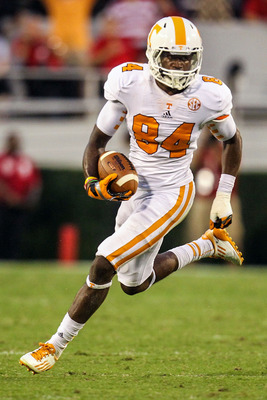 Daniel Shirey-USA TODAY Sports
Although he wasn't the biggest name amongst collegiate wideouts during the season, Cordarrelle Patterson has clearly emerged as the draft's top player at the position.
First off, Patterson is always a big play threat when he's on the field. He possesses the explosiveness and elusiveness to work as an incredible playmaker. His vision and speed also make him an appealing target downfield.
Bleacher Report's Matt Miller has even gone as far as saying that Patterson has a Julio Jones-type ceiling.
Secondly, Patterson is a dangerous kick returner. In addition to his instincts, he often makes defenders miss with his quick cuts.
Patterson is the perfect fit for the Panthers in multiple ways.
Not only could he serve as the No. 2 for Newton from day one, but he can also become the team's punt and/or kick returner. Carolina's special teams has suffered from poor return play for the past handful of seasons.
The Tennessee product could then evolve into Cam's No. 1 when Smith decides to retire.
1. Chance Warmack, G, Alabama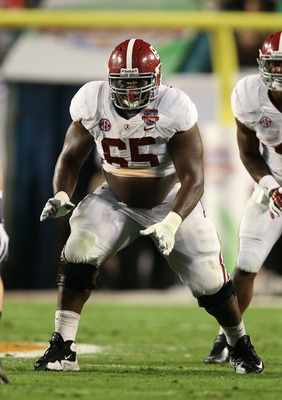 Matthew Emmons-USA TODAY Sports
The common perception amongst most fans is that a guard pick in the first round isn't exactly "sexy." But Chance Warmack potentially being drafted by Carolina would be the sexiest outcome for the team in a few ways.
For one, the front office must protect Newton. He went down a total of 36 times this season and did suffer through a few minor injuries to end the year. If Newton ultimately ends up with a more serious injury due to poor protection, the franchise will be in immense danger.
Warmack, given his rare skill set for a guard, would be a great upgrade from Geoff Hangartner.
(Fun fact: Newton and Warmack were teammates at Westlake High School in Atlanta.)
As the highest rated guard in a number of years, Warmack would also be extremely valuable to the Panthers in establishing their run game more effectively.
Carolina has quite a bit of money invested in their three-headed backfield of DeAngelo Williams, Jonathan Stewart and Mike Tolbert. If they want to get the most out of that, Warmack would be a prime investment to get their potent rushing attack going.
Keep Reading

Carolina Panthers: Like this team?